How's your Christmas/Holiday shopping going? If you're struggling a bit or looking for some last-minute items, here are some of my favorites.
You hear me rave about L.L. Bean's Wicked Good Slippers allll the time because my son and daughter are always asking for these when their birthday or Christmas rolls around. They are crazy about them! They come in a ton of different styles.
This is the style my son prefers (below) and my daughter-in-law prefers the same style, only in the women's slipper. You'll find all the various styles it's available in here: Wicked Good Slippers. The style below for men can be found here in a bunch of different colors: Wicked Good Slippers in Navy/Saddle. My son likes this navy color so much, I went ahead and purchased a second pair to give him for next year.
I have been eyeing this slipper style for ages for myself and I finally went for it this evening. Can't wait until they arrive! They are shearling-lined and the description says you can wear them barefoot or with socks. I love wearing my merino wool socks with my slippers so I bought them one size up to make sure they will be big enough to wear with socks. If you like this style, you'll find it here: Cozy Slippers. I can't wait to try them!
I spotted these adorable, embroidered, wool pouches and thought they would make a cute gift for a friend or even a great stocking stuffer. I love the horse one! I've really gotten interested in horses this year from watching so many horse videos on Instagram. You'll find these cute, wool pouches/accessories bags here: Adorable Wool Pouch/Accessory Bag.
This evening while shopping online, I came across this beautiful cardigan and could not get it out of my head. It's more than I normally spend for a cardigan so I checked online for a promo code and was shocked that I actually found one that worked! Using the code "HAPPY" I got 25% off at checkout, plus shipping was free. I can't wait until it arrives and I can see it in person! If you love it–you'll find it here: Beautiful Cardigan.
Are you a boot lover or know someone who is?
I should live in Texas, as much as I love boots! This is my favorite pair, I just love everything about them, including how comfortable they are.
They've brought them back in a slightly different style and I love it, too. It's available here: Old Gringo Floral Boots. I wonder if the "Happy" code will work for the boots? If you buy a pair, definitely try that code to see if it works for 25% off. Hopefully, it will.
If you know someone who loves to cook but is short on time, very much recommend this air fryer below. I have it and absolutely love it! I especially love that I don't have to babysit it–I just toss in whatever I'm cooking, set the temp and time and forget about it!
I cook everything under the sun in mine, just had fried shrimp tonight. They've come out with it in a slightly bigger size which would be great for larger families. You'll find it in both sizes here: Ninja Air Fryer. The 8-qt size (like mine) is currently on sale as a Deal of the Day here: Ninja Air Fryer.
I bought my son a Yeti Cooler this past summer and he used it almost every single weekend last summer. He and his family spend a lot of time outside in the backyard in the summertime, so they keep it stocked with drinks pretty much every weekend. The especially awesome thing about this particular Yeti cooler is that it's on wheels, so easy to move around. Coolers can be super heavy once loaded, so wheels make a huge difference. This cooler was sold out in most places last summer when I was trying to find it for him, especially in the most popular colors. Right now it's available in a bunch of different colors here: here: Yeti Tundra Haul.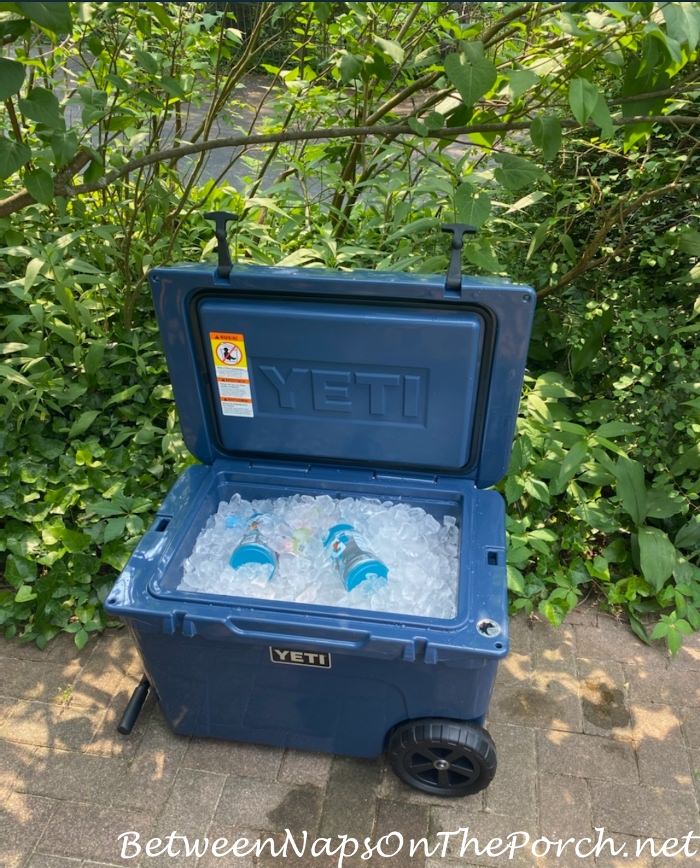 I purchased this Bose portable Bluetooth speaker for my son a few years back and it's another staple that's always with him when he's out in the backyard grilling or just hanging out with the kids. He's able to listen/play all his favorite music (with his phone) via this speaker when he's outdoors. I love it because the sound comes out from all sides, so there's not a "dead" side where you can't hear the music. It's perfect for backyard dinners and parties or for taking along camping or to the beach.
They just came out with their latest version and it's supposed to have even better/deeper sound, play even louder and the battery lasts even longer–up to 17 hours! If you know someone who's really into their music and loves grilling out or entertaining outdoors, this would make a great Christmas gift. It's available here: Bose Soundlink Portable Bluetooth Speaker.
I noticed Viktor & Rolf has come out with some great gift sets for one of my favorite perfumes, Flowerbomb. Flowerbomb is available here: Flowerbomb and the gift sets can be found here: Flowerbomb. At that first link, there's a small size that would make a great stocking stuffer or would be a good size to buy if you've always wanted to try Flowerbomb, but didn't want to buy a big bottle.
Love the look of these throws that are currently on sale. I think they would make a nice Christmas gift for anyone who loves a cozy throw. You'll find these on sale here: Plaid Throws.
I really like the cable knit style of this cashmere and Merino wool sweater/hoodie and it's currently on sale at my favorite cashmere shop! You'll find it here: Cable Knit Hoodie.
I gave my daughter-in-law this bath caddy/tray one year and she uses it often. If I ever renovate my bath, I'm totally getting one. They make great gifts and it's one Christmas gift that will definitely be appreciated by the man/woman who loves a bit of pampering after a long day at work. It's designed to hold a book, an iPad or even a phone. You'll find it here: Bath Caddy Tray.
Can't do a gift post without mentioning my favorite long cashmere sweater! I have this sweater in several and absolutely love it! My daughter-in-law loves it, too so it's great for all ages. It's currently on sale for an awesome price so this is the time to buy it if you've ever wanted a long cashmere sweater that is luxuriously soft. You'll find it on sale here: Duster Cardigan.
Know someone who loves to travel? This is my favorite travel toiletry bag. I purchased it when I visited my son/dil last year and after arriving, realized I'd left my other toiletry bag back home. I had to repurchase a bunch of essentials and needed a way to store them and this bag was on sale at the time.
I'm so glad to have discovered it because it's beautifully designed, super functional, and very well made.
There's even a separate pocket for makeup brushes. Plus, the price is unbeatable at just $20 after "checking" the box for the coupon. You'll find it available here: Toiletry Bag.
Talbots has all their sweaters currently 50% off, including this one. You'll find it here Beautiful Winter Sweater. See all the sweaters that are included in the sale here: Sweater Sale.
I hope to put together a stocking-stuffer post in the next few days so keep an eye out for that if you're in need of some ideas for those.
I love shopping from home in my PJs–sure beats driving through the crazy Atlanta traffic! Happy weekend holiday shopping! Let me know if you find something amazing or for a crazy great deal and I'll add it to this post!
*If a post is sponsored or a product was provided at no charge, it will be stated in post. Some links may be affiliate links and as an Amazon Associate, I may earn from qualifying purchases. *