I am such a happy camper right now! For years I've had an ongoing issue for which I could never find a solution. It's been so annoying, I was seriously thinking I was going to have to invent a product to fix the problem myself. I even talked about it with a sales associate a few months ago, describing a product I was thinking about creating because I'm so tired of dealing with this issue!
What am I talking about? I'm talking about how every single time I get in the car and I'm driving along, I'll glance over and notice that the handbag I'm carrying that day is sitting in full sun, having the color and finish ruined right before my very eyes.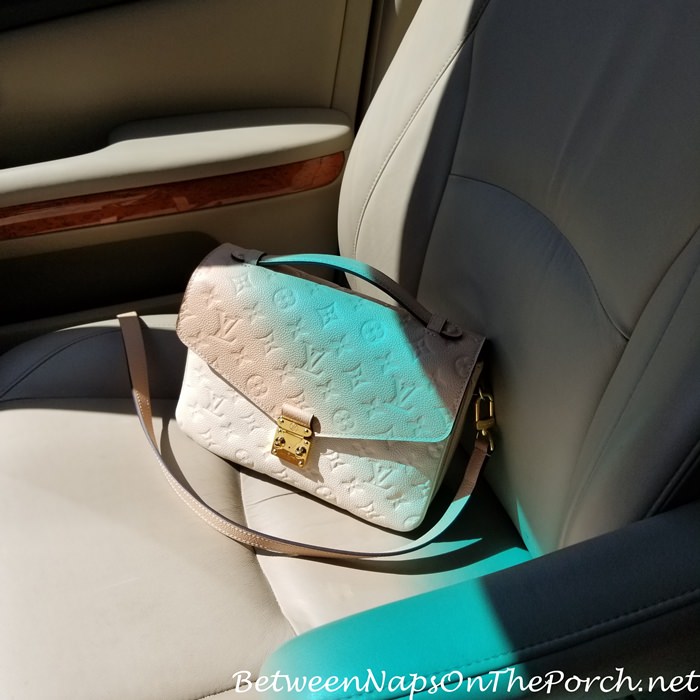 Okay, that's a little melodramatic, but as you probably know the sun can fade out and ruin pretty much anything in just matter of a few hours or days. If you regularly toss your handbag into the passenger's seat, I can promise you your handbag is being damaged by the sun as you drive around throughout the day.
Or, if you take a trip or a long drive and the sun is beating down on your bag for much of the trip, the color is going to get bleached out of it, slowly but surely. The sun can damage pretty much anything including curtains, flooring, and upholstery if it beats down on it long enough.
But that wasn't the only issue I was trying the solve. The other problem I've run into occasionally is when I've had to brake suddenly due to a traffic light changing or because a car in front of me suddenly braked to avoid another car. When that happens, out of the corner of my eye I often see my handbag flying out of the seat, crashing into the floorboard with its contents spilling out everywhere. Anyone else had that happen? Arggg!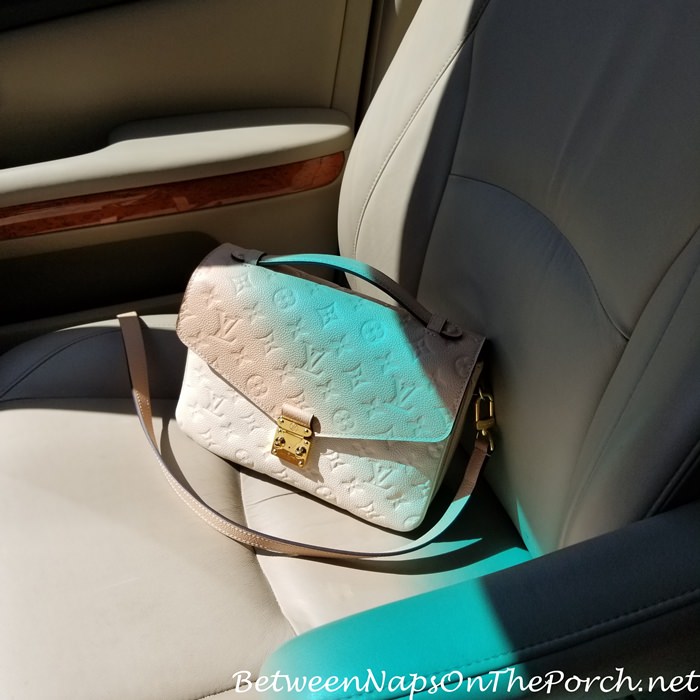 I am beyond happy right now because I have at last found a solution–and I didn't have to invent it! lol Recently, I came across something that looked very promising and I ordered it. I'm happy to say that it is working splendidly! You can see it installed in my car in the photo below.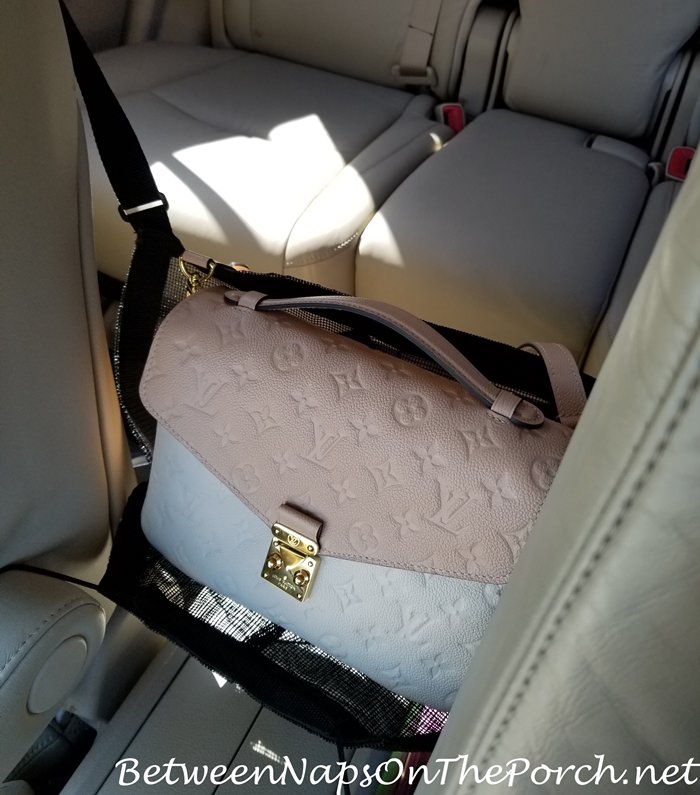 The best way I can describe it is that it's a holder or carrier that fits between and slightly behind the front/center console in your car. This photo from the website (not my car) shows how it looks really well. You'll find it available here: Handbag Holder for Car.
It's been in my car now for a few days while I've run several errands and I absolutely love it! When I go through a drive-through and need to access my handbag, it's super easy to reach. I never even have to remove my bag from the holder. I just reach back, open my bag and pull out my wallet.
Update: I hadn't even noticed until now, but there's a big pocket on this handbag holder. So you can either place your handbag down into the big pocket or turn the bag holder around so the pocket faces the back seat and nestle your handbag into the holder as I have mine. Then the big pocket can be used to hold other things in back. Very versatile piece!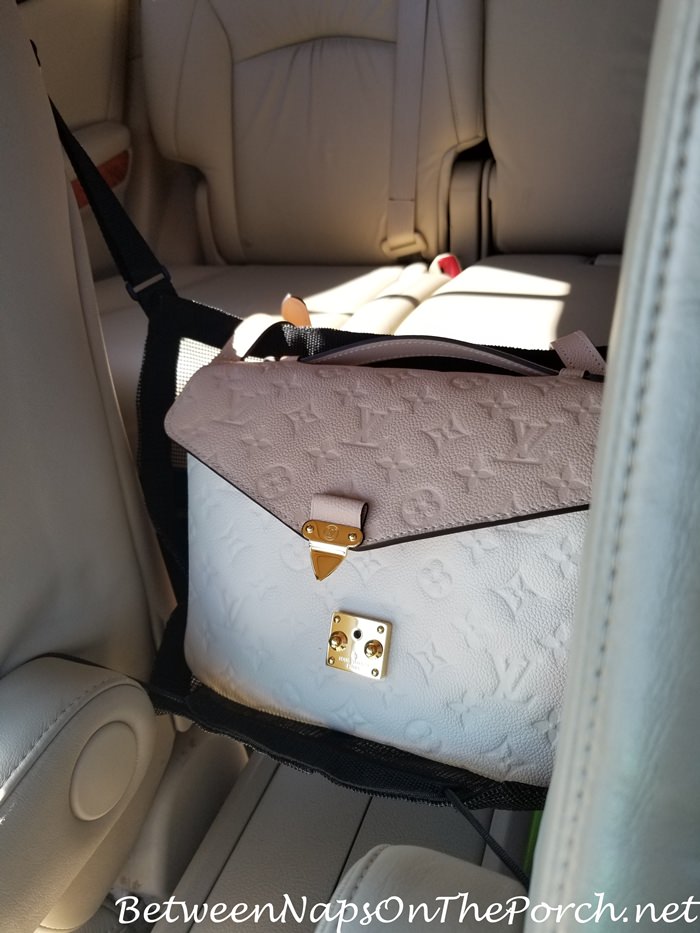 Most of my handbags are medium to small in size, but apparently, it works for bigger bags as seen in this photo below. I do have one bigger bag, so it should fit just fine when I use it this summer.
As mentioned, I have found it very easy to access when I'm going through a drive-through window. In this photo from the website, it may look a bit awkward, but I haven't found it awkward to reach at all, and I've tested it several times now.
One thing you need to know that I didn't realize until after I ordered it (but I made it work anyway) is that it was designed to work with cars that have a center console that opens up from the front, not the type that slides open.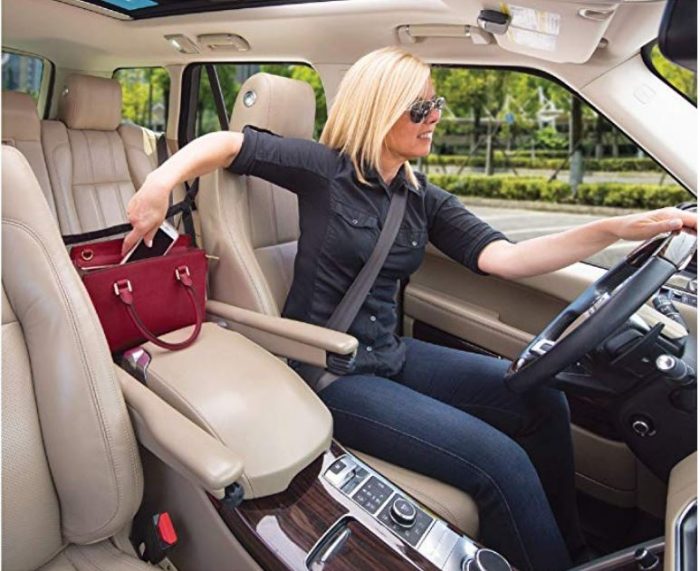 My console is the type where you press a button and it opens from the center. Since I couldn't hook the little tie-cord that it comes with underneath the back end of the lid of the console as you're supposed to, I just hooked the cord around each armrest attached to the seats. That is working very well and I can still easily access the console.
It's probably not as elegant looking as it would be if I could completely hide it underneath the lid of a center console, but I don't care. I'm so excited to finally have a way to keep my handbag in the front with me but out of the sun and floor, I can totally live with it attached this way. I'm really glad I missed that part about it only working with cars with a center console that opens from the front (insteading of sliding open) otherwise, I may not have ordered it.
If you would like to see a better photo of how I have the little cord hooked around the armrests, let me know and I'll add one to this post, but it was super easy. The whole installation took about 1 minute.
The other place this handbag holder attaches is underneath the two front headrests. You just hook it through the little metal poles on the headrest, then lower the headrests back down. Once you lower the headrests down, you don't even see the hooks anymore, or at least you don't on my car.
Tip: In the video, they show connecting the little hooks to the outer sides of each headrest. I tried that at first and then moved them…can't remember why now. I just tried that again and it's working fine–so I would go with connecting them on the outer part/bar of the headrest. Once you get the little cord attached under the console, I find it's easier to attach the two little hooks onto the headrest bars while sitting in the back seat. You can see how to adjust them better from back there.
Here's one more photo showing where the handbag ends up positioned in the car when traveling. This is such a genius idea! You can read all the great reviews on this handbag holder here: Handbag Holder for Car.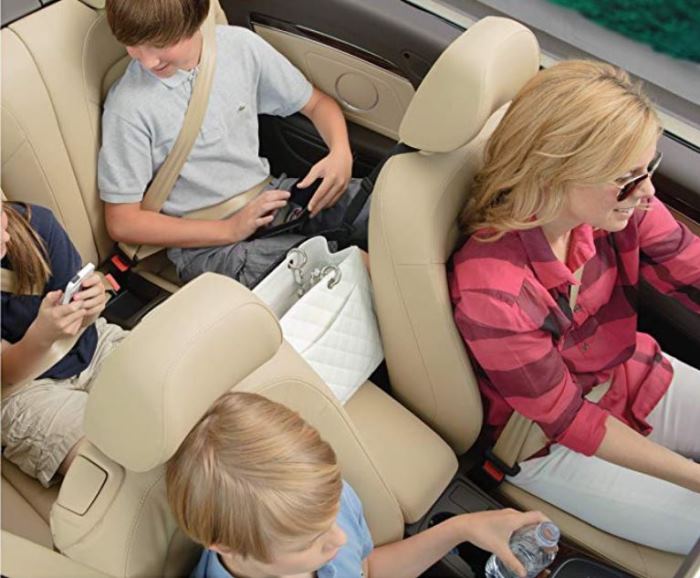 Here's another view of how my handbag looks inside the car. I forgot to close it back up after I got my cellphone out to take the photos, but it's fine to drive around with it open since it's not going anywhere. No more handbag missile flying through the air when I have to stop suddenly for a red light or a crazy driver in front of me!
I am seriously so in love with this handbag car holder, when I do finally get around to replacing my 12-year-old car, I will not buy a new car unless this carrier will work inside of it. Before I go car shopping, I will buy another one of these to take around with me when test driving cars.
It's that important that it fits inside any car I own in the future. I never want to worry again about having my handbag ruined in the sun and I definitely don't want to go back to having my bag and all its contents smashed into the floorboard of the car because I had to stop quickly. Those days are gone forever! Yay!!!
If you are in need of handbag carrier for your car, you'll find this one available here: Handbag Holder for Car. I'm thrilled with how it's working out in my car. Best invention EVER! 🙂
*If a post is sponsored or a product was provided at no charge, it will be stated in post. Some links may be affiliate links and as an Amazon Associate, I may earn from qualifying purchases. *