A few years back I stumbled across a big, fat turkey in Pottery Barn. He was a bit on the pricey side so I didn't buy him that day, hoping to catch him in a sale later on. Well, much to my dismay he sold out faster than you can say Jiminy Cricket!
Amazingly, Pottery Barn brought him back the following year. I was so surprised! I remember a sales representative in Williams Sonoma once telling me that sometimes WS will introduce an item into their line and if it sells well, they will often bring it back the following year. Pottery Barn and Williams Sonoma are owned by the same parent company so maybe PB follows that policy, too.
Anyway, when he showed back up the following year, I didn't wait for a sale and bought him as soon as I spotted him. Of course, that year he did ultimately go on sale. Ha! Just my luck!
I love using him as my centerpiece in a lot of my Thanksgiving tables since he's such a nice neutral and works with any dinnerware pattern I may want to use. He's also fun to dress up for my grandsons. lol
Since I've enjoyed Mr. Turkey so much, when I spotted this guy in Williams Sonoma last year (or was it the year before?) I bought him right away. He was their display and the only one they had in stock that day, so he came home with me sans box since they couldn't locate it. A few weeks later I stopped back by and they had quite a few Mr. Pheasants out on display.
I've had a lot of fun using him in various table settings.
I've come to realize that white centerpieces are super flexible for incorporating into a table setting. You can do so much with them!
Whenever I make the long 8-9 nine-hour drive home from visiting family in Ohio, my fave rest stop for a bathroom break is always a Cracker Barrel restaurant. I love stopping in their restaurants for many reasons: 1. There are a lot of them right off I-75, so they are easy to find when I'm ready for a break, 2. The bathrooms are always clean, at least that's been my experience, and 3. I enjoy walking around inside their shop to stretch my legs a bit before getting back on the road. I often find something in their store that I just can't leave without. I've bought gifts for my grandsons, Christmas ornaments, and even shell napkin rings.
This time I spotted two items I really liked and came very close to buying both. I loved this adorable rooster lamp. If I'm remembering correctly, it was around $50 which is not bad for a lamp with a fabric shade. I also liked the shape of the shade.
I thought it would look really cute here in my kitchen during the year and I could use this pinecone lamp in the fall and winter. (That's an older photo, I no longer have a TV in the kitchen since I got rid of cable TV.) But then I realized I really like keeping the pinecone lamp here in this spot full time, so I think I'll just look for a different shade to use on this lamp during the spring/summer months. So I managed to talk myself out of the lamp.
But I did pick up this guy below during my visit. He was the same price as the lamp: $49.99. That's a lot less than what I paid for Mr. Turkey and Mr. Pheasant–about half the price!
I placed him alongside Mr. Pheasant so you could see how he compares in size. I think he will be great as a centerpiece any time of the year. He's a nice, big size, but not too big. He should be cute in the center of my breakfast table when I'm not using him in a table setting.
If you live near a Cracker Barrel, you may want to stop in to check out all the cute stuff they have available right now. I noticed today that both the lamp and Mr. Rooster are available at their online store here: Cracker Barrel.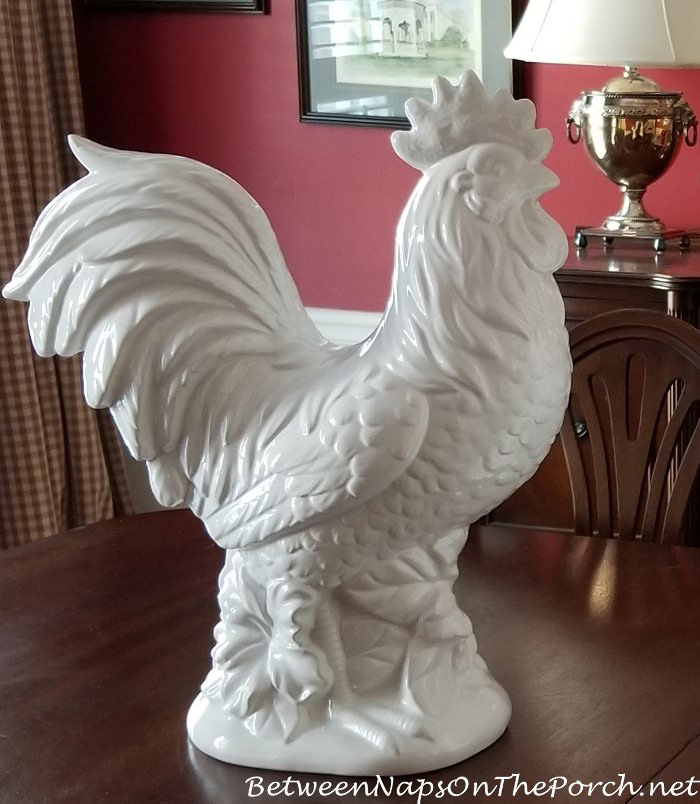 Hope you are having a great Sunday. It's so beautiful here, finally seeing some wonderful sunshine! See you tomorrow for Metamorphosis Monday!
*If a post is sponsored or a product was provided at no charge, it will be stated in post. Some links may be affiliate links and as an Amazon Associate, I may earn from qualifying purchases. *