Welcome to the 572nd Metamorphosis Monday!
Happy Monday! I hope your week is starting off great! Mine has started off with an interesting twist. Unfortunately, my car left me stranded last night at the grocery store. I think it's probably a dead battery. Apparently, my battery doesn't like really cold weather. It's used to sleeping inside a garage at night in Georgia and not outdoors in Ohio. lol
I've always heard cold weather is rough on an older battery so I guess the cold must have gotten to it. I'm sure it's an older battery because I can't remember when it was last replaced. My son will be taking me back to where we left it today and once I call roadside service and have it jumped off, I'll be off to buy a new battery. Today's my birthday and I'm getting a new car battery! Whoo, hooo! 😉
Update: Well, my car mysteriously cranked right up this morning. Have no idea what was wrong last night, just hope it doesn't come back, whatever it was!
So How Do They Look?
Recently I mentioned in a post that I had ordered a couple of twilly scarves to use on the handles of this recently purchased Lady Dior handbag. This bag was a find HERE, a Christmas/Birthday present to myself. (Much better than a battery! Ha!) I saved around 50% purchasing it preloved in Excellent/Like-New condition.
Since I frequently wear lotion on my hands, I know those cream white handles won't stay pristine white for long if I don't protect them. Plus, just the regular oils/sweat/everyday-dirt can easily transfer over to the handles of a bag. That's not as big a problem if a bag is black or brown but with a white bag I feel better adding that extra layer of protection
I thought it would be fun to do a follow-up post for this week's Met Monday sharing how the twillies actually look on the bag. I ordered this floral one for spring/summer…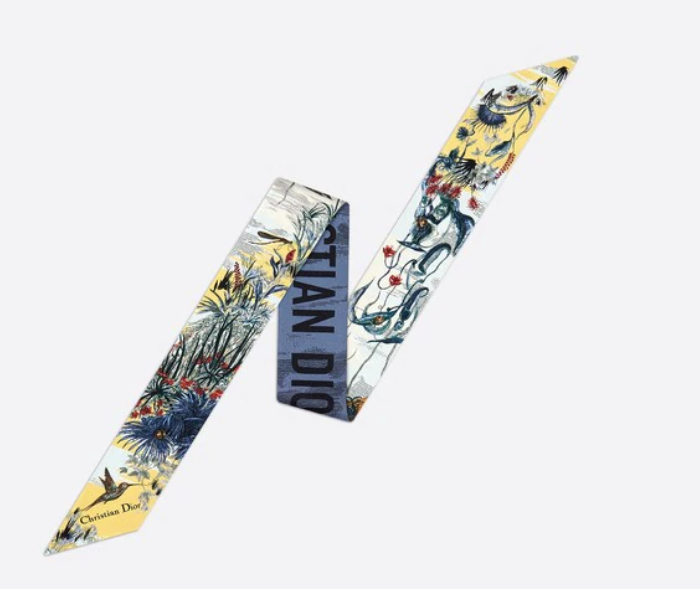 …and this one in autumn colors for fall/winter. I always have a hard time finding twilly designs that I love. I have a knack for finding twilly scarves that are discontinued, so I was really happy to find some that are available in store right now and that I actually like.
So how do they look on my bag?
Here's how the spring/summer twilly looks on one of the handles of the bag. I didn't tie it on both since I'm saving these for springtime. I love how it looks, crazy about the colors!
I also love how much cushion/comfort it added to the handles. I'll be wearing this bag crossbody or on my shoulder much of the time, but when I pick it up by the handles, I do love how much cushion the twillies add to the feel of the handles.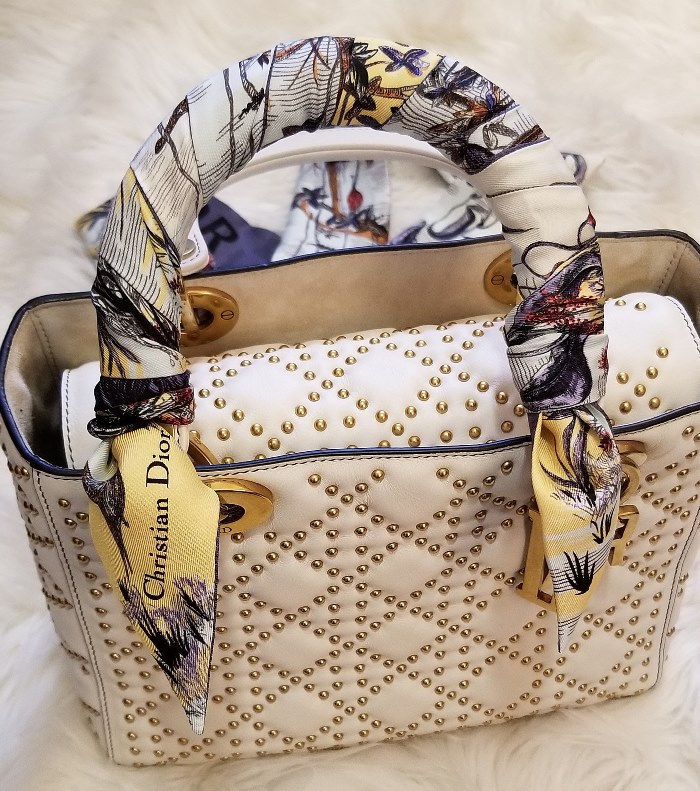 Here's a quick photo I snapped this morning showing how the fall/winter twillies look on the bag. It was very early in the morning so not the greatest light, but hopefully, you get the idea. I paired them with my fave Burberry scarf and one of my Orvis "barn" coats since we were just talking about barn coats in yesterday's post.
If you are interested in learning more about barn coats, check out the comments left on yesterday's post. I loved hearing about your love for the iconic, classic barn coat!
Here's a bit closer view of the twilly. I tied it in a different way than I did with the spring twilly. I saw this method on the Instagram feed for a Dior Boutique in Beverly Hills. Instead of having both of the little tails of the scarf hanging down in front, the Dior associate had tied it where one of the tails was tucked up under the scarf on the side where the little Dior charms hang, I guess so the charms are more visible.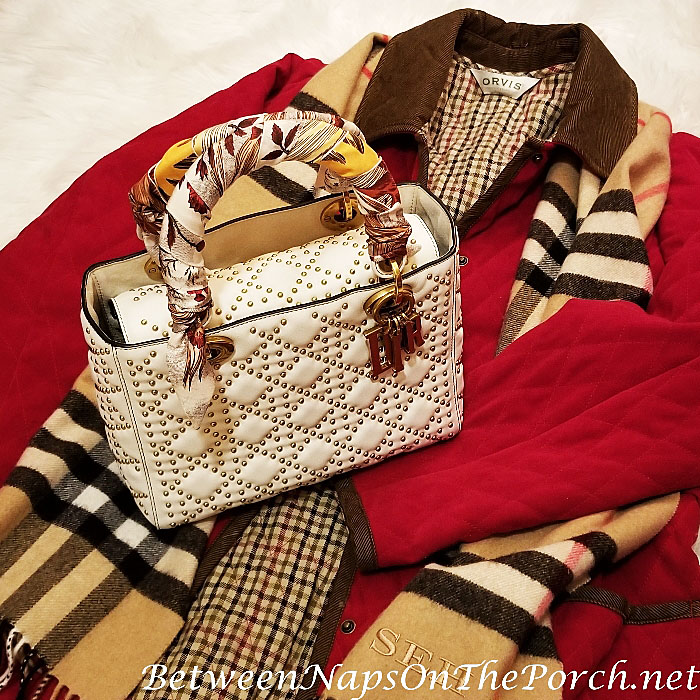 How do you like it tied–with both tails hanging down as shown below?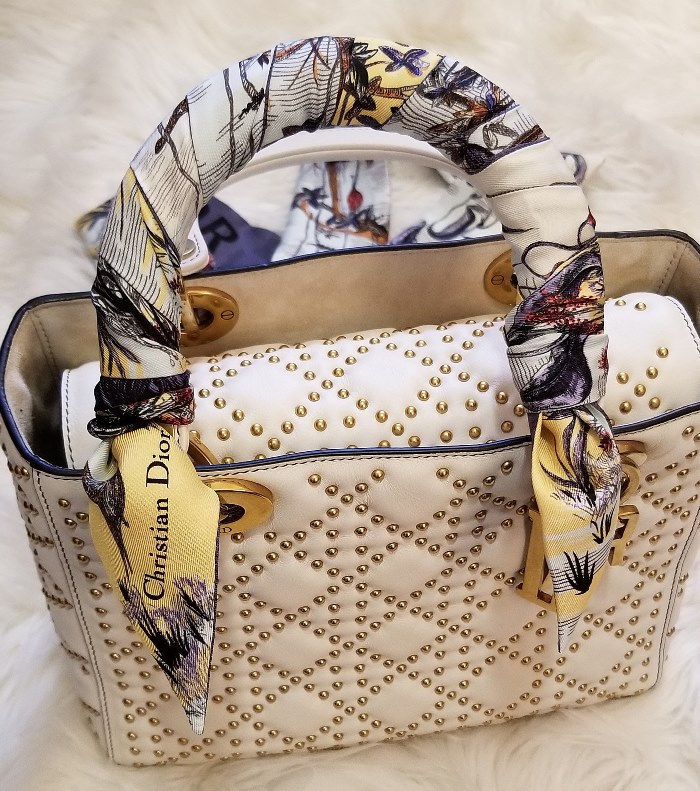 Or, do you prefer it with one tail tucked up under the scarf so the charms are more visible?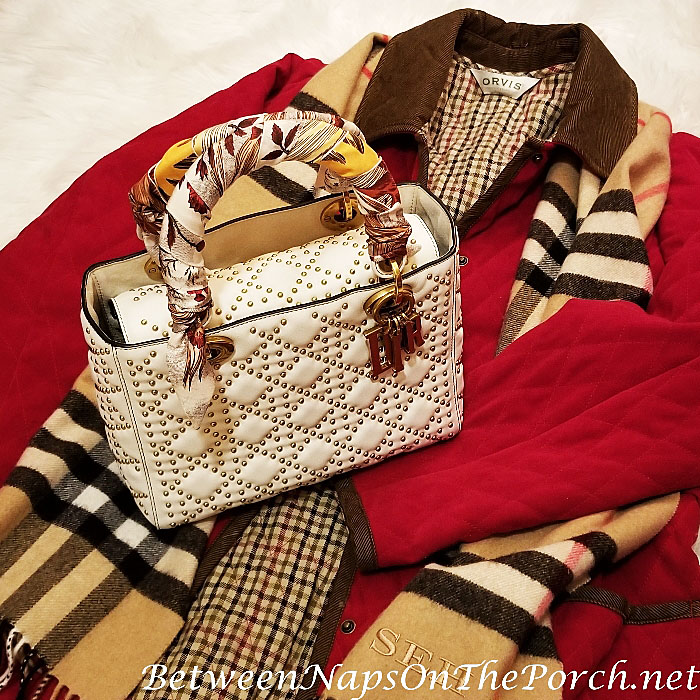 Okay, I'm off to deal with a dead car…wish me luck! I just hope it's not the hybrid battery that's the issue because I'm not spending $6-7,000 on a new hybrid battery for a 12-year-old car. Nope.
Update: As a follow up to my post about Barn Coats, I just ordered this one last night. I've had a couple of Orvis barn coats for years and love them, but I wanted to try one from L.L. Bean since I always love everything I buy there. I purchased it in this color shown below. If you like the look of this coat, you'll find it here: Barn Coat.
Looking forward to all the wonderful Before and Afters linked for this week's Met Monday!
Pssst: Did you know Between Naps On The Porch is on Instagram? You'll find me on Instagram here: Between Naps On The Porch.
Like to know when a new blog post is up and available to read? Subscribe for email updates, it's free and your email will never be shared.
Subscribe here: Subscribe for free post updates via email here: Subscribe.
Metamorphosis Monday
Metamorphosis Monday is a party that's all about Before and Afters. If you are participating in Met Monday, please link up using the "permalink" to your MM post and not your general blog address. To get your permalink, click on your post name, then just copy and paste the address that shows up in the address bar at the top of your blog, into the "url" box for InLinkz when prompted.
In order to link up, you'll need to include a link in your MM post back to the party so the other participants will have an opportunity to receive visits from your wonderful blog readers.
This party has ended, click button below for the links to all who participated.
*If a post is sponsored or a product was provided at no charge, it will be stated in post. Some links may be affiliate links and as an Amazon Associate, I may earn from qualifying purchases. *