Hanging Wreaths on Exterior Windows
Sometimes I think I have decorating ADD. Is there such a thing? I was out of town much of last week so I'm way behind on my Christmas decorating. I awoke yesterday when one goal in mind: hang all the Christmas wreaths on the windows outside.
When nighttime arrived, not only were the wreaths not up, I hadn't even pulled them out of the hidey hole where they live eleven months of the year. I went to bed last night determined to begin the day by hanging wreaths.
I've made some progress, at least they are out of hiding.
Twenty-nine feet of wreath (yes, I measured) now adorn the upstairs hallway. What's that? You need the office? That would be the 6th wreath on the left. Guest room is just across the way. The bathroom? Ninth wreath on the left. Need a towel? Linen closet is the 13th wreath on the right. Follow the yellow brick road red-ribbon road and you'll end up in the master bedroom.
There is method to this madness of wreaths. I'm going to label them this year…somewhere on each ribbon. That way I'll know exactly which wreath goes where when I pull them out each year. Some have longer hanging ribbons and those are destined for the 6 foot windows downstairs while the wreaths with the slightly shorter hanging ribbons belong on the upstairs windows. (Pssst: You'll find a detailed tutorial for hanging wreaths on exterior windows here: Hang Wreaths on Your Exterior Windows: A Tutorial)
The big one at the far end belongs above the fireplace. (Mantel post can be viewed here: Nature or Hunt-Themed Christmas Mantel)
The small wreath towards this end of the wreath highway hangs from the birdhouse in the garden.
I noticed this year, the bow that normally hangs from the gas lantern is looking pretty faded. I think it's ready for an update.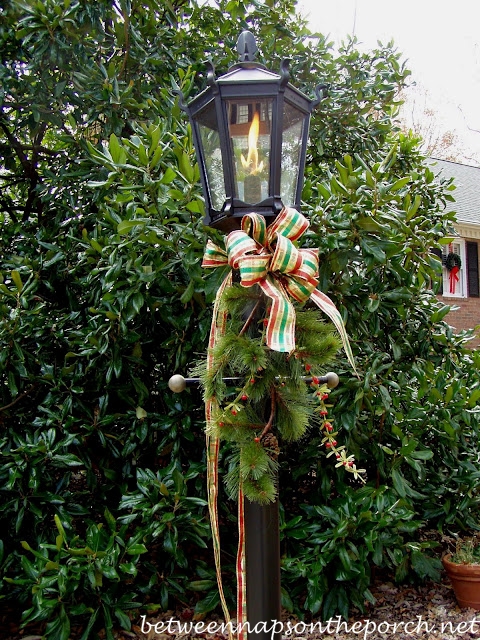 Before I start decking the halls…on wait, the hall is already decked. Before I un-deck the hall and start decking the windows, I wanted to give a little update on some things you may find helpful.
Notification of a Reply to Comments:
A few weeks ago I realized whenever I "replied" to a comment left on a post, the commenter had no way of knowing a reply had been left. I made some updates and now there's a little box that's automatically checked to notify when a reply has been left. I hope that's been working and you are receiving an e-mail when a reply to your comment/question has been left. Also, you can leave replies for others, so we can have some fun discussions now in the comments. Thank you for sharing your knowledge with others who visit.
Facebook Feed Notifications: Boo, hiss on Facebook
I've had several BNOTP readers mention they are no longer receiving notifications in their Facebook Feed when BNOTP has posted. I did some googling and discovered Facebook has changed this process. Boo, hiss. Now they only notify a percentage of readers each time when a blog they follow has posted. You may have noticed this for other blogs you read/follow.
Update: Dawn just shared this in the comments. So this may be helpful if you find you're not getting the Facebook update:
Susan, if you want to tell your facebook readers how they can keep up with your posts since facebook has been ugly and only letting it go to 10% of your fans, they can click on the little gear at the top right when they go to your page and click on add to interests list, then they will show up on your fans pages.
Thanks so much for the tip, Dawn!
Follow via E-Mail or RSS Feed:
Thank you so much for being a follower of BNOTP on Facebook. It is much appreciated! Since FB decided to make this change, I'd like to also encourage you to follow BNOTP via RSS feed or email because if you don't receive an update in your FB feed, you'll at least be notified when there's a new post via email or your fave Feedreader.
To receive an update notice via e-mail, you'll find the "sign-up" at the top of the sidebar on the right. You'll receive a confirmation e-mail in your Inbox. Just click on that to confirm your wish to receive an email when a new post is up and ready to read. The email you'll receive whenever a new post is up, will always contain a direct link to the post and an excerpt (with photo) so you'll know what the new post is about. Then you can just click the title to open the post to read. Hope this helps those folks who are not always getting a notice in their FB feed when a new post is up.
Google+
I think this recent FB change may come back to bite FB in the nether-regions. More and more folks are using Google+ to stay connected with their favorite blogs and with their friends. This recent FB change has pushed me that direction, as well. I will continue to post updates on Facebook, but I'll definitely be using Google + more than I have. You'll find me on Google + here: Between Naps on the Porch Google + Page. Would love to have you following BNOTP on Google +.
If you already use Chrome as your browser or have email with G-mail, consider signing up for Google+ and following BNOTP there. I am going to be posting notifications of new posts regularly on my Google+ wall, so that will also be a great way to know when a new post is available at BNOTP.
Thank you so much for being part of this wonderful group of friends who gather here each day. I don't want to call it a community because that word is so over-used. We are more than a community, we are friends and I cherish each and every one of you!
Okay, before I get too misty-eyed, I'd better get cracking on these wreaths. How is your holiday decorating coming along? Are you changing up anything (like labeling wreaths) to make the process even easier for next year?
Links in this post:
Tutorial for Hanging Wreaths on Exterior Windows
Nature or Hunt-Themed Christmas Mantel
*If a post is sponsored or a product was provided at no charge, it will be stated in post. Some links may be affiliate links and as an Amazon Associate, I may earn from qualifying purchases. *