Welcome to the 343rd Metamorphosis Monday!
This isn't exactly a metamorphosis but in a way it is since it's a drastic change from how I would normally pack for vacation or a trip. I guess you can call it a luggage metamorphosis.
When I travel to Africa in a few weeks, I'll be traveling via "light aircraft" on two different occasions. On the smaller planes, suitcases with pull-handles and wheels are not allowed. The luggage has to be able to fit into the small luggage compartment of the plane, which means only soft-sided luggage (like a duffle bag) is allowed.
I figure this is a good time to use the Pendleton Weekender bag I purchased on eBay a while back.
I'll also be traveling with my travel pillow, the one I'll be using on the plane. It snaps onto the handle of the weekender bag.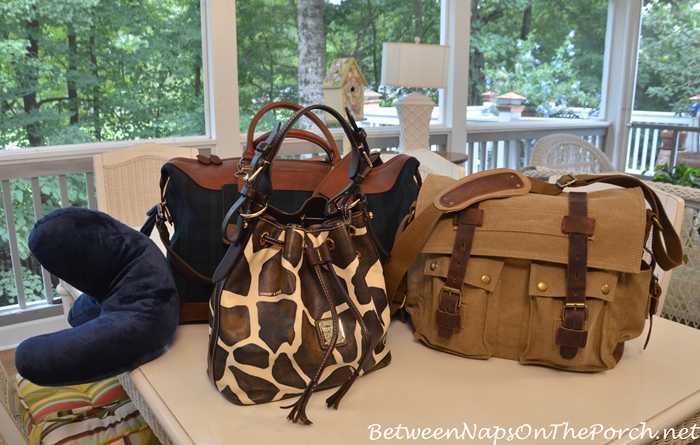 All important documents (Visa, Passport, Yellow Fever Vaccine Certificate) credit cards and cash will be tucked safely away in the neck pouch that I'll be wearing underneath my clothing. This is the same little pouch I'll be wearing when I head off to Italy in October. (It's available here: Lewis N. Clark RFID Safe Neck Stash)
For fun, I purchased a cute Dooney & Bourke giraffe-print shoulder bag on eBay. I'm not sure I'll take it with me since I'll probably only shop in the nearby Massai Village market one afternoon. I think the Lewis 'N Clarke Neck Stash will be the easier and better way to go.
I may tuck the Dooney & Bourke bag inside my weekender bag to use when I stay overnight at Giraffe Manor. Do you think the giraffes will be offended? 😉
I don't plan on checking any bags on this trip. Other than the Pendleton Weekender bag, the only other bag I'll be carrying on this trip is a canvas & leather camera, laptop book bag I found recently on Amazon. I scoured the net for a bag that would hold my camera, a couple of lenses, my laptop, and had a fun "safari-like" feel. I was so happy when I found this bag because not only did I like how it looked, it has great reviews, too. It is sooo well made, I just love it!
It comes in several colors. I went with the one shown below called, "Light Coffee."
My 14″ laptop (which measures 13.03 inches) fits across the back of the bag.
'
The yellow insert is designed to hold a camera and a couple of lenses. I have my laptop electrical cord laying across the top.
Underneath, there's room for two lenses and the camera will fit in the center compartment. The camera will also fit inside the center compartment with a lens already attached and facing down into the bag. That's the way I'll keep it when I'm out on safari so I can grab it readily from the bag. It's not a good idea to add/remove lenses in the field because of all the dust that's normally flying around.
I'm only planning on taking two lenses with me: my Nikon 18-200mm and another lens I purchased recently for this trip. The 18-200mm lens will be my walking-around lens when I'm back at camp and wish to take photos of the room, the tents, etc…
The other lens I'm taking to Africa will be a Nikon 55-300mm lens I found in a closeout sale at Adorama. It will give me a bit more zoom and will come in handy for photographing birds here at home.
I'm probably going to take my Sony RX100 that I recently purchased for the Italy trip because I've read it's good to have a second camera handy for when the safari guides are able to get closer to an animal and there's no time to change the lens. Sometimes the animals come close on their own like THIS, THIS and THIS! Yikes!
When I'm out on safari, I'll be leaving the laptop back at camp.
Behind the laptop is another pocket. Inside that pocket is where I'm storing a super slim, portable hard drive that I'll be taking on the trip.
This baby is super thin, yet holds 500GB of data! And it was just $99! I've been researching a good bit about how photographers protect the photos they take while on a vacation and they recommend lots of redundancy. You can never have your pictures stored in too many places.
I'm taking 6 good-size memory cards with me, probably way more space than I'll need. Each day I'll upload my photos to my laptop and then I'll back them up on the portable hard drive. I won't erase or format the memory cards until I'm back home and can upload the photos to my desktop computer, too. If you're in need of a small, lightweight backup hard drive for travel, you'll find this one here: Seagate Seven External Hard Drive
I plan on storing all my used/full memory cards inside my Lewis N. Clark neck stash. That way if the worse happens and my laptop/camera bag is stolen, at least I'll still have my pictures.
I think I'll keep my backup drive inside my Pendleton Weekender bag, once I'm at the camp and began taking photos and backing them up. That way I won't have all my eggs in one basket.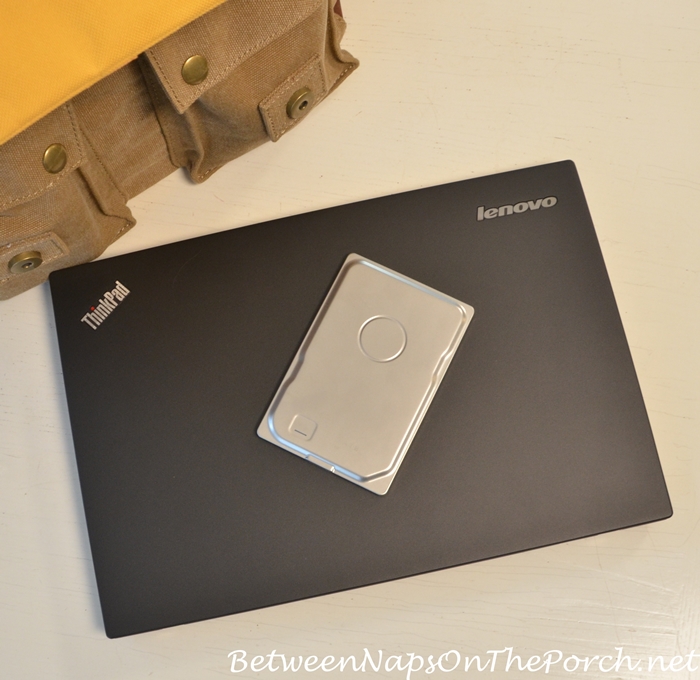 I love this bag! The yellow camera case insert is removable so the bag can be used as a messenger bag, book bag or whatever.
For the trip over, I'm using the two front pockets to store my camera charger (with an extra battery) and the mouse I'll be using with my laptop. I could have gone with a smaller mouse but I absolutely love this mouse! (You can read more about this mouse HERE.)
The side pockets are perfect for holding charging cables for the mouse and my eye mask/earplugs for sleeping on the flights. This bag is available here: Leather Canvas Shoulder Laptop, Camera Bookbag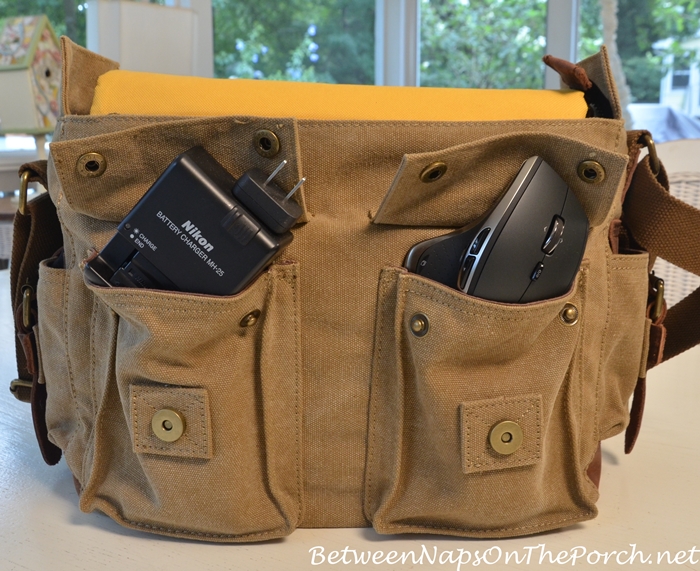 Sure hope I can get all the clothes I'll need in the Weekender bag. They will wash your clothes for you daily at Mahali Mzuri, if you wish. I'm only planning on taking 3 pairs of pants. I will probably take one or two pairs of shoes…maybe just one. This is going to be a very casual trip.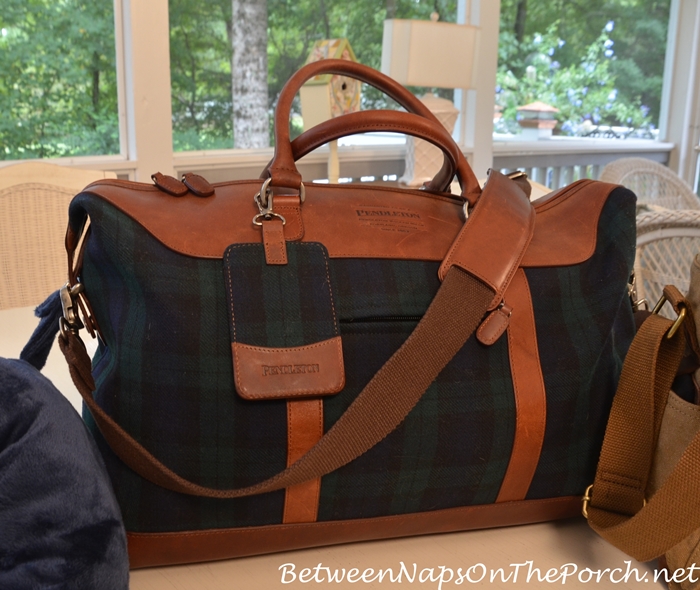 I found the best deal on hiking/safari style pants this evening at Sierra Trading Post. They are on sale for just $29.95 AND I used the coupon code: ALSUNSET5 to get an extra 25% off, plus 50% off shipping! Such a great deal!
They are convertible, meaning you can unzip the legs and they become shorts. I doubt I'll do that since I want maximum mosquito protection, but love the styling and how they look. I ordered one in this color and one in a Khaki color. They also come in black. You'll find them available here: Zip-Off Stretch Micor Pants Don't forget to use the coupon code for an additional 25% off and half off on shipping.
Speaking of mosquito protection, this is the product that is supposed to be the best from everything I've read online. It's the same thing the military uses. I ordered a tube of it this evening. I hate wearing insect repellent but I hate the idea of getting sick with Yellow Fever and Malaria even more. It's available on Amazon here: Ultrathon Insect Repellent
Think I should bring along my photography vest bought in Banana Republic back in the 1980's? 🙂
Anyone remember when Banana Republic sold almost nothing but clothing that looked appropriate for a safari? I loved shopping in there because it was so different from any other store. I noticed today, the tag in the neck says the vest was made in Sri Lanka. You never see that on tags nowadays.
Looking forward to all the fabulous Before and Afters for this Met Monday!
Metamorphosis Monday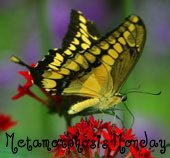 If you are participating in Metamorphosis Monday, please link up using the "permalink" to your MM post and not your general blog address. To get your permalink, click on your post name, then just copy and paste the address that shows up in the address bar at the top of your blog, into the "url" box for InLinkz.
In order to link up, you'll need to include a link in your MM post back to the party so the other participants will have an opportunity to receive visits from your wonderful blog readers.
Please observe these few rules:
Only link up Before and After posts that are home, gardening, crafting, painting, sewing, cooking, DIY related.
Do not link up if you're doing so to promote a website or product.
Do not link up a post that was just linked last week since a lot of readers will have already seen that post.
*If a post is sponsored or a product was provided at no charge, it will be stated in post. Some links may be affiliate links and as an Amazon Associate, I may earn from qualifying purchases. *