Good news! Williams-Sonoma brought back their tartan bedding! Last year several folks emailed or left comments upset because this bedding sold out so quickly at the Williams-Sonoma Home website. After talking with an associate in one of the WS stores, I had high hopes that they would bring it back and they did! You'll find it on their website here: Tartan Bedding
I purchased several Williams-Sonoma tartan tablecloths on eBay last year and had a bedskirt made. So, if you need a bedskirt, look for the Williams-Sonoma tartan tablecloths on eBay. I purchased the biggest ones I could find.
You probably only need 3 to make a bedskirt since you can get two really long lengths our of each tablecloth. I purchased a few more since I wanted my skirt extra full. Williams-Sonoma may have the tablecloths in again this year, but I found they were less expensive on eBay.
If you wanted this for your fall/winter bedding, I would not wait too long to order it. I have a feeling it will go fast again like it did last year. You'll find it here: Tartan Bedding
I didn't buy the pillow cases last year and ended up wishing I had. I definitely want to get those this year. They are available at that same link above.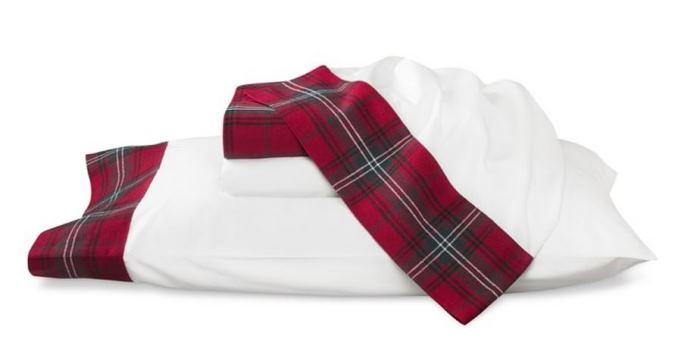 This year they also have tartan bedding available in the Stewart pattern: Stewart Tartan Bedding Love this pattern, too!
There's also a blue/green tartan called Isle Tartan available here: Isle Tartan Bedding
Tartan is such a classic, it's a timeless look that never goes out of style. I love changing my bedding out in early fall for a cozy, warm bed I can enjoy all fall and winter.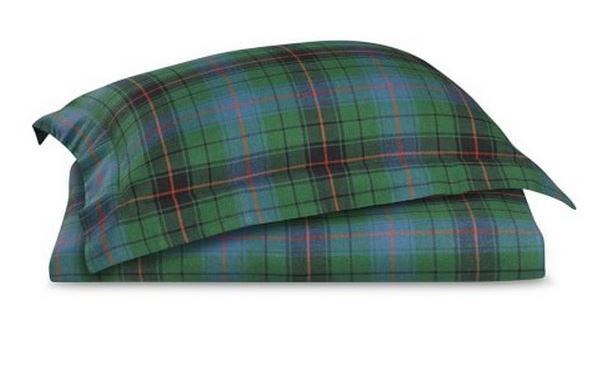 What else am I loving these days? You may remember I ordered this super cute Olympia Fashion Rolling, Carry-on Bag a few weeks ago.
After I ordered it, I ordered two more of the bags I blogged about in this post: 10 Rolling Carryon Bags, As Beautiful As They Are Practical. I ordered the additional bags because I was having so much trouble making up my mind which one I wanted.
One of the other bags I ordered was this Rolling Travelon Carry-on Bag. I ordered it because I love my Travelon Travel purse so I already knew the quality of their products. This is a great rolling bag and super roomy but I ended up returning it because it didn't have a dedicated pocket inside for holding a laptop. That was a feature I really wanted in a carry-on bag. It you don't need that, this is an excellent bag.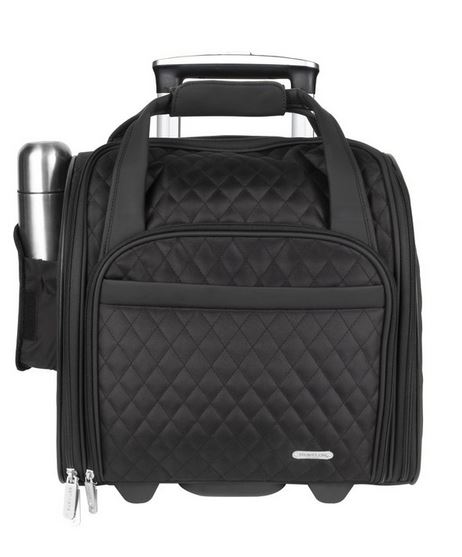 The other bag I ordered was this cute Nicole Lee Travel/Business Bag in the "Bicycle" print. I fell for the cute design on the outside. I waited until all three bags arrived to make my decision which one to keep.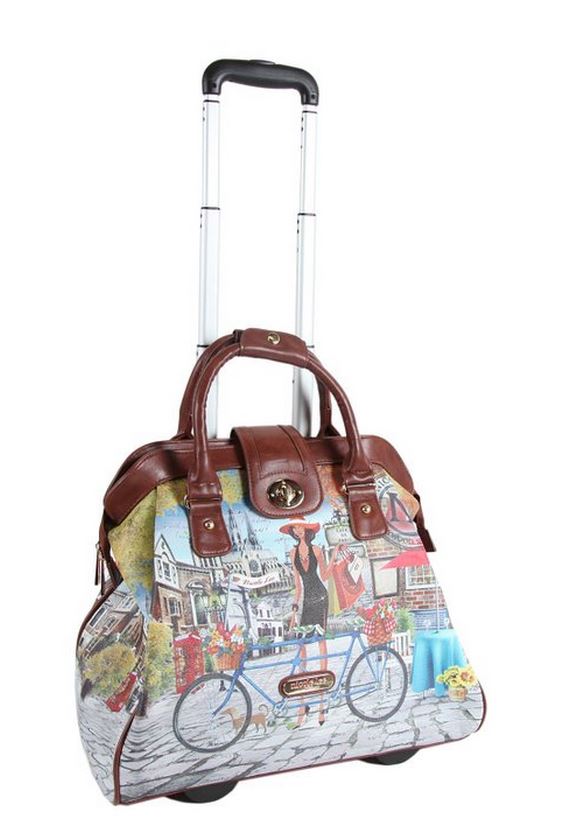 It was a brutally hard decision, but The Nicole Lee bag was the one I ended up keeping in the end.
If you've been reading BNOTP for a while, you know I'm slightly obsessed with visiting Giraffe Manor one day. It's on my bucket list! When I saw the giraffe print lining inside the Nicole Lee bag, I was smitten.
It also has a dedicated, padded pocket inside to hold a laptop computer. My 14″ Lenovo laptop (which is right at 13.3 inches wide) fits perfectly inside the pocket. (see arrow) I'm storing the electrical cord and mouse in the zippered pocket on the other side There's still plenty of room inside the bag for a few essentials that I'll want to have with me on a flight in case my luggage is lost.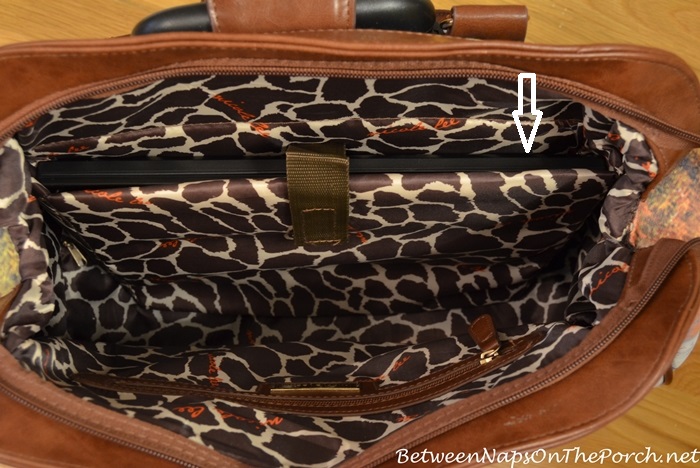 Remember the travel pillow I ordered for the long flight I have ahead of me? It came and I love it! I've tested it out sitting in my office chair and in a reading chair and it works!
Smart are the folks who invented this pillow because they included a little tab thingy so you can hook it around the handle of your bag. No carrying it through the airport and it doesn't take up any space inside your bag. I'll unsnap it right before I put my bag up in the overhead bin. It's available here: J Travel & Neck Pillow-Winner of British Invention of the Year, 2013.
Update: Found another travel pillow that I like even better. This is the travel pillow I now carry on all my trips: Travel Pillow.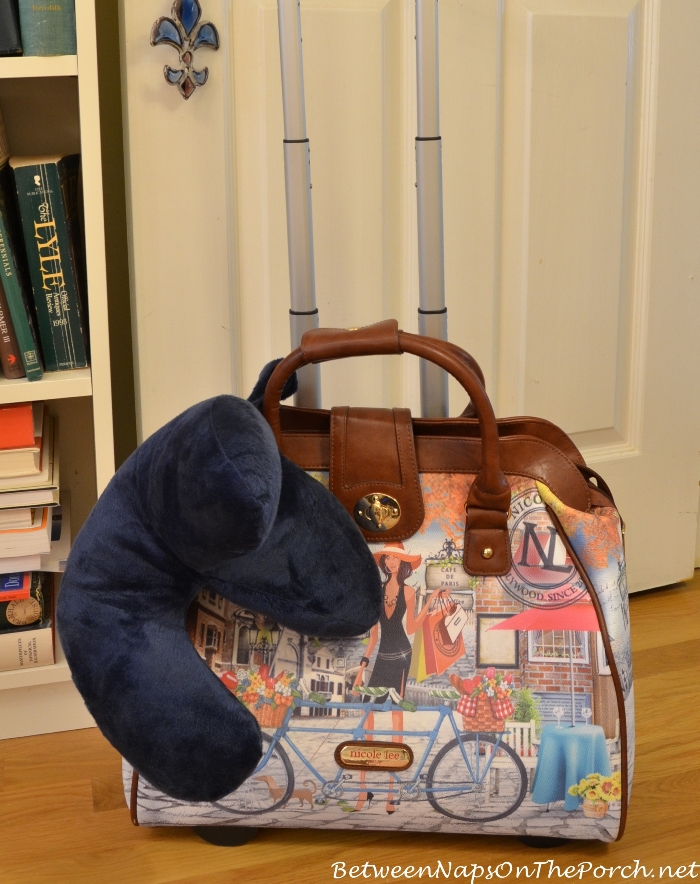 In addition to the cute bag I purchased, they have them available in several other designs. You'll find them all here: Nicole Lee Rolling Tote. I love all the Nicole Lee designs!
Update: Have used this bag now for 7-8 trips and it still looks like the day I purchased it. Definitely one of the best purchases I ever made!
For my travels with a laptop, I ordered another wireless mouse just like the one I use daily. I LOVE this mouse! It has tons of features, too many to list here.
My two favorite features are: 1. the ability to set the scroll button (when pressed) to open any webpage you wish (I have mine set to open "Google" since I'm always Googling something) and 2. the arrow buttons on the side. I have the arrow buttons set to move forward and backward so I can rapidly scroll through the pictures I take for the blog. You can set them for anything you wish, though.
I could NOT live without this mouse. If they ever stop making it, I will be devastated! I'm glad I have two now, just in case one dies one day. I've had the first one for at least 3-4 years and it's still going great. You'll find this mouse here: Logitech Wireless Performance Mouse Mx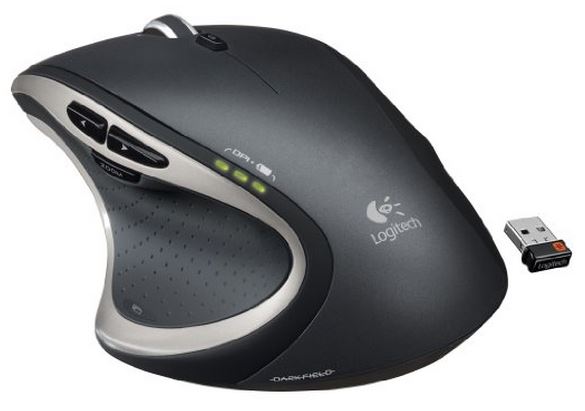 Also, for the traveling I'll be doing, I ordered this Travel Adapter & Power Converter. Not only does it give you the adapters you most often need while traveling, it is also a voltage converter. I've read that you don't usually need that with cellphones and most electronics, but I really don't want to take a chance of destroying my cell phone or computer. It has great reviews and is available here: Travel Adapter & Power Converter
I've been worried about what I was going to do about a hairdryer while traveling. I had heard the hair dryers in most hotels in Italy aren't that great and the typical voltage converters that are available for purchase, can't always handle devices that require a lot of power like hair dryers and curling irons.
I was thrilled to find this Conair 1875 Dual Voltage Hair Dryer. The handle folds up making it super compact for travel and it will work for both 220V or 110V power. There's a little button you turn for the voltage you need. So it will work here in the U.S. and abroad when traveling. It has great reviews and is available here: Conair 1875 Watt Dual Voltage Folding Hair Dryer
The styling hot-air brush that I love and use all the time, also supports dual voltage. You'll find it here: Conair 2-in-1 Hot Air Styling Brush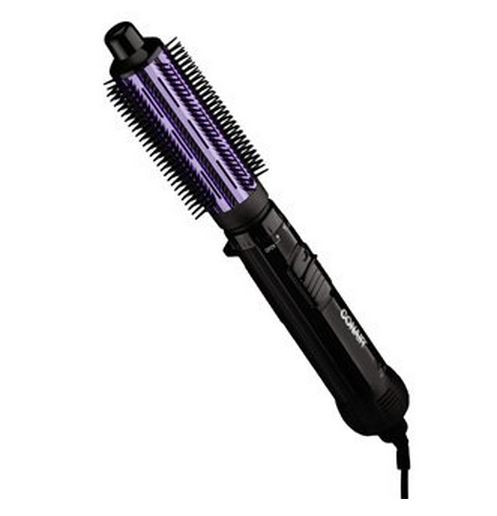 Several BNOTP readers suggested I consider buying packing cubes to aid with packing. I did and I can't wait to use them on my upcoming travels. Instead of having to unpack things on arrival, you just lift the cubes out of the suitcase and place them in drawers.
I love being organized and these should help keep my suitcase from looking like a disaster area, which is normally how it looks after a few days of rummaging through it. I'll be able to keep shoes in one (and away from the clothes) and shirts/pants in another, etc… Makes you wonder why suitcases don't automatically come with these! They come in several colors and have 1,540 reviews with 98% being 5 and 4 star! You'll find these available here: 4-Set Packing Cube-Travel Organizers with Laundry Bag
Hope you find these items helpful. The only thing I still need now are great walking shoes. Will be working on that next!
Oh, and if you ever want to refer back to any of these items, you'll find them all linked under the Shop-Favorite Travel Goods category at the top of the blog.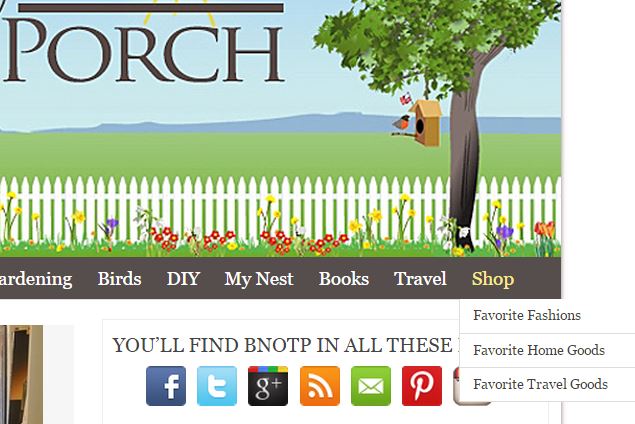 Or, just enter through the red door on the sidebar, and click on the Travel category. Happy travels!
*If a post is sponsored or a product was provided at no charge, it will be stated in post. Some links may be affiliate links and as an Amazon Associate, I may earn from qualifying purchases. *