Welcome to the 622nd Metamorphosis Monday, a blog party sharing fabulous Before and Afters!
Last October, I shared some photos of my front porch columns and the developing issue I've had with them over the past year. It has been quite a few years since the porch was last painted. Trying to remember–I think I may have had it painted once since it was added on in 2008, but maybe it was just pressure washed. Can't remember now. Anyway, the porches (front porch and screened porch) always seem to need painting before the house does–not sure why.
So here's how the columns on the front porch looked last October–October 2019.
In a few places the paint was bubbling up and I was able to just peel it right off. I have a feeling the painters who painted the porch right after it was added to my home, must not have primed the columns before painting them, although I'm not sure how they lasted for 10+ years if that was the case. Once the paint started bubbling up, I noticed the columns seemed to get dirty/mildewed very quickly. It's like everything about the paint was going down hill fast.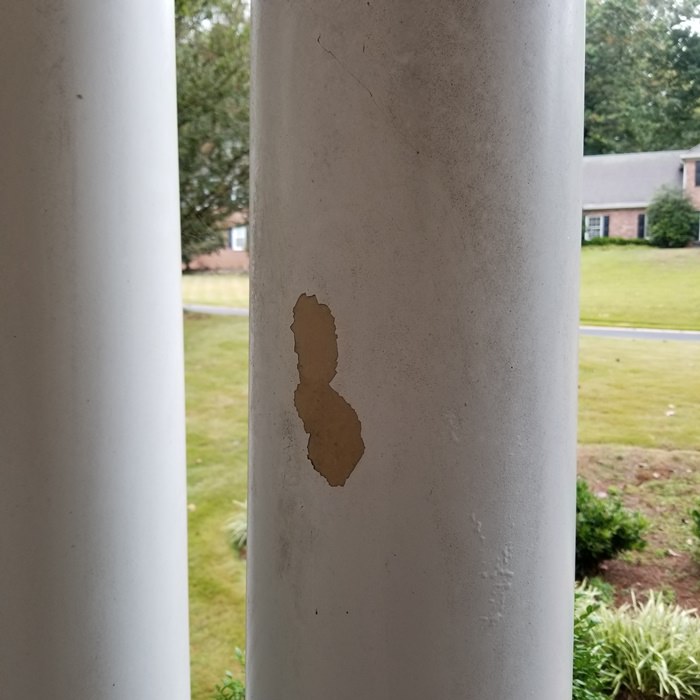 It took me a long time to find a company that I trusted to do the work. Most of the paint company representatives/estimators who came out to give me an estimate seemed perplexed over exactly what needed to be done to fix the columns. I wanted them to look beautiful, just like the day they were installed. I suggested having the columns stripped down to the bare column, but none of the paint companies I talked to wanted to do that. They said it would take too long and be too much work…and these were companies with great online reviews!
I ended up choosing two different companies over the space of several months, both with excellent reviews. But I learned the hard way both times that the person a paint company sends out to give you an estimate is nothing but a salesman whose only goal seems to be to win your job, then the painters who actually show up to do the work, seem to be completely unaware of any issues or really anything that was discussed during the estimate appointment. Grrrr!
I fired two painting companies before they even got started for that very reason. The salesperson/estimator talked a great talk but then the day the painters showed up, they were clueless to anything we had talked about regarding the columns. Not only did they not have any knowledge about what the estimator/representative had promised, in both cases the painters spoke little to no English, so communication was impossible.
I finally chose a company that has been in business for 17 years but the thing that really sold me on them was their warranty. They have a 5-year warranty where all the other companies I had hired (and then fired before they even started) only offered a 2-year warranty. I believed the salesperson when he promised me if there were any problems, they would keep coming back until they were fixed to my satisfaction.
The day the painting guys arrived, they seemed somewhat aware of the column issues. They also spoke and understood English so we could talk about how they were going to approach the peeling columns. In the end, once the job was complete, I was not happy with how the columns looked. The finish wasn't smooth and silky as it had been when they were first painted many years ago. They had "rolled" the columns and they looked unprofessionally painted, like something you would see done on walls with a large nap roller. You can see some of that in the photo below. (Ignore the black specks–Hurricane Zeta had just blown through the day before I took these photos and stuff was stuck all over my house, including the columns. It all came right off.)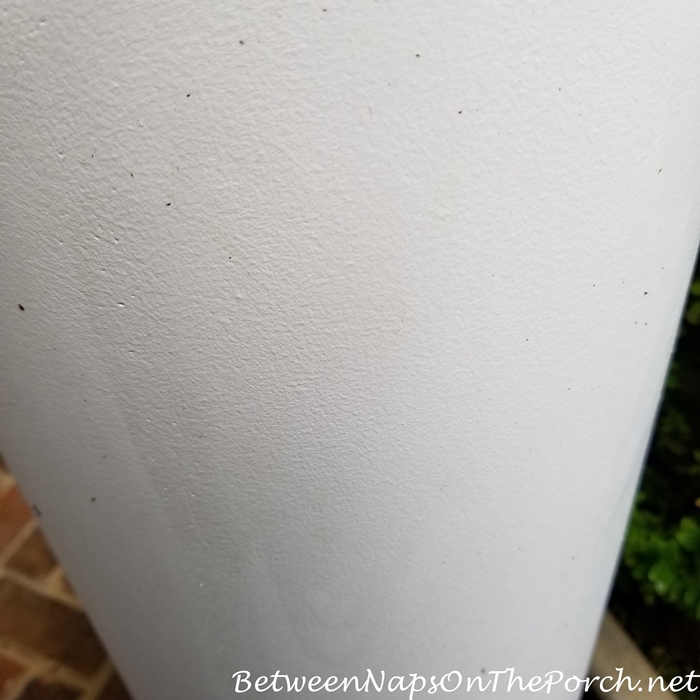 Also, as soon as we had a few rainy days, the paint began bubbling back up again.
Argggh! You can see how poor the paint job was in the photo below.
I called the company and they immediately set a date to come right back out. Unfortunately, the weather and my availability kept causing the date to get pushed out. But when the weather and our schedules finally aligned just before Thanksgiving, they came back out and completely redid all the columns. The guys they sent out this time were their "touch-up" crew and they did such a great job! They completely sanded everything all the way back down and this time the columns were spray painted.
Unfortunately, I'm not home right now where I can take photos of the finished columns for you, but here's a few photos I snapped a few weeks before Christmas to show how the cedar garland I hung looks from inside. I love that about garland, it's not just beautiful from the outside of a home, but you also get to enjoy it from the inside.
Anyway, the columns look beautiful now and last time I looked, there was absolutely no bubbling up of the paint–even after it rained for several days in a row. The finish is now silky smooth and they look like they did the day they were first painted back in 2008.
I'll have to remember to take some close up photos to add to this post. The paint on the columns is completely smooth now, looks like a professional job! I told the touch-up guys that I wish they had been the crew that was sent out in the beginning. He said, "That's what everyone says."
I wanted to share this story with you because I want to encourage you to never settle, no matter what it is that you're having done to/in your home. Our homes are often our biggest investment and when we hire experts to come in and correct an issue, we shouldn't have to settle for anything less than a professional job.
I feel comforted by the fact that if the bubbling paint issue returns, I have a great 5-year warranty and I know I'm dealing with a company that (at least so far) is true to their word and will come back out and make it right.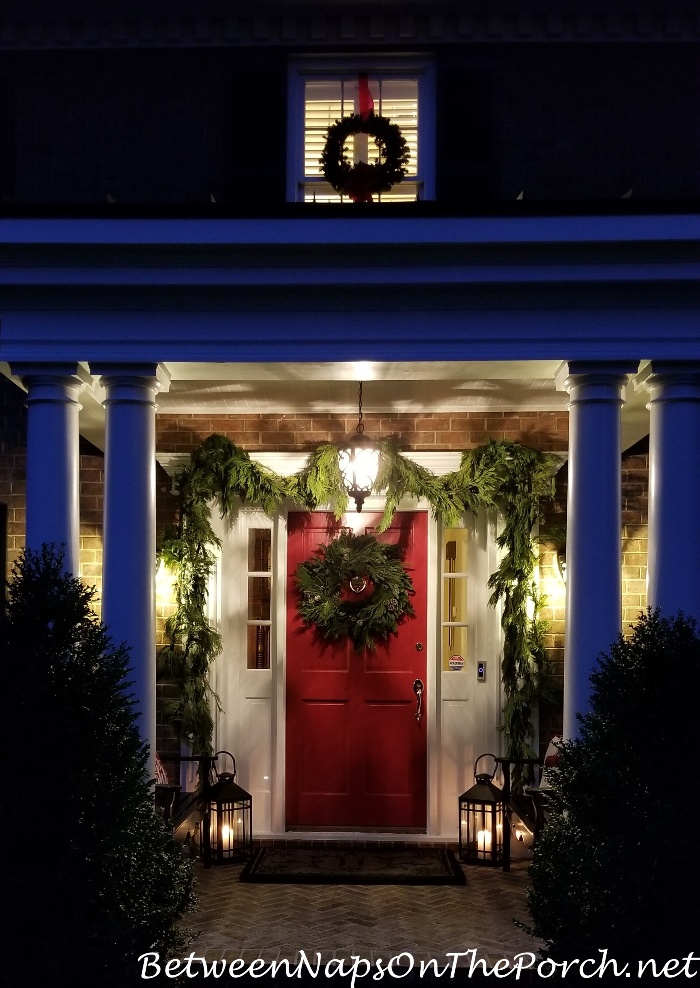 Looking forward to all the wonderful Before and Afters linked for this week's Met Monday!
Pssst: Did you know Between Naps On The Porch is on Instagram? You'll find me on Instagram here: Between Naps On The Porch.
Like to know when a new blog post is up and available to read? Subscribe for email updates, it's free and your email will never be shared.
Subscribe for free post updates via email here: Subscribe.
Metamorphosis Monday
Metamorphosis Monday is a party that's all about Before and Afters. Please link up your Before and After projects like DIY projects, room makeovers, craft projects even recipes. Any Before and After is great! Please do not link up Table Settings, save those for our Tablescape Thursday party on Thursday.
If you are participating in Met Monday, please link up using the "permalink" to your MM post and not your general blog address. To get your permalink, click on your post name, then just copy and paste the address that shows up in the address bar at the top of your blog, into the "url" box for InLinkz when prompted.
In order to link up, you'll need to include a link in your MM post back to the party so the other participants will have an opportunity to receive visits from your wonderful blog readers.
Update: Please do not link up table settings/tablescapes for Metamorphosis Monday. Please save those for our Tablescape Thursday party on Thursdays. Recipes are fine because that's definitely a "Before and After" but please save your beautiful table settings for Tablescape Thursday. Pretty vignettes (transformations) you've created on atop a chest or somewhere in your home are great for our Before and After party, but let's save the actual table settings for Tablescape Thursday.
This party has ended, click button below for the links to all who participated.
*If a post is sponsored or a product was provided at no charge, it will be stated in post. Some links may be affiliate links and as an Amazon Associate, I may earn from qualifying purchases. *