Welcome to the 559th Metamorphosis Monday!
Happy October to you! Did you have a good weekend? It's been rainy here but that's okay because we really need the rain. I wasn't sure when my Met Monday post was going to go up since I awoke to no internet this morning. Using my phone I checked to see if there was a reported outage and found this. Thankfully it came back up faster than predicted.
Peeling Front Porch Columns
So I'd like to get your thoughts on an issue I'm having with my front porch…specifically the columns. It's not affecting the rest of the house, just the front porch columns.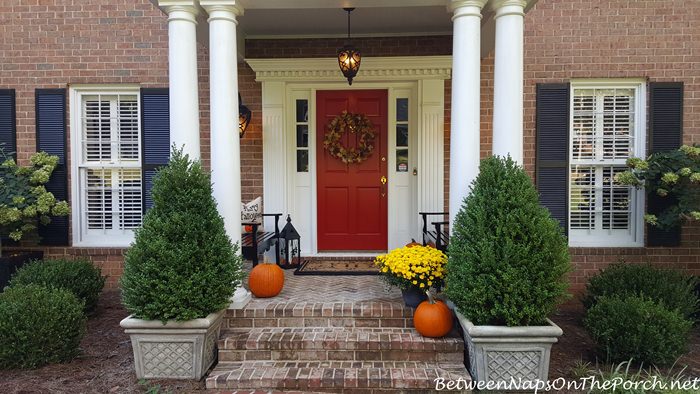 Over the last couple of years, the paint has started to peel on the columns. The rest of the house is fine, it's just happening on the columns which are fiberglass. Also, I've noticed lately that the paint on the columns is looking extra dirty, where on the rest of the house, it looks fine. A workman who has occasionally done work at my home has been saying for the past year that he would paint the porch, but he never finds time to work me into his busy schedule. He does a lot of major renovations so painting my porch is pretty low on his priority list, I think.
I can't wait on him anymore, I hate looking at this, so over the past week, I called several painting companies for estimates and the porch is scheduled to be painted tomorrow. I'm having the whole house pressured washed since it's been a while since that was done and the painter said it will extend the life of my paint.
So it's just the columns that are in need of painting. I'm not sure why they look so extra dirty since the rest of the house looks great. The painters will be sanding down the areas that need it on the columns, but I'm concerned this peeling paint issue will continue.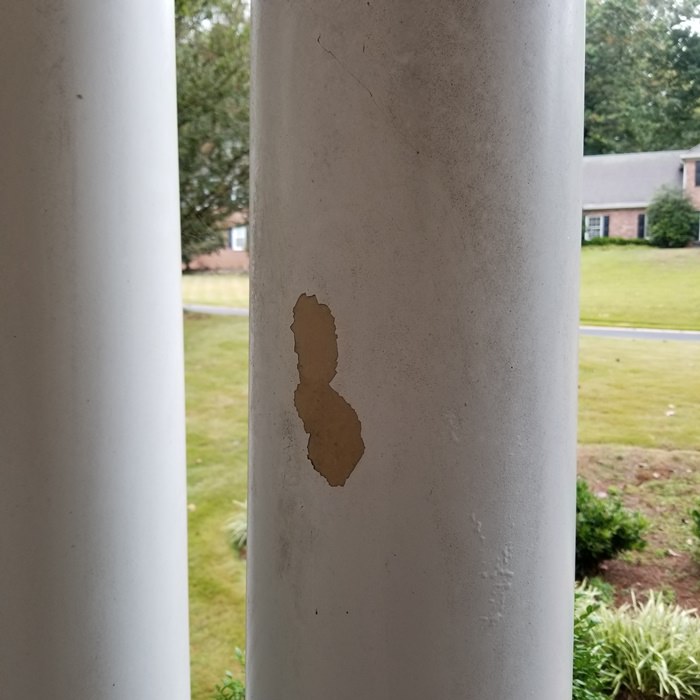 I'm also concerned that areas will continue to bubble up as you see happening here. The painters I've had out for estimates aren't sure what's causing this but have guessed that the columns weren't primed before they were painted back in 2008 when the porch was built. If that's the case, it's pretty amazing that they've lasted this long because the peeling issue just started a year or two ago. It has gotten rapidly worse over the past few months.
I'm also worried that the finish won't be perfectly smooth. I don't want a pockmarked look as I've seen on so many old homes. Often when I've taken historical home tours, I've noticed where old paint has been painted over many times instead of being properly scraped and sanded? I don't want that look for my front porch.
So this is the "before and after" that's happening here right now. Are there any painters out there reading this? Would appreciate your thoughts/recommendations for correcting this issue permanently.
Before I end this post, I have to share some napkins I purchased recently. They are all cotton, which I love (can't stand a polyester napkin) and the price is excellent: 12 napkins for $20.99.
They come in a bunch of different colors and I think I'm going to purchase them in a few more colors. I purchased the ones below to use in a future Halloween table setting, but I really like the taupe/white and blue/white color combos, as well. The colors are so pretty! You'll find them all available here: Buffalo Check Napkins.
Update: I just purchased them in three more colors: blue/white, taupe/white and red, white and blue. The red, white and blue will be so festive for patriotic table settings, especially for the 4th of July!
Looking forward to all the great Before and Afters for this week's Metamorphosis Monday!
Pssst: Did you know Between Naps On The Porch is on Instagram? You'll find my home and garden postings on Instagram here: Between Naps On The Porch AND my fashion postings here: Under Moonlight and Magnolias.
Like to know when a new blog post is up and available to read? Subscribe for email updates, it's free and your email will never be shared.
Subscribe here: Subscribe for free post updates via email here: Subscribe.
Metamorphosis Monday
Metamorphosis Monday is a party that's all about Before and Afters. If you are participating in Met Monday, please link up using the "permalink" to your MM post and not your general blog address. To get your permalink, click on your post name, then just copy and paste the address that shows up in the address bar at the top of your blog, into the "url" box for InLinkz when prompted.
In order to link up, you'll need to include a link in your MM post back to the party so the other participants will have an opportunity to receive visits from your wonderful blog readers.
Feel free to link up Before and After posts that are home, gardening, decorating, crafting, painting, sewing, cooking, fashion, travel or DIY related. Please do not link up to the party if you're only doing so to promote/sell a product.
To those linking up, if you notice a shop or online store linking up to sell products (yes, unfortunately, that happens) please let me know so I can remove their link and block them from participating in future parties.
This party has ended, click button below for the links to all who participated.
*If a post is sponsored or a product was provided at no charge, it will be stated in post. Some links may be affiliate links and as an Amazon Associate, I may earn from qualifying purchases. *