We've been having some really wonderful fall-like days here lately. It's hard to believe this is August because it has felt more like October. How has it been where you live? I've been throwing the doors to the porch open every morning, letting all that cool morning air into the house, then I close them around 10:00 when it starts to warm up a little.
With the cool temps, I'm starting to think about fall and Halloween. I'm not saying you won't see another summer tablescape here on the porch, 🙂 but I am starting to think more about fall.
Today I'm sharing some of my favorite fall, Halloween and winter finds while they are still available. So often by the time I share what I'm loving, it's already sold out, so this time I'm doing it early enough that if you see something you love, you can still get it. Some are pieces I've used in previous table settings and that you've asked where to find. I'm excited to see some are back again!
Remember this table?
It featured whimsical plates with adorable critters all dressed in their best finery?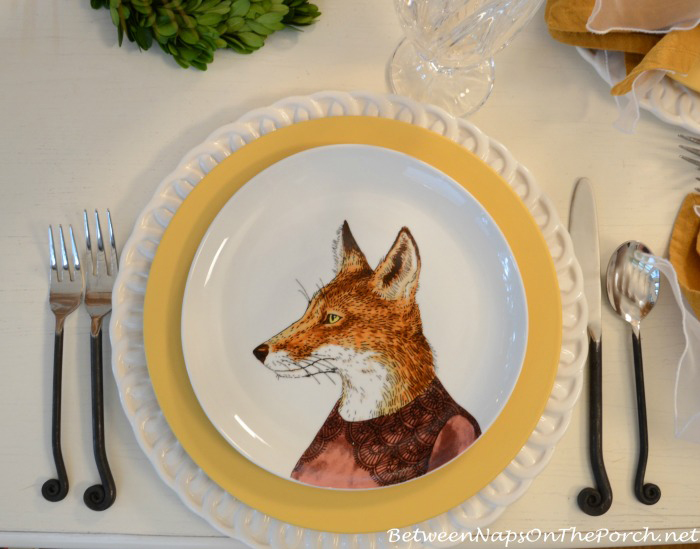 They appeared again in this "Cozy "Whodunit"Mystery" table. 🙂
I was so tickled to find they are back and this time they are dressed for fall! lol There are some new additions, too! The Lynx and Mr. Moose are calling my name big time! If you missed out on getting these the first time around, you'll find them here: Dapper Animal Plates.
I noticed they brought back Mr. Owl, Miss Doe, Miss Fox and Miss Rabbit, so if you wanted those from last year, you'll find them at that link, too! Oh, and there's a sale going on…use the code OURTREAT to get 20% off any item.
I mentioned this in a post recently but wanted to mention it again because I know it won't last long. The red and green tartan bedding I used in a fall makeover for my master bedroom is back again this year. I was hoping they would bring it back since it sold out last year almost immediately. You'll find it available here: Tartan Bedding
Love this adorable Thanksgiving pillow, especially what it says. It's available here: Thanksgiving Pillow
Whenever I use my bee glassware in a tablescape, folks always ask about it. Since it's made in France, it can be expensive in most online stores but I found it recently for an awesome price here: La Rochere Bee Glasses
It's my everyday glassware so I just ordered another set. It's super durable, almost indestructible! Absolutely love it!
Oh. My. Gosh! Have you seen the fall dishware that's out there for this fall?! I'm totally crushing on this pumpkin pattern! It's available here: Fall Pumpkin Dinnerware
Love, love, love the Turkey Platter! The colors are so rich and gorgeous! This is the kind of dishware that becomes a favorite for Thanksgiving and you pull back out year after year. If I get this set this year, I'm going to use it all fall, not just for Thanksgiving.
Each year I pull out one of my most favorite items for decorating for fall and Halloween…my mercury glass pumpkins!
I love using them in table settings…
…and in my decorating.
Over the years I've purchased several from Pottery Barn and I'm excited to see they have them available again this year. Mercury glass is one beautiful trend that's not going away and I'm so glad. I love that they bring them back again each year. You'll find them in different sizes here: Mercury Glass Pumpkins
I am totally enamored with this hand-blown Murano glass pumpkin. It would be a bit of splurge, but what a gorgeous piece it would be to display for fall. It's available here: Hand Blown Mercury Glass Murano Pumpkin
These cute lighted pumpkins would be perfect for an evening dinner or fall/Halloween party. I was suprised how reasonably priced they were: Antique Glass Lighted Pumpkin
I absolutely love this time of year! When would you ever find cute things to make you smile like this?! These darling edible gingerbread houses would be so perfect served atop a steaming, hot cup of coffee or hot chocolate. They are available here: Halloween Haunted House Gingerbread Mug Topper

I love this dishware for Halloween!

I love creating Halloween tables each year in a black and white theme and these plates would be perfect in that type table. If orange isn't one of your fave colors, go black and white for Halloween. (Table can be veiwed here: Halloween Tablescape With Crows and Pumpkins)
Another black and white Halloween table: Halloween Tablescape with Mercury Glass Centerpiece
The Halloween Moon Plates are available here: Halloween Moon Plates
For this black and white Halloween table setting, I made spider cupcakes.
Table and recipe for cupcakes can be found here: Halloween Table With Spider Cupcakes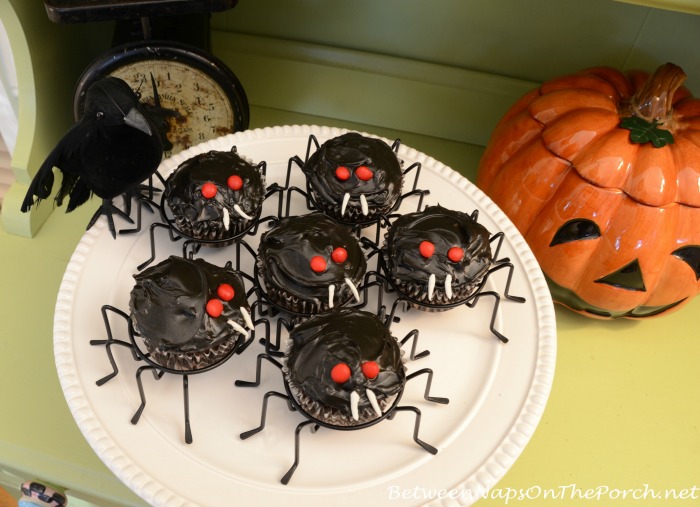 If you've been looking for the cute spider leg cupcake stands, I found them again this year here: Spider Cupcake Holders
Here are a few more goodies that caught my eye this year for fall and Halloween:
Pumpkin Server available here: Pumpkin Beverage Server
Love this pumpkin cookware for cooking and serving hot soups and stews: Pumpkin Cocotte
Oh, and if you're in need of red flatware, Pottery Barn has this set on a clearance sale now. It's available here: Red Flatware
Are you starting to see cooling temps where you live? I'm actually getting excited for fall this year! I can't wait to put my tartan bedding on the bed and bring out my wooly sweaters.
Oh, before I go, I have to share the BEST thing I bought last year for cold weather comfort. If I do another "Surviving Winter" post this year, this is going at the very top of the list.
I purchased this heated throw right at the end of winter and I hated to put it away when spring arrived. I keep it on my desk chair all winter since it can get chilly in my office. It is wonderful! I think I'm going to give these as Christmas gifts this year. You'll find it available here: Velvet Plush Heated Throw
Do you have one of these? If you do, you know how addictive they are! Best invention ever for winter!
Pssst: The BNOTP newsletter, Postcards From The Porch, will go out this weekend. If you're not currently receiving it (it's free!) You can subscribe here: Subscribe to Postcards From The Porch You'll be able to subscribe to the BNOTP daily blog post updates at that link, as well.
*If a post is sponsored or a product was provided at no charge, it will be stated in post. Some links may be affiliate links and as an Amazon Associate, I may earn from qualifying purchases. *