Welcome to the 486th Metamorphosis Monday!
This past week while I was out of town was definitely a challenging one. It all started when I had a plugin update appear on the dashboard of the blog that turned out to be a bad update. You may have noticed some issues last week with Between Naps On The Porch.
In the process of trying to fix the issues the bad update caused, my hosting company actually compounded the problem while trying to help. They ended up deleting 3 posts, including last week's Tablescape Thursday. Ultimately, they had to bring in their Systems and Restoration team to undo everything a previous technician had done.
Things were almost back to normal with the blog when I left Ohio last Tuesday to return home. Once home, I found a letter and big box waiting for me from Comcast. The letter stated,"A technical issue with the Wireless Gateway in your home was recently identified by the manufacturer" referring to the modem/router device Comcast provides for my high-speed internet.
The letter went on to say that I should swap out my old router for the new one as soon as possible because if I didn't I could "lose all internet access on 5-29-18." It was not without a touch of dread that on Friday evening I dutifully followed the instructions that came with the new device and changed out my modem.
I promptly lost my internet connection! 🙁 After talking with 3 different techs at Comcast that evening, none of whom could get the new system working, an appointment was scheduled. A repair guy came out Saturday and after trying 3 different devices, he couldn't get it working either. Arggg. It turned out that Comcast was having a problem on their end with their provisioning equipment, so they were unable to "provision" the new device.
I finally have internet service again! What a mess this past week has been! Stresssss! Just wanted to share a bit about what happened this past week in case you noticed missing posts for a day or so while my hosting company was trying to revert things back and undo the damage done by the bad plugin.
Before and After: The Difference a Water Softener Can Make When You Live In An Area With Hard Water
With all that going on this past week/weekend, plus being on the road traveling back home, there wasn't much time for anything else, but I thought I'd share one issue my son and dil solved this past week in their home, plus some recent purchases I've made and/or will be making for my own home.
My son and dil have a Bosch dishwasher. They were having problems with glassware coming out looking cloudy/dirty. After a bit of investigating, we realized that the issue wasn't with the dishes not getting clean, because even after hand washing, they still looked cloudy and spotty. The problem turned out to be that their water softener was no longer working correctly and the cloudy, spotty glasses were a result of the very hard water that's common in their area. I'm not sure if all of Ohio has hard water, but their area definitely does. The local water company verified that their water hardness level is 12, which is considered very hard.
I have never dealt with hard water issues before. Georgia has fairly balanced water. The water hardness level in my area is a 1. I don't even use Jet Dry in my dishwasher and the glasses come out looking great. I didn't think to take a photo of their glassware last week, but here's a photo from online that shows how their glasses looked.
They replaced their 10-year-old water softener with this unit below that's a water softener and whole-house filter, in one. They purchased new glasses and the new glasses are coming out great now–no more hard water etching/staining.
They are also using a rinse agent to further help with the drying process since today's dishwashers don't have a heating element in the bottom of the dishwasher to help dry the dishes.
If you have hard water in your area, you may want to look into adding a Water Softener unit to your home. From the reading I've done, it extends the life of your hot water heater and also helps protect your other appliances that use water, like washing machines.
Whole House Filter
A whole house filter cuts out a lot of the chlorine taste and odor in water and is supposed to be better for your skin and hair. Yesterday I drove over to a local Lowes to purchase a Whole-House Filter for my home. I don't need a softener, just wanted to purchase a filter to eliminate a lot of the chlorine taste we have here in our water. Unfortunately, the Lowes I visited only had two units in stock and both appeared to have been opened at some time, so I decided to wait and visit another location. I don't like buying open boxes.
This is the whole-house filter I'm thinking of purchasing. Anyone have this filter in their home? Have you noticed a big change in the taste or smell of your water. It has good reviews online.
I have such dry skin, I thought this would help, especially during the winter months. One of the things I really like about this unit is you never have to change the filter, it's self-flushing. Love that!
Note: One thing to note, I read that whole-house filters actually eliminate more chlorine from the water than the units that are both a water softener and whole-house filter. Interesting, huh? Not sure why it works out that way.
Some Recent Purchases
Recently I gave my son and dil an umbrella I had purchased but never used.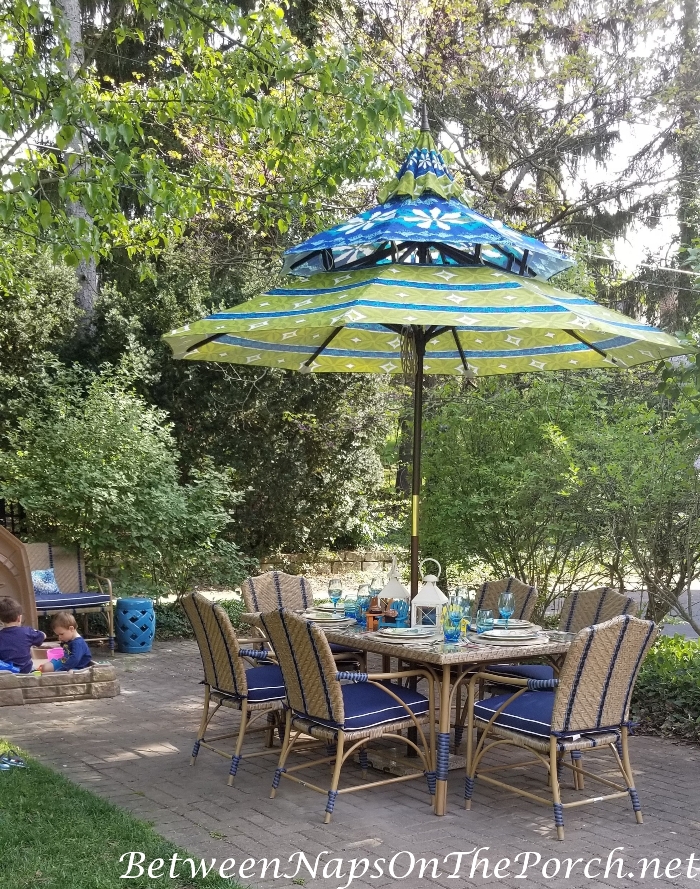 I loved the umbrella but it just didn't match the cushions that came with my outdoor furniture.
They make several that would go with my existing cushions. This umbrella is on sale here: Umbrella.
But, I still like this one the best. lol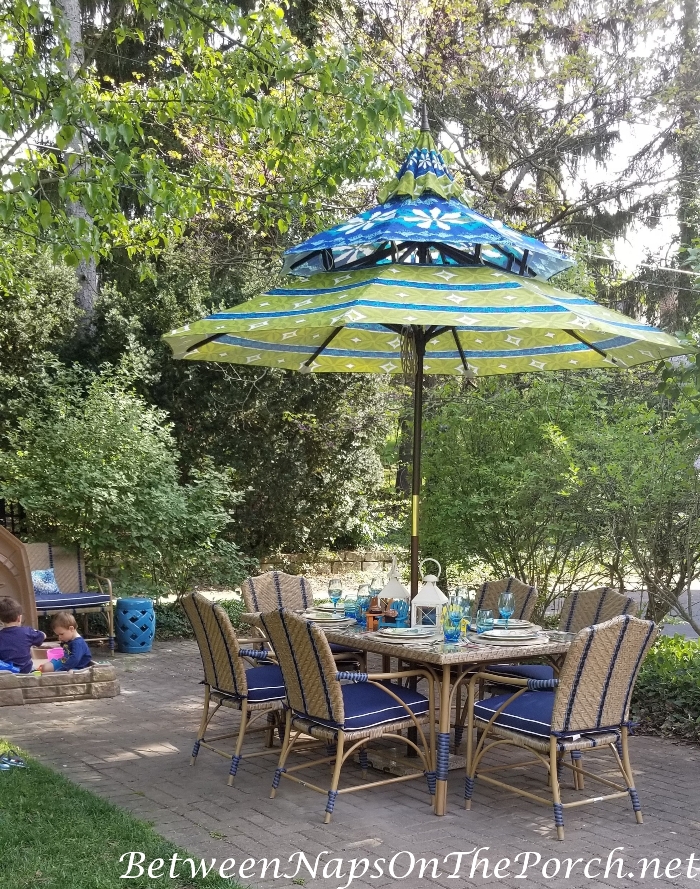 So when it went on sale recently, I bought it again. lol Now I just need to find chair cushions to match.
Am I crazy? I just like doing everything the hard way, I guess. I'm tempted to buy the red one and use it for now until I can find cushions to go with the blue and green one. I just love green and blue together and love this particular umbrella!
The green and blue umbrella also goes well with the chair cushions I purchased recently for the porch. These aren't outdoor cushions, but it's nice that they coordinate.
This weekend I also purchased a new base for the umbrella. My old base worked well under the table I used to have on the deck before, but it was way too large and bulky to fit under the new table. This is the same one my daughter-in-law has and it works great with their table/umbrella, so I think it will do the job.
My favorite place to stop for bathroom breaks when traveling is Cracker Barrel. Their bathrooms are always so nice and clean. Plus, I love browsing their store as I stretch my legs. I picked up six of these pretty aqua shell napkin rings on my way home from Ohio this last trip. They are much prettier than this photo depicts, the lighting was a bit harsh last night when I took this picture. Look for these in a beach table setting real soon, maybe this week. They were only $2.99 each.
Yesterday I stopped by Marshalls to shop for cotton bed linens for summer. While there I saw this cutie. I had seen one almost identical to it while shopping in Pier 1 recently and barely passed it up. My resolve melted when I saw the discounted price tag: $16.99.
It's perfect for grilling out…just place a platter inside and as the hamburgers and corn come off the grill, they can go inside where they will be safe from pesky bugs.
I noticed it's currently on sale at Pier 1 for close to the same as what I paid in Marshalls. You'll find it here: Tray with Net Cover for Outdoor Cooking.
This was near the entrance to Marshalls. If it had been my size, there's no way I could have resisted! Sooo cute! It just needs a basket on the front and it's perfect! lol
After a week of technical blog issues and losing the internet for the weekend, I de-stressed with a glass of ice water and a good book last night on the porch. If you follow BNOTP on Instagram HERE, you would have seen this picture. I had the fans going, the music playing and the stress of the week melted away. This is pretty much where I intend to live this summer, right here in this spot.
The book I was reading was Living in Luxury (available HERE) by the CEO of Sotheby's Int. Realty in France. Love following his Instagram which is pretty much a fantasy feed featuring beautiful homes, antique cars, a cute dog named Bertie and some very dapper dressing. You'll find his Instagram feed under alexander.kraft, in case you want to check it out.
Looking forward to all the great Before and Afters for this week's Metamorphosis Monday!
I post almost daily on Instagram. Follow Between Naps on the Porch on Instagram here: Between Naps On The Porch. If you enjoyed this post, subscribe for free email updates when a new post is up here: Subscribe for post updates.
Metamorphosis Monday
Metamorphosis Monday is a party that's all about Before and Afters. If you are participating in Met Monday, please link up using the "permalink" to your MM post and not your general blog address. To get your permalink, click on your post name, then just copy and paste the address that shows up in the address bar at the top of your blog, into the "url" box for InLinkz.
In order to link up, you'll need to include a link in your MM post back to the party so the other participants will have an opportunity to receive visits from your wonderful blog readers.
Please observe these few rules:
Please link up Before and After posts that are home, gardening, decorating, crafting, painting, sewing, cooking, fashion or DIY related.
Be sure to include a link back to the party in your post, so your readers will be able to find and visit the other bloggers who are participating.
Do not link up to the party if you're only doing so to promote or sell a product.
To those who are linking up: If you notice a shop or online store linking up to sell products (yes, unfortunately, that does happen) please let me know so I can remove their link and block them from participating in future parties. No one wants to click a link expecting a Before and After, only to find a spam link to an online business/store.
*If a post is sponsored or a product was provided at no charge, it will be stated in post. Some links may be affiliate links and as an Amazon Associate, I may earn from qualifying purchases. *