Welcome to the 408th Metamorphosis Monday!
Yesterday I cut and brought in the last of the Limelight Hydrangea blossoms. Can you believe this hydrangea was still producing new blooms! The temps have been dipping toward the freezing point each night, so I knew these last few flowers were about to be gone.
Limelight Hydrangeas truly are amazing, giving blooms throughout summer all the way into fall. Can't recommend this plant enough, if you find it will grow in your zone.
This past weekend, I grabbed the big box of bulbs that recently arrived from Holland and headed out into the garden.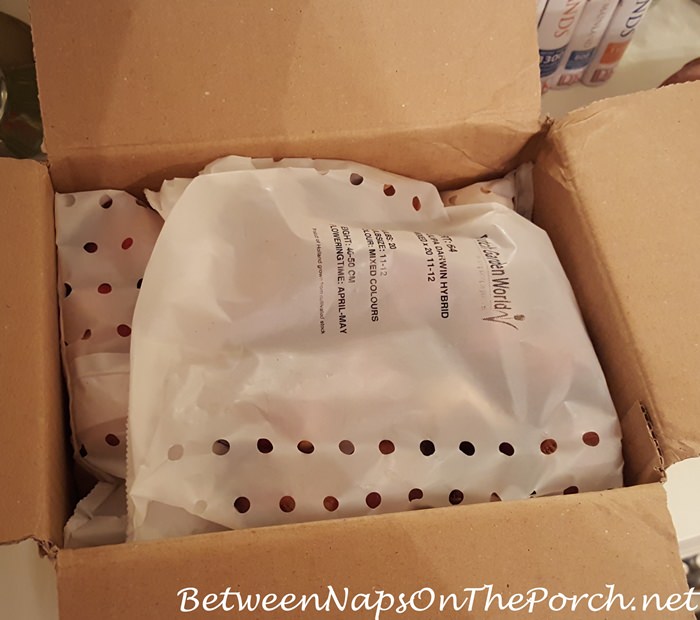 This is what was sleeping inside that box, 80 tulips from this "Mixed Tulips Collection" purchased last April/May when I was visiting Keukenhof Gardens in South Holland. They arrived a couple of weeks ago, just in time for bulb planting season.
I purchased a few flats of violas, although with the drought we have going on, it could be a challenge keeping them watered. Have you noticed that flats have shrunk! I guess instead of hiking up the price, they just give you less plants.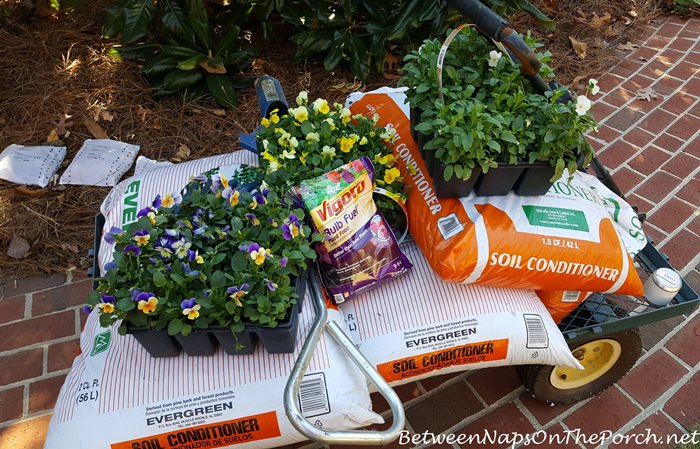 I decided to plant two of the bags of tulips (40 tulips) here around the mailbox. (Photo below is from a previous summer.)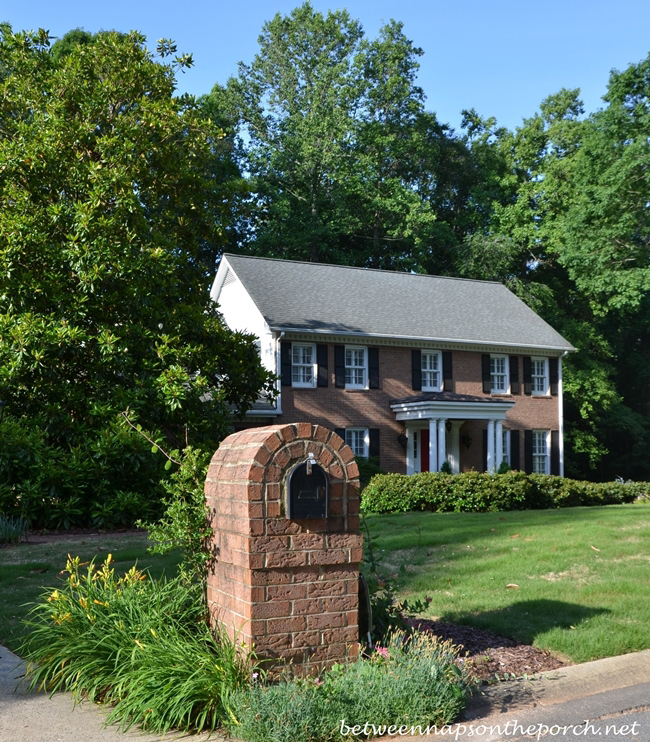 I chose two bags of bulbs that were around the same height. After converting the metric measurements to inches, the tulips are supposed to be around 15.75 inches to 19.69 inches tall when they bloom next spring. That sounds really, really tall, doesn't it? I hope they will look okay here.
I was hoping the two varieties of bulbs would look different to help with spreading them out randomly in the bed, but unfortunately, they looked pretty much identical in color/shape. I couldn't keep up with exactly where I was planting them, so it will be interesting to see what comes up next spring. lol
In hindsight, I'm not sure 40 tulips (20 per package) is really enough for this bed that stretches around the mailbox, so things may look a bit sparse when they come up in the spring. Keeping my fingers crossed they will look okay.
I really should have planted the Violas in late September/early October so they would have had time to get established and grow bigger. Oh well, hopefully they'll put on some growth this fall/winter.
I still had 40 bulbs left to plant: 2 more packages of 20 each. I started to plant them around the gas lantern but didn't get very far. (Haven't decorated for Christmas yet, photo below is from a previous Christmas.) The very first hole I dug yielded a bulb and I remembered I already have daffodils planted here. (Palm to forehead! )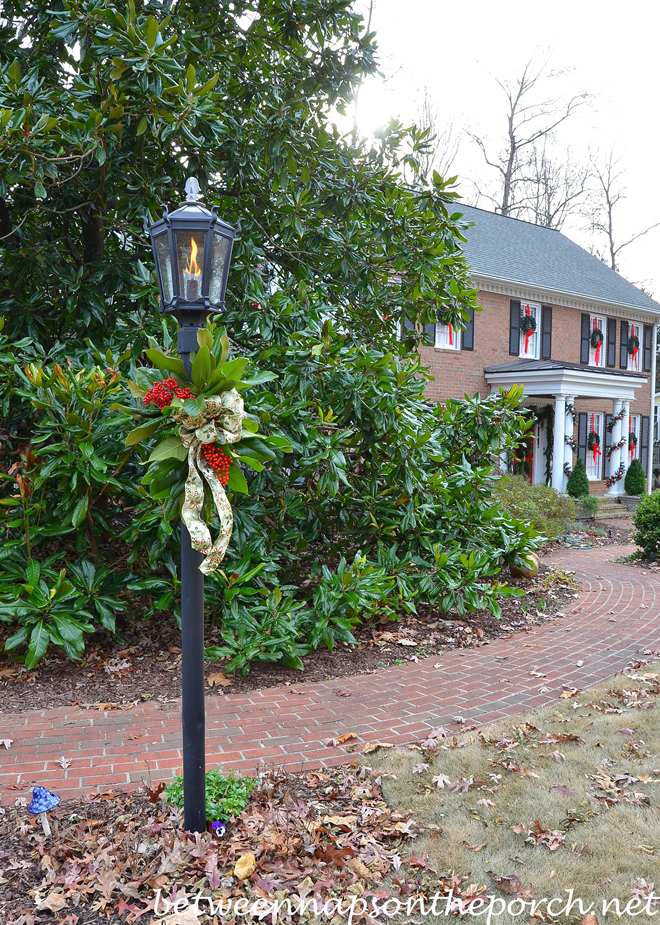 So I ended up dividing one package of 20 bulbs between the two hydrangea planters out front. Each planter got 10 bulbs. I went with the shortest tulip bulbs I had for the planters. The package stated they would grow between 11.81 inches to 15.75 inches tall, after converting the metrics to inches. That's still pretty tall! They are supposed to come up in March-April so I think the hydrangeas will still be leafless at that point.
We'll see how this works. I don't have a lot of experience planting tulips since I learned the hard way many years ago that they don't produce flowers the following year unless you dig them back up, store them properly during the winter to ensure they get plenty of "cold time" and then replant them all over again in the spring.
The last package of tulip bulbs ended up in a large planter near my garage. I have plans to drag it over to another spot in the yard, perhaps near the walkway, once the bulbs come up and start blooming in the spring.
In the end, I figured sticking half of the bulbs (40) into the ground would be about as much as I wanted to deal with digging back up next year. The other 40 bulbs, being spread out among three planters, will be much easier to retrieve when the time comes.
These souvenirs from my trip to Netherlands may become the traveling tulips, ending up in a new spot each year. lol I really don't want to let them languish in the garden, destined to never bloom again.
I'm looking forward to sharing this little experiment with you in the spring, I'm sure it will be a learning experience so don't laugh if it turns out funny looking! By the way, do tulips create more baby tulips like daffodils do? I'm guessing that they do. It would be nice to expand this collection over the years. I wonder how long I have to leave them in the ground to get them to make more tulips.? I have a lot of tulip-growing research/reading to do!
A couple of fun things: When I was in Pier 1 recently, I came across this cute "sled" server. Wouldn't it make a great centerpiece (in addition to being a server) for the table during a party?
Also, the six Better Homes and Gardens Woody Car plates arrived. Some BNOTP readers have been able to purchase these in the store already, while others have said their store still doesn't have them. Though you can no longer buy just the woody car plate online, (they sold out pretty quickly) you can buy this dinnerware set, which includes the woody car plates, here: 12-Piece Dinnerware
I found the cute antler napkin rings on sale online recently and ordered them for pickup at my local store. They should be cute in a future Christmas table setting. You'll find them available on sale here: Antler Napkin Rings
So, those are a few of the things I've been working on this past week! Are you decorating for Christmas yet? I'll be starting soon. I've been too busy planting bulbs/violas, spreading 25 bales of pine straw and vacuuming up millions of acorns to decorate. lol Now that those fall chores are out of the way, it's time to start playing inside! 🙂
This will be happening this week, too. If you would like to hang wreaths on your exterior windows this year, you'll find a post I wrote sharing how I hang them on my windows here: How to Hang Wreaths on Exterior Windows for Christmas
Metamorphosis Monday
Metamorphosis Monday is a party that's all about Before and Afters. If you are participating in Met Monday, please link up using the "permalink" to your MM post and not your general blog address.
To get your permalink, click on your post name, then just copy and paste the address that shows up in the address bar at the top of your blog, into the "url" box for InLinkz.
In order to link up, you'll need to include a link in your MM post back to the party so the other participants will have an opportunity to receive visits from your wonderful blog readers.
Please observe these few rules:
Only link up Before and After posts that are home, gardening, crafting, painting, sewing, cooking or DIY related.
Do not link up to the party if you're doing so to promote a website or sell a product.
Do not link up a post that was just linked up last week since readers would have already seen that post.
*If a post is sponsored or a product was provided at no charge, it will be stated in post. Some links may be affiliate links and as an Amazon Associate, I may earn from qualifying purchases. *