Welcome to the 748th Tablescape Thursday! I was so in the mood this week for a winter-themed table setting. One of my favorite dinnerware patterns that I love to use during the winter months is Lenox, Winter Greetings. It works beautifully for the holidays but is wonderful to use right through winter. Back in the day, Lenox made some stunningly beautiful accent plates to go with this pattern. I once shared images of those in a previous post many years ago, but I'm not sure if I've ever used the accent plates in a table setting. Definitely past time for that!
It was a beautiful day yesterday, one of those that started out with rain but soon turned into a bright, sunny day.
Since my table has a winter/bird theme, I stuck a really big bird right in the center of the table. Ha!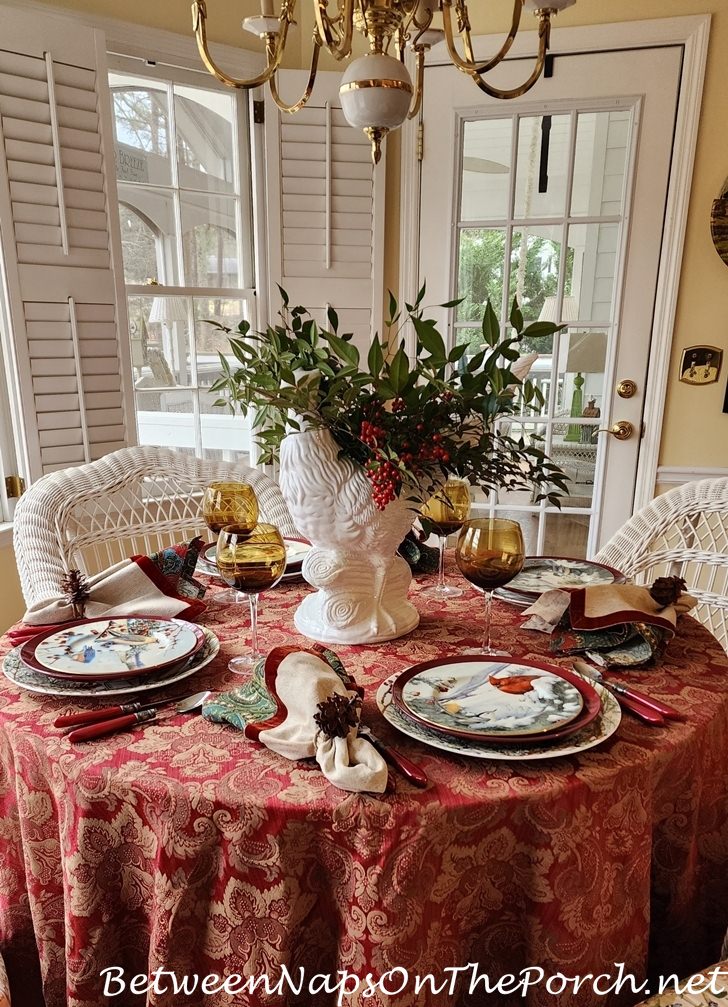 I filled this pheasant vase, a Williams Sonoma find a few years back, with clippings from my nandina shrubs. My nandinas are looking rather poorly right now. I noticed my gardenia bushes looked terrible, too. I guess it was the bitter cold we had a few weeks back. I know the nandinas will recover, they grow like weeds, but I think it will take the gardenias a lot longer. They were the biggest they had ever gotten and were so beautiful this past summer. Hurts to see them so badly damaged from the cold.
When I first came across Lenox Winter Greetings Scenie accent plates, I thought to myself–can you really eat off these? The colorful scenes depicted on the plates reminded me of decorative scenic plates that are designed for display only.
Yes, they really were designed for dining. Their generous size makes them perfect for use as salad plates, dessert plates, or even buffet plates for a holiday or winter gathering.
I forgot to take a separate picture of the charger plate I chose for this winter setting, but here's an image from a previous post. These Woodland Berry chargers from Williams Sonoma (several years back) work beautifully with the woodland backdrop in the Winter Greetings accent plates.
I am such a big bird lover, these images absolutely melt my heart. I love them so much! ♥ This one depicts two adorable Nuthatches and a gorgeous male cardinal.
The dark red/maroon dinner plates are from Dollar Tree many years ago.
This precious Goldfinch is having a little visit with his two Chickadee friends. Chickadees can be so sassy! I read the funniest quote about them many years ago. I wish I could remember the author's name, he often wrote birding/nature articles for a magazine I read back then. In one article, he humorously said, if Chickadees were the size of Bluejays, no one would ever go for a walk in the woods. Hahaha! I love that because it's probably true! When I go out to fill the feeders, there's always at least one Chickadee sitting in a nearby tree, scolding me and telling me to hurry up and get those feeders filled! I guess when you're that small, you gotta be feisty to make it in this birdie world.
I love this one depicting a Cedar Waxwing with a beautiful Eastern Bluebird.
I have Eastern Bluebirds nesting in my birdhouses every spring and they come to my deck for mealworms throughout winter, but I've only ever seen a Cedar Waxwing in my garden once that I can remember. Their territory is much further north, I believe.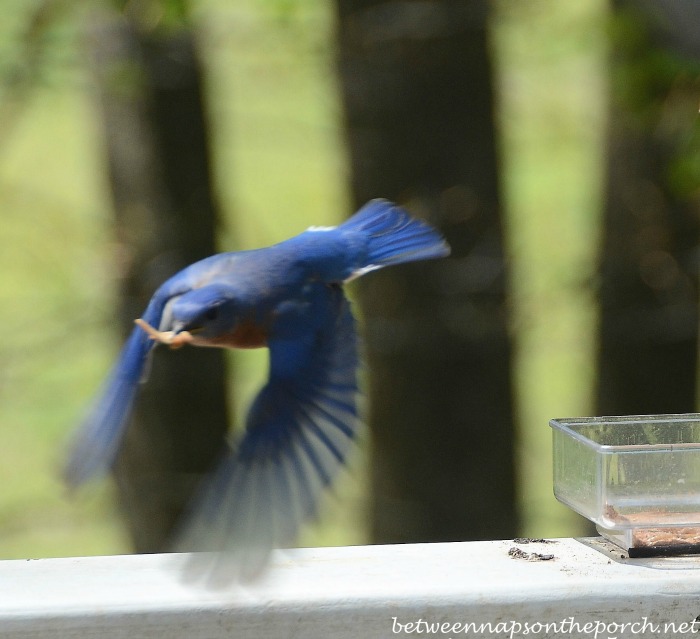 Maybe if I planted more berry-bearing shrubs and trees, I'd get Cedar Waxwings visiting more often, at least during migration. I really need to research that and add more bird-attracting plants to my yard. Do you live where you see a lot of Cedar Waxwings?
We have a lot of woodpeckers here in Georgia, including the Downy Woodpecker shown in this beautiful plate. He's having a little visit with two beautiful House Finches.
I see both of these birds at my feeders almost every day.
The woodpeckers really love the peanuts that are mixed in with the seed I buy for my feeders.
The pinecone our Downy Woodpecker is perched on was the inspiration for the napkin rings in this table setting. Pinecone napkin rings and the red velvet-edged linen napkins were from Pier 1 many years ago. Hard to remember now where I found the paisley napkins.
A birds-eye view…of course! lol
Hope you enjoyed this birdie-woodland-themed table setting. If you love these scenic plates and would love to collect a few, the best place/price that I've found them (since I don't think they are still in production) is here: Winter Greetings Scenic Accent Plates. Looking forward to all the beautiful table settings linked for this week's Tablescape Thursday!
Pssst: Like to know when a new blog post is up and available to read? Subscribe for email updates, it's free and your email will never be shared. Subscribe for post updates via email here: Subscribe for Post Updates. Looking forward to all the beautiful tables linked for this week's Tablescape Thursday!
Tablescape Thursday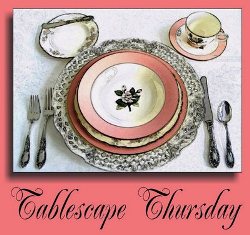 If you are participating in Tablescape Thursday, please be sure to add your permalink below, and not your general blog address. To get your permalink, click on your post name, then copy and paste the address showing in the address bar, into the "url" box when you link up. You'll need to include a link in your post back to the party to link up and participate. That's so visitors to your blog will be able to find the party and the other Tablescape Thursday participants. Please link up table-setting-related posts only for Tablescape Thursday. Please link up table-setting-related posts only for Tablescape Thursday.
This party has ended, click button below for the links to all who participated.
*If a post is sponsored or a product was provided at no charge, it will be stated in post. Some links may be affiliate links and as an Amazon Associate, I may earn from qualifying purchases. *