I have always loved the almost instant makeover paint can give a room. But before the painting, there's always the part that we tend to dread–the prep work. It reminds me of gardening, all we really want to do is plant pretty flowers, but if we don't prepare the soil first, chances are the flowers are not going to look pretty for very long.
I used to be intimidated by the idea of repairing a hole or a gouge in a wall. The products I had used in the past didn't work very well and often ended up cracking. I totally came to terms with repairing walls when I was creating my home office.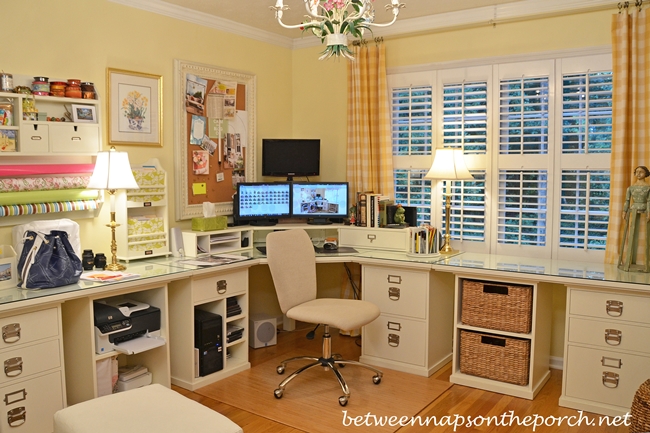 If you've been following BNOTP for a while, I know you remember my whiny wallpaper removal woes. I may have mentioned how much I disliked removing the wall paper in this room once or a dozen times over the couple of weeks I worked on it.
Apparently, the walls were not primed prior to the wallpaper being hung and it fought me every step of the way during the removal process. Eventually, I found a way to wrestle it off the wall (you can read about that HERE) but not before damaging one wall pretty badly during my initial attempts.
Once I found a way to remove the paper and began the process on the other walls, thoughts of repairing that badly damaged wall hung over me like a big ole albatross. All that dread was for naught because in the end the repairs were not hard, a bit time-consuming, yes. Hard, no.
My product of choice for repairing damaged walls is this stuff: Wallboard Joint Compound. Spackle works well if the hole is relatively small but for big whopping spots like I had, joint compound is my go-to product.
I had just applied it in this photo below and was letting it dry before beginning the sanding process. It was so satisfying to see all those damaged areas repaired.
If you've been putting off painting a room because you were worried about the preparation, take a deep breath, smile and relax. Really! If I can do it, you definitely can!
Glidden® has created a number of videos to take you through the whole painting process from choosing your paint, to the best methods for cutting in, to the actual process for applying the paint. I really wish these "How-to" videos had been around when I was fretting over how I was going to fix all those holes.
The video below outlines step-by-step the process for repairing damaged walls, even down to the size grit sand paper you'll need. It also covers those final preparations you'll want to take before starting the actual painting process. So if you're in the prep stage of your painting project, or will be soon, this short video will guide you through the process.
In addition to how-to videos with great painting tips, Glidden® has another helpful site called My Colortopia. The Before and After section is a great place to get inspiration. It will fire you up and definitely motivate you to crack open a can of paint. So much fun seeing a great room transformation! There's also an "Advice" category at My Colortopia where you'll find answers to questions about color, style and painting.
So, if preparing your walls for painting is what's standing in the way of creating a space you'll love, just remember the walls in my office that once looked like this…
…came out looking like this! Don't over-think it, just check out the "How-to" videos by Glidden® and then go for it!
You're going to love your new room!
I have been sponsored by the Glidden® brand paint for PPG to write this post but the thoughts and opinions expressed are my own.
*If a post is sponsored or a product was provided at no charge, it will be stated in post. Some links may be affiliate links and as an Amazon Associate, I may earn from qualifying purchases. *