What a crazy day yesterday, can you believe that on December 2nd, 23 days before Christmas, there's no garland to be found in any of the Home Depots or Lowe's garden centers near my home! It's all sold out except for a couple of strands that were all withered looking and dry.
After visiting three stores without any luck (one Lowe's and two Home Depots) I decided to try Pike Nursery, the same place I purchased all my boxwood shrubs this past summer. I held my breath, expecting high prices. Pike had both fresh garland and wreaths and I was surprised to see the price of their wreaths was right in line with Home Depot and Lowe's. I'm pretty sure they have always been a good bit higher in previous years.
I picked out a beautiful wreath, but their cedar garland was priced at around $2 a foot, more than I wanted to spend. I like to go around my front door a couple of times for a nice, full look and just going around the door once would have cost $48 since it takes around 24 feet of of garland, including draping it a bit over the center over the door.
Pike gives you points when you shop with them. I thought I had used up all my "Play in the Dirt" club points but surprisingly, I still had $25 left. So my wreath was only around $6 after I redeemed my points. Happy girl!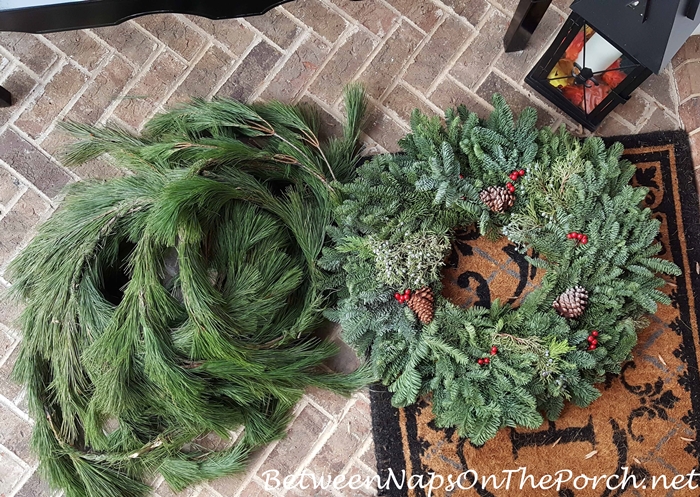 I tucked my wreath into the back of my SUV and as I headed home, I got an idea. I headed to Rick's Farmers Market which is just a stone's throw from my home. There I found fresh, pine, garland for a reasonable price. They had just sold out of the last of their cedar garland, after all it's ALREADY December 2nd, ya know! (my sarcasm, not their's) That was okay, I like pine garland a lot, too.
While there, I shared the saga of my garland and wreath hunt with the owners who are really nice. I asked how it was that they still had fresh garland at this late hour of December 2nd when all the Lowe's and Home Depot stores near us are sold out. She told me it was because they make their own. She said the garland I was purchasing was just put together yesterday. Guess I know where I'll be buying my garland each year!
By the time I got home, it was too late to put up the garland, but I did get the wreath hung. Not sure I'll embellish it, some years I do, and some I don't.
The Christmas Truck!
So, after my garland and wreath adventure yesterday, I sat down at the computer to catch up on email and do a bit more holiday shopping. I liked the little red truck with the Christmas tree in back and the wreath in front (available HERE) that I used in my centerpiece for yesterday's Tablescape Thursday so much, I Googled to see if I could find one in a larger size. I'm not sure why, but we all seem to have fallen in love with these old nostalgic red trucks and woody cars this year!
I found one and it was perfect, but unfortunately very much sold out. Story of my life lately! It's 18 inches long, a foot tall and has a lit tree in the back. Sooo dang cute!
Apparently it was $34.98 originally at Sam's Club, but actually went on sale for just $25.91. Whaaaat! I'm not a member right now, but have been in the past. If I had seen this earlier, I probably would have rejoined just to buy this cute truck.
I decided to check eBay on a miracle chance someone had listed one there. Oh boy, yes they had and just look at that price! This is where all the good deals go, people! Ebay buyers scoop them up in the retail stores, then list them on eBay for a whole lot more. If this one sells, that will be one tidy profit.
I Googled a bit more and also found them on Amazon HERE for $110, still a bit pricey, but way better than $174 on eBay!
The rusty wheels in my brain started turning: a Sam's membership right now is $45. The truck was originally $34.98. Add those together and you get $79.98. So, $110 on Amazon wasn't looking so terrible, especially for a truck this size. A membership is totally wasted on me anyway since I don't like long lines and buying in bulk. And I rarely shop in person these days, prefer to buy online and avoid the crazy Atlanta traffic.
So, I caved. Yes, I did! If you've been looking for one of these in a bigger size, you'll find it here: Red Christmas Truck.
I noticed they've dropped the price from $110 to $104.90, but raised the shipping cost. I was surprised that the shipping was just $8.49 when I purchased mine since it weighs a good bit. I guess they realized they were pricing the shipping too low and raised it up, but then tried to make up for it by dropping the cost of the truck a bit.
They also had this cute thing. GAH! Killing me here! Green is my favorite color and this is just sooo cute! It's available here: Green Christmas Wagon.
The only thing that would have made it even more perfect was if it were a woody car! Since this green wagon is a "Prime" item and shipping is free, I went ahead and ordered it today, so I can see it and compare it to the truck. If I don't think it's worth the cost once it arrives, I can return it easily since it's an Amazon Prime item. Knowing my luck, I will love it and want to keep it, too. Ack!
Again, you'll find both the truck and wagon here: Christmas Truck and Wagon.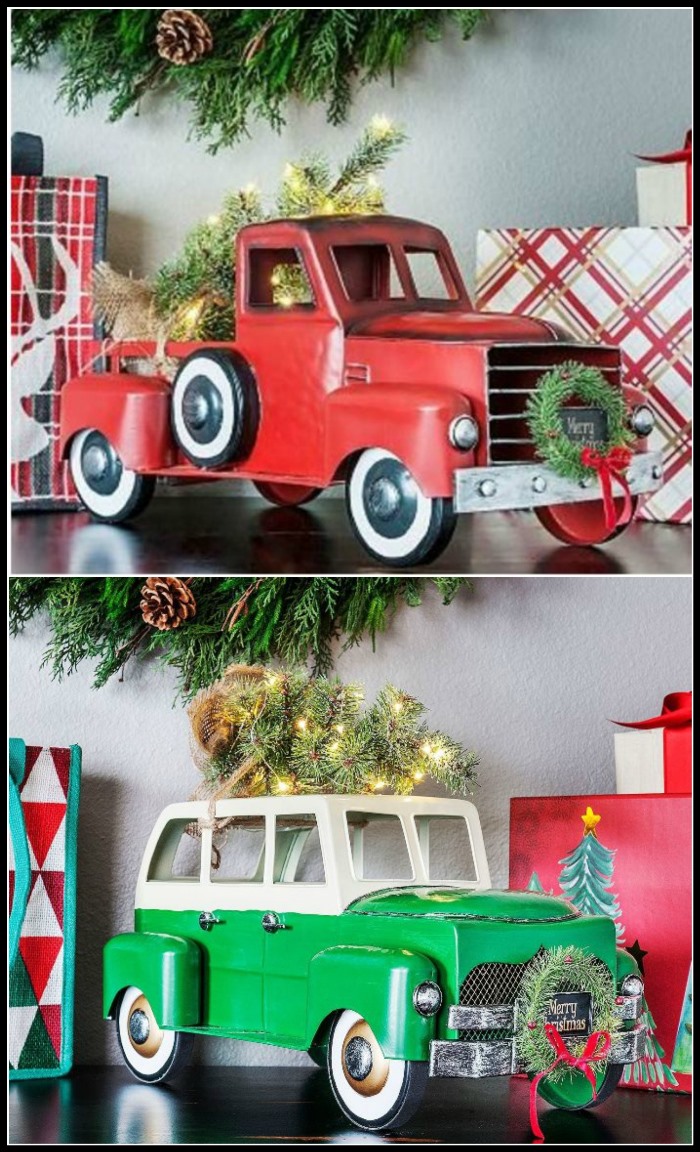 I'm off on a Christmas Home Tour today, hope to snag some pictures to share with you! Have a wonderful weekend, dear Friends!
Follow BNOTP on Instagram here: BNOTP on Instagram
Follow BNOTP on Facebook here: BNOTP on Facebook
Follow BNOTP on Google+ here: BNOTP on Google +
*If a post is sponsored or a product was provided at no charge, it will be stated in post. Some links may be affiliate links and as an Amazon Associate, I may earn from qualifying purchases. *