I ventured out yesterday to a couple of my favorite shops to see what's new in for spring. The first place I stopped was Pottery Barn. I was surprised to see that they only had a couple of tables set for spring.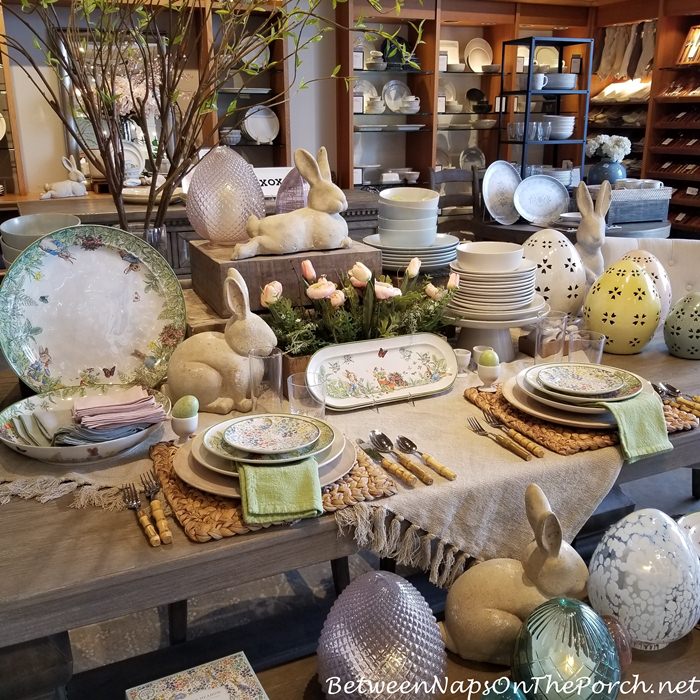 I remember this cute floral, Peter Rabbit pattern featuring Peter running and jumping through the flowers from last year.
Doesn't this make you long for spring?!
I'm so glad that they are carrying this Beatrix Potter Peter Rabbit dinnerware again for this year. It's definitely one of my favorites.
I'm eyeing this large platter, would love to pick it up this spring! You'll find all the Peter Rabbit dinnerware (including the platter) available here: Peter Rabbit Dinnerware for Spring.
Last year I purchased these napkins. I loved both patterns and couldn't decide between them, so I ended up purchasing a set of 4 in each style.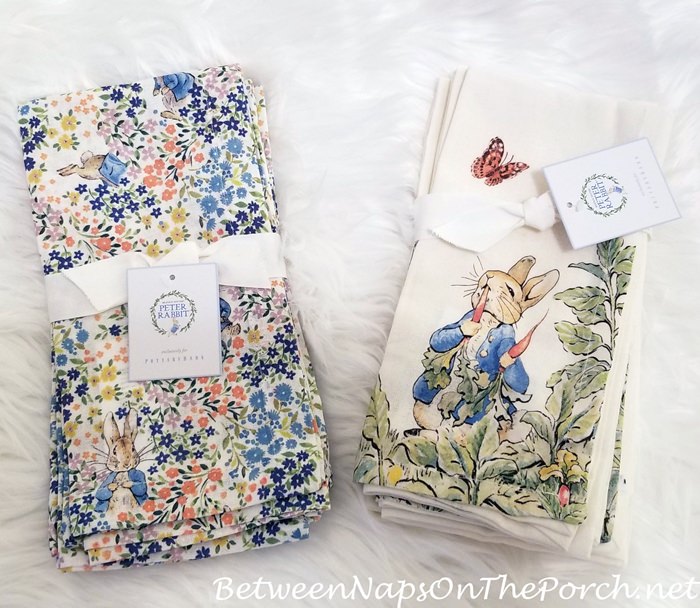 You may remember when I used the floral ones in this table setting. They are available again this year here: Peter Rabbit Napkins.
The floral napkins with Peter hiding and playing among the flowers are available here: Peter Rabbit. Floral Napkins.
The other set of napkins featuring Peter in 4 different scenes is available here: Peter Rabbit Napkins.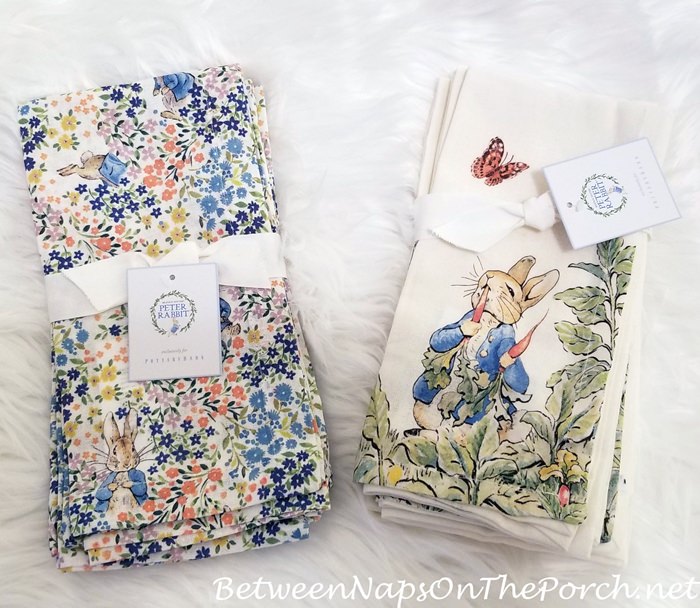 Next, I stopped by Williams Sonoma that's just a few doors down from Pottery Barn. Much of the store looked like this with big empty spaces. I was worried they were getting ready to close but they told me they were just in the process of renovating/painting. Whew!
I love this summery, lemon/citrus-themed table setting!
So perfect for summer–it made me feel like I was back on the Isle of Capri! The salad plates come in a set featuring 4 different colors. You can see the whole set here: Lemon Dinnerware.
This table was set with pretty, French porcelain.
If your taste runs toward more simple patterns, this was really pretty! You'll find it available here: French Porcelain Dinnerware.
Tucked over in a corner I spied these cute Peter Rabbit plates and recognized them right away.
You may remember the table I created with these a few years back.
I'm amazed they are still carrying them. They must have been pretty popular for them to bring them back again. I love when Williams Sonoma does that!
If you are looking for some new salad plates for spring or Easter, you'll find these available here: Peter Rabbit Salad Plates.
I'm thinking about buying some of their hand soap and lotion for my grandsons for spring. It's currently on sale here: Hand Soap and Lotion.
Have you ever used Bar Keepers Friend? My sister used to rave about it and used it for many things in her kitchen. It's supposed to be great for cleaning rust, tarnish, mineral deposits, and stains from stainless steel cookware, porcelain, copper, Corian, brass, and a bunch of other surfaces. I'm going to order some to clean my stainless steel cookware. You'll find it available here: Bar Keepers Friend.
I also noticed this Boo's Block Board Cream that's great for conditioning cutting boards. All my cutting boards need this right now so I'm going to order some. It's available here: Boos Block Board Cream.
I have a wonderful "Porch" Before and After to share with you tomorrow for Metamorphosis Monday! I can't wait to share it with you! Have a wonderful Sunday!
*If a post is sponsored or a product was provided at no charge, it will be stated in post. Some links may be affiliate links and as an Amazon Associate, I may earn from qualifying purchases. *