For several weeks before my trip to Italy, I checked the "extended" forecast for the Tuscany and Amalfi Coast region a couple of times a week. As the time drew closer to leave, I checked almost daily. Forecasts can often be wrong but the three-week extended forecast for the areas we were to be touring, was consistently showing chilly temps and cloudy days with lots of chances for rain. Ugh. Not what I wanted to see.
I am cold-natured and I hate with a passion having cold feet. I especially hate having cold, WET feet. If my feet are cold, I'm miserable. I waited until the week before the trip to get serious about travel-shoe shopping. Once it looked like the forecast was going to hold true, I threw it in high gear and went on an all-out hunt for shoes that would be great for cool weather, especially cool, rainy weather.
Several times during the trip I gave myself a silent pat on the back because the shoes I took with me were absolutely perfect for the trip. My feet stayed warm and comfortable; I could have walked forever in the shoes I took on this trip. And through all the rain, some that lasted all blooming day long, my feet stayed cozy, warm and dry.
Today I thought I'd share the shoes I took on the trip because they aren't just shoes that would be great for traveling and touring, these are shoes that you can wear all fall and winter, even into spring. I will be wearing them all this fall and winter and hopefully next year, too.
These shoes shown below are the shoes I took on my trip to Italy. I also took a pair of tall, low-heeled boots but only wore them once so I didn't include them in this post. I took one pair of dressy heels purchased many years ago, to wear the night of our farewell party. We dressed up a bit that night and the heels took up very little space in my suitcase, so I brought them along though I only wore them for that one night.
The shoes and boots you see below I wore A LOT! All were super comfortable, the kind of shoes you can walk and walk and walk in all day long. Even though several pairs were new, they fell under the category of "comfort" shoes and comfortable they were. I also wore the new ones around the house for a day or so to make sure they would be trip-worthy.
I'll share each style/brand and link out to where I purchased them in case you are interested in buying a pair for yourself. All of these were purchased before the trip but not just for the trip. I badly needed winter shoes so the trip gave me the push to shop.
Starting on the far left, the black pair with the top stitching is the only pair I can't link to for you. They are "Natural Soul" by Naturalizer. I don't think I've ever had an uncomfortable pair of Naturalizers so I wasn't surprised when I tried these on at Marshalls and found they were super comfy. I can't remember how much they were now, but I remember it was very reasonable. I normally wear a size 7 and that's what size I took in these. They zip up the front which is really cute. I noticed another person on our trip wearing them, only she wore them unzipped.
Continuing across from the left, I'm not normally a "bootie" fan but these shoes converted me. I wanted a low pair of boots to wear because I thought they would keep my feet warm and be good on some of the rainy days. I went with black since I was taking several pairs of dark-colored pants, including black and navy cords.
Here's a picture of the boot in brown. I'm sharing it in this brown color because it's hard to see the style/design of the shoe in the black color. These boots have excellent arch support and they were AMAZING! I wore them on the day we toured Florence and it rained the ENTIRE day. We're talking downpour ALL the blooming day long. My feet were totally dry the entire time.
They were a little pricey but were worth every penny. I could have kissed these boots when I got back to the hotel because I would never have made it through all the walking we did in the constant rain in Florence without them. They are by TEVA and I purchased mine at Dillards, but you can now find them on sale for over 50% here: Suede Ankle Boot
Oh, I bought these in a 7 1/2, a half-size bigger than I normally wear because I always wear thick socks with boots. If you wear normal socks, your regular size should be fine, but if you wear really thick socks with boots, you may want to go up a half-size like I did.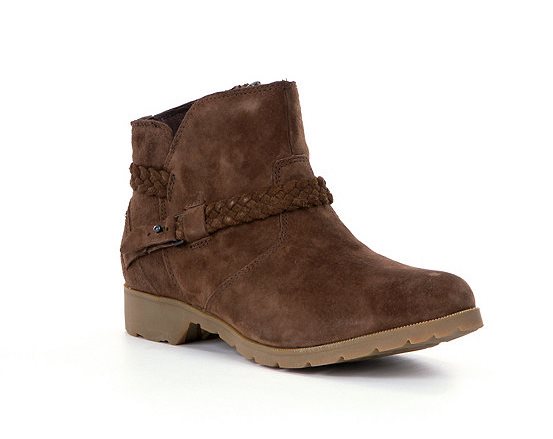 I liked them so much, as soon as I got home from Italy, I went online and ordered them in this color, too. Update: All these boots are on sale now for around 50% here: Suede Ankle Boot
Another pair of shoes I enjoyed and wore on the non-rainy days were brown Skechers shown in the middle in this photo.
Here's a better photo of them from online. I found them in my local Steinmart right before I left. The salesperson who helped me said they had just gotten them in. They are super comfortable and are available here: Skechers Women's Big Bucks Fashion Sneaker
Moving on down the row, I wanted to take along a pair of shoes that had a somewhat summery feel in case we had a sunny day on the Amalfi coast. But I wanted them to work with my fall clothing, too.
When I was shopping at Dillard's, I purchased two pairs of Sperry boat shoes, one in a light tan color for summer and this one below in a darker color that's perfect for fall. Since they are "boat" shoes, they work well on all surfaces, especially those that were still damp from the rainy days.
I love topsiders and am so happy that Sperry makes them in colors that work for fall. These are kind of sassy with a subtle metallic sparkle on the side and on the front. I purchased them in my standard size 7 and wore them with normal socks on the warmer, non-wet days. In the summer they would look great without socks. You'll find them available here: Sperry Boat Shoes
Last but not least, the plaid rain boots you see on the far right saved my cookies more than once on the Italy trip. They are also by Sperry. I've been yearning for some plaid rain boots for a while and I fell hard for these when I saw them.
Here's a close up of them from online. Cute, cute, cute! They have a little zipper on the side that makes them super easy to take on and off, so there's no need to tie them. I purchased them a half-size bigger in a 7 1/2, again because I like to wear really thick socks when I wear boots. You'll find them available here: Sperry Saltwater Waterproof Rain Boot
You can see how they look in this photo I took on the beach at Positano. Of course, it was raining then, too. Do you like my "umbrella" jeans with tiny umbrellas all over them? lol Those are a Talbots purchase last year…got them at the end of the season on sale.
Speaking of boots, I already had these L.L. Bean duck boots that I purchased last year. I love them and wear them a good bit in the fall and winter when it rains. In fact, it's raining here today (followed me home from Italy) so I wore them today when I stepped out for a bit.
I'm not sure why but L.L. Bean doesn't seem to have this style this year. It's called L.L. Bean Tumbled Leather Shearling-Lined Boot. Sorry I can't link out to it. If L.L. Bean offers it again, I'll add a link to this post. Another style I do like by L.L. Bean is THIS one. I also like that they offer free shipping, too. Glad to see so many stores doing that now.
I would have taken along my L.L. Bean boots but they are a good bit heavier than the Sperry boots and my bag weighed 48-1/2 lbs…just 1-1/2 lbs shy of the limit! I used my bag scale thingy to check it, so I knew I was super close. I was glad I had the Sperry boots for the trip. They are adorable with jeans and should work well for fall, winter or spring.
I was wearing them the day we visited Frances Mayes house. Any time I wore my jeans or navy pants, and it was raining (which was often) these were my shoe/boot of choice. You'll find them available here: Sperry Saltwater Waterproof Rain Boot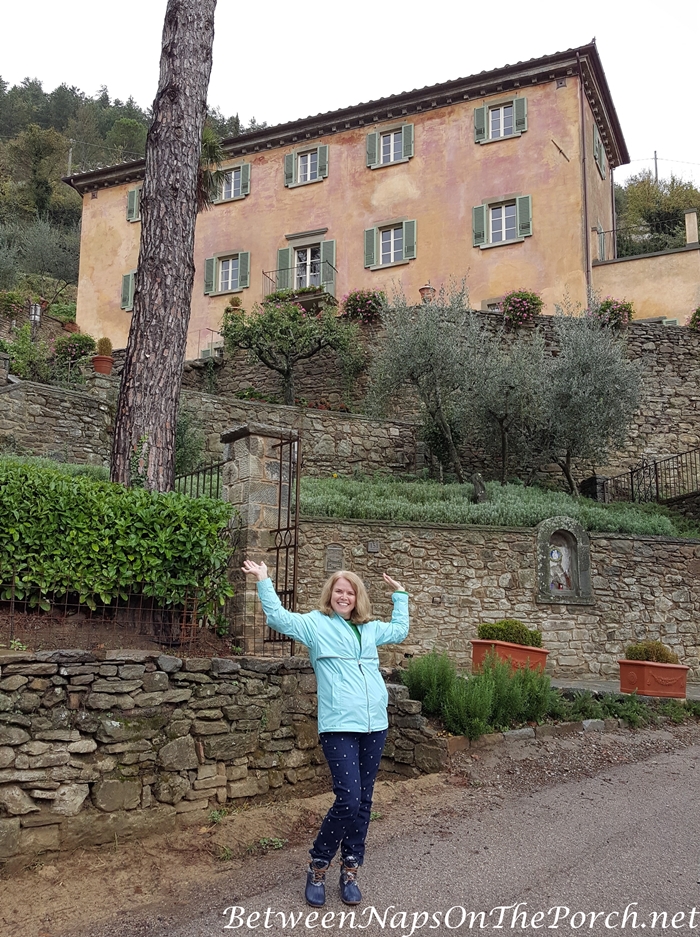 So, these were the shoes that got me through a 17-day tour of Tuscany and the Amalfi Coast in complete comfort. They went with all my outfits/clothing and they met all my needs. I highly, highly recommend any of these shoes or boots! All are super comfortable, well-made and great for wearing on a trip or for everyday use.
*If a post is sponsored or a product was provided at no charge, it will be stated in post. Some links may be affiliate links and as an Amazon Associate, I may earn from qualifying purchases. *