Welcome to the 645th Metamorphosis Monday, a blog party sharing fabulous Before and Afters!
Still very badly missing my main computer. You get spoiled quickly when you normally work with two large monitors. Once I get my new computer, I should have three monitors–looking forward to that. In the meantime, I'm still working from my small travel laptop.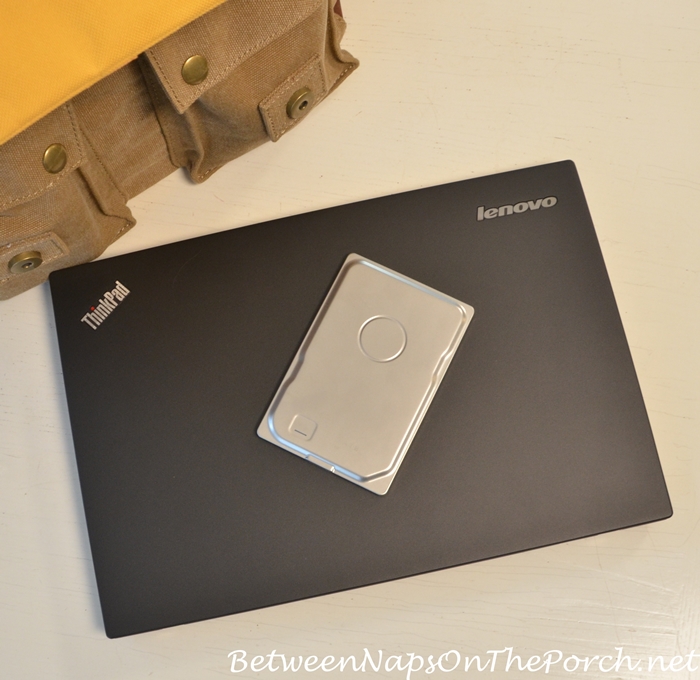 So, I got an idea last night. I was thinking that for the weeks when I don't have a new Before and After to share for Metamorphosis Monday, we could take a look at a previous metamorphosis and see how that change or update is still working today. Sometimes it's fun to revisit a previous update and share what I've learned or maybe updated, yet again.
The little update I'm sharing this week is one I made here in the kitchen in November 2011. Before I share that update and how it has worked out, what do you think about this view of the kitchen? This is one you don't often see.
I've shared photos of the screened porch from the deck on this side of the porch many times and you may have noticed that there's a bay window on the other side of the porch.
A few nights ago, I was outside bringing in the bird feeders when I glanced back and was surprised to see how the kitchen looks in the evening. Funny that I've lived here for 31 years and I rarely ever notice it from this view even though I bring the feeders in every night.
The kitchen looks larger than it really is, viewing it through this big window. To give you an idea of how big this bay window is, the center window is 60 inches wide and the side windows are each 32 inches wide, so it's pretty big. Anyway, I thought you might enjoy seeing how the kitchen looks peeking inside from the deck on this very rainy Monday morning. The reflection in the window makes it look like I have a pergola in my kitchen. lol
Okay, so about that change in the kitchen…several years back I shared a little "movie tour" of the home in the movie, It's Complicated. (See that tour here: Tour the Home in the Movie, It's Complicated.)
In the movie, Jane, who owns her own bakery, has the neatest little baking center in one corner of her kitchen. It looks like the no-nonsense baking center you would expect in the home of a real baker!
Back in 2011, inspired by Jane's baking center, I added a tiny, three-canister baking center to my small kitchen. At that time I filled the canisters with flour, sugar, and oatmeal. Back then, I was still lightly sweetening the iced tea I made and eating oatmeal on a fairly regular basis, so those canisters were used a lot. The flour was rarely ever used since I don't bake that often.
How has this little baking center worked out? It has worked out great! I've changed what I store inside the canisters but I do very much love having them here. Currently, I'm still storing sugar in one of the canisters, though I rarely add sugar to a pitcher of tea these days. I've come to enjoy it unsweetened over the years. I'll probably have my "southerner membership card" revoked after making that statement! 😉
The other two canisters currently hold cereal. I removed the flour since it was just sitting there, rarely ever being used. I will probably change out one of the cereals for oatmeal when autumn returns with its cooler weather.
So, I still very much like this little "baking" center I set up back in 2011, though it's more about convenience than baking these days.
Vision Computers just called and my computer is ready! You can just imagine what I'll be doing for the rest of the day. I both look forward to and dread the job of setting it all up and hooking up the 3rd monitor this afternoon. Hopefully, the next post will be created using it!
Looking forward to all the great Before and Afters linked for this week's Metamorphosis Monday!
Pssst: Did you know Between Naps On The Porch is on Instagram? You'll find me on Instagram here: Between Naps On The Porch.
Like to know when a new blog post is up and available to read? Subscribe for email updates, it's free and your email will never be shared.
Subscribe for free post updates via email here: Subscribe.
Metamorphosis Monday
Metamorphosis Monday is a party that's all about Before and Afters. Please link up your Before and After projects like DIY projects, room makeovers, craft projects even recipes. Any Before and After is great! Please do not link up Table Settings, save those for our Tablescape Thursday party on Thursday.
If you are participating in Met Monday, please link up using the "permalink" to your MM post and not your general blog address. To get your permalink, click on your post name, then just copy and paste the address that shows up in the address bar at the top of your blog, into the "url" box for InLinkz when prompted.
In order to link up, you'll need to include a link in your MM post back to the party so the other participants will have an opportunity to receive visits from your wonderful blog readers.
This party has ended, click button below for the links to all who participated.
*If a post is sponsored or a product was provided at no charge, it will be stated in post. Some links may be affiliate links and as an Amazon Associate, I may earn from qualifying purchases. *