Do you ever read blogs on the weekends or do you mainly just read doing the week? I often post on the weekend so was just wondering if you like to get a blog post in your Inbox on the weekend. (Pssst: If you haven't already, subscribe to get an email whenever I post here: Subscribe for Post Updates. It's completely free and will let you know when a new post is up with a link to the blog.)
A few months back, I added this cute, blue mini-fridge to my home office. It fit perfectly in this odd little corner here in the office. A few days ago I came up with a silly, fun idea. Those are always the best ideas, you know! 😉
It all started when I thought how nice it would be to have ice available to add to my drinks during the day. I had especially chosen a refrigerator that didn't have a freezer because 1. I didn't want to have to defrost a freezer every 6 months, 2. I didn't want a tiny freezer taking up available refrigerator space and 3. I didn't want to fiddle with filling up a little ice tray multiple times a day.
So I got this fun idea of adding a little ice bucket to the top of the fridge. That morphed into adding a tray since I didn't want to scratch up the top of the refrigerator or have the ice bucket drip water onto the fridge.
I was toying with the idea of ordering a tiny, little ice cooler but I already have two small ice coolers, though they would be a bit too big for the top of the fridge. Then I remembered I have an ice bucket that practically never sees the light of day! lol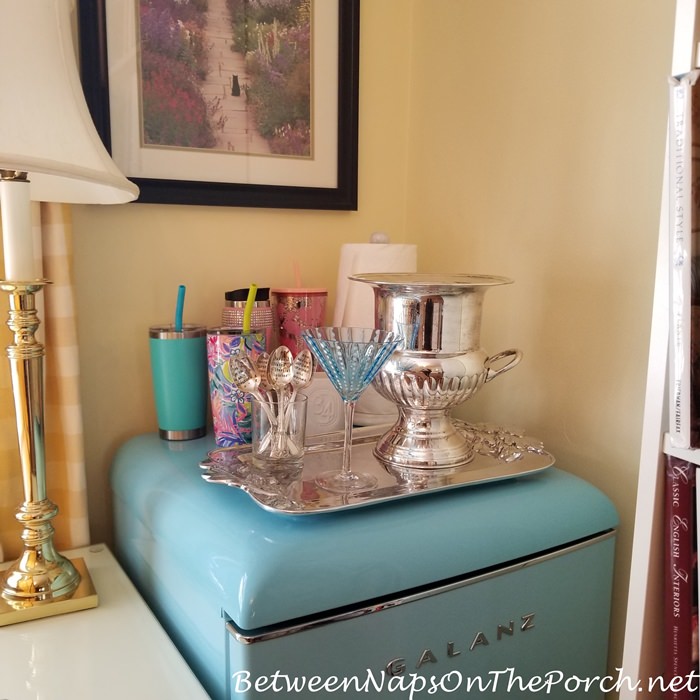 I brought up this sparkly, champagne bucket that I've had for several years and that led to bringing up this beautiful silver tray my son gave me for Christmas one year.
It normally lives here on the sideboard in the dining room. It's visible there under the red candle in this Christmas table setting from a previous year.
Though beautiful, I've learned this week that Champagne buckets aren't the most practical. Ice only lasts a couple of hours before melting so they have to be refilled fairly often if you want ice throughout the day. So a little cooler would probably be a lot more practical but where's the fun (and beauty) in that?!
Last night, I brought up this pretty martini glass. I have a set of 4 of these–found in Pier 1 (I think) back in the day.
I almost never use these for martinis since I rarely drink a martini. Instead, I use them for sipping sparkling drinks like sparkling water or sparkling wines. I just love how pretty and elegant they look!
In the background, you'll see some of the stamped spoons I've purchased in the past. I have those tucked inside a (now-empty) candle holder that originally held a candle that I picked up while staying in Ballynahinch Castle during a trip to Ireland. I purchased two candles while there, so still have one left. They smell amazing so I may have to email them to purchase more once my final one is gone. Do you save the little glass holder or container once a candle is burned and all gone?
The stamped spoons come in handy for iced coffee. The ones I purchased recently should arrive any day–can't wait to see those! (Read more about those in this post: March Favorites and Spoons I've Ordered.)
One of my favorite drinks for summer evenings on the porch is the Espiral Vinho Verde seen in the tall green bottle in the center of this older photo. I always find it in Trader Joe's. (This photo is from a few years back when I was shopping for bottles for my bottle tree.)
I also love their Peach Bellini–it's perfect for hot summer days!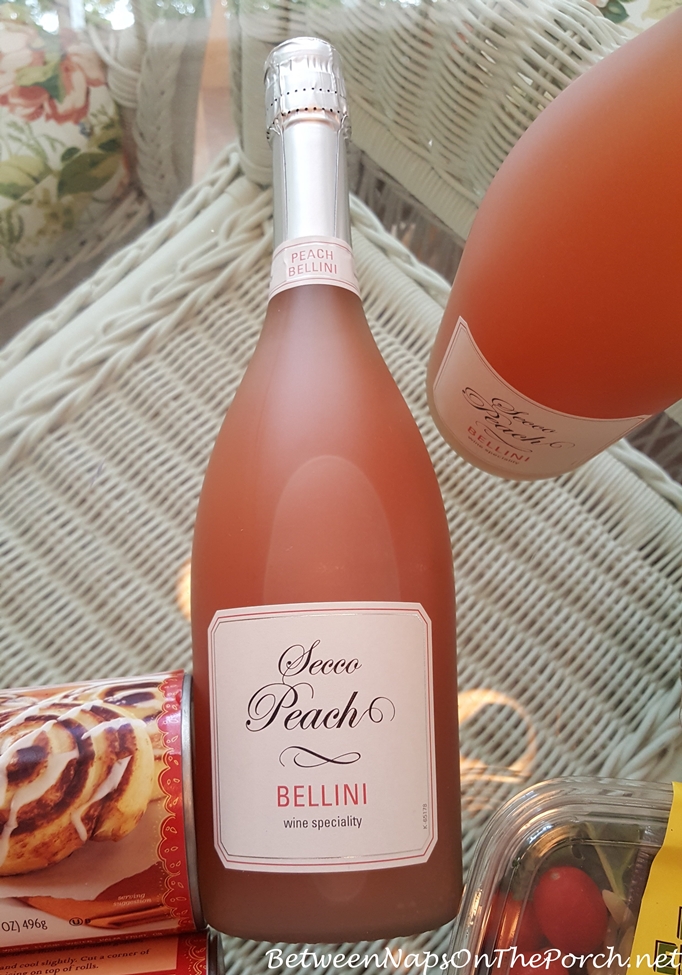 Across the back of this little drink center, I've added some of my favorite tumblers that I use all throughout the day here in the office.
Last summer, Lilly Pulitzer was giving pretty floral tumblers away for free with orders. I ordered several of their dresses and shorts last summer and ended up getting a couple of these: one for myself and one for my daughter-in-law. I love the pattern so much! I wonder if Lilly will do that again this summer?
I just checked their website and it appears you can buy them! You'll find them here: Stainless Steel Tumbler/Mug. As soon as this post goes up, I'm checking out that link because I saw sooo many cute things! I just love their happy patterns and designs!
I just ordered this pink, Swarovski-covered tumbler a few weeks ago. It doesn't hold as much as the other tumblers but I love how it looks! It's available here: Swarovski-Bejeweled Tumbler.
The pink heart/floral tumbler was from Starbucks a year or two ago around Valentine's Day. I was in Ohio, visiting with my son, dil, and grandchildren and stopped by a Kroger for groceries, That particular Kroger had a Starbucks inside so I decided to pick up coffees for each of us. They had these adorable, pink, glitter tumblers and I couldn't resist getting one for myself and my daughter-in-love.
I topped off this little drink center with a Diptique candle I purchased from the Diptique Boutique in Atlanta. They have so many wonderful scents from which to choose and I went with one of their most popular: 34 Boulevard Saint Germain. Their candles are pricey but intensely scented, so you don't need to burn one very long to fill a room or your entire home with their beautiful fragrance.
This particular scent is really elegant and sensual. Diptique describes it as "herbal" but I don't get that at all. To me, it smells like a gorgeous perfume. It makes me think of elegant ladies dressed in long, white, flowing summer dresses–carrying pretty parasols while strolling across vibrant green lawns at a beautiful seaside resort. Funny how a scent can conjure up a scene in your head. It's definitely bougie-smelling! lol
If you have a Diptique Boutique near you, check out their fragrances and candles. The 34 Boulevard candle is available here: 34 Boulevard Saint Germain Candle and here: 34 Boulevard Saint Germain Candle.
Hope you enjoyed this little fun escape. Happy Weekend! It's gorgeous here so I think I'll add some Esprial Vinho Verde to my blue martini glass and head for the porch. 🙂
*If a post is sponsored or a product was provided at no charge, it will be stated in post. Some links may be affiliate links and as an Amazon Associate, I may earn from qualifying purchases. *