Welcome to the 166th Metamorphosis Monday!
Greetings! Hope you had a fabulous weekend! I spent most of mine indoors with brief forays onto the porch. The pollen has been crazy here but we got a little rain two days in a row which seems to have helped calm down the attack of the yellow stuff.
This week, for Metamorphosis Monday, I'm sharing three amazing exterior transformations. If you are living in a home that's great on the inside but a bit ho-hum on the outside, take heart! Your run-of-the-mill exterior can achieve car-stopping curb appeal with a few basic changes and a little landscaping. All it takes is a little vision and a modest budget to get these awesome looks. Check out these stunning transformations.
Imagine driving by this home…you probably wouldn't give it a second glance, right?
Before:
After: Take a look at her now! Wow! The new additions having the biggest impact are the porch and landscaping. On closer inspections you'll also notice new shutters, window boxes, an added door from the attic area with a small balcony and deeper eaves with corbels. I love the new curved stone pathway and white picket fence. I'd love a look inside to see what they did with the attic space? I'm guessing it was transformed into either a guest room, a new master suite or perhaps a home office.
Brick ranch homes have so much potential. This one didn't look bad before but it was pretty nondescript.
Before: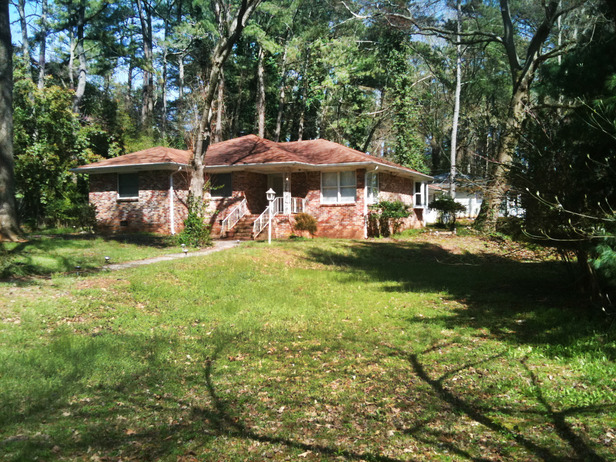 After: Check her out now! The biggest change, other than the painted brick, is the addition of a beautiful deck, complete with pergola. It really transformed the entrance to this home, didn't it? What an inviting area to welcome friends and family. The landscaping is pretty awesome, too.
I saved my favorite for last. This house had some of that cute, cottage feel going on with its shed roof porch. But it just feels like something is missing. The little window is completely lost in the large gable.
Before:
After: This home was transformed with the addition of folk-Victorian architectural elements. The add little roof, detailed molding above the top window and window box dramatically changed the look of the home. The multiple window boxes add tremendously to the curb appeal of this home. The new Victorian spandrels and filigree detail give the home depth and substance. It's almost like it went from being one dimensional to three dimensional. Love the new landscaping and of course, that white picket fence.
Notice how even the window boxes were designed with a curved bottom to fit in perfectly with the opening in the porch trim/detail. The circular trim is actually PVC which means it should hold up well for many years.
Thinking about adding on a front porch? You'll find a post detailing how I added a front porch to my home in this post: Front Porch Renovation.
Looking forward to your Before and Afters for this Metamorphosis Monday!
Receive BNOTP updates right in your Inbox:
To receive the latest posts, as well as updates about blog parties, subscribe To BNOTP posts via an RSS Reader. Or, have BNOTP delivered right to your Inbox. You'll find links to subscribe via RSS and/or e-mail at the top of this page on the right side. Thanks for reading; so glad you are here!

Metamorphosis Monday:
If you are participating in Metamorphosis Monday you will need to link up the "permalink" to your MM post and not your general blog address. To get your permalink, click on your post name, then just copy and paste the address that shows up in the address bar at the top of your blog, into the "url" box for InLinkz.
In order to link up, you'll need to include a link in your MM post back to the party.
If you'd like to include the MM button in your post, just copy and paste the Met Monday button to your computer or grab the html code from underneath the MM logo under the "BNOTP Parties" header at the top of this blog.
PLEASE DO NOT type in all caps…it spreads the links waaaay out. Thanks!


*If a post is sponsored or a product was provided at no charge, it will be stated in post. Some links may be affiliate links and as an Amazon Associate, I may earn from qualifying purchases. *