Happy Spring! I hope you seeing some nice weather, it's so pretty here right now. Remember the flowers I used recently in a table setting? The lilies are starting to open and they are sooo pretty!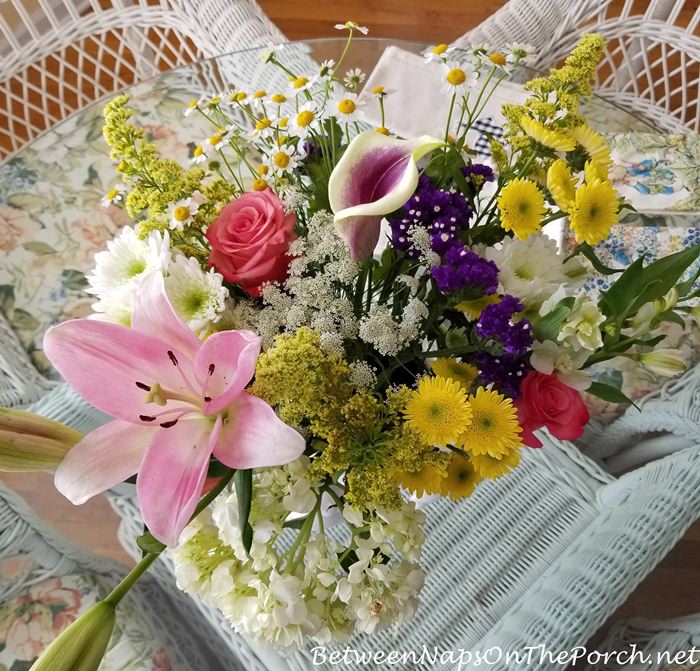 The birds are pretty happy with our spring weather. I glanced out the window of the dressing room upstairs a few days ago and saw this handsome fella perched on the roof of the front porch. I have a feeling the bluebirds are nesting in the dovecote that's closest to the house again because it's only a few feet away from the front porch. Looks like Mr. Bluebird is standing guard nearby. Soo sweet! I love bluebirds so much!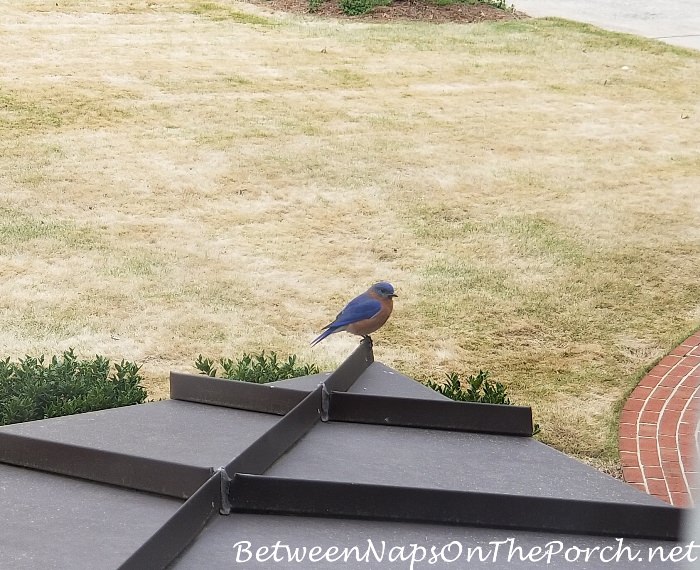 I'm always saving cute things I find online to share with you. I came across this on Instagram a few weeks back and loved it! I especially love Library Mouse and Ink-drinker! lol
Recently I came across a few goodies that were similar to items I've used in tables in the past, so wanted to share those with you in case you were hoping to find those for your spring or Easter table settings. Last year I used this raised Bunny pedestal server in a table setting to hold a small cake.
I spotted this one recently online for a really great price. You'll find it available here: Bunny Pedestal for Cakes and Cupcakes.
I also love this one! It's available here: Bunny Cake, Dessert Stand. Either of these two stands would make a great spring or summer server for cakes, cupcakes, or really any kind of dessert or appetizer.
If you need a sweet gift for a little one this spring, I love this adorable Peter Rabbit who plays peek-a-boo. Soooo cute! You'll find him here: Peter Rabbit Peek-a-Boo Bunny.
Thought this dress was beautiful and the price is definitely right. I also like that it's mostly cotton. I'm not a big fan of polyester dresses. I don't mind a blend as long as it's mostly cotton since that helps with avoiding wrinkles, but I never like how unflattering polyester fabric lays against the body, not to mention how it's not breathable for summer. This one is at least 65% cotton so that sounds like a nice blend. You'll find it available here: Spring Summer Dress.
My favorite places to shop for summer dresses are Talbots and Tommy Bahama. I have a good many dresses from both stores but I can never resist adding a couple of new ones to my wardrobe each spring. I love this one! It's silk and just so beautiful. I want to be where that dress is right now! You'll find it available here: Summer Dress.
Always love a tropical style dress! This one is available here: Tropical Dress.
Are you a Micky or Minnie Mouse fan? Take a closer look at this adorable dress. Notice anything?
Hidden in the foliage are cute Micky and Minnie Mouse images-figures. I love this! You'll find this dress available here: Dress with Mickey Mouse Figures.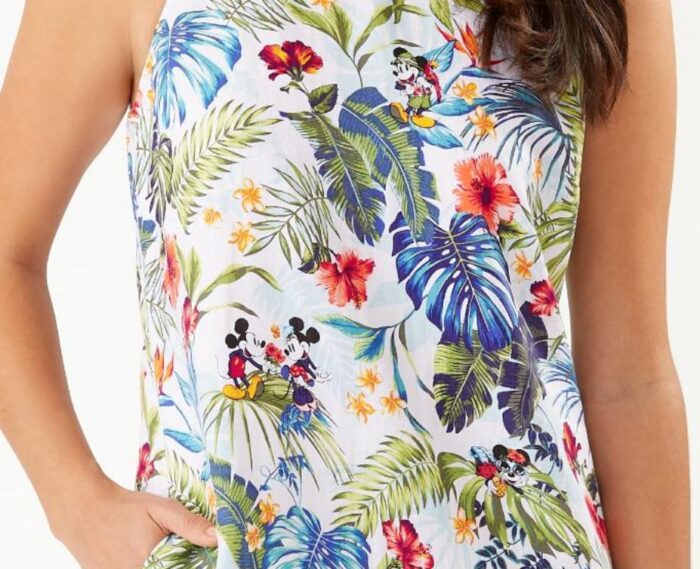 I think I'm going to add this dress to my summer wardrobe. I love how flouncy and flowing it looks! It looks like the kind of dress I would want to wear every day all summer! You'll find it available here: Cotton Embroidered Dress.
A Minor Problem I'm Having with a Shirt
All you dearhearts who love to sew, wondering if you can make a suggestion for a small problem I'm having. I purchased this pretty "Coastalina Valley Of Flowers" linen shirt last spring from Tommy Bahama and I absolutely LOVE it. (Here's the listing for when it was available: Valley of Flowers Shirt.)
I initially purchased this shirt in a size Small which is my usual size for tops but it was really big on me when it arrived, so it's definitely oversized. I was able to exchange it for an X-Small which fits perfectly.
One of the features I loved about this shirt when I first saw it online was how long it is. I love long linen tops and wear them a lot in the spring and summer. It is split up the sides so it can be worn out casually, plus it's way too long to tuck inside pants or shorts.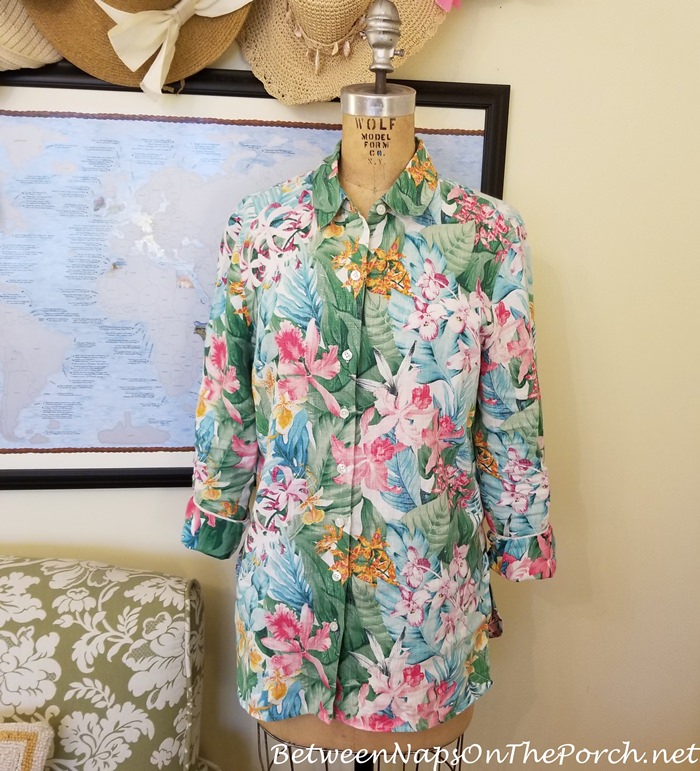 So here's the problem I'm having with this shirt: Every single time I wear it, as soon as I sit down, the lower hem in back wants to curl up. It pretty much happens the very first time I sit down after putting it on for the day. I've tried tucking the hem underneath me when I sit down in an effort to keep it flattened out, but that doesn't work at all–it still curls giving me a little ducktail all day. lol
I was thinking of taking it to a seamstress and seeing if they can add a bit of facing (or whatever it's called) along the hem in back to perhaps give it a bit of extra weight and keep it laying down. I have a lot of long, linen shirts that I've purchased from Talbots over the years and none of them do this but I think it's because none of them are as long as this shirt is in back. So I've never run into this problem with a linen shirt before. I love the airiness and lightweight feeling of linen, but need to figure out a solution for the curling up problem I'm seeing with this particular shirt.
Any ideas? I'll keep wearing it because I love it so much, but would love to wear it ducktail-free! Ha! Appreciate your suggestions!
*If a post is sponsored or a product was provided at no charge, it will be stated in post. Some links may be affiliate links and as an Amazon Associate, I may earn from qualifying purchases. *