Welcome to the 491st Metamorphosis Monday!
When I was vacationing in Maui last week, I was minding my own business walking down Front Street in the lovely town of Lahaina when a beautiful sun in a nearby shop window dazzled me with its shimmering beauty. It literally stopped me dead in my tracks. I've always loved sun motifs and this beautiful sun glimmered and sparkled in the Hawaiian sunlight. It was love at first sight!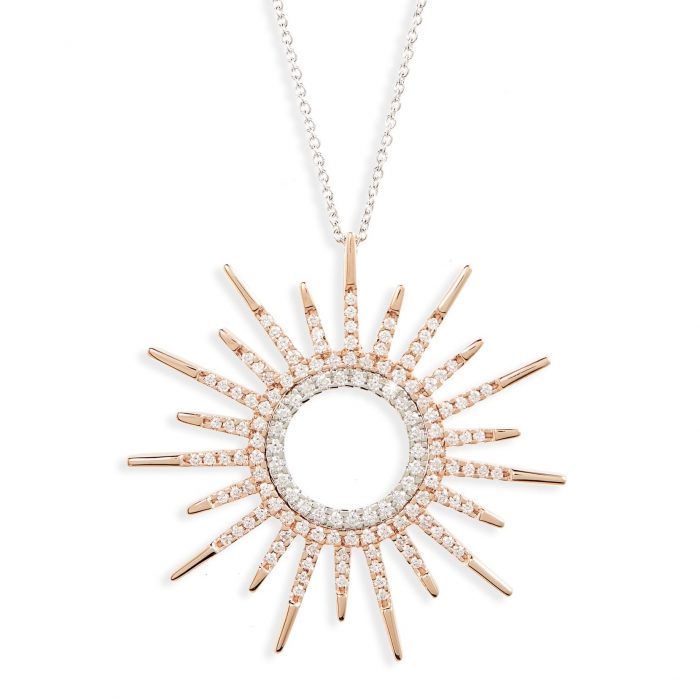 I stepped inside the shop and tried it on, then spent the next half hour trying to choose between it and its baby brother that was about half the size. I loved them both, so it's was a really hard decision, but ultimately I went with the smaller sun.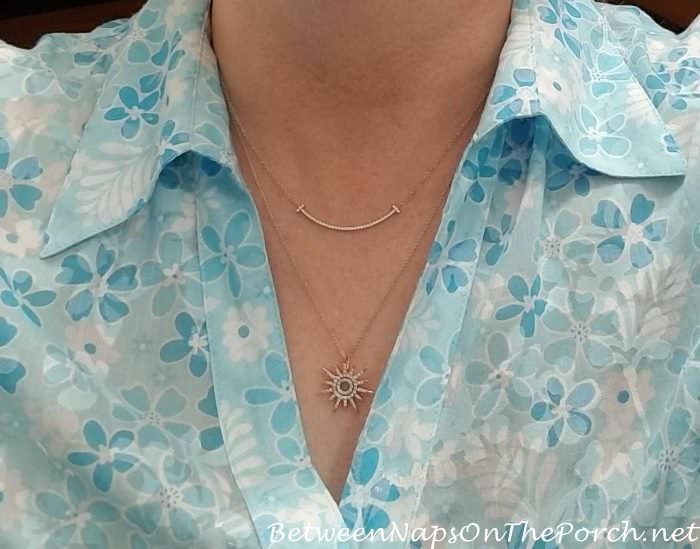 This little sun designed by Roberto Coin has a hidden secret. Roberto tucks a tiny ruby into every piece of jewelry he designs. It's always placed in a spot where it touches the skin of the person wearing it. On my sun necklace, it's on the back near the top. Here's an example showing the ruby tucked into a pair of Roberto Coin earrings. Why does Roberto put a ruby in each piece he designs?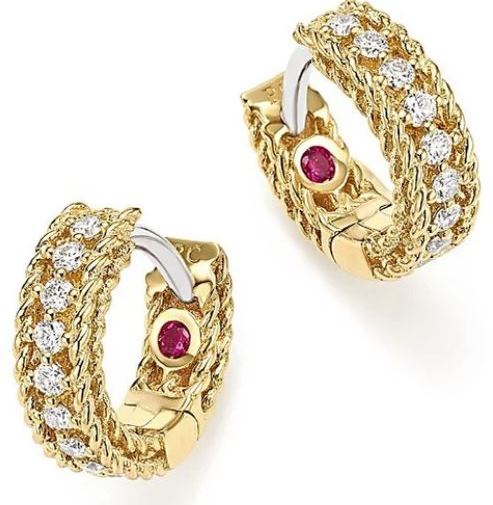 Here's how they explain it:
The ruby has always been enveloped in a legendary aura, and due to its exceptional quality of maintaining beauty throughout time, it is considered eternal, like true love. According to an ancient belief, wearing a ruby close to the skin promoted long life, health and happiness and even today it is believed to possess these magic powers including the extraordinary ability of giving peace.

In 1996, Roberto Coin started signing his jewels by setting a small ruby hidden on the inside of each piece, allowing the distinguished gem to kiss the skin. Since then, this tradition has become the exclusive signature of every jewel by Roberto Coin, dedicated as a secret gift of good wishes to every woman lucky enough to wear one of his exclusive creations.
Don't you love that?! I love turning my necklace over and seeing that tiny ruby, a little promise of health and happiness that goes with me wherever I go. I sure could have used that when I was traveling through Germany last December! 😉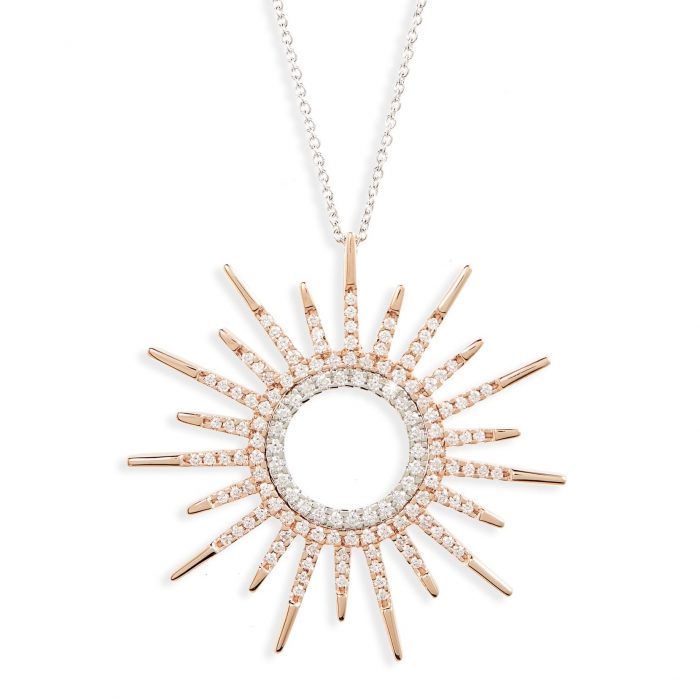 Though I went with the smaller sun, I'm still crazy about the larger one. I can't really justify buying both, but if you could use a bit of sparkly sunshine in your life, the larger one is available here: Sun. It's about twice the size of mine seen in the photo below.
Fortunately, the sun necklace is designed where it can be worn at either of two lengths. I have it in the longest length in the photo below. I think Roberto designs most of his necklaces this way, where they can be worn at two different lengths.
I know this isn't the greatest photo but I wanted to share how I'm wearing my sun because it led me to a really awesome discovery. When I purchased this necklace, I was thrilled to see I could layer it with my Tiffany & Co. "Smile" necklace. I never take my Smile necklace off so it was important that I could wear both at the same time.
The Problem
The only issue I've run into with wearing both necklaces together is the same problem I've run into before when trying to wear two necklaces: the chains always end up rolling together and getting tangled. Around 5-6 times a day I have to untangle them, otherwise, they would become a tight mess by evening.
Determined to solve this problem, I went in search of a solution and found something very cool–something called a necklace spacer! Based on the tracking, this little necklace spacer should be arriving today or tomorrow. I ordered it in silver, but it's also available in gold and I think, rose gold, too. I ordered the spacer that works with two necklaces, but as you can see below they make them for layering three necklaces, too.
If you have a couple (or three) necklaces that you would love to wear together, you'll find this necklace spacer available here: Necklace Spacer. I can't wait for it to arrive so I can wear my necklaces without them rolling up and getting tangled together. So excited to get this!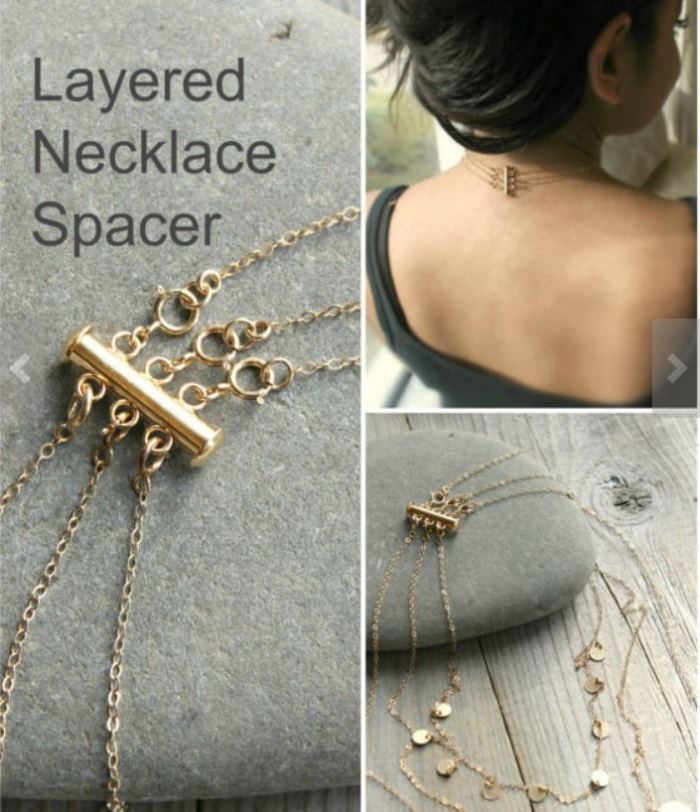 So that's my Met Monday for this week. Hope these solutions prove helpful if you've run into either of these issues in the past with your jewelry, too.
Looking forward to all the great Before and Afters for this week's Metamorphosis Monday!
I post almost daily on Instagram. Follow Between Naps on the Porch on Instagram here: Between Naps On The Porch. If you enjoyed this post, subscribe for free email updates when a new post is up here: Subscribe for post updates.
Metamorphosis Monday
Metamorphosis Monday is a party that's all about Before and Afters. If you are participating in Met Monday, please link up using the "permalink" to your MM post and not your general blog address. To get your permalink, click on your post name, then just copy and paste the address that shows up in the address bar at the top of your blog, into the "url" box for InLinkz.
In order to link up, you'll need to include a link in your MM post back to the party so the other participants will have an opportunity to receive visits from your wonderful blog readers.
Please observe these few rules:
Please link up Before and After posts that are home, gardening, decorating, crafting, painting, sewing, cooking, fashion or DIY related.
Be sure to include a link back to the party in your post, so your readers will be able to find and visit the other bloggers who are participating.
Do not link up to the party if you're only doing so to promote or sell a product.
To those who are linking up: If you notice a shop or online store linking up to sell products (yes, unfortunately, that does happen) please let me know so I can remove their link and block them from participating in future parties. No one wants to click a link expecting a Before and After, only to find a spam link to an online business/store.
*If a post is sponsored or a product was provided at no charge, it will be stated in post. Some links may be affiliate links and as an Amazon Associate, I may earn from qualifying purchases. *