Welcome to the 734th Metamorphosis Monday! I wish I was a make-up kinda girl sometimes. About half the time I run around completely bare-faced. I never wear foundation because it literally makes any wrinkles I have a million times more noticeable. Mostly I just use a bit of mascara (so I actually look like I have eyelashes) and lipstick. Lipstick is my favorite thing to wear on a daily basis, well, behind my first love–perfume.
I have discovered over the past few years that I am a sucker for a pretty lipstick case. I learned that about myself a few years back when I discovered House of Sillage's bow lipstick cases and went a bit hog-wild buying them in several colors over the space of a couple of years. This was the last one I purchased during one of their sales and ironically, it matched a Lilly Pulitzer dress I had just purchased that summer. Even my Penhaligon's Lily to the Valley perfume was a perfect match. Ha!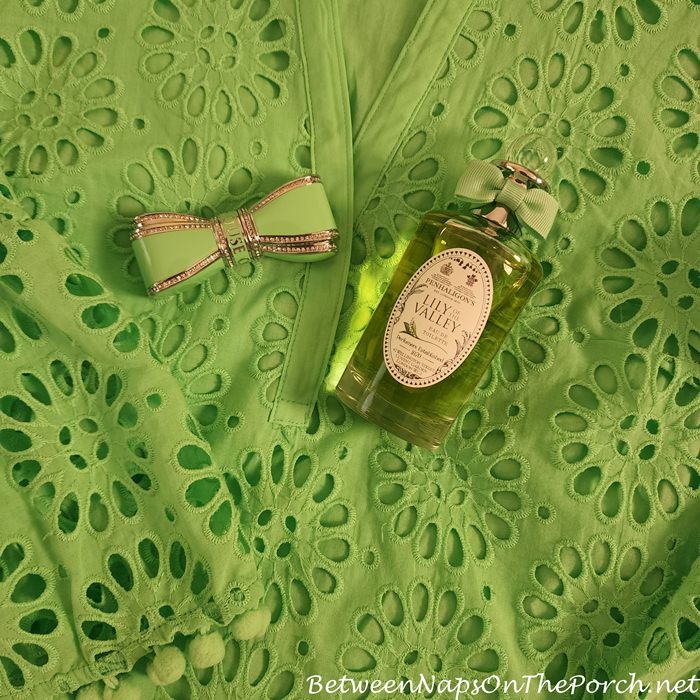 I have a terrible habit of discovering things about two weeks after they are sold out. A few months back I was window-shopping on the Dior website and discovered they had done a limited-edition houndstooth lipstick case, I think it came out this past fall. Of course, they were all sold out, but I managed to find one on Mercari. I liked it so much after it arrived, I ordered another one for my daughter-in-law who loves wearing lipstick as much, if not more.
Finding out that a lot of the luxe brands create limited-edition lipstick cases each season was a dangerous discovery! Periodically, I check the Dior website to see what new bags they have coming out, despite the fact I have zero intentions of buying a new bag. I just enjoy seeing the new designs. I was smitten when I came across this new spring lipstick case covered in pretty flowers! Since I'm new to purchasing limited edition lipstick cases, it wasn't until after I ordered that I realized I needed to order one of their Dior Addict lipsticks to go inside. At first, I thought my Dior Lip Glow would fit inside, but it doesn't.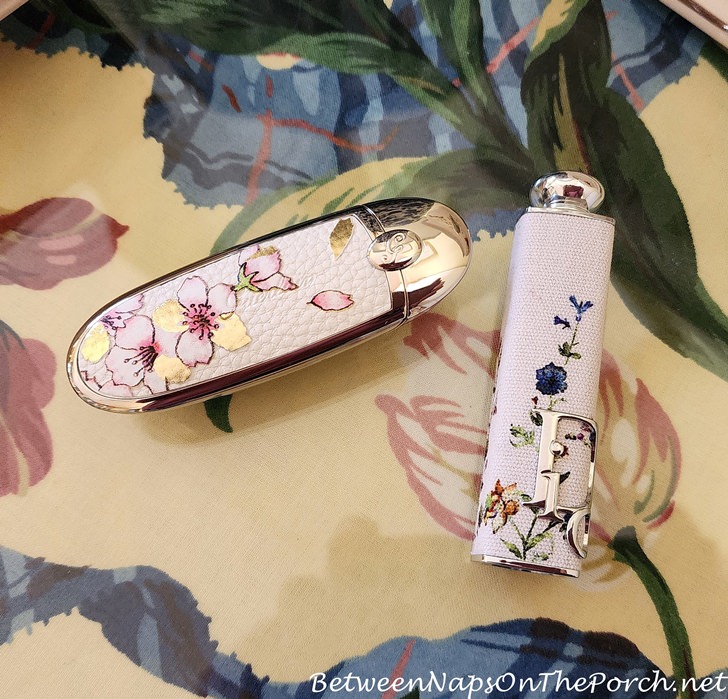 Now that I've discovered this world of limited-edition lipstick cases, I'm hooked! I had never purchased anything from Guerlain until recently when I ordered one of their fragrances from their Aqua Allegoria line. While I was waiting for my perfume to arrive, I discovered their new-for-spring, limited-edition Cherry Blossom case seen on the left in the photo below. Oh my gosh, I loved it–so perfect for spring! For once, it wasn't sold out, but it did sell out within 2-3 days of my purchasing it. A few days later, I noticed it was back in stock again. I think it may be showing sold out again, but hopefully, they'll restock it again since it has been such a big hit for spring.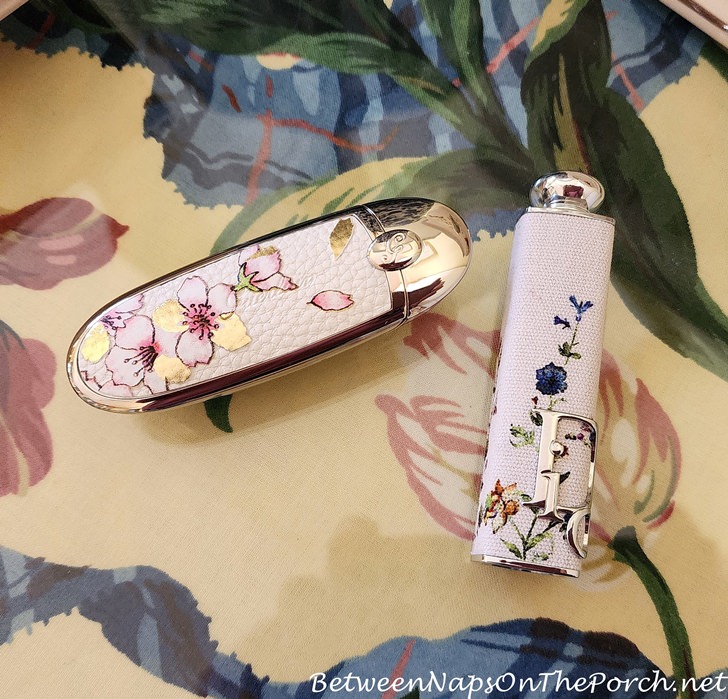 The cherry blossom case was also available in a set that included this limited-edition lipstick with the embossed cherry blossom design. That's how I ordered my case, as a set, but the case was available separately for those who didn't need the lipstick.
Are you familiar with these Guerlain lipstick cases? They are designed (like the Dior lipsticks) where any color refill from Guerlain will fit the case, and there are around 40 colors of lipstick from which to choose. I liked the design so much, I ended up purchasing one in a houndstooth design, as well. I love the idea of carrying the houndstooth case for fall and winter, then swapping out to the cherry blossom case for spring.
The houndstooth design on the Guerlain lipstick case feels like velvet to the touch. Very luxurious! They have a ton of different patterns from which to choose.
The way the Guerlain lipstick case works is when you slide your lipstick out, the case automatically opens up and there's a mirror inside to help with applying your lipstick. Love that! Recently, Guerlain offered monogramming at no extra charge, so I had both the Cherry Blossom and the Houndstooth cases monogrammed with my initials. I like how the monogram is hidden and only visible when you actually open the case to use the lipstick.
I also purchased a cherry blossom set (case and lipstick) for my DIL. I had it monogrammed with her initials, along with a special message inside. Whenever she opens her cherry blossom case to put on her lipstick, she'll have an instant reminder of how much she's loved. ♥ When I ordered her case and typed out the monogram and message, I clicked the space bar twice between the monogram and the message hoping that would separate those out enough that they wouldn't run together. Whoever monogrammed the case did leave two spaces, so it turned out great! (Note: The monogram is darker and easier to read in person. I had to take the photo at an angle to avoid getting the camera in the photo.)
Do you ever pick up any of the limited edition lipstick cases? If so, which brands do you feel have the best cases? I'm surprised by how reasonably priced they are. I love that once you purchase the special case, you can use it forever, just replacing the lipstick whenever you run out.
I just looked and I think the cherry blossom case is currently sold out again, but hopefully, they'll get more in since it's only February. Here are some places to watch for it. Guerlain Cherry Blossom Lipstick Case AND here: Cherry Blossom Case. The Guerlain Houndstooth Case (and many more limited-edition designs) is still available here: Guerlain Houndstooth Lipstick Case AND here: Guerlain Houndstooth Lipstick Case AND here: Guerlain Houndstooth Lipstick Case. If you wish to have the case monogrammed, I think you may need to buy it directly from Guerlain, although some stores appeared to be offering that option, so I'm not sure. You'll find the limited-edition cases at Guerlain here: Guerlain Houndstooth Lipstick Case.
Looking forward to all the great Before and Afters linked for this week's Met Monday! Pssst: Did you know Between Naps On The Porch is on Instagram? You'll find me on Instagram here: Between Naps On The Porch. Like to know when a new blog post is up and available to read? Subscribe for email updates, it's free and your email will never be shared. Subscribe for free post updates via email here: Subscribe.
Metamorphosis Monday: Metamorphosis Monday is a party that's all about Before and Afters. Please link up your Before and After projects like DIY projects, room makeovers, craft projects even recipes. Please do not link up Table Settings, save those for our Tablescape Thursday party on Thursday. If you are participating in Met Monday, you'll need to link your post to the party using the "permalink" to your MM post and not your general blog address. To get your permalink, click on the name of your post, then copy and paste the address that shows in the address bar at the top of your blog, into the "url" box for InLinkz when prompted. NOTE: Please do not link up more than 3 posts from your blog. In order to link up, you'll need to include a link in your post back to the party so visitors to your blog can find the other party participants. When linking up to the party, give the InLinkz system time to find the link in your post to avoid having your link held for moderation/approval. Thanks!
This party has ended, click button below for the links to all who participated.
*If a post is sponsored or a product was provided at no charge, it will be stated in post. Some links may be affiliate links and as an Amazon Associate, I may earn from qualifying purchases. *