When it comes to fashion, my weakness is handbags and shoes, pretty much in that order. I love me some bags and shoes! Maybe it's because when I gain a pound or 10, all my handbags and shoes still fit just as they did before…no problem! 😉
Summer bags are so playful and fun! I've always loved straw bags and Draper James, owned by Reese Witherspoon, has a really cute one out this year. This bag was available last year with an off-white leather, but I think this year's reincarnation is much cuter. This year it's in navy and the navy is so pretty contrasting against the warm, golden brown of the straw. The other thing I really love about this bag is that they'll monogram it for you as shown below. It reminds me of the bags you see in the Nantucket area, very summery and beachy.
It's available here: Straw Bag. Check out their sales page, there's cute stuff on there! I love her style!
I also love this blue and white tote she has available this season: Blue and White Tote
That same pretty blue and white fabric comes in this style bag, available here: Blue and White Bag.
Michael Kors has some darling straw bags available this summer, too. This seems to be the summer for the straw bag.
I love the way this one opens, it has a bit of a vintage feel to me. I remember bags similar to this when I was growing up, the ones that opened from the top this way. I'm so nostalgic for this style!
It also comes in white leather and I love them both. They are both available here: Michael Kors Medium Straw Bag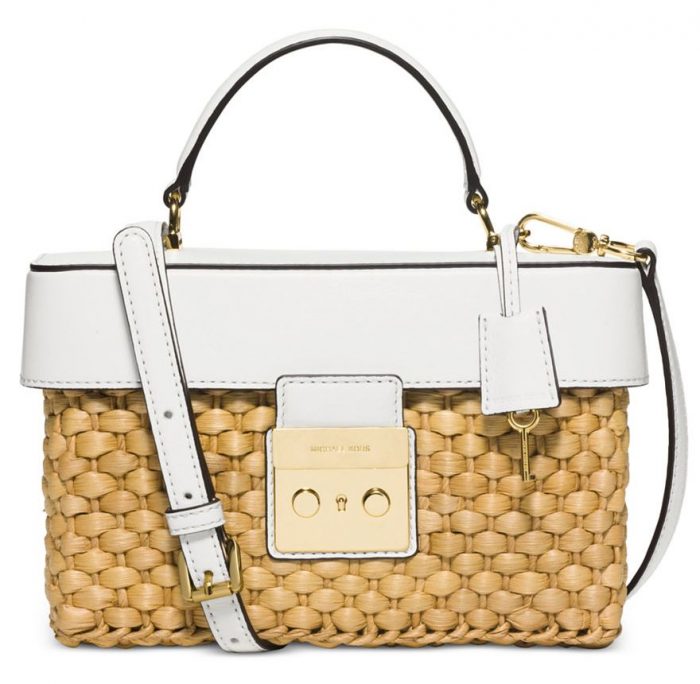 Here are a few more straw bags that I'm loving this year. Click on the title of the bag to read more about it.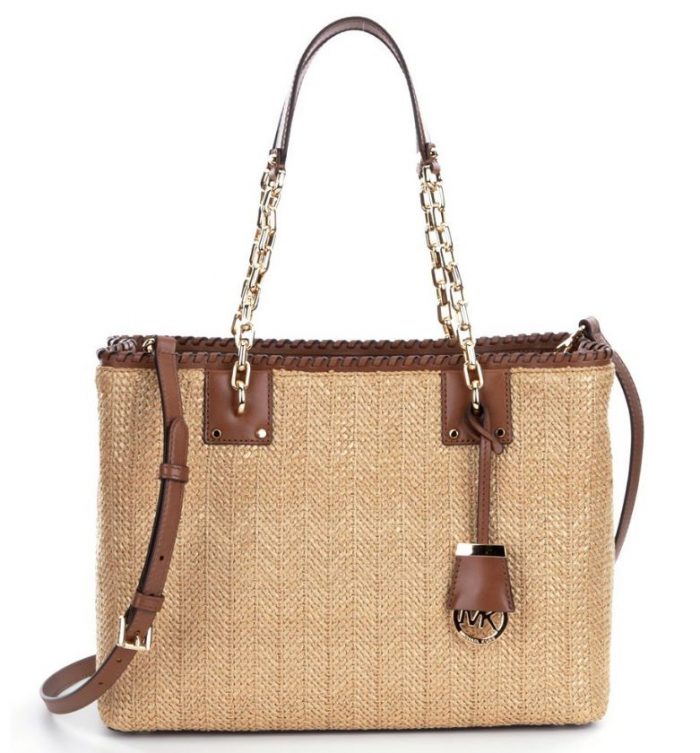 This one also comes in white leather, too. Which color do you like best? I'm torn between the brown and the white, love both! The white feels more summery but the brown would transition nicely into fall. I could see carrying the brown leather one well into fall.
Michael Kors Straw Tote in White
Another cute one, it's available here: Michael Kors Straw Tote
It's also available in white here: Straw Tote by Michael Kors
The style of this one made me think of the classic Chanel bag: the shape, the flap closure, the chain/leather strap. If Chanel made a straw bag, I wonder if it would look something like this. It's available here in three colors: Michael Kors Straw Bag with Chain/Leather Strap
Update:
Another cutie for spring…love this! Definitely need this for a beach trip! Shell bag is available here: Shell Bag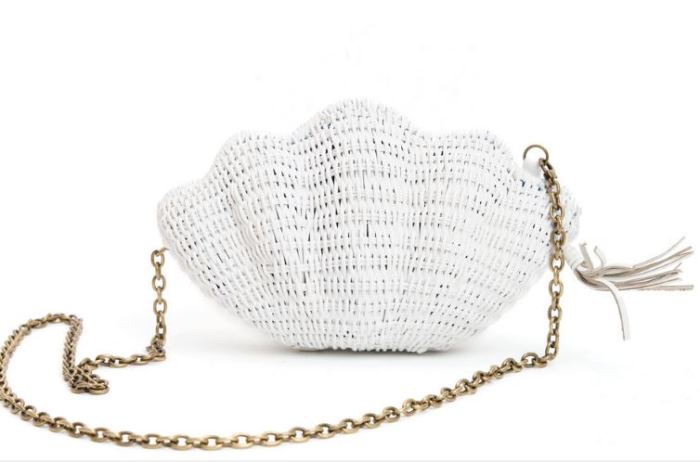 A Bag Story
I have a fun little bag story to share. If you've been reading BNOTP for a while, you know I love Brahmin bags. Over the years I've purchased several, always new from Dillards or from the Brahmin store in Atlanta.
Occasionally for grins and giggles, I'll look on eBay to see what's there. One night, about a year ago, I did a search for Brahmin Straw Bags or Brahmin Woven Bags–something like that, and this bag popped up. It looked like it had never been used in the photos and the description described it as being in excellent condition with no stains or damage.
I fell in love with it and was fortunate enough to win it for a great price in the bidding process. I loved that it was vintage Brahmin since I'm such a fan of the brand and had never had one of their older bags.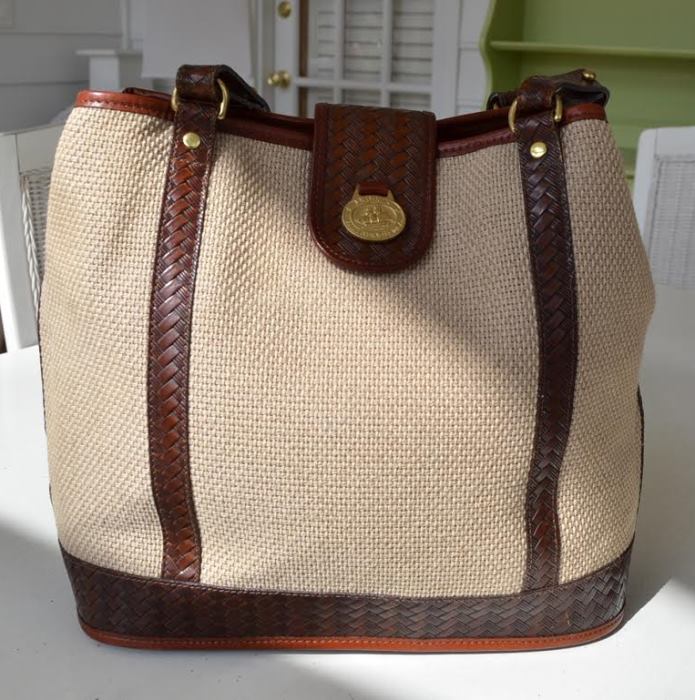 When it arrived, I took these photos of it and e-mailed Brahmin's customer service to ask if they could give me a little more information about the leather and what year it was produced.
It appeared to be a summer style to me, and the body of the bag looked like tiny nautical rope, all interwoven together.
Here's what I received back.
Fast forward 15 months and imagine my surprise when I went shopping in Belks a few weeks ago and saw these! I was so excited to see that Brahmin had brought back one of their vintage styles. I LOVE it when companies do that because it gives us a chance to purchase a style we missed or never even knew about.
This is definitely the first time in my entire life that I've actually been ahead of a trend! Or, maybe I'm 16 years behind, not sure which! I fell in love with it the night I saw it on eBay and never dreamed it would make a second debut the following spring.
Brahmin is still calling it the Harbor Collection and it's available here: Brahmin Harbor Collection
The tote in this collection is available here: Brahmin Harbor Asher Tote
Do you have a good bag story? Please share it in the comments! Think I should buy that first straw bag and have it monogrammed? Such a cute bag, it's definitely calling my name!
From time to time I share fashion finds on Instagram so check out my Instagram page here: BetweenNapsOnThePorch on Instagram
BNOTP is also on Facebook here: Between Naps On the Porch on Facebook
*If a post is sponsored or a product was provided at no charge, it will be stated in post. Some links may be affiliate links and as an Amazon Associate, I may earn from qualifying purchases. *