Welcome to the 381st Metamorphosis Monday! Wish I had a porch update to share with you, but unfortunately due to the off-and-on rainy forecast last week, the flooring company wasn't able to come out and re-varnish the porch floor. So frustrating when every day predicts rain (except on the weekends when they don't work) and half the time, it never materializes.
Okay, on to something more productive. This weekend I decided to get back to work on the shell and sea glass chargers I started working on early last September. I had to kinda psyche myself up for this project because having made shell chargers before, I know it's a lot of hours of just sitting and poking sharp little shells into place.
If you're new to reading BNOTP, I first became interested in making shell chargers when I came across this listing several years ago on eBay. I had planned to bid on these awesome shell chargers until I realized the bidding was going way higher than I was willing to pay. They ultimately sold for $233.49 (including shipping) for 6 chargers! Yikes!
Having lots of shells from a beach trip many years ago to Captiva and Sanibel Islands, I attempted to make my own shell chargers. I purchased a few additional small shells to fill in the gaps and here's how they came out. In the end, each charger contained approximately 231 shells! My final cost to make six shell chargers was $27.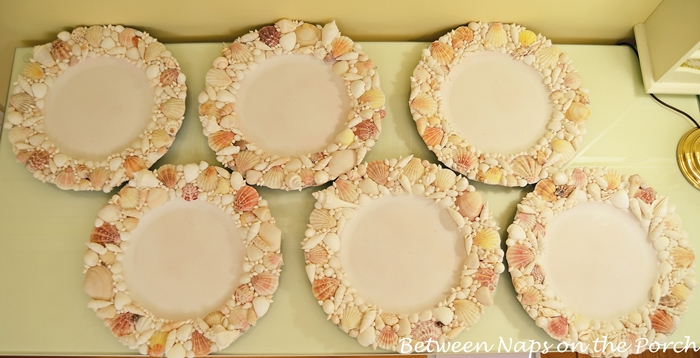 You'll find the tutorial for making these chargers here: Make Shell Chargers for Summer Dining.

I've really enjoyed using them in beach themed tables over the years. (Tablescape can be viewed here: Nautical Tablescape with Shell Chargers and Fish Flatware)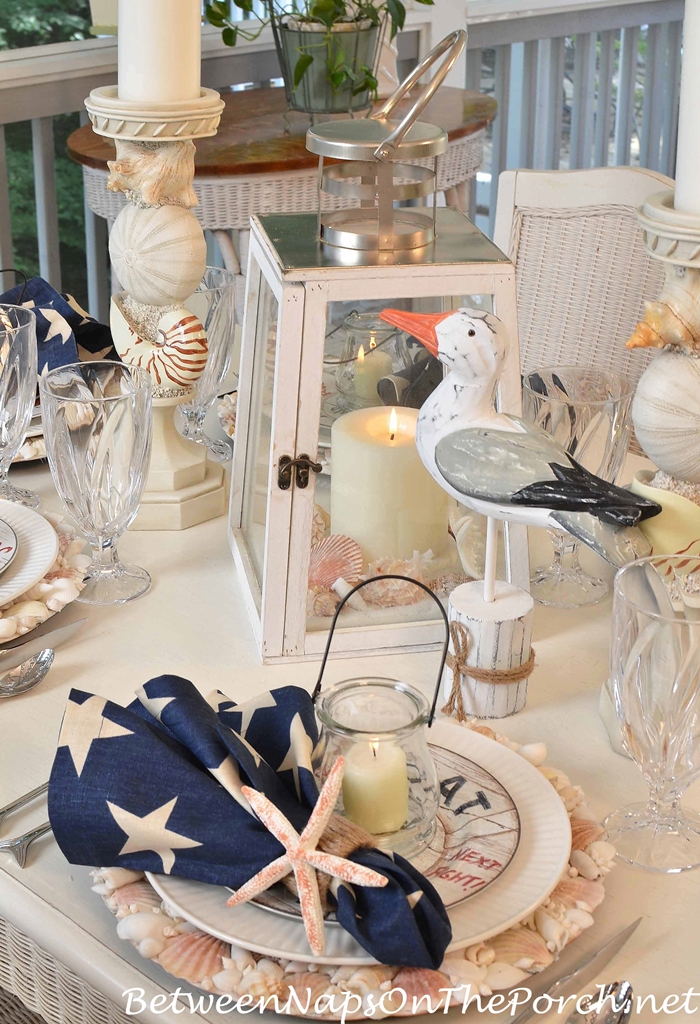 Since making those, I've always wanted to make them again, but this time incorporating in a bit of blue sea glass.
Here's my progress after this weekend. You can see the one I completed last year on the bottom row in the center. I would have made more progress this weekend, but unfortunately, I ended up having to remove all the large shells from two of the chargers and completely redo them. Somehow I got off in my shell count and I'm just picky enough that it was driving me crazy!
After plucking off all the shells and redoing two of the chargers, my fingers were too sore to continue, but I've got a good start on them now. Warning: Shell count can vary if you get too absorbed in another activity like watching YouTube unboxings! Warning No. 2: YouTube unboxings can be bad for the pocketbook! 😉
Warning No. 3: Sea glass is REALLY glass and it will cut you if you get distracted while plucking off a stray glob of hot glue and your finger scrapes up against it!
I think I may need to purchase some more of the teeny, tiny filler shells I used last time. I'll know better after I start filling in some of the chargers. Looking forward to sharing these in a beach-themed table with you this summer, hopefully sooner than later!
Update: This morning I took the finished charger out onto the front porch to take a photo in natural lighting. The colors really come out in natural lighting.
See all six chargers completed in this post: Beach/Nautical Table Setting with Sea Glass Chargers.
You'll find my original, detailed tutorial for making shell chargers here: Make Shell Chargers for Summer Dining.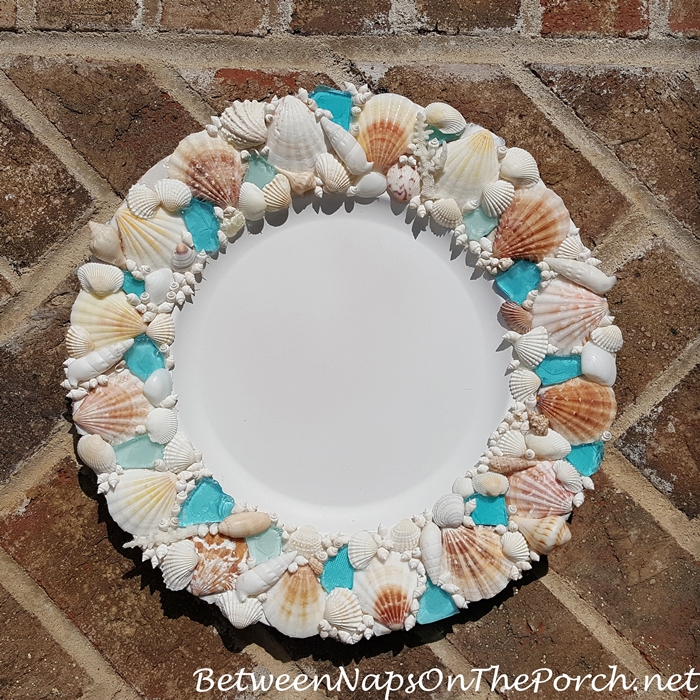 Looking forward to all the wonderful Before and Afters for this Metamorphosis Monday!
If you are participating in Metamorphosis Monday, please link up using the "permalink" to your MM post and not your general blog address. To get your permalink, click on your post name, then just copy and paste the address that shows up in the address bar at the top of your blog, into the "url" box for InLinkz.
In order to link up, you'll need to include a link in your MM post back to the party so the other participants will have an opportunity to receive visits from your wonderful blog readers.
Please observe these few rules:
Only link up Before and After posts that are home, gardening, crafting, painting, sewing, cooking or DIY related.
Do not link up to the party if you're doing so to promote a website or sell a product.
Do not link up a post that was just linked up last week since readers would have already seen that post.
Please do not link up more than 3 posts per week.
*If a post is sponsored or a product was provided at no charge, it will be stated in post. Some links may be affiliate links and as an Amazon Associate, I may earn from qualifying purchases. *