How is your holiday shopping going? Are you all finished? Is it all wrapped. I have mine all wrapped but I've purchased a few more last-minute gifts, so need to get those wrapped over the next few days.
I bought one of these wearable blankets for myself a month or so ago with plans to take it with me the next time I visited family in Ohio. I showed it to my son one night when he was watching TV and was complaining of being a little chilly. He loved it and ended up wearing it the whole evening. I immediately ordered one for him for Christmas. At that time they were quoting a January delivery, but that seems to have been shortened. Now it's a December 21 delivery so it could possibly arrive prior to Christmas.
Ohio is on a pretty strict lockdown–kids won't even be returning to school after Christmas, so my son works from home almost every day. His office is in the basement where it always a good bit cooler. That's great in the summer but not so great in the winter. This morning was especially cold so he hinted he wouldn't mind wearing the blanket again. lol I haven't been wearing it since I arrived–been staying warm in my Naadam cashmere sweaters and Ugg boots. I love anything that's snuggly warm this time of year!
If you keep your home a bit on the cool side and want something to wear while watching TV that's super snugly, this is it! Another reason I prefer this one over similar "wearable blankets" that I've seen online is this one actually has a back. So many wearable blankets are open in back.
Note: The "Standard" size is really, really big so for most women this wearable blanket would strictly be for lounging in while watching TV, reading, knitting, doing a puzzle, etc… You could walk in it to the kitchen for a drink, but you'll have to lift the front up a little if you're around 5'4″ like me. Or, you can let it slightly drag on the floor but I would be super careful wearing it up or down stairs since it's quite long. I'm guessing it wouldn't drag the floor at all if I were 5'6″ or taller. My son is around 5'11" and it doesn't come close to dragging the floor when he wears it.
Def think this would make a great Christmas gift for someone who hates being cold like me. It's available here: Wearable Blanket.
If you know someone who loves to do puzzles (great activity while we are all staying home a lot more) I highly recommend this puzzle board.
I love mine and use mine at home all the time. If it's showing sold out, check back, it seems to come and go out of stock. You'll find it here: Puzzle Board.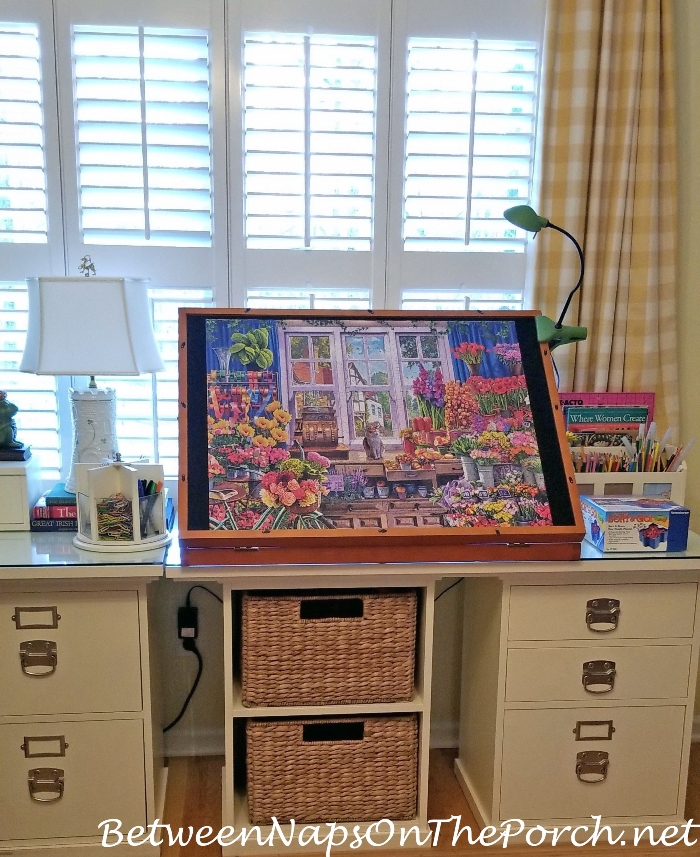 This may seem like an odd Christmas gift. lol A few months back I purchased this pan. I wanted a non-stick pan but something nicer than the regular non-stick pans you normally see available. If pans can be beautiful, this one is! I love the sturdy handle. It looks and feels like wood but I noticed it's listed as having a "Bakelite" handle. Anyway, it's a great pan!
When my daughter-in-law and son were visiting for Thanksgiving, my dil really liked mine a lot and asked for the link to where I purchased it. Since I'm here for the holidays, I noticed she hadn't purchased one for herself yet, so I bought it for her in two different sizes for Christmas. Of course, I've bought her other gifts that are not work/kitchen-related 🙂 but this is something I know she really wants. Unlike me, she loves cooking! lol
If you are looking for a great non-stick pan, you'll find this one in several sizes here: Nonstick Pan. If you want a set with lids, you'll find that here: Nonstick Pans with Lids.
A while back I shared this cozy tunic and sadly it sold out pretty quickly. Good news, it's finally back in stock. My daughter-in-law and I love ours and wear them all the time. I like to wear a cotton t-shirt underneath mine and the medium has worked out perfectly for that. It seems to runs true to size. You'll find it in several colors here: Tunic in 5 Colors.
I bought this robot for my older grandson last year and he loves it! I just purchased one for my younger grandson this year since he always wants to play with his brother's robot. Great gift for kids! You'll find it here: Robot for Girls or Boys.
Beautiful Cashmere
Just noticed Naadam has a big sale going right now, 50% off many items. You'll find the sale here: Nadaam Cashmere.
I LOVE this long cashmere cardigan I bought from them last winter when I caught it on sale! Super soft and warm!
They have a very similar cardigan back in stock this year available in three colors, and it's currently on sale 50% off! I just ordered it in this golden brown color for my daughter-in-law. She loves the one I have in that color. I also ordered a black one for myself…can't pass up this sale! Note: They run a bit big so I went with the Small, but if you want it more oversized for comfort, go up a size. You'll find it on sale here: Long Cashmere Sweater.
I've linked a lot of other gift ideas below, the majority of which I have purchased the last few years for family and friends so I feel comfortable recommending them. I will continue to add to this collection throughout the day as I continue doing some last-minute shopping online.
Happy Christmas and Holiday Shopping!
*If a post is sponsored or a product was provided at no charge, it will be stated in post. Some links may be affiliate links and as an Amazon Associate, I may earn from qualifying purchases. *