Welcome to the 410th Tablescape Thursday!
I've been saving clear bottles for a couple of years in hopes of one day creating this table setting. I was surprised by how long it took to save the bottles, seems like every tall drink comes in a colored bottle. Recently when I was cleaning out the garage and came across the bottles, I decided it was finally time to put this little table together here on the porch.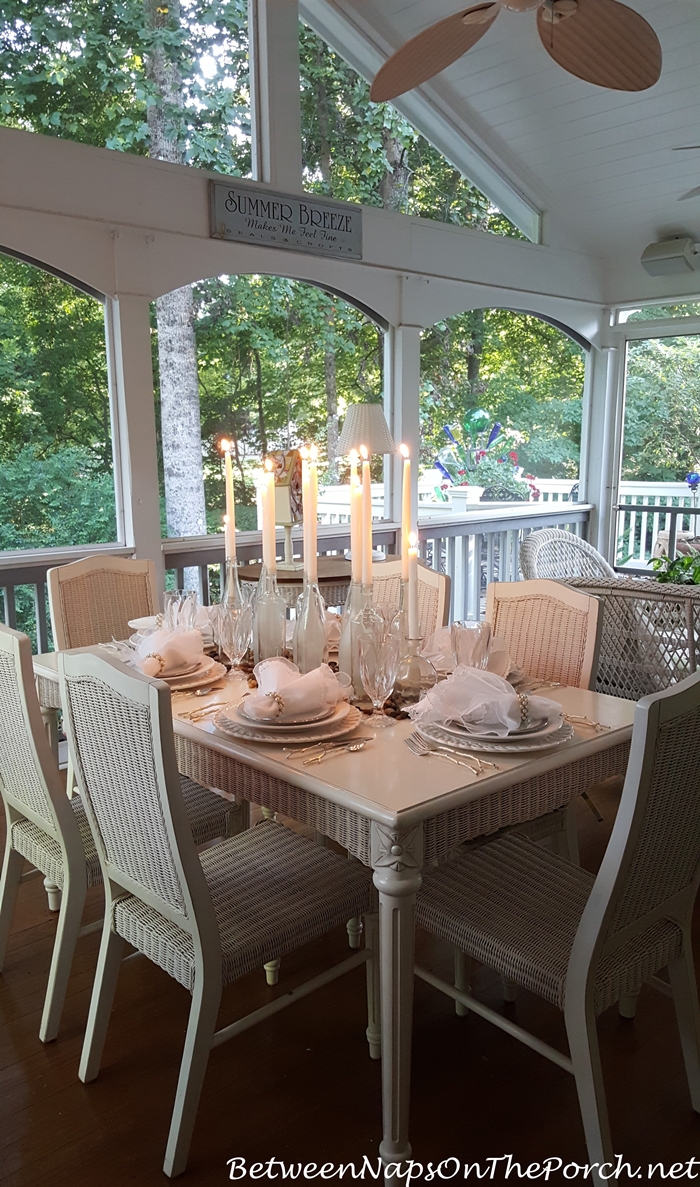 This easy-to-make candlelight centerpiece would be even more dramatic and beautiful on a longer table, thus allowing for a lot more bottles. This was as many as my table here on the porch could handle, but try to imagine this centerpiece wider and longer with double or triple the number of bottles/candles!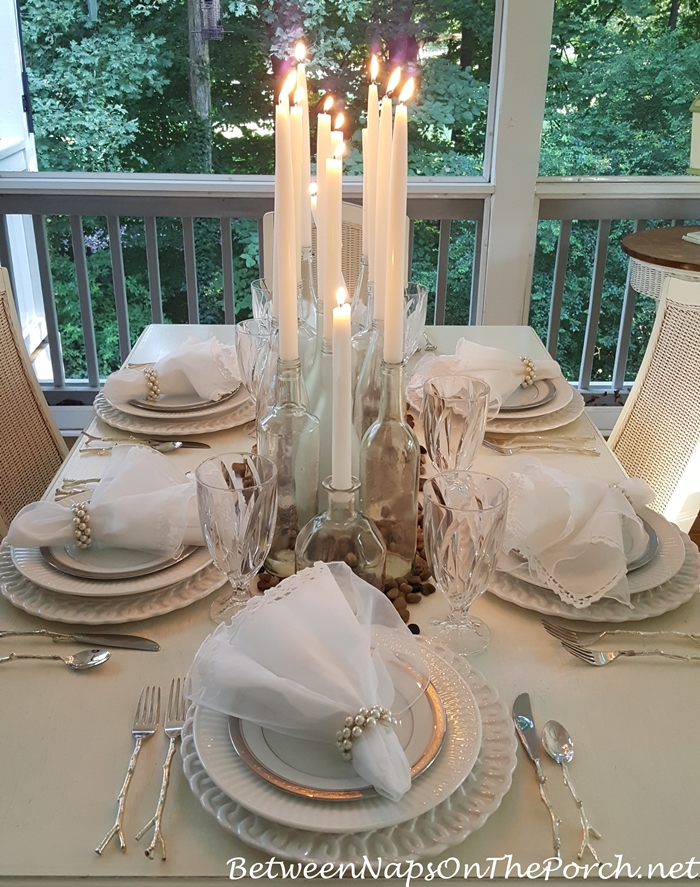 I wanted this table to be all white with touches of silver and glass so I chose a basic white dinner plate and used Crestwood Platinum salad plates from Noritake. The rim around the salad plate is silver although it looks gold in the glow of the candlelight below. Glasses are Breeze Clear by Noritake and are available here: Noritake Breeze Clear and here: Breeze Clear Glasses
Chargers are from Horchow back in 2008. The pearl napkin rings are from Old Time Pottery several years ago. They were very inexpensive at around $1 or $1.50 each.
The flatware was available here: Silver Twig Flatware, but is currently showing unavailable.
Update on 8-1-16, found the twig flatware available here: Twig Flatware. I'm pretty sure that's the same flatware I have and it's available in three colors at that link.
You may remember when I used Crestwood Platinum in this Halloween table setting a few years back: Halloween Tablescape with Mercury Glass Centerpiece
I've also used this beautiful pattern in a Christmas tablescape here: A Christmas Tablescape on the Porch.
Crestwood Platinum is available here: Crestwood Platinum and here: Noritake Crestwood Platinum

A view from overhead…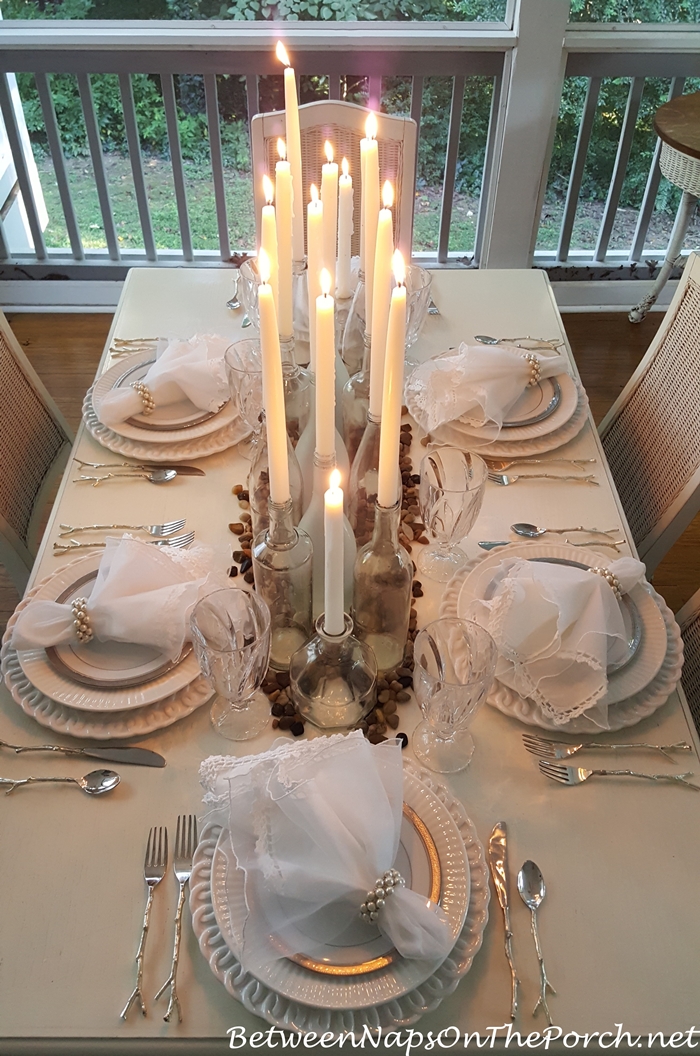 You may remember when I purchased these pebbles in Marshall's a few years ago in this post: Shopping for a Breath of Fresh Air.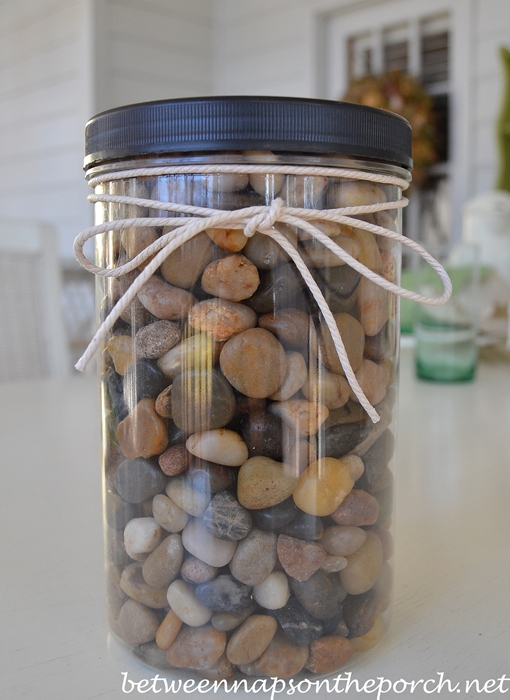 I sprinkled the pebbles all around the base of the bottles. If you were creating a table with a beach theme, you could sprinkle pretty white sand all around the bottles and add seashells to the sand. You could even buy really teeny sea shells and sprinkle some of those inside each bottle.
The three opaque bottles you see in the very center are from the Peach Bellini beverage I shared from Trader Joe's a few weeks ago here: Trader Joe's. See, here's your excuse to buy Peach Bellinis, it's necessary research for a future table centerpiece. 😉
Something I think would be amazing is to put a string of battery operated lights inside each bottle…maybe those teeny ones with the tiny lights, forgotten what those are called. Wouldn't that be pretty sparkling inside each bottle. I need to look for some of those! If they wouldn't fit in from the top, maybe I could use my ceramic drill bit (see in THIS post) and drill a hole in the bottom of each bottle. Just thinking out loud.
A few pics just as it was getting dark. I think we were getting close to the Blue Hour.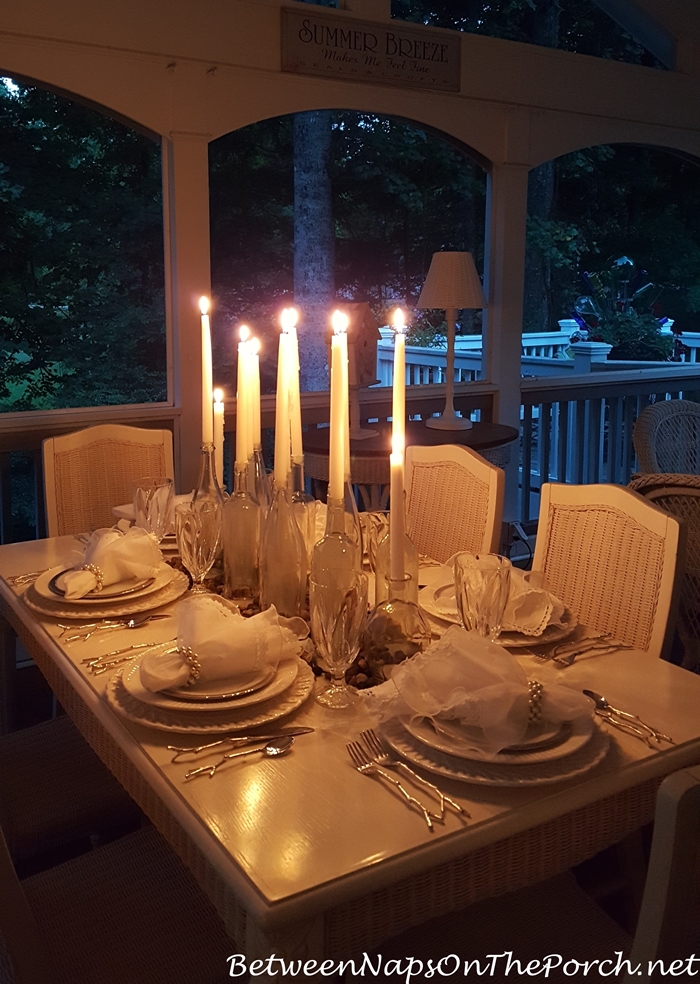 You can just see the sky through the trees starting to take on a blueish appearance.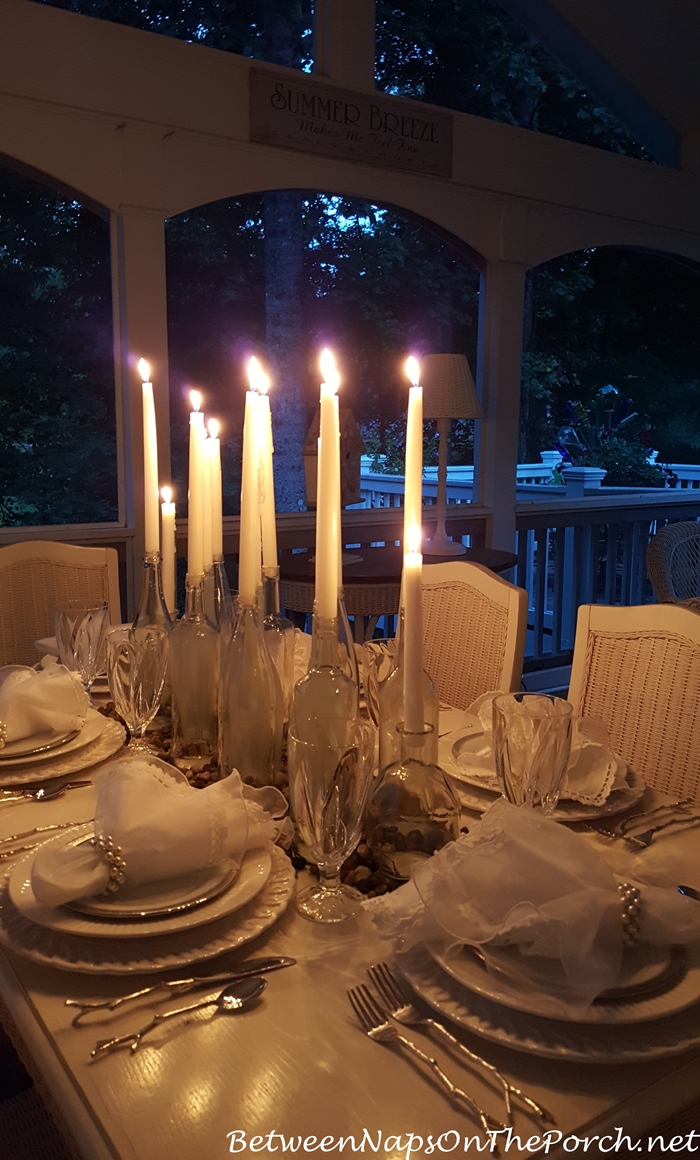 If you're looking for a different centerpiece for your next dinner party, this one is super inexpensive and easy to create. Using a knife, I cut away a bit of the wax from around the bottom of each candle as needed to fit it into the bottle. I carved it down pretty deeply so it would fit inside the bottle securely. You wouldn't want a flaming candle taking a nose dive right in the middle of your dinner party! So be sure to double check that all your candles are in their bottles nice and snug.
Update: A reader of BNOTP suggested an awesome tool for whittling down the base of a candle so it will fit inside a narrow opening and it works great! You can read all about it in this post: Taper Tippers: Easiest Way to TrimDown the Base of a Candle
Happy summer dining with family and friends! Love this time of year for entertaining!
Looking forward to all the beautiful tables posted for this week's Tablescape Thursday!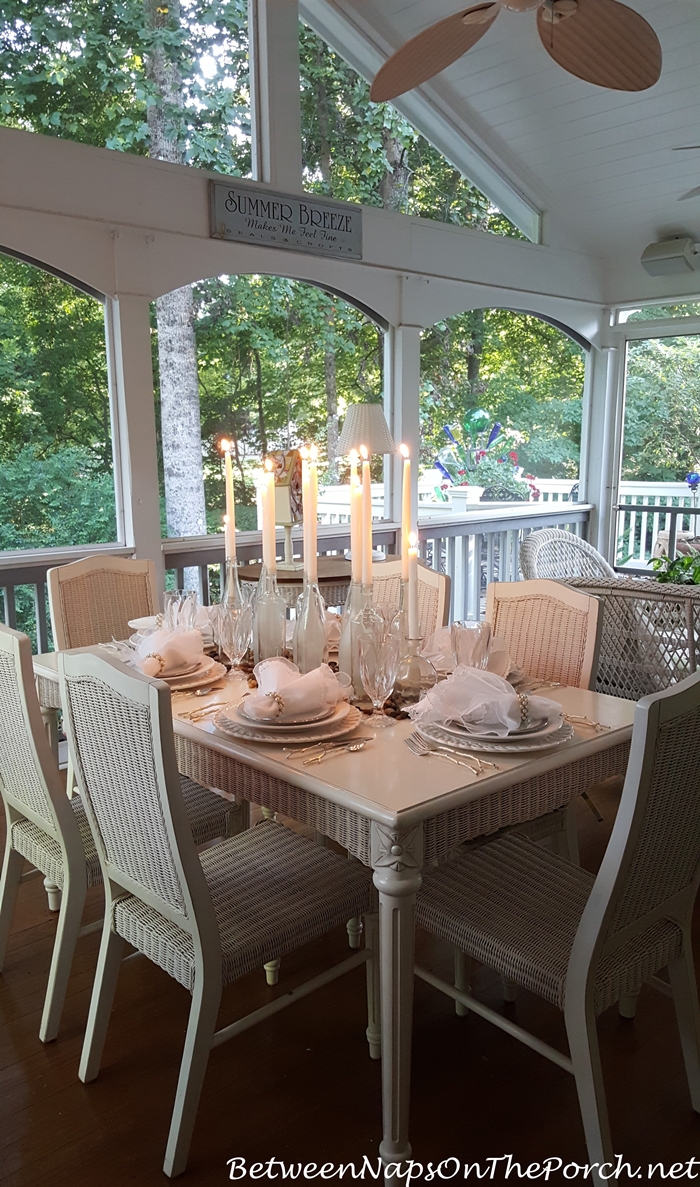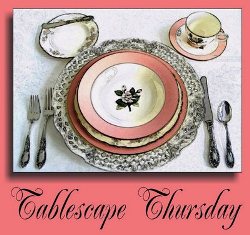 If you are participating in Tablescape Thursday, please be sure to add your permalink below, and not your general blog address.To get your permalink, click on your post name, then copy and paste the address showing in the address bar, into the "url" box when you link up. You'll need to include a link in your post back to the party to link up and participate.
That's so visitors to your blog will be able to find the party and the other Tablescape Thursday participants. Requiring a link back also prevents businesses and scammers from linking up to sell their products. (Yep, that really happens, unfortunately.)
Please, don't add your post name/blog name ALL IN CAPS…it tends to create big spaces between the rows of links.
Please do not link up table settings that were just recently shared in the last few weeks for Tablescape Thursday.

*If a post is sponsored or a product was provided at no charge, it will be stated in post. Some links may be affiliate links and as an Amazon Associate, I may earn from qualifying purchases. *