Welcome to the 427th Tablescape Thursday!
Happy Thanksgiving to you and your family! Though I'm not hosting Thanksgiving this year, I put together a table setting to share using the acorn soup tureens I just recently purchased .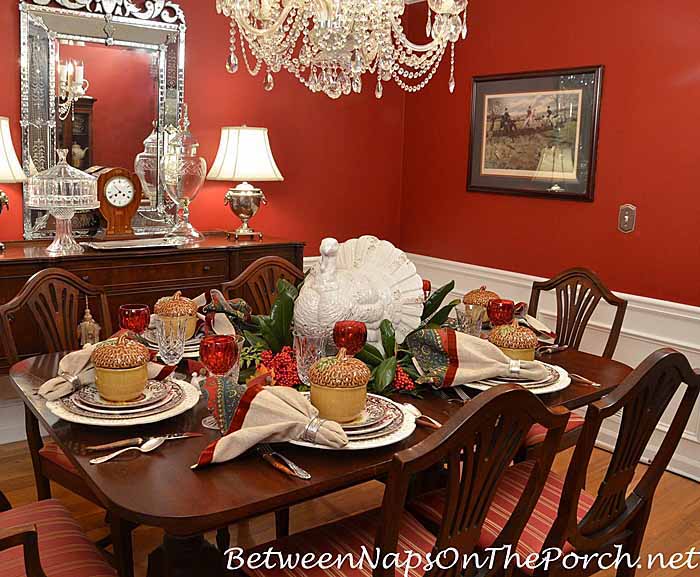 I started out with the idea of creating a woodland centerpiece using deer, but it just didn't feel right leaving Mr. Turkey out of the picture. I only get to use him on the table once a year so I put the deer away and placed Mr. Turkey in his rightful spot in the center of the table.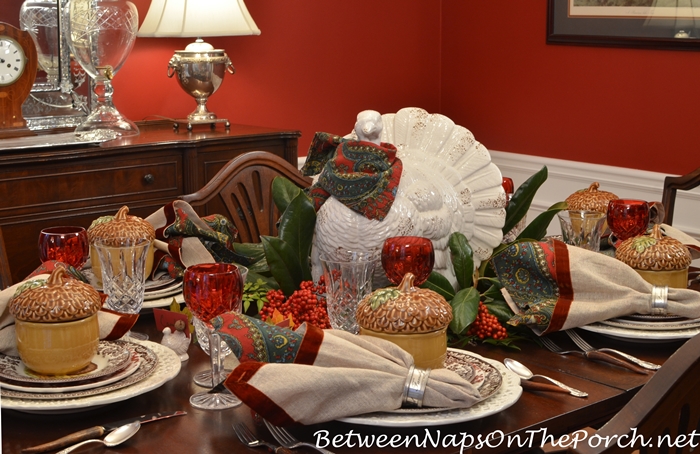 He always wants to dress for the occasion, as seen in the picture from last year's Thanksgiving when my grandson was here. (View that table here: Thanksgiving, 2015) Maybe he's trying to camouflage himself so he doesn't become the main course in the Thanksgiving feast. 😉
This year, for part of the time, he donned a scarf that coordinated with the napkins on the table.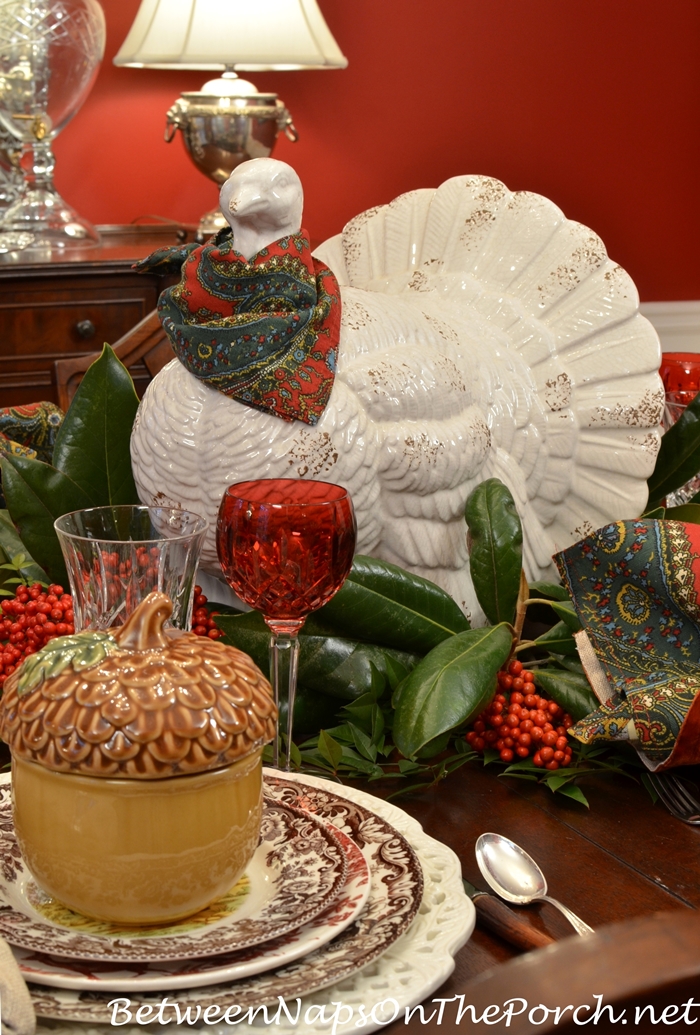 Mr. Turkey came from Pottery Barn many years ago. The first year they carried him, I passed him up, even after he went on sale. The next year when he appeared for a second time, I brought him home with me. I haven't seen him again in recent years, although they do have a big, beautiful turkey tureen this year that looks similar here: Large Turkey Tureen Centerpiece.
If you look closely, you'll see a ruby flash salt cellar in the picture below. I pulled one out, thinking I might add them to the table, but never got around to adding the rest. lol They would be a nice complement for the Waterford Ruby Hock wine glasses. The tea glasses are Waterford, pattern is Araglin.
You can just see the turkey place card holders I used for this table. The place cards have little acorns attached, a nod to our acorn tureens.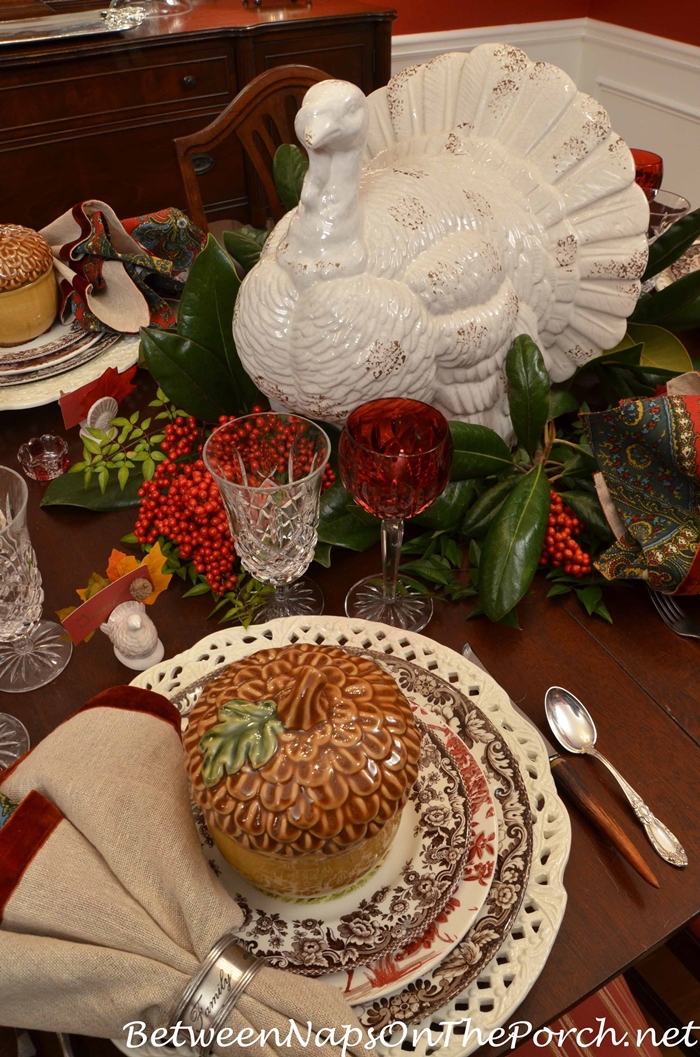 After seeing Gina's fabulous acorn tureens last week, I had to add these to my collection. I already had acorn tureens, but these are even prettier. Couldn't resist them! The acorn tureens are from still available here, currently on sale: Acorn Tureens
The napkin rings are a favorite for Thanksgiving, they have "Friends and Family" engraved all the way around. I'm surprised they are still available since I found these many years ago. You'll find them on sale with free shipping here: Family and Friends Napkin Rings. I think the code GIVETHANKS gives an additional 20% off the sale price. That's an awesome deal, I'm pretty sure I paid more when I bought them.
For the flatware, I mixed my Towle King Richard with antler flatware found on eBay many years ago. The antler flatware only included a fork, visible in the photo above, and a knife, visible in the photo below. I love mixing it with other flatware because it makes for a more interesting table.
I had fun with layering in this table, more than I normally do. Of course, the soup course served in the acorn tureens was on top.
Those were followed by my favorite dinnerware for Thanksgiving, Spode Woodland. They make a "turkey" salad plate for this pattern and in this table it's being used more as an appetizer plate. They are available here: Spode Woodland Turkey. You'll notice (at that link) they make a complete dinnerware collection in the turkey pattern…love that!
I pulled out my Alpine Toile plates to use as the actual salad plate in this Thanksgiving table setting. These were available in a really pretty gold color this year, but I think they've sold out now. You'll find matching bowls here: Alpine Bowls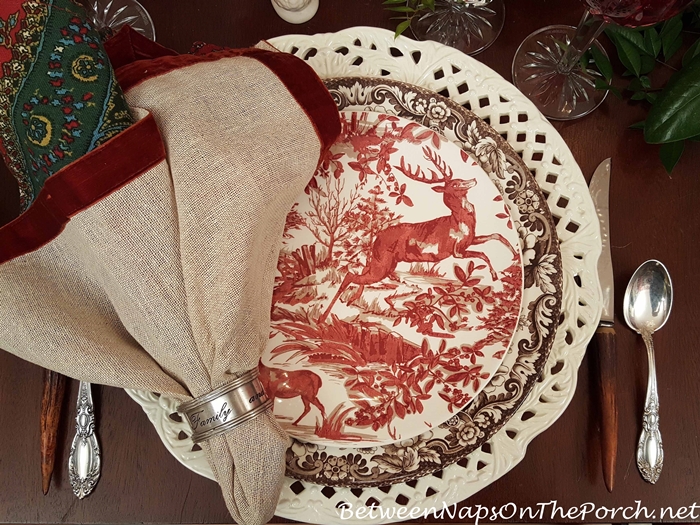 The dinner plate is from my Spode Woodland Collection. I love this pattern so much, definitely one of my faves. You'll find it on sale in the same place I purchased it many years ago here: Spode Woodland
Happy Thanksgiving, dear Friends! Hope your Thanksgiving is spent with family and/or friends and is wonderful in every way!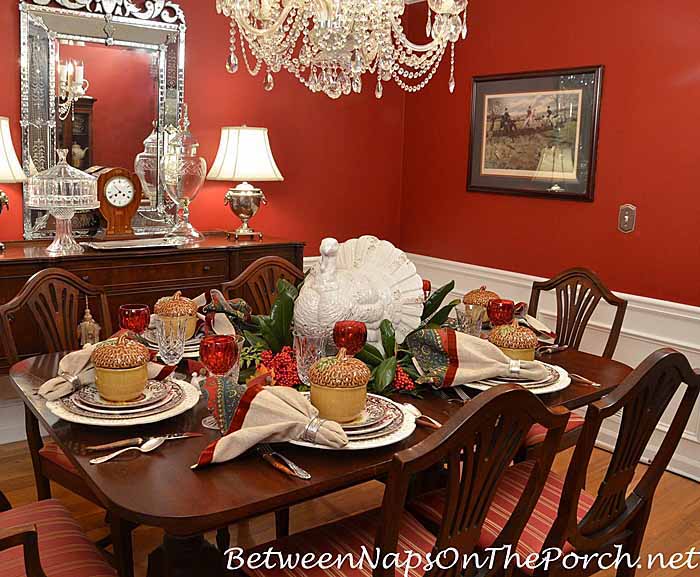 Looking forward to the beautiful table settings shared for this week's Tablescape Thursday!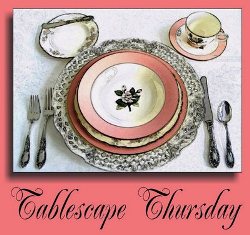 If you are participating in Tablescape Thursday, please be sure to add your permalink below, and not your general blog address.To get your permalink, click on your post name, then copy and paste the address showing in the address bar, into the "url" box when you link up. You'll need to include a link in your post back to the party to link up and participate.
That's so visitors to your blog will be able to find the party and the other Tablescape Thursday participants. Requiring a link back also prevents businesses and scammers from linking up to sell their products. (Yep, that really happens, unfortunately.)
*If a post is sponsored or a product was provided at no charge, it will be stated in post. Some links may be affiliate links and as an Amazon Associate, I may earn from qualifying purchases. *