Welcome to the 623rd Tablescape Thursday!
Since I don't have access to my dishes, I'm having to get a bit creative with Tablescape Thursday posts. I know many of you have expressed interest in me sharing some of the recipes my awesome daughter-in-love makes during the week. She is such a great cook! As I've mentioned before, she's one of those people who can just open up the fridge, pull out a variety of leftovers and turn them into an amazing meal.
Recently, we had hamburgers on the grill. My dil and son make a great team when it comes to grilling. Nancy preps all the food and my son handles the grilling. Occasionally when we want to have burgers, we'll pick up burgers already made from Dorothy Lane Market. They have available a "gourmet" selection of burgers available for grilling in their meat department. (If you missed my previous post on DLM, you'll find it here: Dorothy Lane Market: The Only Grocery Store Where I Look Forward to Shopping.)
To be honest, I prefer the ones Nancy makes best, but the DLM burgers are great if you're in a hurry and just want something premade. On this particular night, Nancy put the burgers together mixing in some freshly ground salt and pepper, garlic powder and a splash of Worcestershire Sauce.
Next, she added cheese, I think she used grated cheddar.
After mixing it all together…
…she used a handy little burger press to create the patties. (Burger Press is available here: Burger Press for Making Hamburgers.)
Earlier that day I had picked up some veggie kabobs/skewers from Dorothy Lane Market. Usually, Nancy makes them from scratch but it was the weekend so I just grabbed some while I was in the store.
Dinner that night was burgers, veggie kabobs and asparagus seasoned with ground pepper, salt and a bit of Avocado oil. My son grilled it all up on his Big Green Egg.
Later that week, Nancy fried up some chicken wings in her Air Fryer. This is the one she uses: Air Fryer.
The brown rice she cooked to go with it was sooo good! I asked how she made it and she said she used brown rice from Trader Joes and added a bit of Avocado Oil and some of the veggies leftover from our weekend grilling. If you would like more details on how she made the rice, let me know and I'll share that in another post.
So many of Nancy's recipes are just instinctual for her so they are sometimes hard to translate down onto paper. Isn't that the way it is with all great cooks? They just know how to mix ingredients to create wonderfully flavorful dishes.
Sometime during the week, forgotten which night now, I prepared an Italian Chicken Pasta dish. (You'll find the recipe here: Italian Chicken and Pasta Bake.) I'm a lazy cook and love leftovers, especially those that feel like comfort food so I'm always drawn to casseroles.
This recipe was supposed to make enough to fill a 13 x 9-inch baking dish, but it made much more! I ended up having enough left over to fill another small casserole dish as seen in the picture below. I double-checked the quantity of all my ingredients so I have no idea why it made so much. This would be a great recipe to make when you want to cook dinner for yourself but have enough to take to a gathering or to share with a friend.
I completely forgot to take a photo of the baked casserole that we ate that night. It looked yummy when baked because just before baking it, cheese is added to the top. So when I bake this one below, I'll add mozzarella to the top and pop it in the oven at 350 degrees for 30 minutes. I'll try to remember to take a photo to share, will probably bake it this week.
Hope you enjoyed seeing a few of the meals we devoured this past week. In the evenings with two little ones running around and trying to get dinner on the table and them off for baths and bed, it's hard for Nancy and me to remember to take photos of meals to share, but we're getting better at it. lol
Looking forward to all the wonderful table settings linked for this week's Tablescape Thursday!
Did you know Between Naps On The Porch is on Instagram? You'll find me on Instagram here: Between Naps On The Porch.
Like to know when a new blog post is up and available to read? Subscribe for email updates, it's free and your email will never be shared. Subscribe for free post updates via email here: Subscribe for Post Updates.
Tablescape Thursday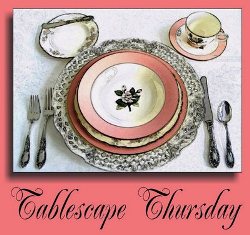 If you are participating in Tablescape Thursday, please be sure to add your permalink below, and not your general blog address. To get your permalink, click on your post name, then copy and paste the address showing in the address bar, into the "url" box when you link up. You'll need to include a link in your post back to the party to link up and participate.
That's so visitors to your blog will be able to find the party and the other Tablescape Thursday participants. Requiring a link back also prevents businesses and scammers from linking up to sell their products. (Yep, that really happens, unfortunately.) If you see a post that's not table setting related, let me know and I'll remove it.
Please, don't add your post name/blog name ALL IN CAPS…it tends to create big spaces between the rows of links.
Please link up table setting or table setting related posts only for Tablescape Thursday.

This party has ended, click button below for the links to all who participated.
*If a post is sponsored or a product was provided at no charge, it will be stated in post. Some links may be affiliate links and as an Amazon Associate, I may earn from qualifying purchases. *