There are so many great Memorial Day sales going on right now for beautiful vacation/resort fashions for summer. I've been checking them all out and today I'm sharing a few of my favorites below from the new spring offerings.
I adore this beautiful eyelet shirt that's currently on sale 30% off. There's just something so feminine and beautiful about eyelet. You'll find this shirt on sale here: Beautiful Eyelet Shirt.
Totes are usually functional but not always that pretty. This one is beautiful! I love the mix of rattan and leather. I also love that it has a zippered top which means it would work great as a daily bag, too. It's currently on sale 30% off here: Rattan-Leather Tote Bag.
I'm smitten with these cute sandals with the bamboo-like, buckle design!
It comes in a bunch of different colors.
The navy is so pretty contrasting against the bamboo-style buckle! This sandal that's currently on sale 30% off comes in white, brown navy, green, and a brighter, summery blue. You can see all the colors it's available in here: Sandals for Summer.
This adorable sandal also comes in a madras design! This would be so cute with white shorts and a summer top! You'll find it in the madras design on sale here: Madras Sandal.
I love summer tops, especially colorful ones that make you feel like you are on vacation on a tropical island. This one has a really great island feel and it's currently on sale here: Summer Shirt Sale.
You can never go wrong with classic blue and white–it's always in style for summer! This one is on sale here: Summer Shirt Sale.
Love wicker bags for summer! This wicker and leather combination is stunning! Though not on sale, I thought the price for this bag was quite reasonable, especially with all the detailed design features like the beautiful top-stitching and the bamboo, turn-lock closure. Stylish and summery! You'll find this bag available here: Wicker Crossbody Bag.
I actually already own a pair of pants very similar to this design below with the blue and white toile, bird design. I love mine and find they are super flattering.
I'm not sure how it does it, but somehow this type of all-over design magically seems to take a few pounds off my hips when I wear them. These are currently on sale here: Toile Pants.
If you stopped by my house anytime during the late spring and summer months, there's a 99.9 % chance you would find me in this shirt. lol Seriously, this is my favorite everyday summer shirt.
When I get dressed each morning, I usually put on a pair of white Talbots shorts and one of these shirts.
It just so light, airy, and comfortable for summer!
I love how it's cut a little longer in the back–very flattering! I have it in 7 different designs–that's how much I love it! (I've added one more since this photo below was taken.) It is def my go-to shirt for summer because of how cool, comfortable, and flattering it is for everyday running errands and hanging around the house.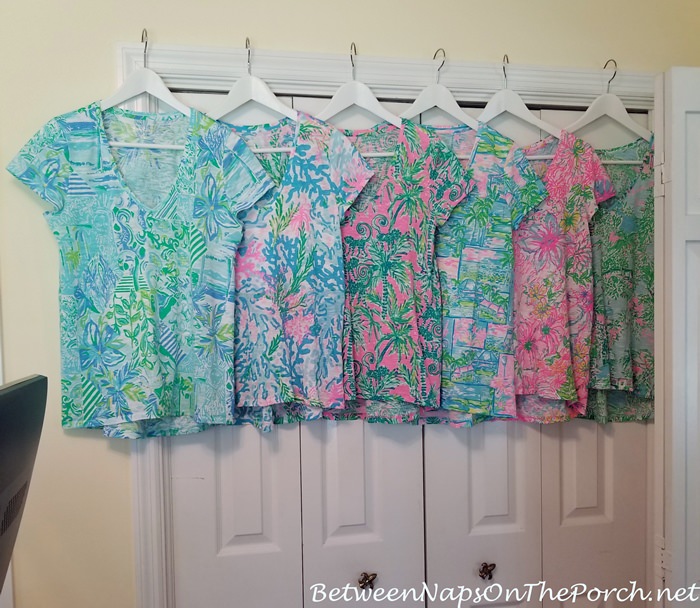 It never seems to go on sale, probably because it doesn't have to. It's that popular and for good reason! If you need a carefree, flattering, cool, comfortable summer shirt, you'll find this one in a bunch of different designs here: Summer Shirt.
I have been eyeing this beautiful, summery, maxi dress ever since it first appeared online. It's all cotton which I really love. I'm not a big fan of synthetic fabrics for summer since they just aren't as cool, breathable, and comfortable as cotton. If you have a vacation planned or a summer party/gathering to attend, this would be perfect! You'll find it currently available here: Maxi Dress
Another beautiful cotton dress I'm eyeing for summer, you'll find it available here: Floral Dress for Summer.
As I scope out the Memorial Day sales today, if I find any more great ones, I'll come back to this post and add them below. Happy Summer Shopping!
Update: Just purchased this beautiful, flowing embroidered dress I've been drooling over all spring.
Here's a closeup of the beautiful details. Can't wait for it to arrive! You'll find it available here: Flowy Summer Dress.

*If a post is sponsored or a product was provided at no charge, it will be stated in post. Some links may be affiliate links and as an Amazon Associate, I may earn from qualifying purchases. *