Welcome to the 595th Metamorphosis Monday!
You know that old saying, when life gives you lemons, make lemonade? Well, today's Before and After is definitely a case of me trying to turn some pretty sour lemons into some delicious lemonade. But before I pour you a glass of lemonade, I want to share some napkins I'll be using later this week in a patriotic table setting, in case you are in need of napkins for your upcoming 4th of July celebrations.
I actually shared these back in October in this previous post: October Favorites, Some Would Make Great Gifts but this week will be my first time using them since I purchased them. The price for these was so good, I purchased them in this color, along with 3 other color combinations. I noticed today that they've gone up a little in price but they are still a great buy for a set of 12 dinner napkins.
So if you are in need of red, white and blue napkins for your 4th of July celebrations, you'll find these (and many more colors) available here: Napkins.
Update: Just discovered they make matching placemats…those are available here: Placemats.
Turning Lemons Into Lemonade
So about that lemonade–last winter I shared what some very bad mice did to the two screened doors leading from my porch to the decks on either side.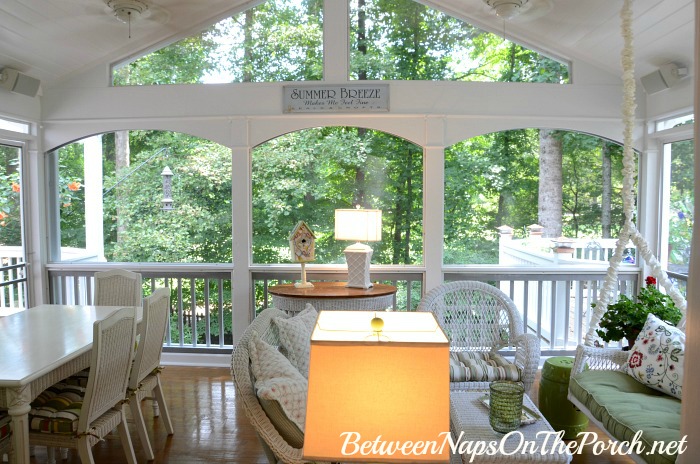 See that big, honking grill out there on the deck in the photo below? Apparently, the mice took up residence inside the grill and at some point decided to chew through the screened doors. Maybe they were curious what was on the porch or perhaps they were using it as their route to the grill.
I used to use that grill a good bit when I first bought it back in 2008, but I haven't used it in several years. I kinda lost interest in grilling on it after I tasted the food my son prepares on his Big Green Egg. It's so much better than anything I could do on my gas grill!
After the mice issue, I decided to get rid of the grill since I wasn't using it and I gave it away last year to a friend who was happy to have it.
I had planned to buy new screened doors in early spring but everything has been delayed due to the stores being closed and my travel to Ohio. Now that I'm back, I'm eager to get going on this project. I have two doors to replace, this one going out to where the grill used to be…
…and this one going out onto the other deck.
I have never been overly thrilled with the screened doors my contractor used when the porch was first built. I didn't know it at the time, but apparently they were not the greatest quality–just standard doors available from the local big box hardware store.
The main issue I've had with them (prior to the mice holes) was that they had a tendency to sag, thus causing them to drag when you opened and closed the door. I was told by a painter a few months ago that much better doors are available, but they normally have to be special ordered.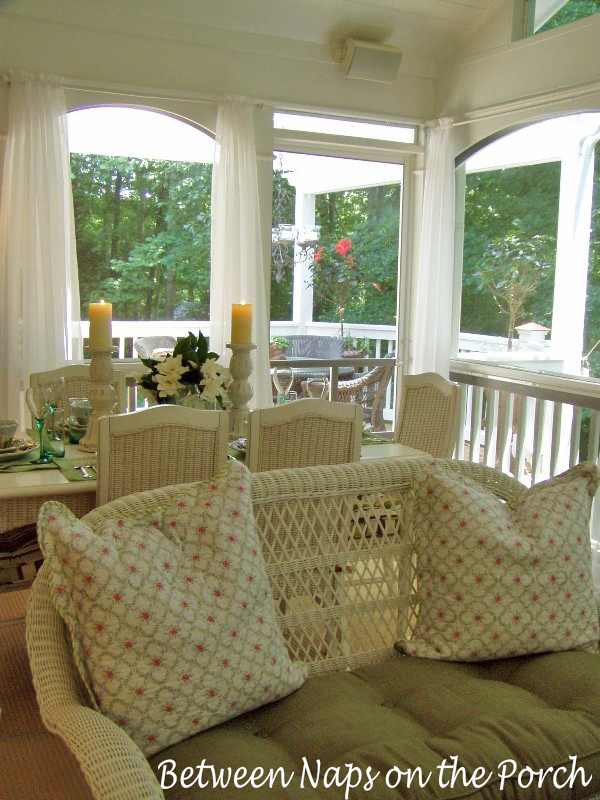 Since I've been back home the last couple of weeks, I've been screened door shopping online and I found some screened doors that I really love. They are made of solid mahogany wood and are all hand-made in the state of Maine.
It took me several days to choose a motif/design, but I think I've finally decided. I will need two screened doors so I decided to go with a different motif for each door.
One door will have this dragonfly design. I love dragonflies and love seeing them used in dishware and other designs. I don't think I'm going to go with this style door, though.
Instead, I think I'm going to go with this simple door design below, only with a dragonfly instead of a cat. I was super tempted to go with the cat motif but my heart still hasn't recovered from losing Max and I know it would make me sad seeing this design every day.
So what did I choose as the motif for the other screened door on my porch?
For the other door, I think I'm going to go with this adorable Moon and Stars design below. Porches are great places to enjoy moonlit nights, looking up at the stars. Again, the door design will be like the door above, but will have the moon and stars motif/design.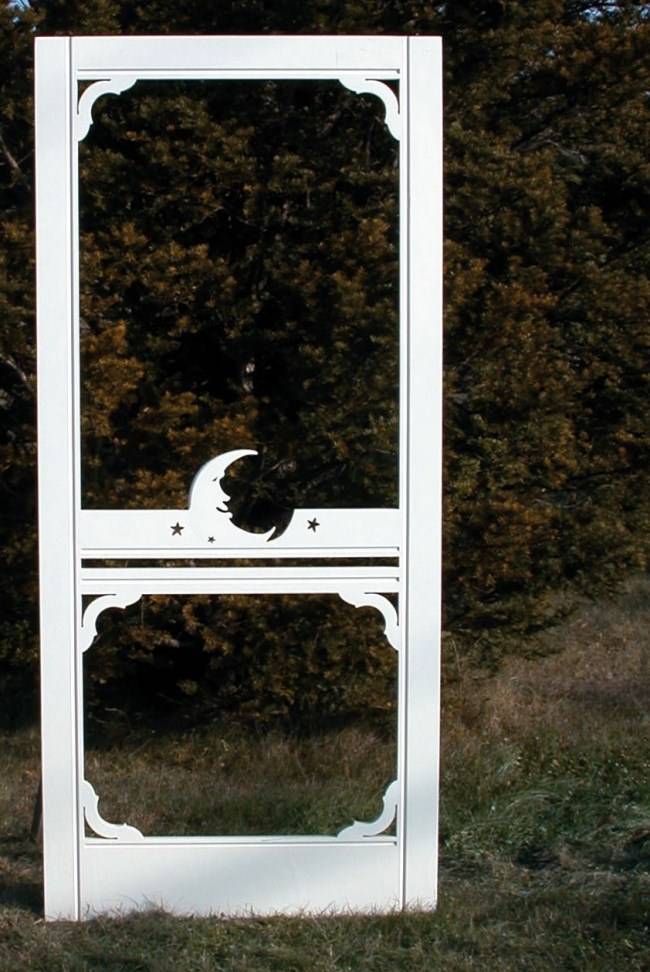 If you are in need of a new screened door for your porch, you'll find the company I plan to order from here: Wooden Screened Doors. I think they also make wood storm doors.
The owner, John, told me they are running about 9 weeks out right now, so once I order the doors, it will be a while before they arrive. Once they arrive, I will need to find a good company to install them, someone who really knows what they are doing. I would hate to have them ruined during the installation process.
They have sooo many whimsical designs! If you have a beach cottage, they have tons of nautical/beach themed doors that depict starfish, seabirds, anchors, lobsters, sailboats etc… It makes me wish I had a beach house just so I could order one of those doors! I especially love the lobster design!
Update: I just read on their website that they will even make a custom design if you have something particular in mind. What design would you like for a screened door? I wonder if they do a pheasant design?
If you have a lake house, there's a cute duck design. There are so many more including bears, butterflies, deer and fish. I even saw a canoeing design. There are way too many designs to share them all here, but you'll find pictures of them all here: Wooden Screened Doors.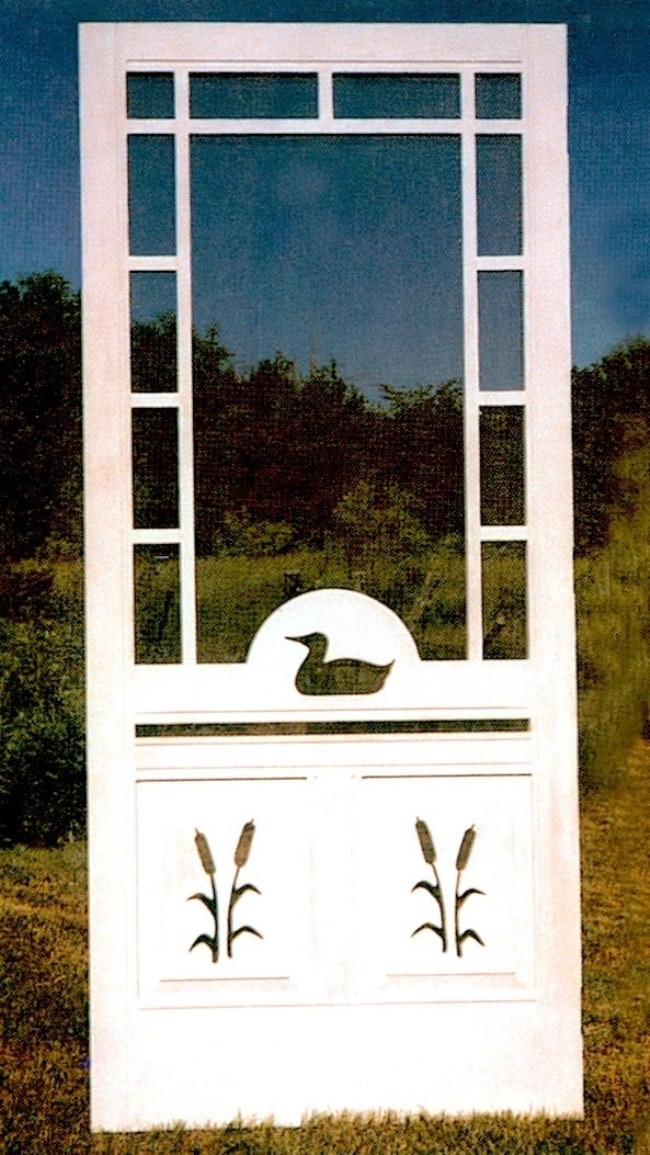 I can't wait to see them in place here on the porch!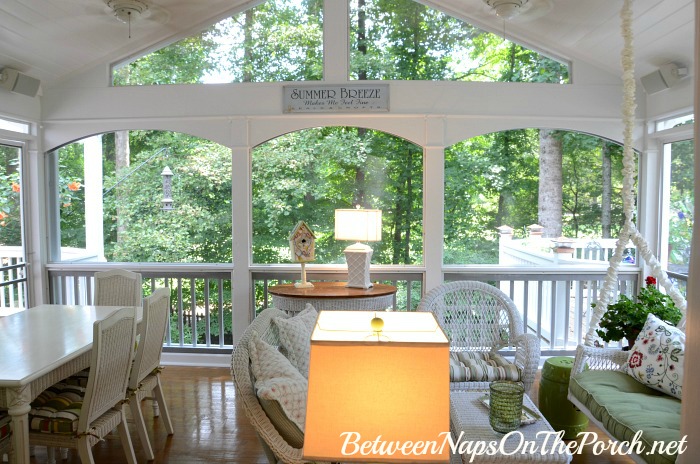 Looking forward to all the wonderful Before and Afters linked for this week's Met Monday!
Pssst: Did you know Between Naps On The Porch is on Instagram? You'll find me on Instagram here: Between Naps On The Porch.
Like to know when a new blog post is up and available to read? Subscribe for email updates, it's free and your email will never be shared.
Subscribe for free post updates via email here: Subscribe.
Metamorphosis Monday
Metamorphosis Monday is a party that's all about Before and Afters. If you are participating in Met Monday, please link up using the "permalink" to your MM post and not your general blog address. To get your permalink, click on your post name, then just copy and paste the address that shows up in the address bar at the top of your blog, into the "url" box for InLinkz when prompted.
In order to link up, you'll need to include a link in your MM post back to the party so the other participants will have an opportunity to receive visits from your wonderful blog readers.
This party has ended, click button below for the links to all who participated.
*If a post is sponsored or a product was provided at no charge, it will be stated in post. Some links may be affiliate links and as an Amazon Associate, I may earn from qualifying purchases. *