I have a serious case of spring fever now. The daylight is staying longer and longer each day and the birds are chirping up a storm. Yesterday I cleaned out the last of the birdhouses, readying them for spring nesting. This was the one I cleared out yesterday and surprisingly, there was only one nest inside. Usually, I find two or three nests inside, but I think that's been when the bluebirds have nested inside several times during the spring/summer months and moved apartments after their first nesting. lol
I'm not sure what nested inside this time but it definitely wasn't a bluebird nest. It was all hard sticks and tiny branches–not a very cozy nest for baby birds like I normally see when the bluebirds take up residence.
Remember when bees took over one of the apartments in the dovecote down near the house last summer?
At the very same time, I had a bluebird family nesting on the other side. You can see Mrs. Bluebird sitting on her perch in the photo below. I think this photo was taken just before the bees moved in across the hall. Amazingly, they all live harmoniously together throughout the summer. The bees never bothered the bluebirds and the bluebirds never bothered the bees.
I was expecting a huge mess inside when I cleared out the bee apartment a few weeks back, but actually, it wasn't bad at all. It cleaned up really easily. So all the birdie B & Bs are ready now for new spring visitors. I hope the bees don't decide to return for another stay because they didn't like having humans around watering the bushes and flowers nearby. lol
End of Fall Finds and Beautiful Spring Fashions–Plus, everything is on sale!
This weekend, I've been checking out the end-of-winter sales and the new spring sales. There are some really good ones taking place right now on both winter items and spring/summer clothes. If you've ever wanted a Barefoot Dream Throw, this is a great time to get one because they are currently on sale. I love this camel-colored one, you'll find it on sale here: Barefoot Dreams Throw Blanket.
Another fall-winter piece that's drastically reduced right now is this beautiful fall cardigan. I have two of these in two different colors and love them. They are a nice, heavy weight, feel very high-end to me when I wear mine. Also, the style is very flattering since it's nice and long and doesn't cling to the body. I hate it when a sweater clings to the hips/bottom–not a flattering look. Currently, it's on sale, marked down from $169 to$80.99. You'll find it on sale here: Beautiful Cardigan in a Spice Fall Color.
I'm obsessed with this puffer jacket! I love, love, love the whimsical, floral design!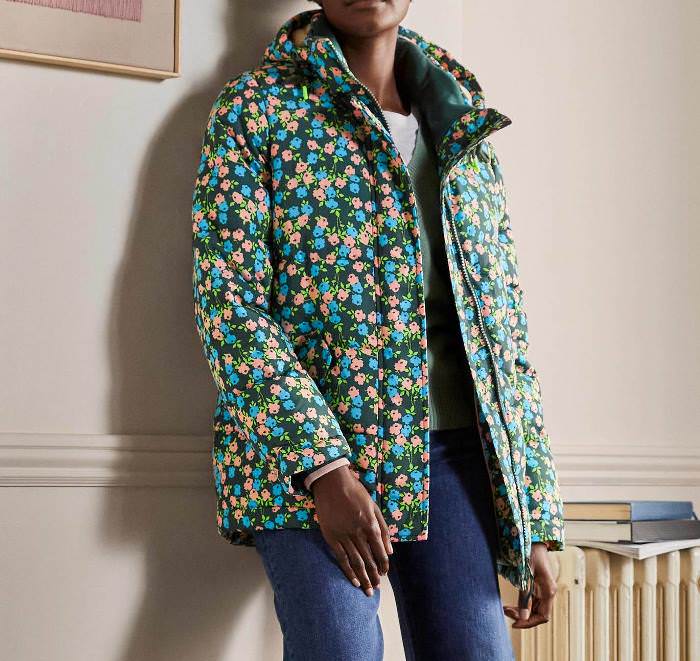 It comes in five different designs, including a color block, but these two floral patterns are my favorite. I think I'm going to order this one below, I just love the design and it looks great with jeans. I live in dark, denim jeans and dark-colored cords during the wintertime, so that should work well for pairing with it. These jackets were originally $260 but are now reduced to more than 50% off! You'll find all the colors/designs it comes in here: Puffer Jacket.
Spring/Summer Finds
Love these blue and blue and white striped linen pants. I love linen for our hot, humid summers! These would be so perfect for a beach trip this summer!
The waist is designed in such a way, it looks really comfortable. They were originally $98 but are now reduced to $38.99. You'll find them on sale here: Blue and White Striped Linen Pants
A friend of mine just purchase these pull-on denim pants. I wasn't sure how I felt about pull-on jeans but since I wear long tops with all my jeans, this would probably be a perfect style for me to try. Per my friend, they are incredibly comfortable. You'll find them on sale 20% off here: Pull-on Jeggings without a Zipper. They also come in black denim here: Black Pull-on Jeggings and another style/color here: Denim Jeggings in Pull-on style. You can see all their denim styles here including my favorite jeggings in the "curvy" fit: Denim Jeans.
Such a cute shirt! I love the accented cuffs done in a different fabric. This would be really cute under a lightweight sweater for those chillier spring days. It's currently on sale 20% off here: Cotton Gingham Shirt.
This shirt is designed in the same way with the adorably accented cuffs. Love that! You'll find it on sale here: Floral Shirt with Accent Cuffs.
Recently, I heard a YouTuber talking about these 14K gold plated hoop earrings recently. The reviews are awesome and the price is excellent. I'm super tempted to order a pair. They are available here: 14K Gold-Plated Earrings.
I just ordered this rechargeable lighter today. I'm always using lighters here in my office and downstairs for lighting candles. It always feels wasteful when they run out and I have to toss them. I love that this one is rechargeable. It has great reviews so I decided to give it a try. It should arrive in a couple of days, can't wait to try it out! You'll find it here: Rechargeable Lighter.
I had a similar detangler brush but it didn't have a handle so I ended up giving it to my grandsons who loved it when I visited with them. I really like the look of this one, plus it has excellent reviews, so I think I'm going to order it. It's available here: Detangler Brush.
One more item I use a lot during the summer is these silicone drinking straws. They are nice and wide for easy sipping, unlike so many reusable straws. I love the fun colors for spring and summer! They are available here: Extra Long Reusable Silicone Drinking Straw.
Do you have a case of spring fever, yet? I'm sooo ready!
*If a post is sponsored or a product was provided at no charge, it will be stated in post. Some links may be affiliate links and as an Amazon Associate, I may earn from qualifying purchases. *