Thanks so much for all the wonderful comments you left on Thursday's post! There were several questions and I tried to answer those in the comments on that post, so if you have a moment, check out the comments for additional information on that project. You'll find that post here: Tablescaping Storage for Dishware, Flatware, Napkin Rings, Napkins and Glassware.
I've been washing glasses the last couple of days, removing that slippery film that magically appears on glasses when they haven't been used in a while. (Read more about that in this post: The Mysterious Case of the Greasy Glass.)
I still haven't finished, have a few more of the clear glasses to wash, but things are looking much shinier! Notice any changes between the photo above and the one below? This is like one of those "Spot the Differences" game! 🙂
I moved the large, aqua-colored, margarita glasses back to the storage island in the laundry room since I rarely use those and they were taking up a lot of space. With that space opened up, I moved two more sets of glasses that I do frequently use in tablescapes to the cabinet. I shifted around some of the glassware in the green section and was able to squeeze in my Williams-Sonoma Frenchy fruit glasses that I purchased many years ago. I think I'm done with the tweaking for now. Maybe. Now I just need to finish washing the rest of the glassware before something I ordered arrives.
To hopefully keep the glasses clean and shiny, or at least slow down the process of that yucky film returning, I ordered these silica gel pouches. Since high levels of humidity is one of the factors thought to increase the chance that glassware will build up that yucky film, I plan to toss one of the packets into a few of the glasses on each shelf,
I purchased this particular brand since it's been tested to be safe around food. Of course, I'll still wash any glasses I place one of the packets in before using them. I purchased a set of 50 packets, but they come in a lot of different sizes. You'll find them available here: Silica Gel Desiccant Pouches.
While working on the glasses this weekend, I came across a small set of Christmas dishware that I had forgotten about: My Valerie Hill Parr, 12 Days of Christmas. It was tucked away in a kitchen cabinet.
Since I'd like all the Christmas dishware together in one cabinet (not including the two Lenox patterns stored in my dining room china cabinet) I'll be adding another shelf to the "Christmas" cabinet this weekend. It feels good to be getting it together all in one place instead scattered about over several cabinets and pantries.
Packing Time!
I can't believe I leave for Ireland in one week! In some ways I wish it was still another month off because a big part of the fun of travel is the time and anticipation leading up to a trip, that time when you're reading and dreaming about the place you'll be visiting. I guess that's why those of us afflicted with wanderlust almost always have a trip in the works, or at least in the planning stage. When you're not traveling, you're scheming and dreaming about the next adventure, right?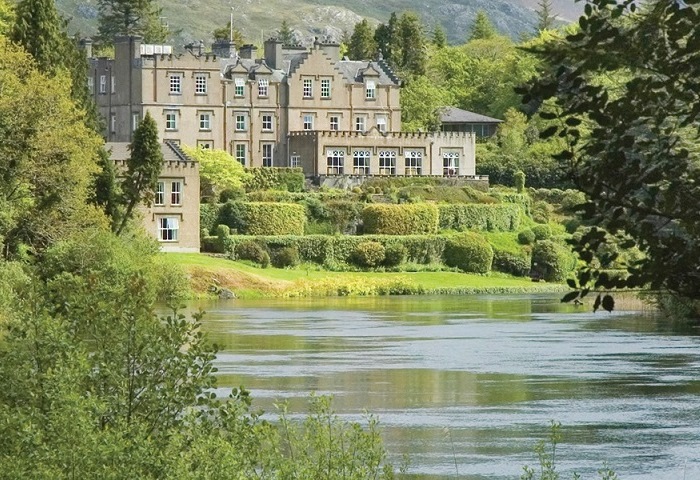 This weekend I'll be doing some preliminary packing. I want to leave some open space in my big suitcase for one of those Irish sweaters or throws that may need to come home with me. 😉
I'll share a packing post real soon with what I plan to take on this 10-day trip to Ireland. In the meantime, I've been scoping out the end of summer sales online at my favorite stores and I've linked to many of my favorites below. Most of the items I've linked to below are currently on sale. A few are not but they were so cute, I couldn't resist including them in this round-up. Many of the shoes are only $25-$30 now! I think I'm going to add another pair to my summer shoe wardrobe…that price is just too good to pass up!
This is one of the pairs I'm eyeing…they are only $27 now. You'll find these shoes and all my other favorites linked below. Click on any photo to find that favorite.
Oh, before I go, have you seen some of the new fall clothes that are coming in? I will definitely add this Indigo Blue Tweed Jacket to my wardrobe! It reminds me so much of the Chanel jackets that are a gazillion more expensive.
I love the design…so cute! It could be dressed up for work and dressy occasions, or would look great with jeans. Love! It's not on sale yet since it's a new arrival, but you can check it out in more detail here: Tweed Jacket. If you love it, I wouldn't wait too long in purchasing it. I could be wrong but I have a feeling it's going to be one of those items that goes pretty quickly, especially if it lasts long enough to go on sale.
Happy Weekend Shopping! Click on any image below to check out that item. Many are currently on sale or on clearance.
*If a post is sponsored or a product was provided at no charge, it will be stated in post. Some links may be affiliate links and as an Amazon Associate, I may earn from qualifying purchases. *