Welcome to 420th Metamorphosis Monday!
Did you hear a crazy woman screaming on February 5th? If you did, that was me having a happy fit when Elaine, a reader of BNOTP, e-mailed to say she had seen the birding shirt I've been trying to find forever for sale on Etsy. I leapt over to Etsy and couldn't believe my eyes! The ad stated that it was brand new and had never been worn. I think it will fit based on the sizing listed and the photo the seller provided of her trying it on. Keeping my fingers crossed that it will.
Here's a little close up of a small section of the shirt. I read a bit more about it this evening and learned that it's called the "Liberty Print" and was designed from the drawings of Edwyn Collins. Mr. Collins had two strokes back in 2005 and they were so severe, he lost the ability to walk, talk, read and write. He had to learn all those things again and it didn't come quickly or easily. In the article I read, he said he was still struggling with writing. Can you imagine having to learn all those things again from scratch!
The strokes left him unable to use his right hand, and since he was right handed, he had to learn to write and draw all over again with his left hand. He drew a bird each day and gradually his birds got better and better. So this shirt represents a true triumph! I'm not sure I'd have the will to start all over as he did, such an impressive feat! You can read more about his amazing recovery here: Edwyn Collins.
His bird designs have also been used to create wallpaper.
The shirt hasn't arrived yet since it's coming all the way from the United Kingdom, hopefully it will arrive this week. Thanks so much to Elaine for spotting it! I had searched eBay many, many times, but never thought to look for it on Etsy. That's a great lesson for all of us: if there's something you've been hoping to find, check Etsy, too.
Some Spring Wardrobe Updates
Since I purchased a Peloton Spin Cycle two months ago, I've dropped a clothing size. I have a feeling I will probably drop another size over the next two months, so I kept that in mind today while I was shopping. I don't expect the top half to change that much in size, but I imagine the bottom part will. I've never been a huge fan of the jeans that are made from that stretchy type jean fabric, but those do come in handy when you're in the process of losing a few pounds since they can sort of size down with you.
Today I'm sharing some updates/additions I've made to my summer wardrobe, as well as something I purchased on clearance at the end of last summer. Unfortunately, one of the items I couldn't wait to share with you has already sold out.
By the way, Talbots has a 30% off one item sale going on right now, with the code FEB30. You can print out the certificate online to shop in the store, or use the code FEB30 online. I did both yesterday to purchase a few more things.
The blue and white "washed" plaid shirt is one I picked up in Marshalls today. The colors come across so much softer and prettier in person. It was only $19.99 and is a soft, almost gauze like fabric. It's double layered and feels really nice on. It looks great with jeans, a great casual look for spring and summer.
A couple of weeks ago I purchased this adorable white tee picturing a red scooter. I knew it would be great for Valentine's Day, but would also work for all spring and summer. It was sold out in both of the Talbots I visited today, but it is still available online, at least it was when I wrote this.
It makes me think of a love-struck guy who is on his way to see his sweetheart on Valentine's Day. In my mind, he's Italian, hence the scooter and the wine in the basket up front. For Valentine's Day, he's taking her a bottle of wine and three, heart-shaped balloons. I'm sure there's a beautiful piece of jewelry tucked down inside his shirt pocket, too. 😉
Here's a better view where you can see the wine bottle. So cute! This shirt is available here: Heart Balloons Shirt.
One of the items I was shopping for today was a pair of jeggings. In case you're not familiar with that term, (I wasn't) jeggings are jean leggings. I've never owned a pair of jeggings or leggings, except for the plaid pair I purchased this Christmas, but I've been wanting a pair of jean leggings that could be worn year around with my Hunter boots. The ones I purchased today are a dark blue, I know they look black in the photo below. They fit great inside the Hunter boots.
Talbots "Slim Ankle" pants fit inside boots, too…but leggings/jegging are just a little less bulky.
When I shared the Hunter floral garden boots I purchased recently, a few folks wanted to know what most people wear with their Hunter boots.
Jeggings or leggings are great because they are narrow enough that they will easily fit down inside a boot. Some people wear Hunter boots on rainy days with casual dresses and tights, or in the summer with just a casual dress and no tights. And of course, they are great for gardening in mud or areas where it has rained.
You'll find the jeggings I purchased today here: Jeggings. Some styles are available online and some are only available in the store.
In case you're wondering about the different leg-widths that jeans and pants come in at Talbots (I was after today!) here are three of their sizes. The top one is the dark blue jeggings that I purchased today. The jeans with the embroidered umbrella design are their "Slim Ankle" and the bottom pair of jeans are their "Straight-Leg" size. You can see why jeggings fit so much better down inside boots, less fabric to get in the way.
Today while shopping, I wore a pair of jeans, my Scooter Heart tee, since it's so close to Valentine's Day, and these Sperry Top-Siders. I found these cute, open-mesh boat shoes here: Sperry Top-Siders. They were only $35 when I purchased them about two weeks ago, but they appear to have gone up a bit.
I love Sperry Top-Siders because they are so comfortable. I often look to see what's available on Amazon because the pricing is usually better than in other stores. You'll find different styles of the floral design, Sperry Top-Siders here: Sperry Top-Sider.
I couldn't wait to share this "Embroidered Cape Cod Tee" with you, but sadly when I tried to find a link to it on the Talbot's website this evening, I discovered that it's sold out. It sure went fast!
I hope they'll get some more in stock, since it's not even spring yet.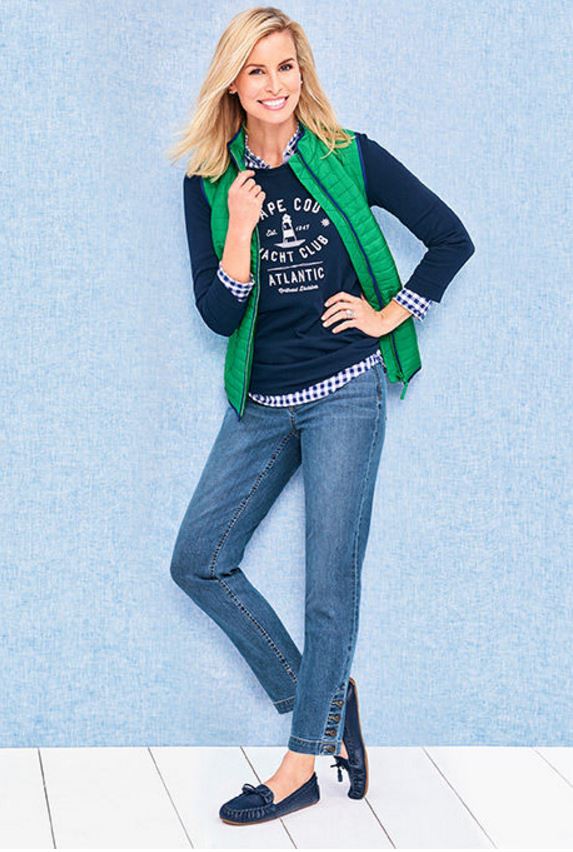 The two striped shirts (navy/white and blue/white) are called "funnelneck" shirts. They are nice and hefty, not light weight. I purchased those a few weeks ago on clearance in my local J. Crew. They looked perfect for the cool temps of spring.
Here's a photo from J. Crew to give you an idea of how the neck looks, not your typical turtleneck. They are still available online here: Striped Sailor Funnelneck. Great transition shirt for going into spring.
You may remember this aqua seahorse shirt I purchased for a great price on clearance at the end of last summer.
In the center of the photo below, you'll see two pairs of straight-leg jeans in white and yellow. The yellow is nowhere near that deep a color, it's a soft/pale yellow. I guess the lighting in my bedroom made it look that way. Anyway, I purchased those two pairs of jeans about a week ago. You'll find them here: Straight Legged Pants.
I think the seahorse shirt will work well with the white jeans and this aqua pair of Hunter boots I purchased a few months back on eBay. I hope Talbots comes out with white jeggings this spring, that would be even better.
I really got on an aqua kick last summer–notice the little cardigan in the bottom, right corner.
It was drastically reduced at the end of last summer, I think it ended up being $12. The scenes on it reminded me of Italy.
Another purchase last summer was this Gucci Flora handbag. I found it on eBay. The seller had purchased it from the Gucci store in New York a few years back and still had the receipt. It looked like she had never used it. I totally missed this handbag when it was available in the stores.
The other side looks like this. I love the butterflies and grasshopper. I was able to buy it for around half of what it sold for in the stores originally. I carried it some last summer and hope to carry it more this year. Anyone have a bag or scarf in the Flora fabric? I believe they made several styles of bags in this fabric.
Each time Gucci brings back their "Flora" design, they change the pattern just a bit to make it fresh and new.
From the Gucci website, here's the story of how the "Flora" design first began:
A symbol of a delicate and poetic imagination and now that more than forty years have passed since its creation, the theme of Flora remains suspended between a fascination with the past and the future of a story which continues to be sketched over time. In 1966, Princess Grace, accompanied by her husband Rainier, Prince of Monaco, visited the Gucci's Milan Via Montenapoleone store. Rodolfo Gucci decided to commission the most beautiful floral scarf imaginable for the Princess and asked the famous illustrator Vittorio Accornero to create an original design for her. This was how Flora was created: nine bouquets of flowers from the four seasons, with berries, butterflies, dragonflies and insects in a beautifully poetic, richly colorful and truly enchanting illustration. Among the classics, Flora is an icon of continuity from the precious historical archives, which revives every season with its evocative and timeless graphic power. An image inspired by fairy-tales and real life, which continues to be reinvented with passion in a myriad of variations, sometimes combined with other Gucci symbols like bamboo and the horsebit, it appears on suits, bags, accessories, jewelry and chinaware, and even gave rise to the name of one of the most famous perfumes created by the House.
So, those are a few updates to my spring-summer wardrobe, combined with some from last summer.
It's been in the 70's again here lately and look what I saw while driving to Whole Foods today! The trees are in bloom! I saw these and several Tulip Magnolia trees in full bloom. The trees and plants are all so confused. I hope we don't get a hard freeze anytime soon.
I thought these were Redbud trees at first since those are usually what I see blooming at the first of spring, but when I posted this photo on the Between Naps On The Porch Instagram, someone identified them as being Ocame Cherry Trees. I'd never heard of those, have you? I've only heard of Kwanzan and Yoshino Cherry trees. Has spring sprung where you live? Even my daffodils are up and starting to bloom.
Looking forward to all the fabulous Before and Afters for this Met Monday!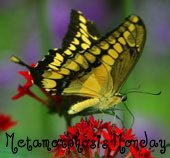 Metamorphosis Monday
Metamorphosis Monday is a party that's all about Before and Afters. If you are participating in Met Monday, please link up using the "permalink" to your MM post and not your general blog address.
To get your permalink, click on your post name, then just copy and paste the address that shows up in the address bar at the top of your blog, into the "url" box for InLinkz.
In order to link up, you'll need to include a link in your MM post back to the party so the other participants will have an opportunity to receive visits from your wonderful blog readers.
Please observe these few rules:
Please link up Before and After posts that are home, gardening, decorating, crafting, painting, sewing, cooking, fashion or DIY related.
Be sure to include a link back to the party in your post, so your readers will be able to find and visit the other bloggers who are participating.
Do not link up to the party if you're doing so to promote or sell a product.
To those who are linking up: If you notice a shop or store linking up to sell products (yes, unfortunately that does happen) please let me know so I can remove their link from the party. No one wants to click a link expecting a Before and After, only to find a spam link to an online business/store.
*If a post is sponsored or a product was provided at no charge, it will be stated in post. Some links may be affiliate links and as an Amazon Associate, I may earn from qualifying purchases. *