Welcome to the 500th Metamorphosis Monday!
We just celebrated 500 Tablescape Thursdays a few weeks ago. This week we've hit our 500th Metamorphosis Monday! I was thinking back this evening about how Met Monday first began. Our Met Monday party began a few weeks after I shared Before and After photos in a post on January 2, 2009 of a change I had made in my dining room. (See that post here: Dining Room Makeover.)
In that post I shared picture molding I had recently added in my dining room. I had also painted white beneath the chair rail. It was a dramatic change and greatly improved the appearance of the room. That post received so many comments, I realized a Before and After was something we all really enjoyed. Metamorphosis Monday got underway for the first time on Monday, January 19th. What a great 500 weeks it has been!
Between Naps On The Porch actually hit a huge milestone earlier this month, as well. On August 18, BNOTP turned 10 years old! Wow, the time has flown by so quickly! Thank you for being here each day because YOU are what makes blogging so much fun!
Celebrating 500 Weeks of Metamorphosis Monday
At the end of last's week Met Monday post, I suggested we share links back to 5-10 of our favorite or most challenging Before and Afters to celebrate this 500th Met Monday party. I honestly had a hard time narrowing it down to just 10 so I think I went over that number just a little.
I can't celebrate our 500th Metamorphosis Monday without mentioning the "Before and After" that in many ways is responsible for the existence of the Between Naps On The Porch blog: the addition of a screened porch to the back of my home. When I shared a few photos of my newly added porch on HGTV's "Rate My Space" website back in 2008, a few dearhearts there encouraged me to start a blog.
Adding a screened porch to my home was definitely one of the biggest Before and Afters I've ever undertaken. The old deck on my home was poorly designed and not in the greatest shape.
It was removed…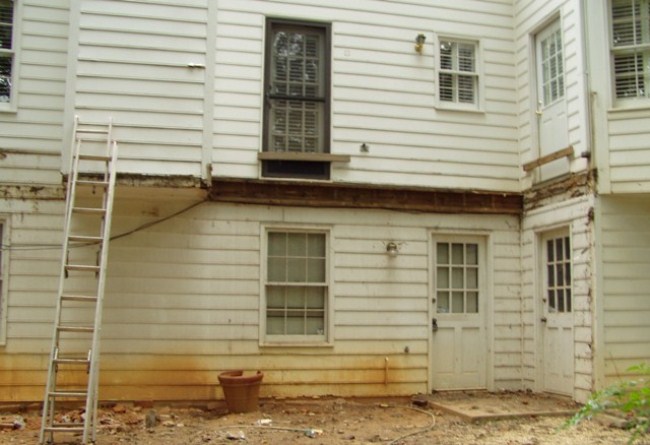 …and two decks and a screened-in porch were added in its place.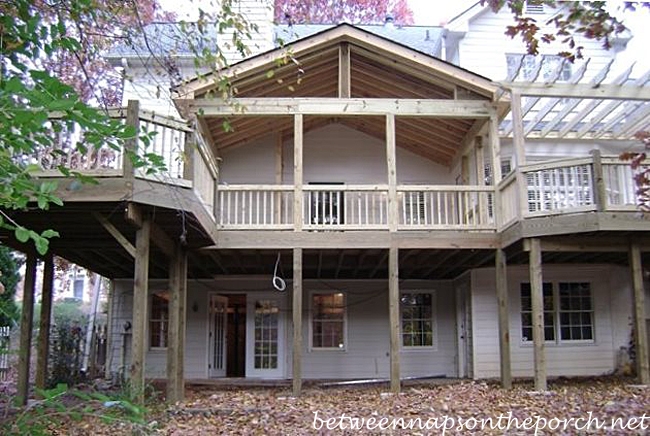 Afterward, it felt as if they had always been there.
Read more about this metamorphosis here: Screened Porch Addition and here: How Much Does It Cost to Build a Screened Porch.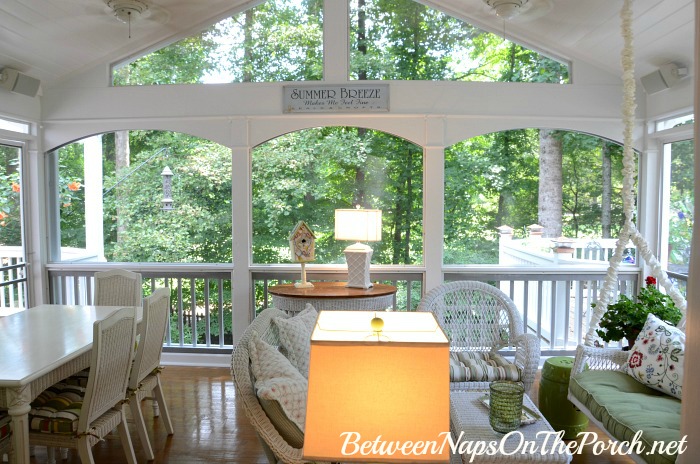 I have always loved porches. This photo showing the front porch of the home at Gainesway Farm in Kentucky had been tucked away in my "someday" file for a long time. When I replaced the back deck with a screened porch and two smaller decks, I decided to go ahead and add on a front porch, too. My contractor did his best to duplicate the look of this porch for me.
I don't have a Before photo from a distance, but I did think to take this photo after the old stoop had been removed. Previously there was just a brick stoop with no porch, so there wasn't any protection overhead for friends or family during a visit when it was raining.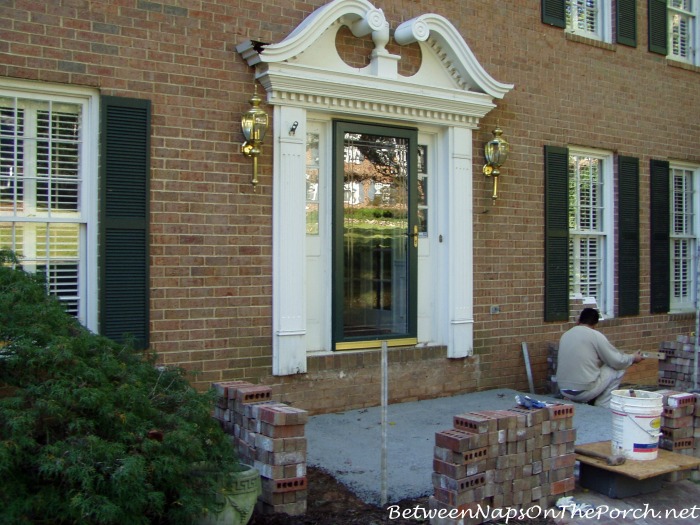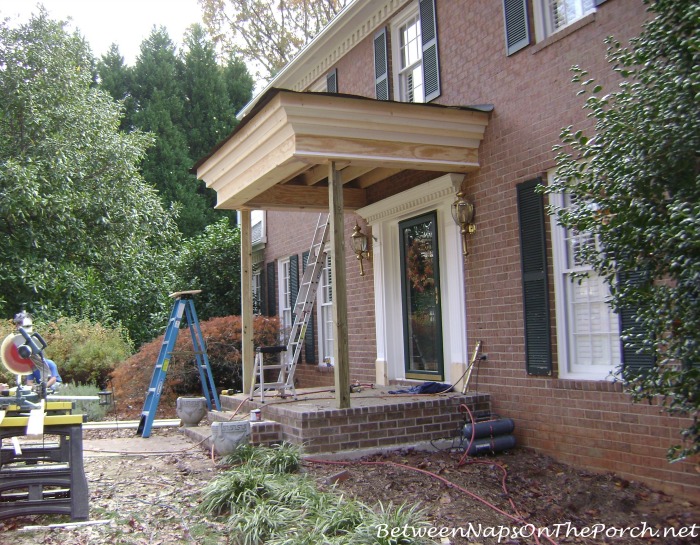 To read more about the construction of the front porch, check out this post: How Much Does It Cost To Build a Front Porch.
This next metamorphosis got underway on June 28, 2013. My home was slowly being overtaken by tall shrubs and trees. I didn't realize how much until I had some of those removed. Landscaping the front yard wasn't an overnight Before and After. It took a couple of years to complete but was definitely worth it in the end.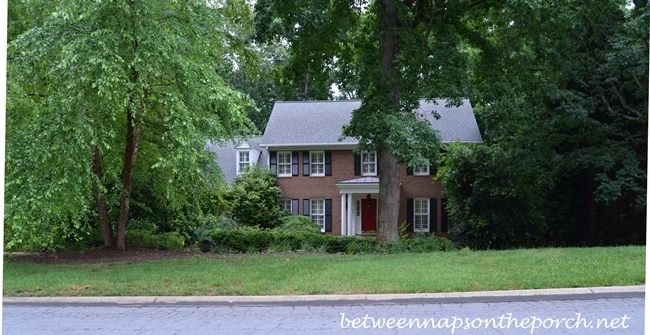 Here's how the house looks today.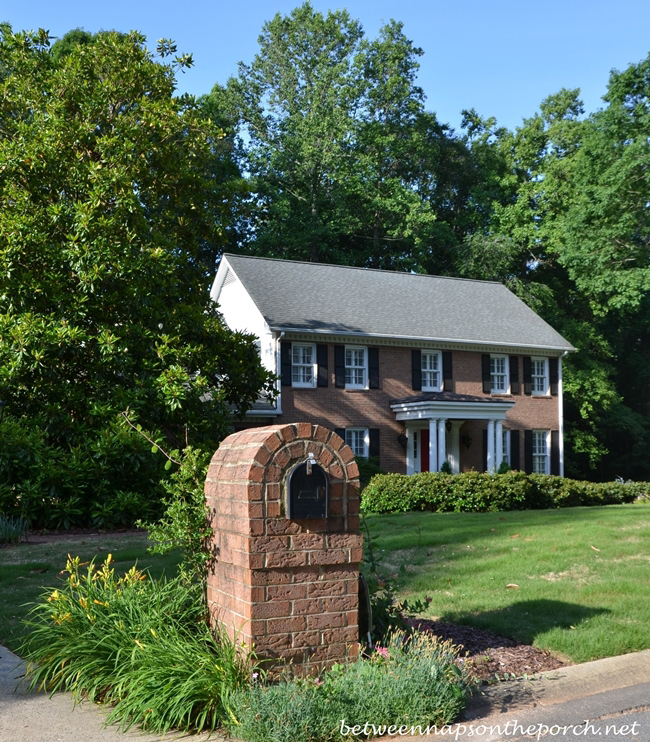 I'm going to have the Carissa Holly bushes drastically cut back next spring. I had them trimmed a year or so ago and they weren't cut back as much as I had requested.
Anyone know the best time to drastically cut a Carissa Holly back? I'd like for them to be about half the size they are now. I know they'll be ugly for a while, but they are just way too big at this point. I may end up having to remove them entirely.
Too many changes took place in this front landscape to explain them all in this post. Trees and shrubs were removed, trees/shrubs were planted, the yard was sodded with Zeon Zoysia, birdhouses/accent pieces were added–so much was done.
If you would like to read some of the posts from that period, check out this page: Garden. Scroll down that page and you'll see links to all the posts that chronicled this dramatic landscaping/gardening metamorphosis.
If you've been reading BNOTP since the early years, you'll remember when I sadly dismantled my son's old bedroom and turned it into a home office. He was out of college by the time I did this, but it was still so hard to do.
I did all the work myself, including taking apart the beds and hauling all the furniture down to the garage where it's been in storage ever since. My son and dil are thinking they will want to use it with their sons, so I've been saving it all this time just in case they do need it.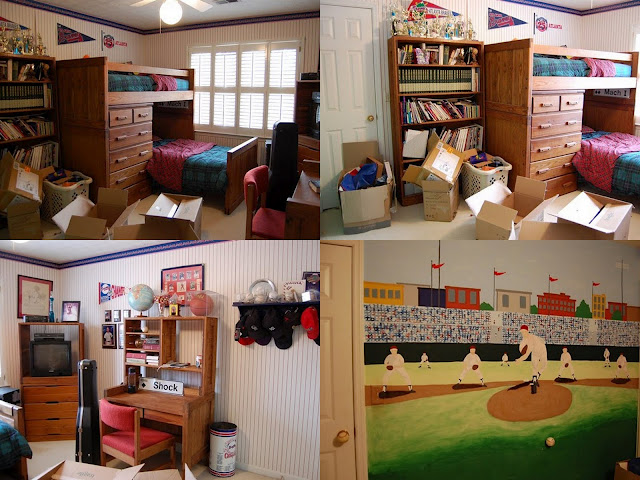 To read more about this Before and After, check out this post: Designing and Creating a Home Office: The Journey.
You'll find all the posts I've shared about this room here: Home Office.
I spend a lot of time here and do enjoy this space. There's really nothing I would change or do differently regarding this makeover. It took a while to complete as I searched for just the pieces I had in mind. Sometimes it's better to go slowly because we may change our minds a few times during the process of making over a room.
One of the trickiest Before and Afters I have ever shared on the blog was this crazy Expedit installation. I so badly wanted an Expedit inside the office closet for storage, but the Expedit was within 3/4 inch of being the same width as the closet itself!
There was no way to build the Expedit outside the closet and bring it in through the doorway to rotate it into place. After a lot of thought, I figured out a way to build it in place, no small feat since Expedits are normally built laying down so the screws underneath the bottom can be tightened into place. I figured out a way to get it done and shared those details in a post.
You can see just how little space was left over at either end of the Expedit in the next two photos.
In addition to building it in place, I had to cut away a small amount of the baseboard molding just to get it to fit., so it ended up with a "built-in" look.
I love it and use it every day. It offers the perfect storage for everything I need here in the office on a daily basis. Read how I managed to get it built inside this tiny space here: IKEA Expedit Hack: How I Made It Work.
One of the first woodworking/craft projects I ever completed and shared was an attempt to make a similar wood flag to this one I had seen at the Pottery Barn website. I loved how it looked, but needed a slightly smaller version for the porch.
This little pile of sticks…
…slowly began to look more and more like a flag.
I always enjoy putting this flag out for patriotic holidays. You'll find the easy tutorial for making it here: Make a Wood Flag for Celebrating Patriotic Holidays.
Have you ever wanted something really badly, but you just couldn't justify the cost? That was the situation I found myself in with this adorable Pottery Barn potting table. If I'm remembering correctly, it was priced at well over $1,000.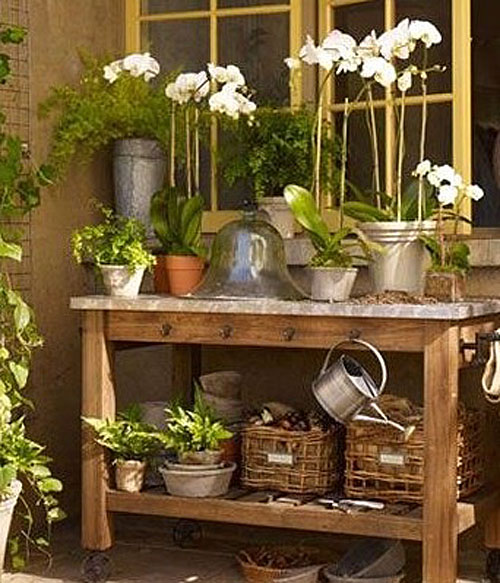 I loved that it could be used as an outdoor server for parties, too.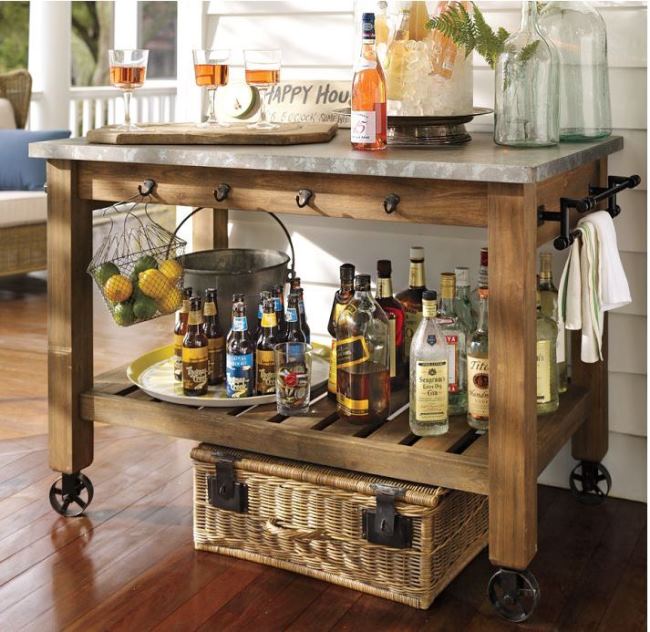 With zero experience building anything, I decided to give it a try. What did I have to lose? I didn't have any plans, just figured it out as I went. When I had a question about how to do something, I'd watch YouTube videos online.
I started with a small pile of cedar wood. I had the four legs cut to the size I thought I'd need, then cut everything else down to size as I built the table.
Here's how it looked nearing completion.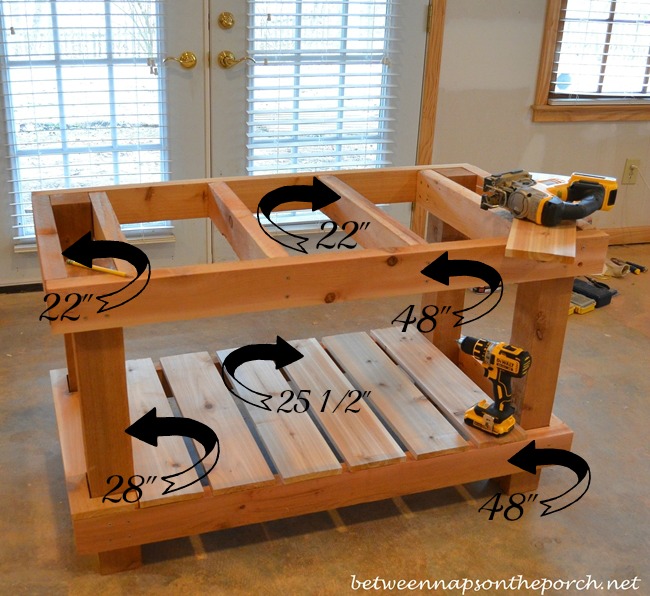 And here's the finished product.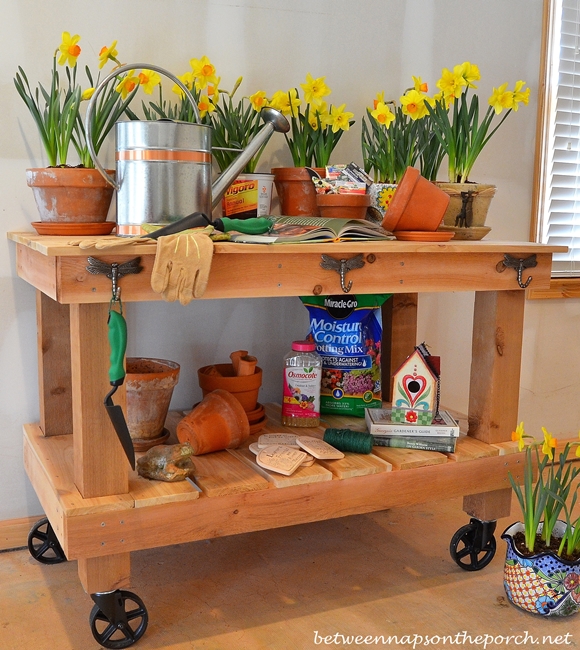 This potting table is still downstairs in my basement. I was going to use it upstairs on the deck, but there was never a good time to have someone move it up onto the deck. If I ever landscape my backyard the way I would like, I'll pull it out underneath the screened porch for potting. I've used it a few times in the partially finished basement. I have another potting bench I use a lot upstairs in my garage when working in the front yard and potting up plants for the decks.
I love how it turned out. It was a challenge and took me quite a while to build since I had to learn how to use a circular saw and a jigsaw first.
If you would like to build this potting table yourself, you'll find all the info you need in these two posts: Build a Potting Table AND Dimensions/Cut List for Potting Table.
Itching to build something else once I finished the table, I turned my sights on this adorable cubby organizer I had always admired on the Pottery Barn website.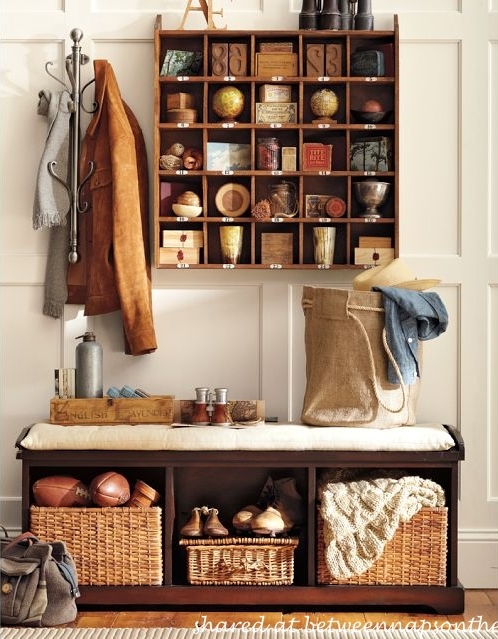 Once completed, I thought I'd place mine in my home office, but I ended up using it in my little makeshift workshop here in the basement.
Find the tutorial to build this cubby organizer here: Cubby Organizer.
This next "Before and After" project wasn't a hard one, but I'm including it in this 500th Met Monday celebration post because it was time intensive. I came across these pretty Pottery Barn shell chargers on eBay a few years back. I had hoped to bid on them but the bidding quickly escalated to over $200 for 6 chargers!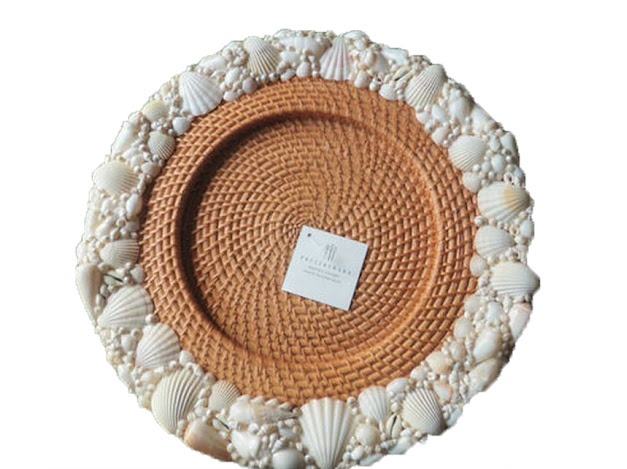 I decided to make my own shell chargers using shells collected on Captiva Island back in 1983. I had a lot of shells so those I had collected in Captiva made up the majority of the chargers. I filled in any gaps with shells from Marshalls and some tiny one I found online. They took a long time to make but were so worth it in the end. I've really enjoyed using these during the summer months.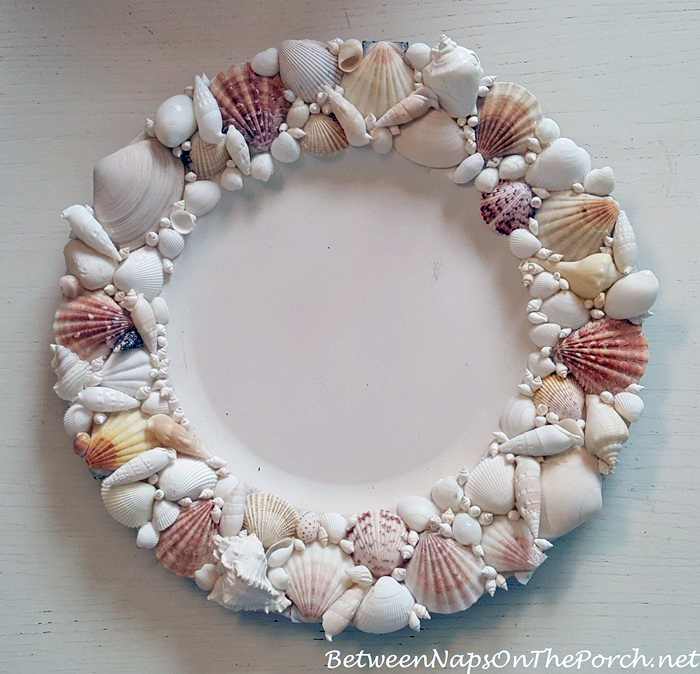 Still having a lot of shells left over and being a glutton for punishment, I made 6 more chargers later, adding in a few pieces of blue "sea glass" found in Marshalls. This is a fun project to do while watching a movie and/or listening to a book on Audible.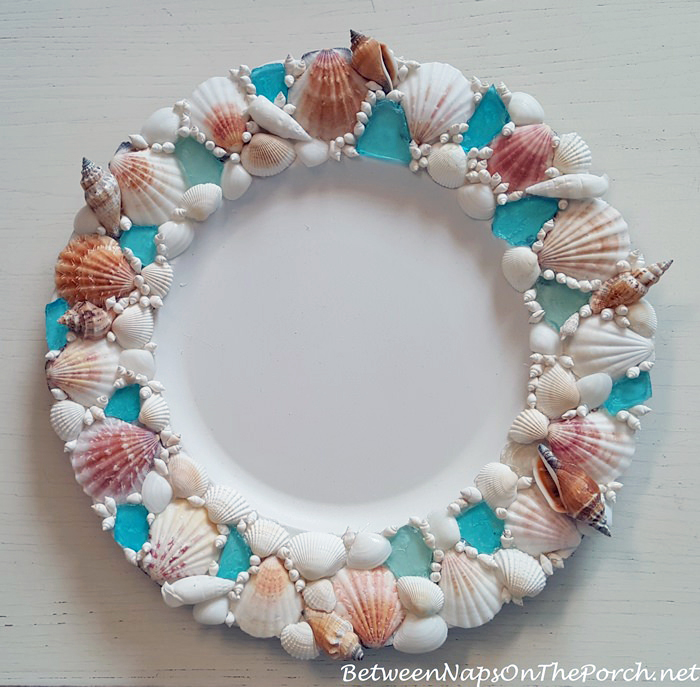 In the end, I had some sore fingertips from pushing all those tiny sharp shells into place, but have so enjoyed using these the last few summers. You'll find instructions for making these shells chargers here: Shell Chargers and here: Shell Chargers with Sea Glass.
This next project wasn't the fanciest in the world, but I was happy with how it turned out because it cost very little too complete and made such an improvement in my day-to-day life. I needed a better way to store my winter shoes and handbags. I didn't take a "before" photo (wish I had now) but all my shoes were just lined up all along the floor of the closet, taking up all the "walking-around" space inside the closet. It was such a bad use of space.
I purchased some shelving I found online at Target and redesigned how the shelving worked. It involved turning the shelving upside down and drilling new holes and completely reconfiguring the shelves to accommodate my tall boots and other shoes.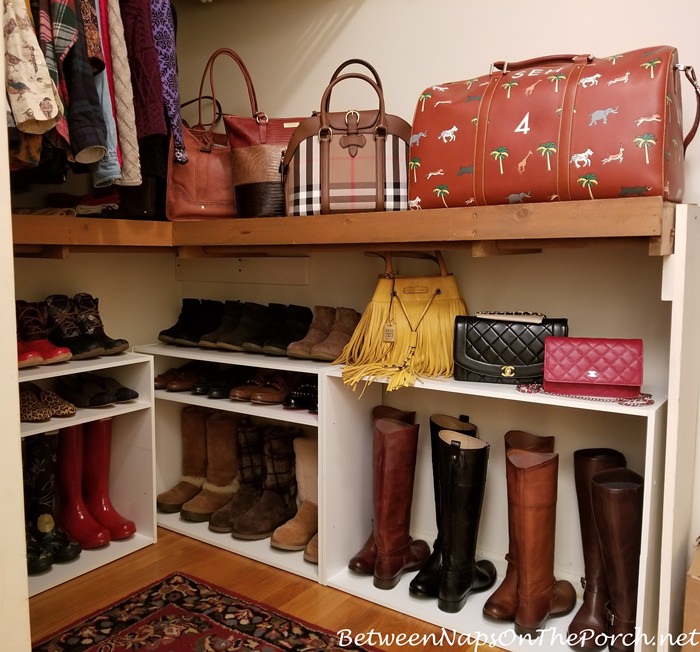 This is still working so well for my needs. Recently, I donated a few pairs of shoes I rarely wore, so this space continues to work beautifullly for my winter wardrobe.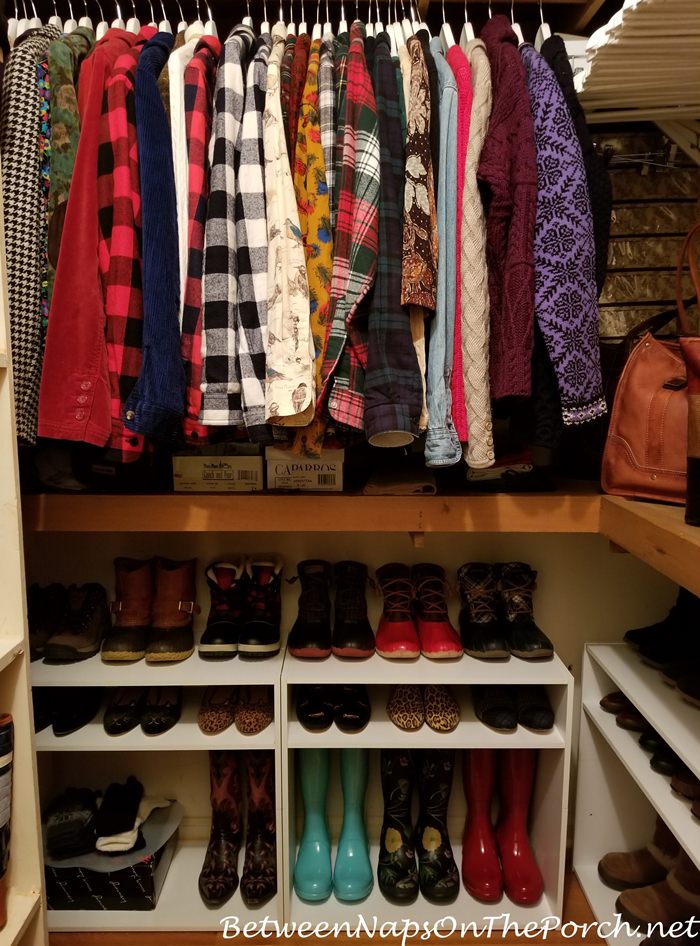 I also added a small inexpensive bench to this closet and it gets used daily during the winter months as I put on my shoes/boots.
Since this closet is directly off the master bath, this little bench comes in handy even during the summer months as I get dressed. Read more about this Before and After here: Closet Makeover. See how the bench functions for storage here: Bench Addition.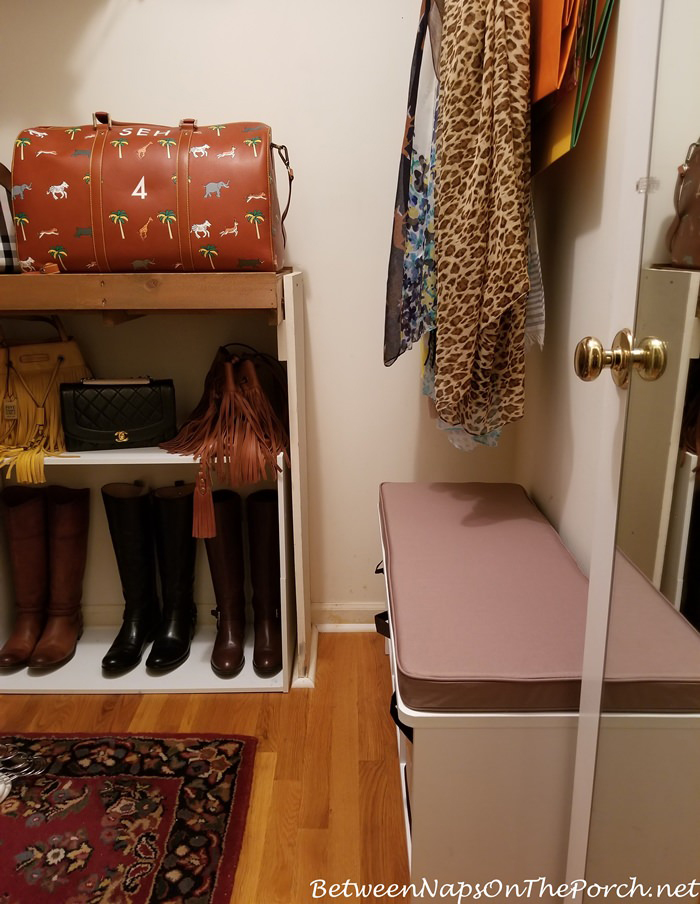 One of the more labor-intensive projects I've taken on over the years was finally adding storage cabinets to the garage. It was made especially complicated because the shelving kept arriving with many broken pieces. Aargh! I finally had to resort to having it delivered to a nearby store where I picked it up and brought it home in my SUV.
In the past when I envisioned adding shelving to the garage, it was for storing gardening supplies. Using it to store the dishware I've collected over the past 40 years has been a lot more fun! I really enjoy having everything I need for setting a table for friends, family or for Tablescape Thursday, all in one place. Read more about this Before and After here: Tablscaping Storage for Dishware, Flatware, Napkin Rings, Napkins and Glassware.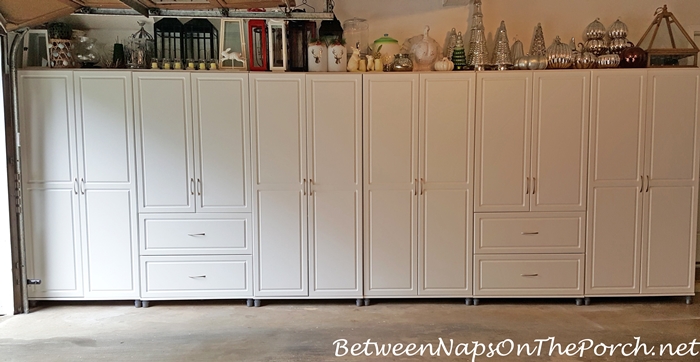 The two questions I always get about this space are: Do the dishes stay clean AND doesn't it get too hot/cold in the garage?
The dishes do stay clean, probably because the doors protect them. I also blow out my garage every couple of weeks, so it never gets really dirty.
Regarding temperature, this space never gets extremely cold or extremely hot because it is surrounded by heated/cooled spaces below, above, on the left and at the front, leaving only two "exposed" sides. This garage is always a pretty moderate temperature, even during the hottest and coldest times of the year. If your garage isn't surrounded by heated/cooled spaces on so many sides, this solution may not work for your storage.
Also, keep in mind, dishes are very hardy and most are designed to get washed in high temps in the dishwasher. I wouldn't store antique dinnerware here, but even it would probably be fine since the temps never get to the extreme.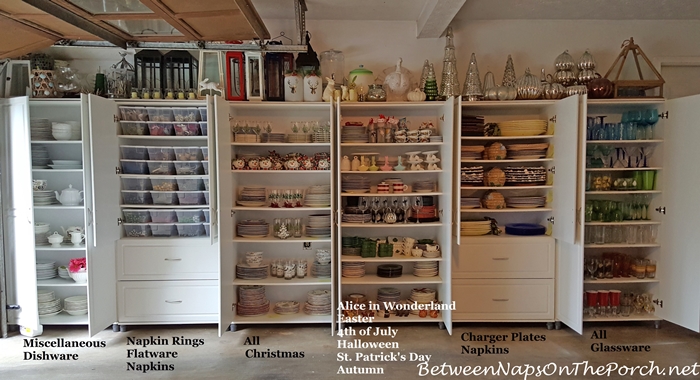 Since we will soon be entering into the fall months, I'll end this post Metamorphosis Monday celebration post with one final project that was challenging but so much fun to make: a Hot Cocoa sign for a little Hot Chocolate station I set up outside on the porch.
I had seen this sign on another blog but unfortunately, it was never available in my local Marshalls each time I checked. After searching for it for a couple of years, I realized I would need to make my own.
I love putting it out here on the porch each year! If you would like to make your own Hot Cocoa sign for your winter Hot Chocolate bar, you'll find the tutorial for making this sign here: Hot Cocoa Sign.
You'll find more details about the Cocoa station itself in this post: Create a Hot Cocoa Bar for Winter Entertaining.
See the little moose?
He's a "Chocolate Moose" and he smells just like chocolate! Is that not a hoot?! Embroidered on the bottom of his fuzzy little foot are the words, Chocolate Moose. You know I'm never going to grow up, right? 😉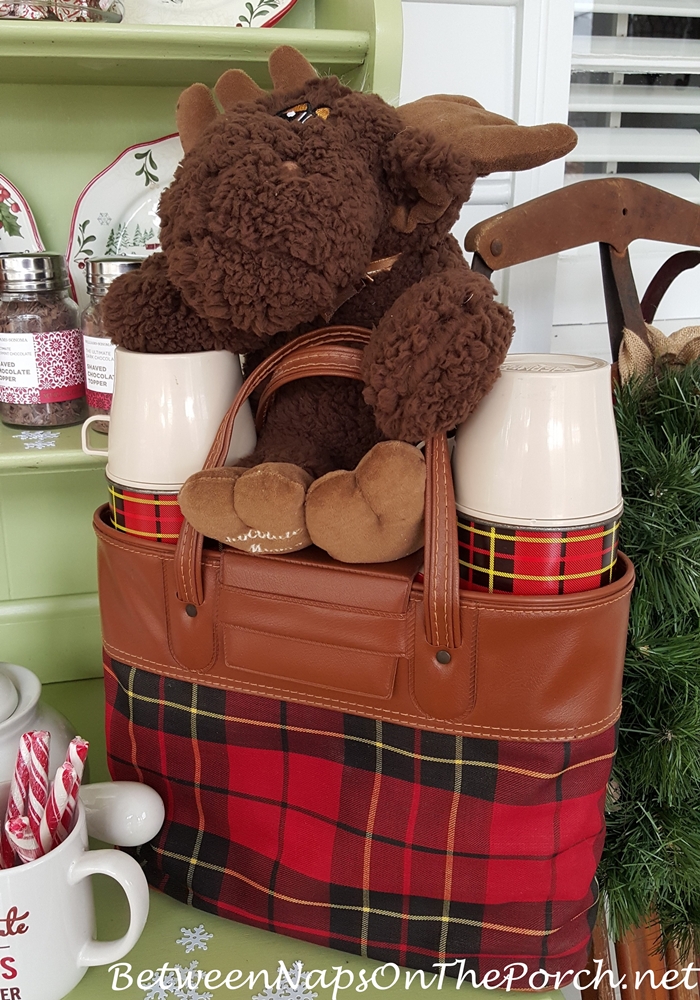 Thank you so, so much for being here for so many Metamorphosis Mondays! YOU are the very best part of my blogging journey and I'm grateful for you and your encouraging words each and every day! ♥♥♥
Looking forward to another 500 weeks of fabulous Before and Afters!
Pssst: I post almost daily to Instagram. Follow Between Naps on the Porch on Instagram here: Between Naps On The Porch.
If you enjoyed this post, subscribe for free email updates when a new post is up here: Subscribe for post updates.
Tip: If possible, please do not use a Hotmail e-mail address to subscribe. Hotmail's servers are notorious for filtering out perfectly good emails.
Metamorphosis Monday
Metamorphosis Monday is a party that's all about Before and Afters. If you are participating in Met Monday, please link up using the "permalink" to your MM post and not your general blog address. To get your permalink, click on your post name, then just copy and paste the address that shows up in the address bar at the top of your blog, into the "url" box for InLinkz.
In order to link up, you'll need to include a link in your MM post back to the party so the other participants will have an opportunity to receive visits from your wonderful blog readers.
Please observe these few rules:
Please link up Before and After posts that are home, gardening, decorating, crafting, painting, sewing, cooking, fashion or DIY related.
Be sure to include a link back to the party in your post, so your readers will be able to find and visit the other bloggers who are participating.
Do not link up to the party if you're only doing so to promote or sell a product.
To those who are linking up: If you notice a shop or online store linking up to sell products (yes, unfortunately, that does happen) please let me know so I can remove their link and block them from participating in future parties. No one wants to click a link expecting a Before and After, only to find a spam link to an online business/store.
*If a post is sponsored or a product was provided at no charge, it will be stated in post. Some links may be affiliate links and as an Amazon Associate, I may earn from qualifying purchases. *