In early May, I spent a week in Louisiana and Mississippi touring beautiful historic homes with my friend, Linda. Almost all of those homes allowed photography, except for two. One home Linda and I toured was the home of General L. Kemper and Leila Williams, located at 712 Toulouse Street in the heart of the French Quarter.
This historic 1889, 2-story townhouse is actually hidden from street view. The Williamses called it the "Hidden House." It's tucked back behind the Merieult House (shown below) located at 533 Royal Street. There's something kind of neat and romantic about living in a hidden home.
This is the other photo I shared in yesterday's post showing the wonderful courtyard that's hidden back behind Merieult House. Hard to believe, just over a month ago I was standing in this courtyard!
See the townhouse straight ahead–that's the Williamses' home. Further down in this post, you'll get a view of the courtyard as if you were standing on the upstairs balcony where the Williamses would have stood when looking out into the courtyard.
General Kemper and Leila Williams lived here from 1946 to 1963 and gave their home a much-needed restoration/renovation in the 1940's. This whole complex was in such bad shape back then, there was talk of tearing it down. The Williamses bought Merieult House too and preserved both it and their townhouse for future generations to enjoy. They realized the importance of preserving the French Quarter and were active philanthropists donating their time and money to preserver many building in the area. They also gave generously to other organizations and charities in the in the community.
Stepping into the home is like being transported to another era. It's time-travel for real, the home today is just as the Williamses left it. As mentioned yesterday, their home is the only French Quarter home that's open to the public and still has all its original furnishings! It's filled with antiques and objets d'art collected by the Williamses during their travels all over the world.
When General L. Kemper and Leila Williams entertained, their guests would first be brought into the drawing-room. I guess a drawing-room is what we call a formal living room. I think drawing-room sounds so much better. Who knows, maybe "formal" living rooms would not have fallen out of favor here as much if we had been calling them "drawing" rooms all this time. 😉 What do you think? Should we start a new trend?
Look at those French doors!!! I covet those gorgeous doors and the beautiful Palladian windows overhead. Covet, I tell you! Beautiful!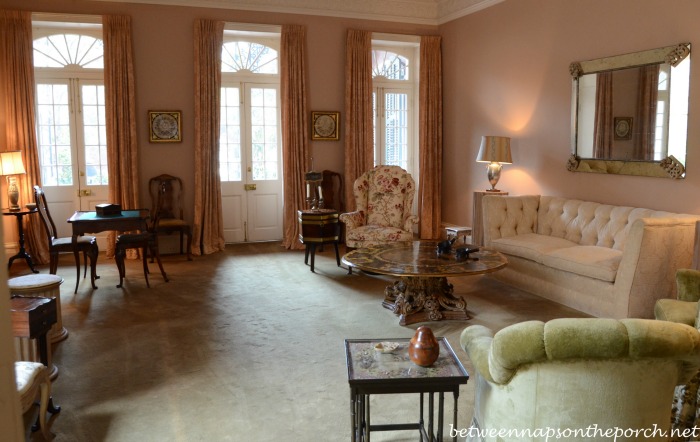 I shared the dining room yesterday for Tablescape Thursday. You can see a bit more of this room in that post here: A Formal Dinner Party In The French Quarter Before we leave the dining room, take a look at the seat of the dining room chairs. Such beautiful detail!
One thing I noticed about this home is it has a quiet elegance about it. At first it can seem a little plain or understated but when you look closer, there are so many beautiful, rich details. They are like hidden gems just waiting for the discerning eye to find them.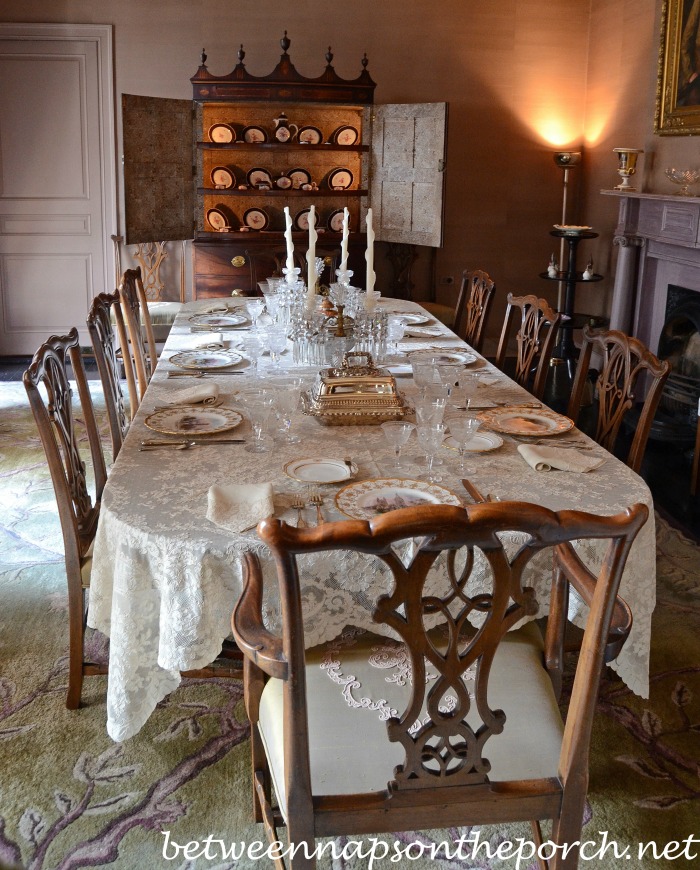 The kitchen blew me away! Really, touring this beautiful home is such an experience because it's so beautifully preserved. How do you like the refrigerator. Bet it was state of the art in the 1950's-60's. This may have been one of the first ever side-by-side refrigerators. 🙂
I was in awe of all the cabinetry. I think this just might hold my dish collection! 😉
How do you like the stove? It appears to have three ovens! I'm sure all three were needed, along with the 8 burners on top, when they were having dinner parties for twelve.
I goofed and resized this picture of their stove down without saving the original, so, unfortunately I can't enlarge it to read the brand name. Doesn't anyone recognize it?
This butler's pantry was located right off of the kitchen. With all the entertaining the Williamses did, I bet this area saw frequent use.
Here's just a small sample of some of the beautiful dishware they would have used for entertaining.
This platter rack was ahead of its time. I've seen these in today's fancy kitchens, usually on the end of a large island but sometimes on a wall, too. This is definitely a DIY rack that could be added pretty easily to a kitchen today, if you have a need for something like this. It also makes for a beautiful display, a way to enjoy your favorite platters as art for your walls.
Loved this phone and its cute shelf! One ringy dingy, Two ringy dingy. (If that makes no sense, go HERE.)
What do you suppose that box is up above? I should have looked closer at it while on the tour. I think it was about this time the docent asked me why I was taking so many pictures. lol At one point she actually asked me if I was "casing the joint." No kidding! See what I do for you! 😉
Okay, are you ready to see my most favorite room in the entire home. I am in love with the next room!
The General's library! Just look at this cozy, beautiful room! This is where the men would retire to smoke and talk "men stuff" after dinner when the Williamses entertained.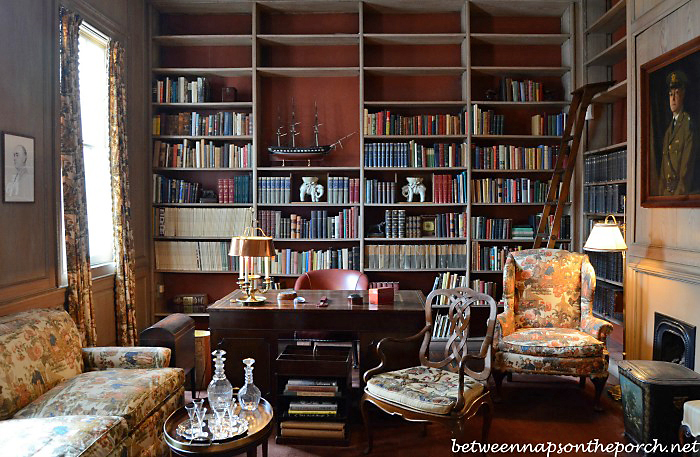 There's the General himself, looking very dapper in uniform. The paneling in this room was really pretty in person.
This is more accurate of the color of the paneling. I loved seeing the fabrics they used throughout the home. They really hearken back to another time, although they would be lovely in any home today.
Here's a better view of the sofa fabric. I wonder if this is an old Schumacher fabric…anyone recognize it? I love the colors!
We see it again here on the wingback chair. Isn't it beautiful? There's that wonderful old library ladder again.
A small desk in the library…
A beautiful bed in one of the bedrooms. If I'm remembering correctly, the Williamses had separate bedrooms, something that was pretty common back then.
An antique daybed…notice the beautiful chest against the wall. I worry about those antique side-tables sitting in the window. Seems like the sun would fade and dry them out, maybe even cracking the wood with time.
Gorgeous secretary! We saw so many beautiful antiques and porcelain pieces, many I'm sure collected on their trips abroad. Mrs. Williams also purchased many of the antiques in her home from local antique shops.
I was enamoured with the dressing area off of the bathroom. The walls were upholstered with fabric. Is this not exquisite?
A close-up of the fabric walls.
Another dressing area…have you ever seen lampshades like those? The shape reminds me of Napoleon Bonaparte's hat.
This fabric was in another room with padded/upholstered walls. I think it was another bath…having trouble remembering now.
A close-up… Can you tell I was captivated by all the fabrics…just loved them!
When the Williamses entertained, after dinner the men would retire to the General's library as mentioned earlier. The women would come here to the sitting room to relax and play games of pinochle or mahjong.
This room made me think of the great designers, Colefax and Fowler and Sister Parish. How does it feel to step back in time, to relive the days of yesteryear? I loved this room…a beautiful example of understated elegance.
If you have a long, narrow living room in your home, this room may give you some ideas for furniture placement.
A close-up of the fabric…
Things have changed a bit haven't they? Notice the turntable underneath the radio.
One side says "Telev" and the other side says "Phono." Have no idea what those meant but something tells me Pandora wasn't coming out of here.
Oh, I promised you a view of the courtyard from the balcony. Here's what the Williamses would have seen when looking out into the courtyard. So glad they preserved this lovely piece of history and their hidden house.
If you enjoyed this tour, sign up to have free email updates delivered to your inbox via the sign-up box below. I'll be sharing more home tours from the area over the next few weeks as I have time to go through all the pictures I took.
Happy Friday, dear Friends!
*If a post is sponsored or a product was provided at no charge, it will be stated in post. Some links may be affiliate links and as an Amazon Associate, I may earn from qualifying purchases. *