Welcome to the 469th Metamorphosis Monday!
Thanks so much for all your input on which bag to go with in yesterday's post! I need to tally up the votes but reading through all the comments, I'm pretty sure the Prada bag came out the favorite, followed by the Chloe Drew. Based on your comments, I went ahead and ordered the Prada bag that night. I will compare it with Chloe bag that I had already ordered and decide which one to keep. I'll let you know which one I end up keeping, I think I'm going to have a very hard time choosing since I really like both bags.
After reading all your comments on Saturday, I hopped in the car and drove down to the Prada store in Lenox Square to see the bag in person in both the Small and Medium size. I had ordered it in small size because that was the only size available online in the color I wanted, but I was worried it would be too small.
Here's a photo I took that night of the bag in both the Small and Medium size for comparison. (Neither of these bags is the color that I have ordered, which is Cammeo Beige.) I think the small size will be fine since I prefer smaller bags. The sales person I spoke with at Prada said the Galleria bag is so popular in the Cammeo Beige, they have trouble keeping it in stock. So I guess I was lucky to find it online at all, especially right after Christmas.
Metamorphosis Monday:
Okay, now for something different: I'm thinking of making a little change in the laundry room that's just off my kitchen. When you enter my home, you come in a door that's just to the right of Jean-Claude there on the counter. (Read more about Jean-Claude here: A Hearty Breakfast On the Farm.)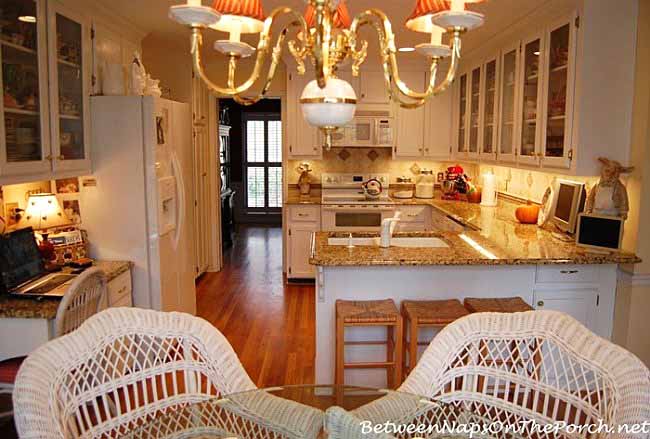 In this older photo, the door that's open is the door to the garage and the door you see behind it leads into my laundry room.
I've been thinking about adding a hall tree to the laundry room seen here in this older photo that was taken right after a big party.
Note: Excuse how this room looks in this old photo. The laundry room is the room where everything gets dumped when I'm clearing off surfaces in the kitchen and on the porch for a party. Plus, on this night, a huge storm came through and soaked down part of the porch. (Read about that crazy night in this post: Party on the Titanic.)
In the laundry room, there's a large blank wall seen there on the left beside the utility sink. I thought that would be a great space for a hall tree since I'm always coming and going through the garage door just a few feet away. The wall space is 45 inches with the door standing wide open and around 65 inches if the door is partly closed.
I could remove the sink to make room for an even larger hall tree, but I would really miss that sink since that's where I fill up watering cans for watering flowers on the deck and where I wash out messy things that I don't want to wash in my kitchen sink. A hall tree would also partially hide that ugly utility sink. This room is crying out for a full renovation, but it's going to have to get in line behind my two upstairs bathrooms.
I looked online for hall trees and found several that I love. At first I got little discouraged because so many of the ones I liked were no taller than me! Many of the ones I found that I loved were only 64 inches tall.
For example, I love this one that's available HERE, but it's only 64 inches tall. Notice how the coat is bunching up on the seat. Photos online can be so deceiving so you really have to read the measurements/dimensions before ordering.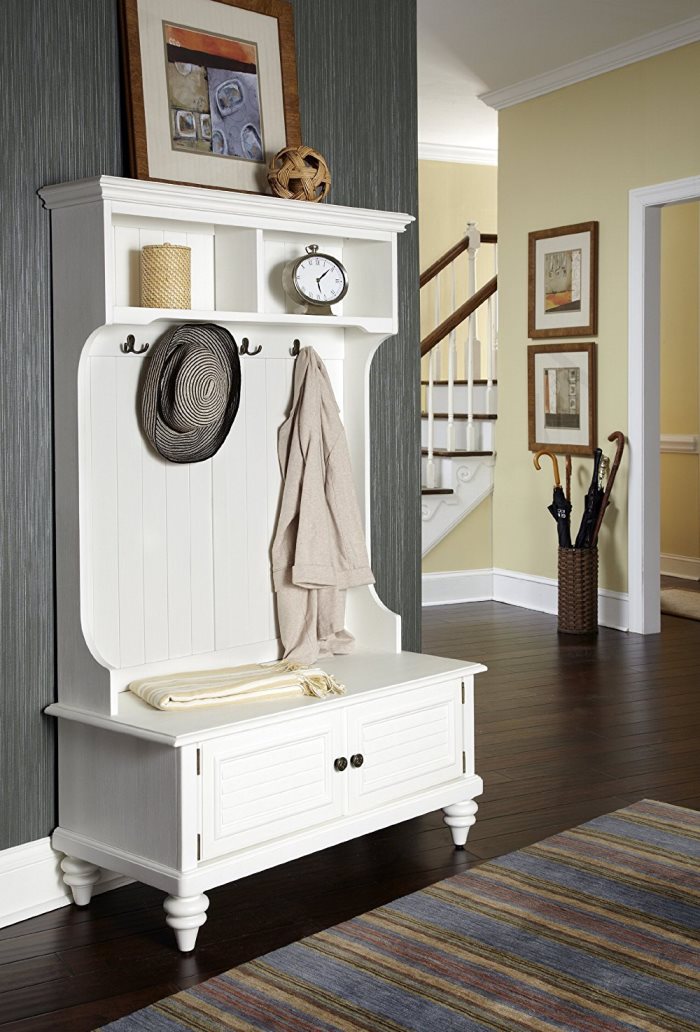 I also loved this one and the price was great. Unfortunately, it had the same problem, it was much shorter than I wanted. This one is available HERE.
Ditto for this one…love it, but it's also kinda short. This one is available HERE. I guess all these shorter hall trees are great for families with small children who wouldn't be able to reach their coats on a taller hall tree.
I loved the height of this one, it's nice and tall. But I'm not sure about the design. It's cute, but it's more of a farmhouse style design and my decor isn't really farmhouse style. This one is available HERE.
Then I found them! Oh. My. Goodness! I found so many that I liked, my head was spinning. I love all of the following and they are all nice and tall!
Love the built-in bench with cushion on this one and the drawers would come in handy for storing my winter gloves.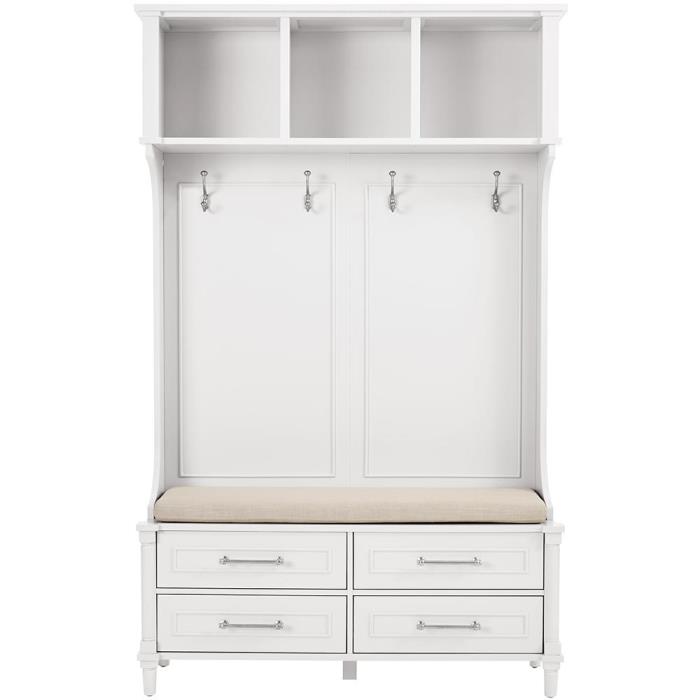 Isn't it cute! I wish they had shown it all styled out with coats and scarves, but I can envision it. This one is available HERE. It's also available in gray HERE.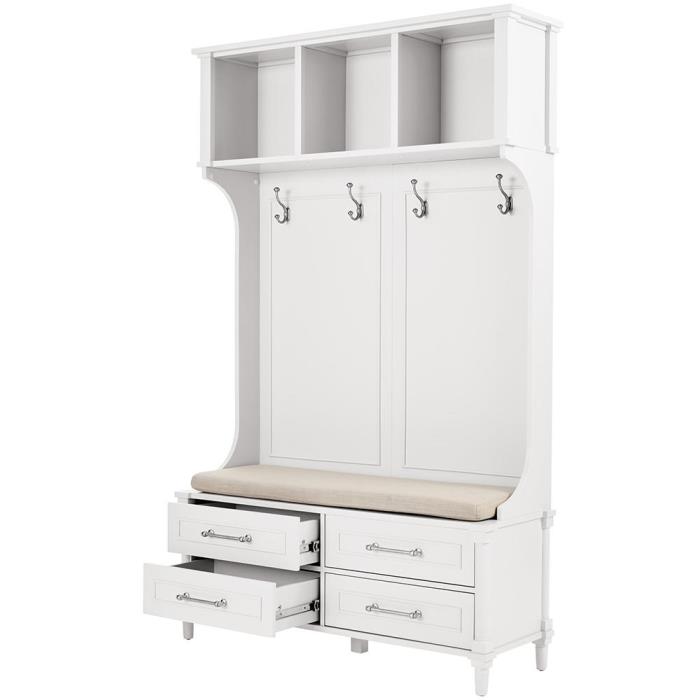 Another one that I fell hard for but is definitely wider is this beauty. So much great storage with a small cabinet and drawers. It's available HERE. If I buy something like this for my outdated laundry room, maybe it will inspire me to go ahead and redo that room now. 🙂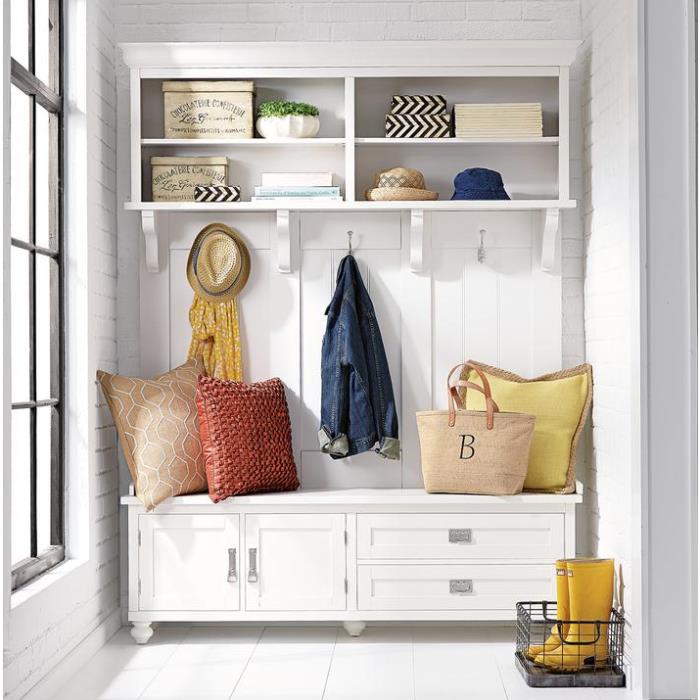 I also loved this one and I think it's narrow enough that I could keep the laundry room door wide open if I wanted.
I like how it looks when two are side by side for even more storage. Sooo pretty! It's available HERE.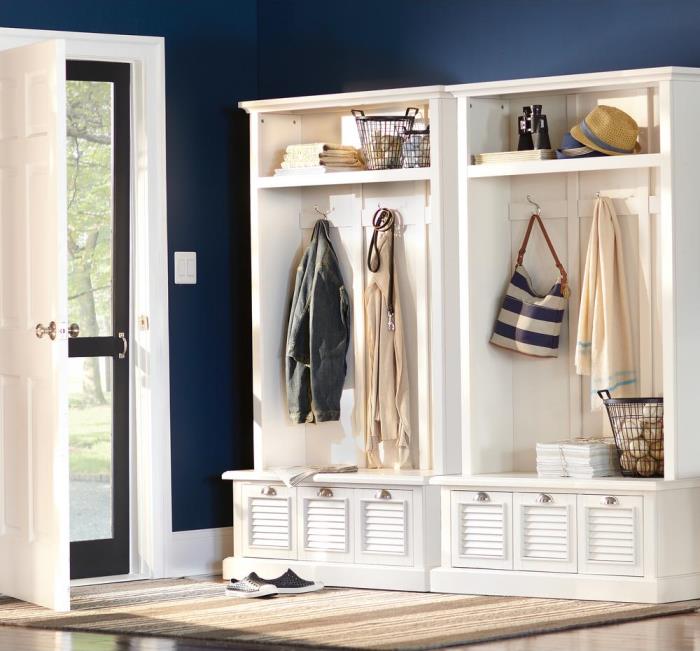 This one is an ivory color instead of white and also very pretty! It's available HERE.
This hall tree designed for a corner is pretty interesting. I actually have a corner in my breakfast room but think I'd prefer to have the hall tree in the laundry room. This one is available HERE.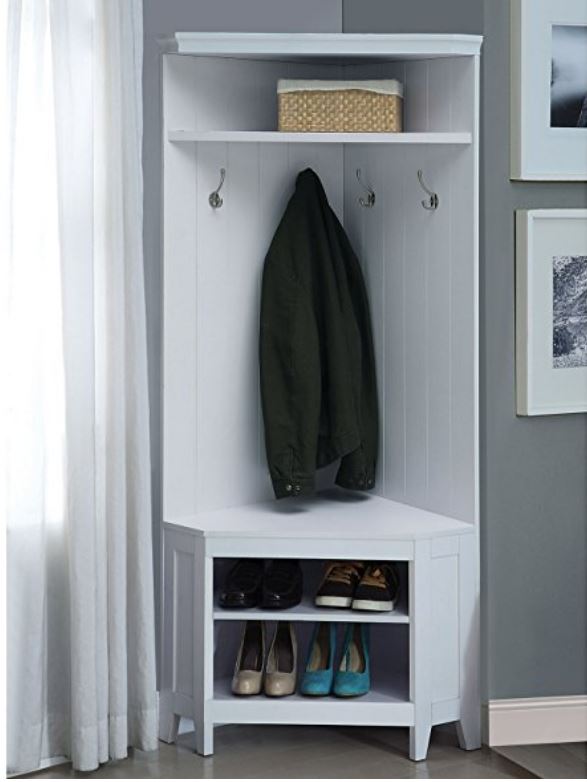 I think this one is too wide for my space, but I had to share it since I love the look! I really like how it has hidden storage for storing items that you don't want visible full time. This larger unit is available HERE.
I think I'm going to order one of these hall trees that I've shared in this post, just have to do some more measuring and decide which would work best in that space. I'd really love to gut and redo my whole laundry room!
Which did you like from the ones I've shown? Do you like the idea of going with a taller one, too?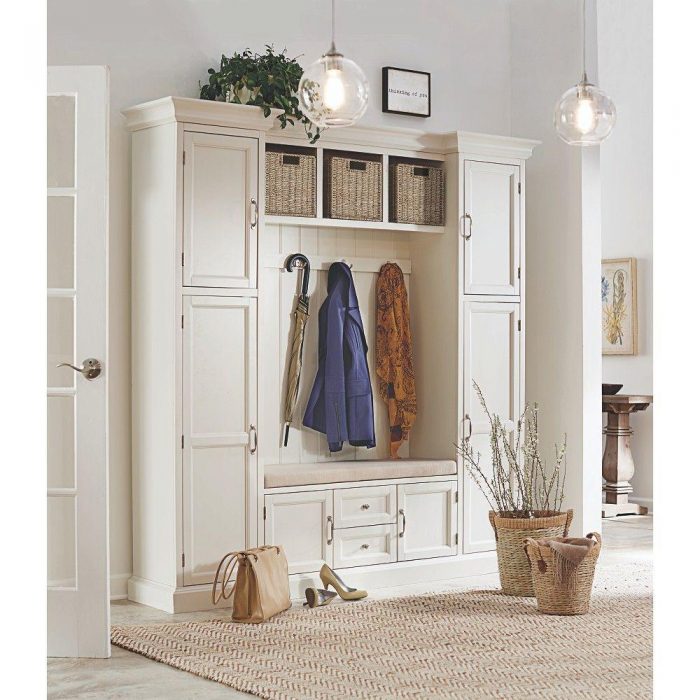 Update: Here's one more hall tree that I'm considering…love the design with cabinets and drawers. Love the crown molding across the top, too. It's available HERE.
Pssst: I post almost daily to Instagram. Follow Between Naps on the Porch on Instagram here: Between Naps On The Porch. If you enjoyed this post, subscribe for free email updates when a new post is up here: Subscribe for post updates.
Metamorphosis Monday
Metamorphosis Monday is a party that's all about Before and Afters. If you are participating in Met Monday, please link up using the "permalink" to your MM post and not your general blog address.
To get your permalink, click on your post name, then just copy and paste the address that shows up in the address bar at the top of your blog, into the "url" box for InLinkz.
In order to link up, you'll need to include a link in your MM post back to the party so the other participants will have an opportunity to receive visits from your wonderful blog readers.
Please observe these few rules:
Please link up Before and After posts that are home, gardening, decorating, crafting, painting, sewing, cooking, fashion or DIY related.
Be sure to include a link back to the party in your post, so your readers will be able to find and visit the other bloggers who are participating.
Do not link up to the party if you're doing so to promote or sell a product.
To those who are linking up: If you notice a shop or store linking up to sell products (yes, unfortunately, that does happen) please let me know so I can remove their link from the party. No one wants to click a link expecting a Before and After, only to find a spam link to an online business/store.
*If a post is sponsored or a product was provided at no charge, it will be stated in post. Some links may be affiliate links and as an Amazon Associate, I may earn from qualifying purchases. *