Recently I discovered an amazing little trick that I never knew about! I had a mini-disaster occur with one of my handbags. There's a barbecue restaurant about 15 minutes from my home. I'm rarely in that area so when I do find myself near the restaurant, I'll sometimes go through their drive-thru to order one of their BBQ plates.
On my last visit a few weeks back, when I reached the window where you pay and retrieve your food, the associate, in old-school fashion, handed me back a little clipboard with a pen attached so I could sign my receipt. After signing the receipt I removed my credit card from the clipboard and reached over to drop it on the seat beside my bag. I didn't realize I was still holding the pen until, for just a second, I thought I felt the pen lightly bump something. I glanced over to see what I could have bumped but didn't notice anything, so I quickly forgot about it. A few hours later when I was putting my handbag away for the night, I noticed a 3/4 to 1-inch, black, pen mark right on the very front of my cream-colored bag! Argggh!
I am always super careful with my bags, even to the point of covering them with a tiny receiving blanket I keep in the car to protect them from sun fading, but my bag was uncovered when the pen incident happened since I had just paid for my purchase., Not really expecting to find anything, I searched online to see if there was any way to remove an ink mark from leather. One suggestion I read said to use rubbing alcohol. Ummm.
I wish I had taken a "before" photo but I was way too panicked at the time to think about that. I dipped the tip of a Q-tip into rubbing alcohol and was amazed to see it quickly and completely remove the ink mark with just a few little rubs. It worked! It actually worked!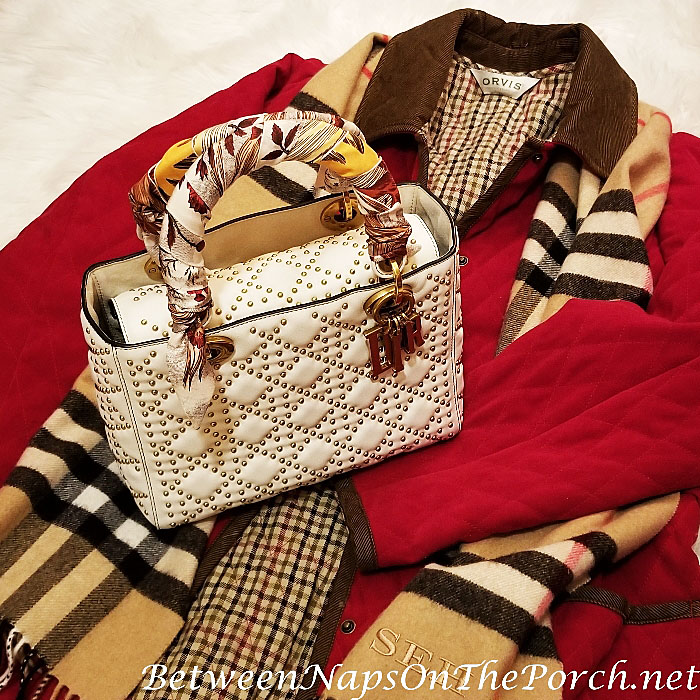 I can't tell you how happy I was. I truly didn't think it would work so was shocked when it did! Another trick I read online suggested using nail polish remover, but nail polish remover scares me. Thankfully, the alcohol worked in my situation. Just wanted to share this in case you find it helpful at some point.
Caution: Before trying this technique to remove an ink mark from a leather bag or shoes, you may want to test this method on a less noticeable spot–like maybe on the bottom of a bag just to make sure it doesn't discolor or damage the leather. Since my bag is off-white/cream in color, I was willing to take a chance.
Another tip I've heard YouTubers talk about is using a white, soft-gum eraser to remove scuffs and marks from shoes/boots and handbags. Not sure that would work on an ink mark but it may on other type stains. I haven't actually had a chance to use this method yet, but after my ink disaster, I bought one to keep on hand just in case. I purchased mine here: Soft-Gum Eraser.
I still can't get over how quick and easy it was to remove that ugly mark from the front of my bag; it truly felt like a miracle! Do you have any tried and true tips for removing ink or pen marks from leather? Please share them! I LOVE learning miracle tips like this!
*If a post is sponsored or a product was provided at no charge, it will be stated in post. Some links may be affiliate links and as an Amazon Associate, I may earn from qualifying purchases. *