Welcome to the 780th Tablescape Thursday! Today's Tablescape Thursday is a bit different. As mentioned in an earlier post this week, the next few weeks are going to be crazy busy, at least my definition of crazy busy. Ha! I got a bug in my bustle a few weeks ago, actually, it started around the time I was having the new irrigation controller installed in the garage. In order to install an outlet on the wall for the new controller, the electrician had to crawl into one of the attic spaces here in the bonus room (FROG) that's directly over the garage.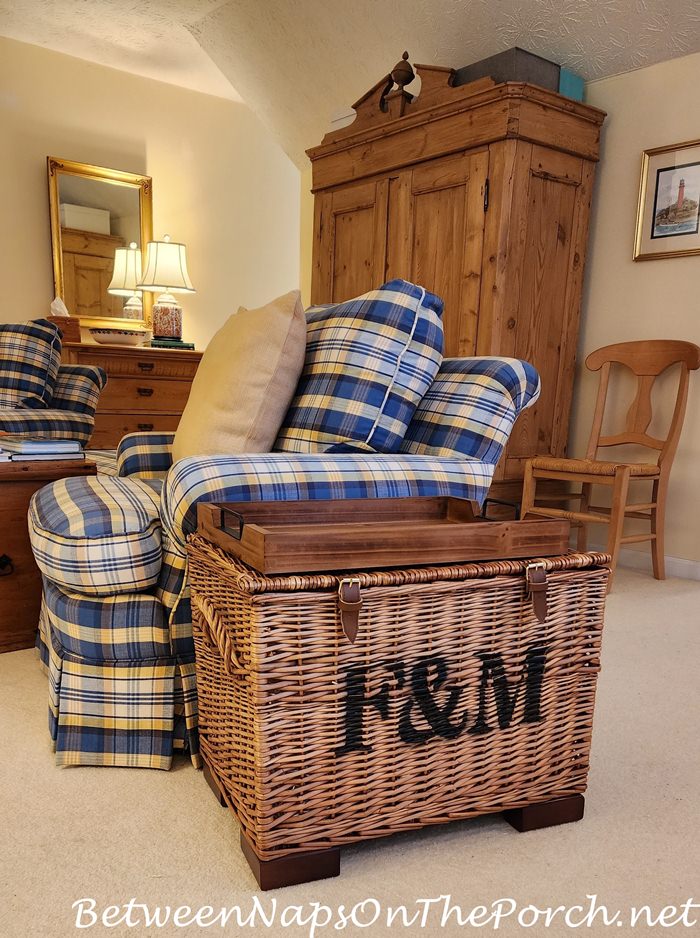 See those two little doors in the background of this photo from where I shared the Fortnum & Mason hamper I ordered and turned into an end table? (See that post here: Fortnum & Mason Hamper As An End Table.)
There are two dormer windows in this bonus room here over the garage, and one of the dormers has little doors on either side that provide access to the attic eaves on those sides.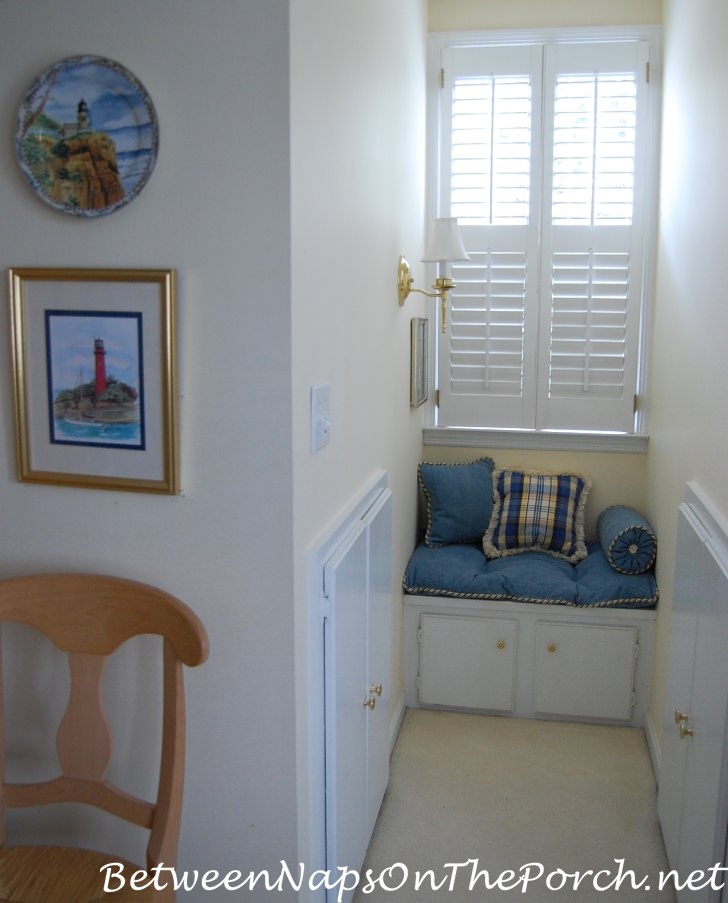 I have the majority of my Christmas Decor stored under the eave on the left. It doesn't normally look this neat, this was right after I had just purchased some new bins and had tidied things up. Also, three large ornament boxes had already been removed, as had the 13 wreaths I always hang on the exterior windows at Christmastime.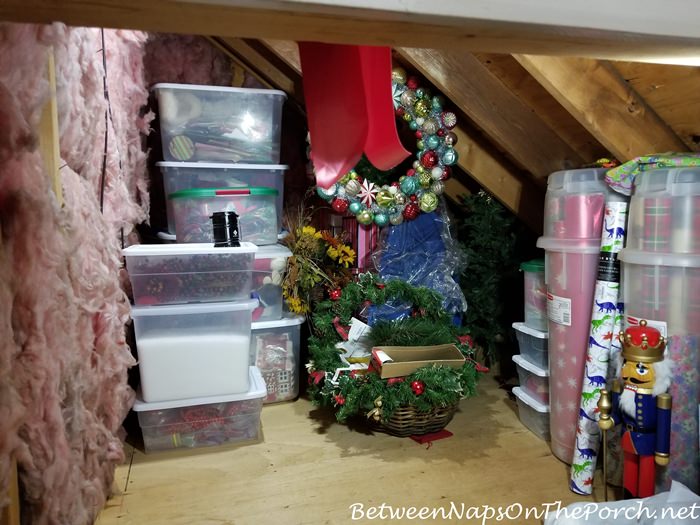 So what's behind the two little doors on the right–the doors the electrician went through to add a new outlet for the updated irrigation controller? Behind those doors is where I normally store Halloween decor, except when the electrician dove into that space, he and I pulled out about 2/3rds of the Halloween "stuff" I had stored there. All those decorations have been sitting in my upstairs bonus room for weeks while I've been contemplating finding a better place to store them.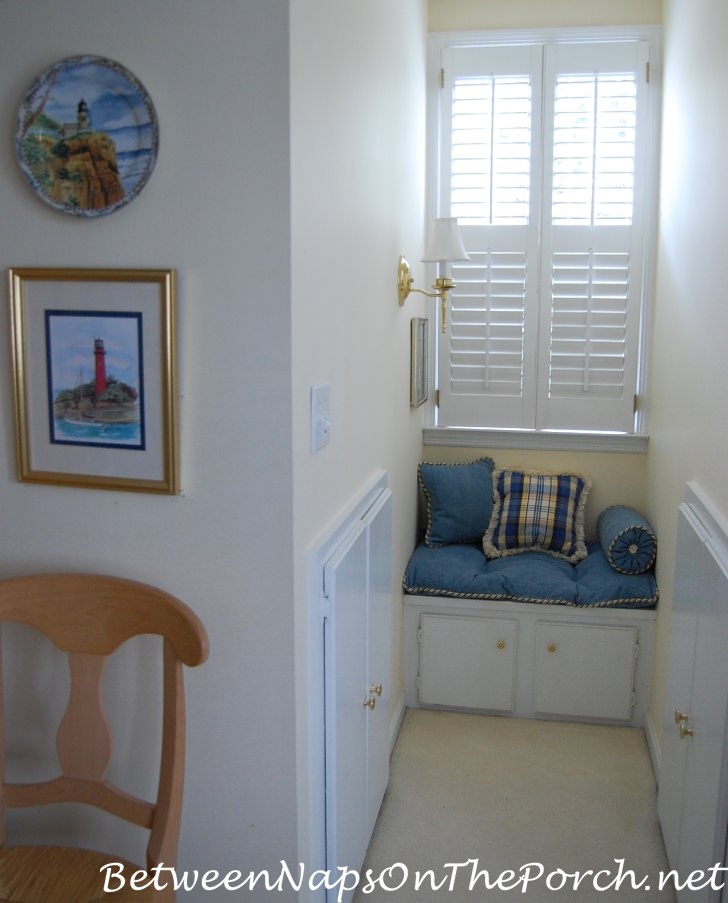 One of those really big boxes contained a bunch of Fitz & Floyd Halloween serving pieces. (Sorry about the lighting in this photo, it was taken early this morning.)
Since Halloween will be upon us in just a few weeks, for today's Tablescape Thursday, I thought I'd share a few close-up views of these fun Fitz & Floyd serving pieces that I have been storing away for years up under the attic eave. These won't be going back under the eave–I'm making some big changes in the coming weeks.
I love this pitcher so much! Do you see the little ghost peeking over the pumpkin in back? The Fitz & Floyd pieces were purchased back in the early 1980s when we used to host a Halloween party every year for friends.
I may have used this candelabra in a previous table setting. I think it's time to put it to use again in an upcoming Halloween table setting.
I think this serving piece was designed for crackers or something like that. How would you use a long, narrow piece like this?
Another funny pitcher…
So, here's what I'm thinking about doing. I'm going to order two more cabinets like the ones you see below. They will go at the end of the cabinets I already have in this space. I measured and there's plenty of room, plus I can scoot the other cabinets to the left if needed. I'm going to store all the Fitz & Floyd pieces inside one of the cabinets, along with some of the other Halloween decor that's currently stored in boxes in my bonus room and still up under the attic eaves.
I'm also going to pull out all the Christmas decor that's stored here under this attic eave and move it all down to the basement.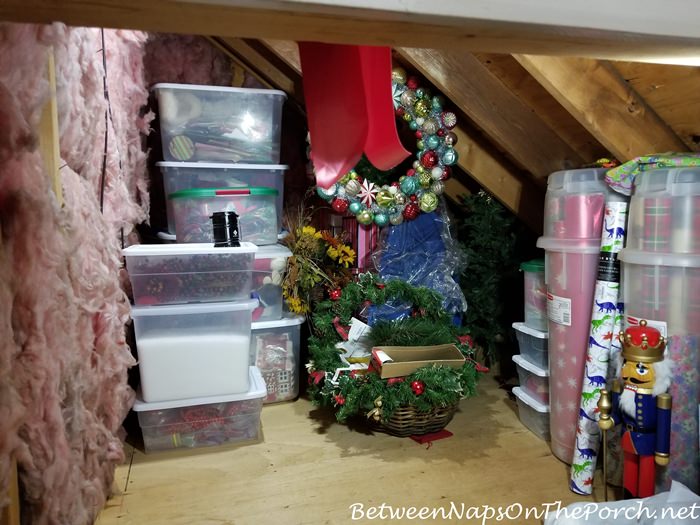 I have a plan for where all the exterior wreaths (normally stored under the attic eaves) will end up–I'll be sharing that real soon.
Over the next few weeks, I'll be going through everything that's currently stored in this storage room in the basement and I hope to do some pretty severe culling and donating. Some of the ceramic decor that's visible on the shelf on the left may end up in the new cabinets. That will help make room for more Christmas/Halloween storage bins.
It's time I had easier access to all these fun pieces so that I can actually see and use them in future Halloween tables! I'm really looking forward to sharing how this process works out. It's going to be a challenge–deciding what to keep and what to let go, but I'm ready to take it on!
Looking forward to the beautiful tables linked for this week's Tablescape Thursday! (If you enjoyed this post, subscribe for email updates when a new post is up here: Subscribe for post updates.)
Tablescape Thursday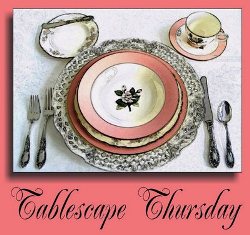 If you are participating in Tablescape Thursday, please be sure to add your permalink below, and not your general blog address. To get your permalink, click on your post name, then copy and paste the address showing in the address bar, into the "url" box when you link up. You'll need to include a link in your post back to the party to link up and participate. That's so visitors to your blog will be able to find the party and the other Tablescape Thursday participants. Please link up table-setting-related posts only for Tablescape Thursday. Please link up table-setting-related posts only for Tablescape Thursday.
You are invited to the Inlinkz link party!
*If a post is sponsored or a product was provided at no charge, it will be stated in post. Some links may be affiliate links and as an Amazon Associate, I may earn from qualifying purchases. *