The exterior of this wonderful historic row house in Savannah reminded me a little of Carrie's apartment in Sex and the City.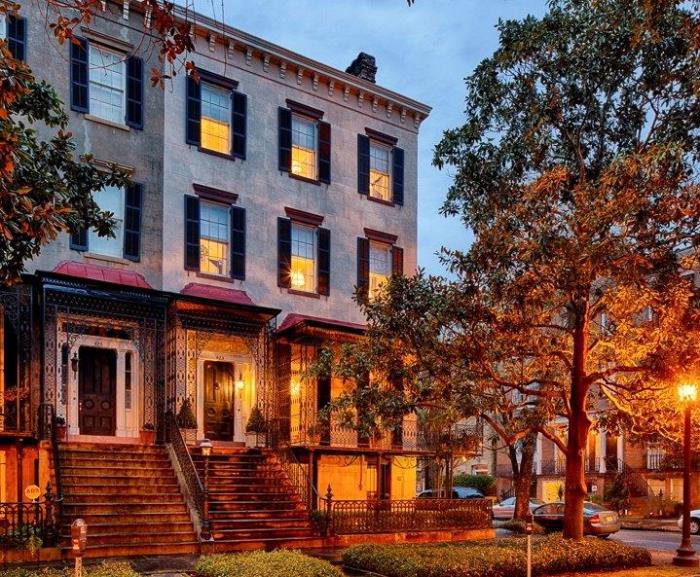 I think it's the steps that had me thinking of Sex and the City, well that and the door. But wait until you see the inside!
So elegant and beautiful!
Just look at that newel post! I love a beautiful newel post. I was once told on a home tour that back in the day when your home was paid for and mortgage free, you would cut off the top of the newel post, place the deed inside the hollow post, then top off the post with a really fancy finial or topper, something sparkly and eye-catching. That way, when someone visited your home, they could see that it was paid for and mortgage free.
I Googled this today and read about a tradition where some folks had an ivory button inlaid into the center of the top of the newel post when the mortgage was paid. It was referred to as the mortgage button or brag button. That would be a nice reminder to see each day coming down the stairs, wouldn't it?
Whenever I go on old home tours, I always look to see if the top of the newel post has been replaced with something ornate. I'll have to start looking for a mortgage button, too. 😉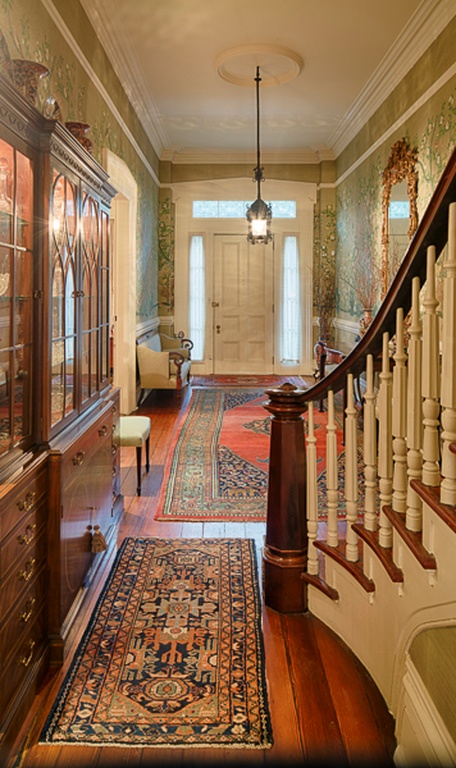 Let's take a moment and drool over the chandeliers, shall we? Seriously, look at those three stunning chandeliers, all in a row! This must be gorgeous to see in person, standing at one end and looking down through the rooms.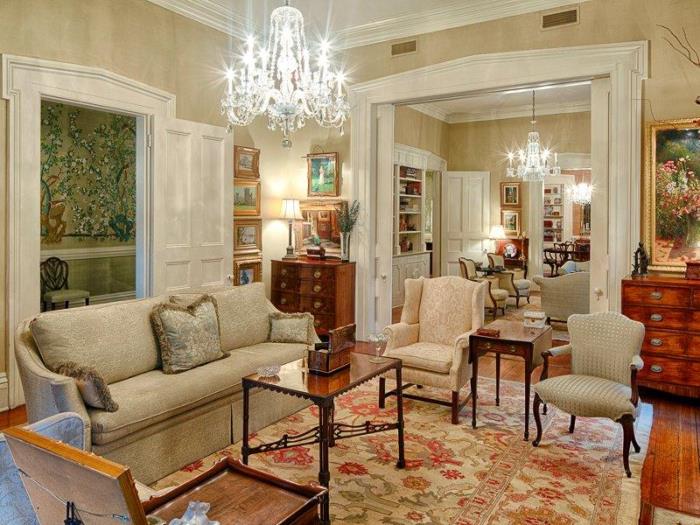 Remember the chest on chest we saw last week at A Classy Flea? I noticed they are using one in the adjoining parlor. They are such versatile pieces, can be used in any room! I just love them!
This home has a beautifully updated kitchen with an eat-in bar.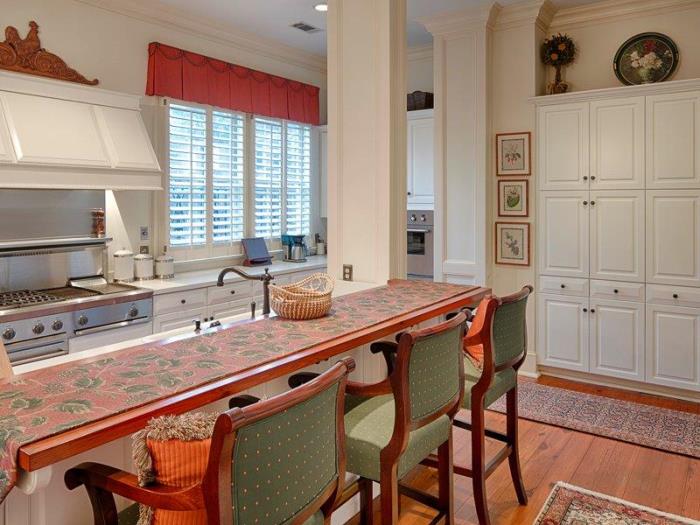 I never though about decorating the bar area with a runner; looks really cute! Love the bar chairs…super comfy looking!
The glass front cabinetry is so pretty with the butcher block counter. Great storage for displaying dishes.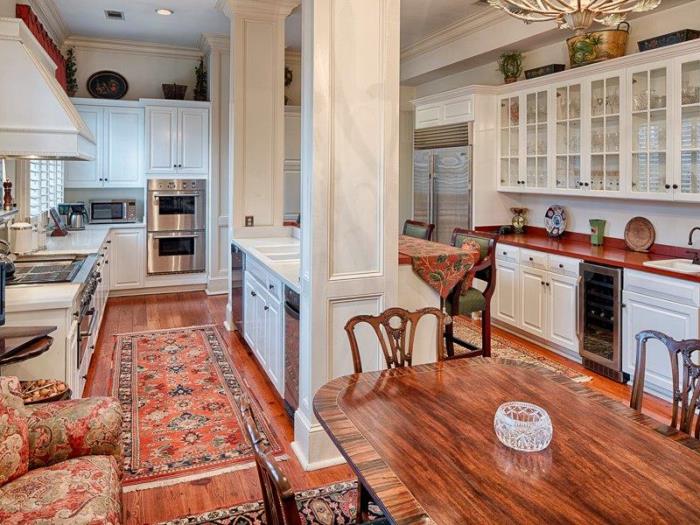 The formal dining room is sporting another seriously gorgeous chandelier!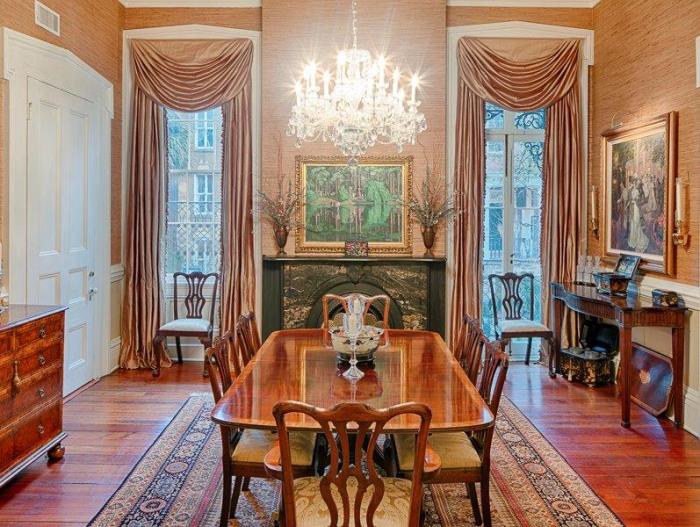 At first I thought this was a Butler's Pantry with lots of room for storing wine. After a closer look, it appears to be mainly a wine cellar or wine storage area. I've never seen one quite like this, lots of attractive storage in a small area.
I noticed this house is listed for sale. I wonder if all these gorgeous chandeliers will be staying. I've never seen so many beautiful ones in one home! Never!
Love all the windows in this beautiful bedroom!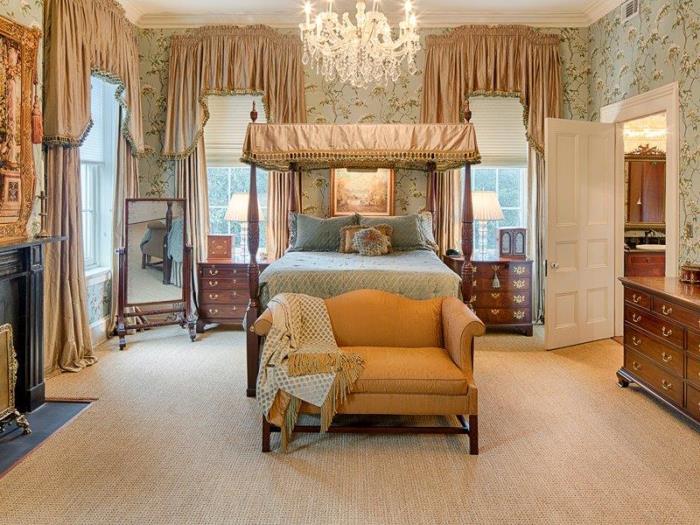 The bathroom is as elegant as the bedroom…very pretty!
Did you notice the small settee at the end of the bed in the first bedroom we toured? We see one again here. These are great for a place to sit while putting on shoes and such. Gorgeous highboy on the right!
When I'm walking around Savannah, I always wonder what's behind the high walls. Now we know! What a lovely garden…feels like something right out of The Secret Garden
doesn't it?
This wonderful home is located directly across from Monterey Square, the same square where Mercer House from the movie, Midnight in the Garden of Good and Evil is located.
If I lived in Savannah, I would love to live across from one of the beautiful squares. Wish we still built our cities this way, our subdivisions, too. Wouldn't that be amazing to have lovely parks everywhere!
I couldn't include all the pictures I found of this wonderful home in this post, there were just too many. You'll find all the others here: Celia Dunn, Sotheby International Realty.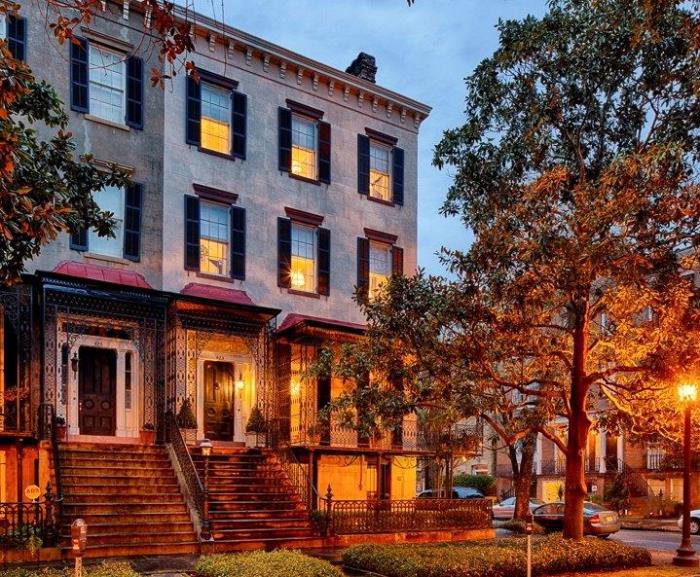 Remember the movie, Midnight in the Garden of Good and Evil starring Kevin Spacey? It was filmed in Mercer House house which is also located across from Monterey Square. You can tour antique-filled Mercer House in this previous post: Tour Mercer House From the Movie, Midnight in the Garden of Good and Evil. You can also tour it in person anytime you're in Savannah!
Love the beautiful old homes in Savannah? Check out this book I featured a while back: Savannah Style
*If a post is sponsored or a product was provided at no charge, it will be stated in post. Some links may be affiliate links and as an Amazon Associate, I may earn from qualifying purchases. *