Welcome to the 257th Tablescape Thursday!
Have you ever visited Chatsworth House? Unfortunately, I've never been to England but I'm determined to get there one of these days. Chatsworth House is a large country house located in the county of Derbyshire in the East Midlands region of England. It was built beginning around 1553 but went through a rebuilding process beginning in 1696. Chatsworth is home to the Duke and Duchess of Devonshire, having been passed down through 16 generations of the Cavendish family. If you get a chance to watch any of the shows on TV about Chatsworth House, it has a fascinating history.
Recently, Meg who reads BNOTP, visited Chatsworth House. I was so excited when she shared some of her wonderful pictures so I could share them with you.
Chatsworth has over 30 rooms available for touring!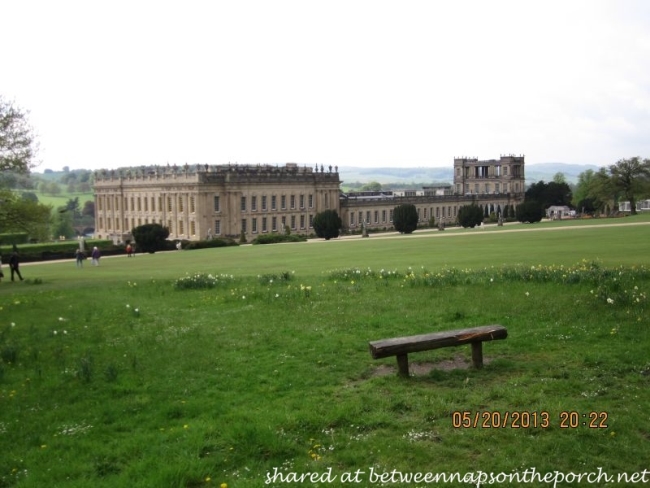 It's worth a trip just for the wonderful art collection you'll find inside.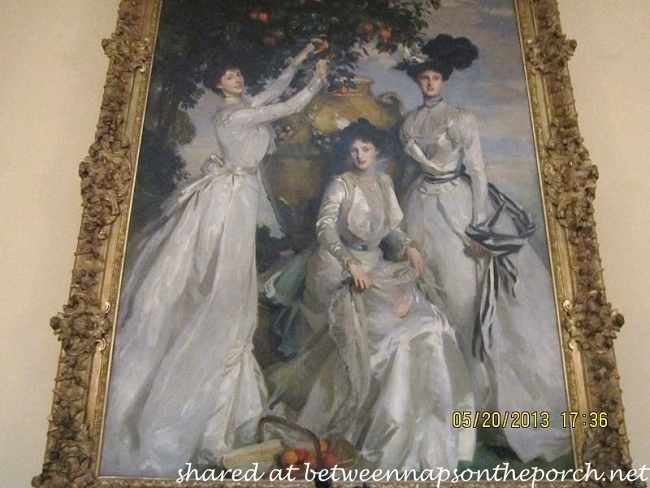 Today we're going inside the dining room for Tablescape Thursday.
Wow! I can't imagine how amazing this must be in person! The first thing I noticed was the table is so wide you can seat two on the end. Just imagine how big this room must be. The chandelier is absolutely stunning and look at that beautiful ceiling! I could get lost in this room for hours–so much to see!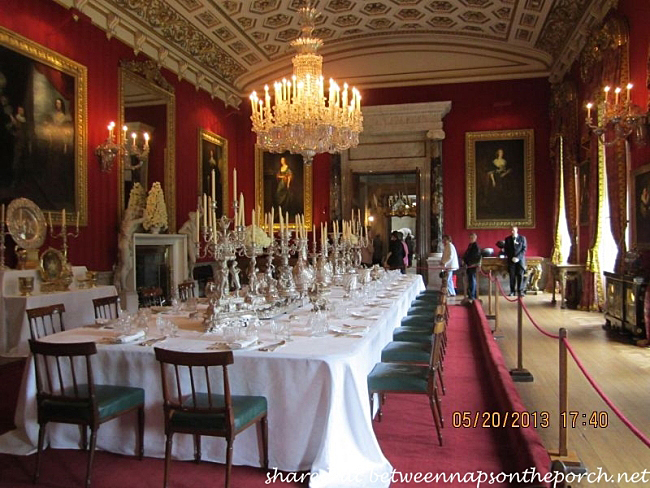 In this photo from Wikipedia, we get a view of the table from the other end. The table is set in a different way, too. Is that cranberry glass?
Imagine being the one in charge of keeping all the silver polished and shiny. I wonder if it's out most of the time or if they store it in special silver cloth bags or silver cloth lined containers at night? I bet they have a special way of protecting it when the home isn't open for tours. I wonder if the Duke and Duchess ever entertain here? I hope this room actually gets used for dinner parties or events a few times a year. Wouldn't you love to be a fly on the wall for a special occasion or dinner here?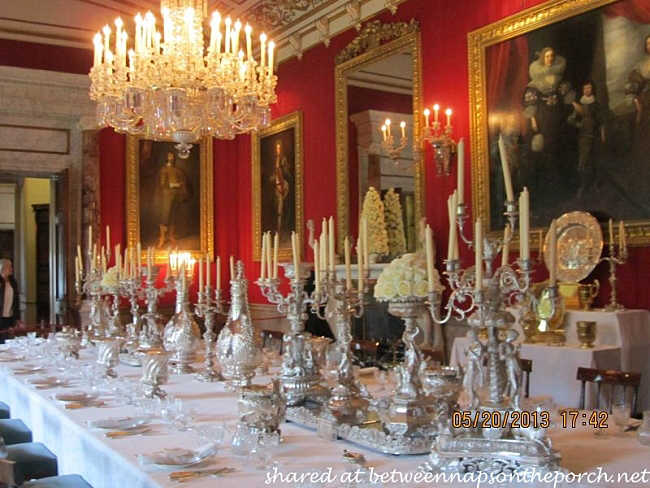 Notice all the flatware. I would need to take a little course in how and when to use all those pieces before dining here. 🙂 The general rule is you start from the outside and work your way in but it would be a little intimidating, wouldn't it? When in doubt, watch those around you!
Recently, I saw part of a program on TV about Chatsworth House. One of the little tidbits I gleaned from the show was the reason the forks are placed on the table with the tines facing downward. I had seen that done before in books, but was never sure why. I love the reason they gave!
Apparently, the table is set with the forks facing downward so the tines are not easily caught in the French cuffs of the men's shirts. Swoon! Love a man in a shirt with French cuffs, especially when monogrammed! I think I'll start setting my tables this way for special dinners like Thanksgiving and Christmas, though there are rarely any French cuffs in jeopardy of being snagged. 🙂
After dinner, we'll imagine we are taking a wonderful stroll through the gardens. Of course, I'm holding onto the arm of a lovely gentleman wearing French cuffs. Hey, it's my dream! 😉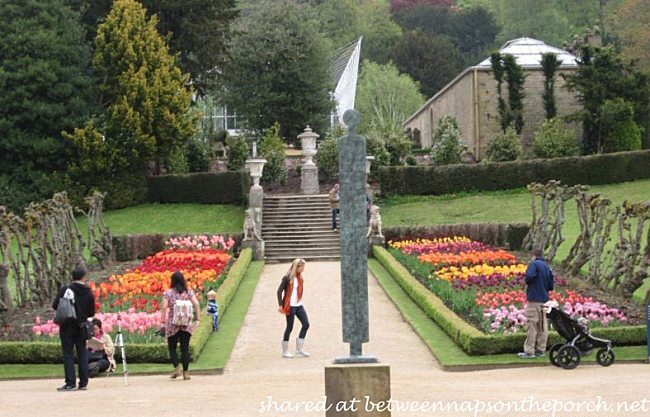 Meg, thanks so much for taking us inside Chatsworth House and letting us dream for a bit. It was completely enchanting!
Looking forward to the beautiful tablescapes linked for this Tablescape Thursday!
Update: I've made a change to how the links will display for Tablescape Thursday. They will display randomly each time you visit BNOTP so all participants will have a chance to have their link displayed near the top of the group of links. You'll easily be able to tell which links you've already visited since those links will change color once clicked.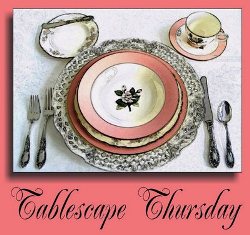 If you are participating in Tablescape Thursday, please be sure to add your permalink below, and not your general blog address. To get your permalink, click on your post name, then copy and paste the address that shows in the address bar, into the "url" box when you link up. If you need any assistance with adding a link, you'll find a short 3 minute video explaining how to add your link and join the party HERE.
You'll need to include a link in your post back to the party in order to link up and participate. That's so visitors to your blog will be able to find the party and the other Tablescape Thursday participants.
If you would like to use the Tablescape Thursday logo button in your post, just copy and paste it to your computer and upload it to your post as you would any photo.
Please, don't add your post name/blog name ALL IN CAPS…it tends to create big spaces between the rows of links.




Welcome! Thanks for coming to the party!
*If a post is sponsored or a product was provided at no charge, it will be stated in post. Some links may be affiliate links and as an Amazon Associate, I may earn from qualifying purchases. *