I love it when you guys suggest movies I should check out. I rarely go to the movies since there are so few I like these days, but I'm so glad Diána e-mailed me and suggested I do a tour of the wonderful homes in the movie, The Intern. (Thanks, Diána!)
There are actually three beautiful homes in the movie, in addition to a pretty cool office space. This post would be way too long if I tried to post tours of all those places in a single post, so today I thought we would check out my favorite home in the movie, that of Ben Whittaker, played by Robert De Niro.
I'll post a tour of the other homes real soon, so if you loved Jules Ostin's (played by Anne Hathaway) eclectic home with its modern kitchen, look for that post soon.
The Story
If you haven't seen the movie, The Intern, the story revolves around Ben Whittaker, a retired executive played by Robert De Niro, who worked 40 years for a phone book company. Ben is a widower and since his wife passed away a few years prior, he has done everything imaginable to keep busy. He's taken language classes, yoga classes, visited his son and grandchildren numerous times, traveled all around the world, you get the picture. But he still feels like something is missing in his life.
To fill that void, Ben decides to apply for a position with a fast-growing, online fashion store that's seeking senior citizens to work as interns. They realize the value that someone with tons of experience can offer to their start-up. If you're in the mood for a light-hearted story with a happy ending (my fave) then be sure to check out, The Intern.
Now For the Best Part
Now here comes the really good part, guess who wrote, co-produced and directed this movie? Hint: The Intern has three fabulous homes in it!
Yep, you guessed it, the super talented Nancy Meyers, the same genius who brought us the fabulous houses in the movies, Something's Gotta Give, The Holiday and Father of the Bride, is the writer, co-producer and director of, The Intern .
The Intern takes place in Brooklyn and much of the movie is shot on location in Brooklyn, Manhattan and the Bronx. In the movie, Ben lives in a classic brownstone. The scenes in Ben's home were actually filmed in a real brownstone where a couple had lived for over 30 years. It's located in the Cobble Hill neighborhood in Brooklyn.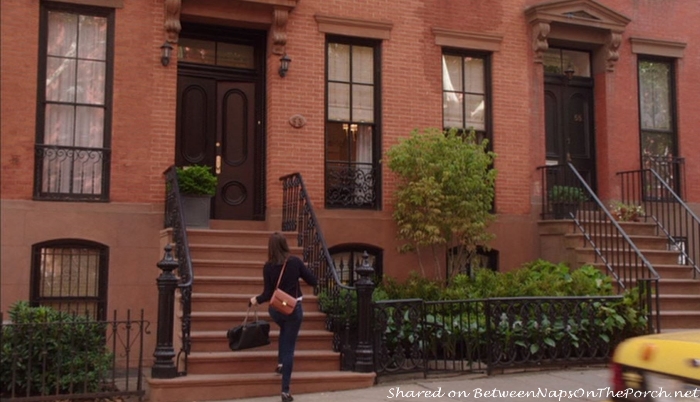 Here we see Jules (his boss and the CEO of the company where he's interning called About the Fit) walking up the steps to Ben's home. Notice those amazing doors, just gorgeous!
We catch a glimpse of the entry to Ben's home in this scene where he's just returning from another trip, again facing an empty home and feeling at a loss. If I had to choose two words to describe Ben's home, it would be cozy and inviting. I guess a lot of brownstone homes feel that way, hard for them to not feel inviting when they have such beautiful architecture and character everywhere you look.
During a visit Jules makes to Ben's home, we get a nice view of his dining room. We see this room early on in the movie but it's at nighttime so a bit harder to view. Even at night it looks wonderful, though!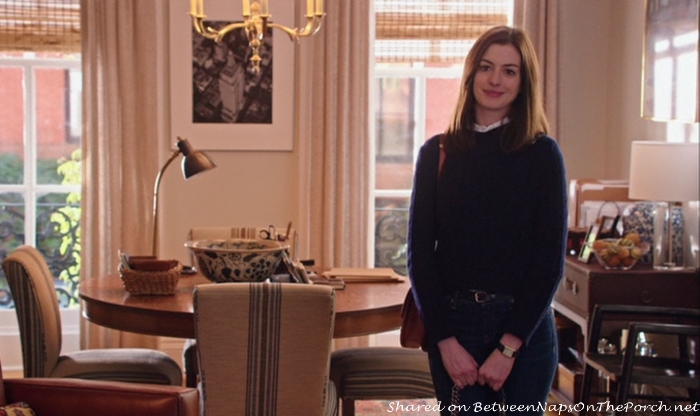 Any cook would be happy in Ben's kitchen. I don't know how Nancy Meyers did it but she managed to give Ben a kitchen that's cozy, yet beautifully current. It doesn't feel at all outdated or stodgy, just a beautiful space all the way around.
I love that it has a kitchen table instead of a big, impersonal island. There's just something about eating and talking around a kitchen table that says, "You're family."
It feels like a kitchen that has been updated but not stripped of its charm. Absolutely love it!
That's Rene Russo we see in this scene. Spoiler alert: she becomes a love interest for Ben in the movie. See, told ya it has a happy ending. 🙂 I still remember her from The Thomas Crown Affair, loved that movie! Do you remember it?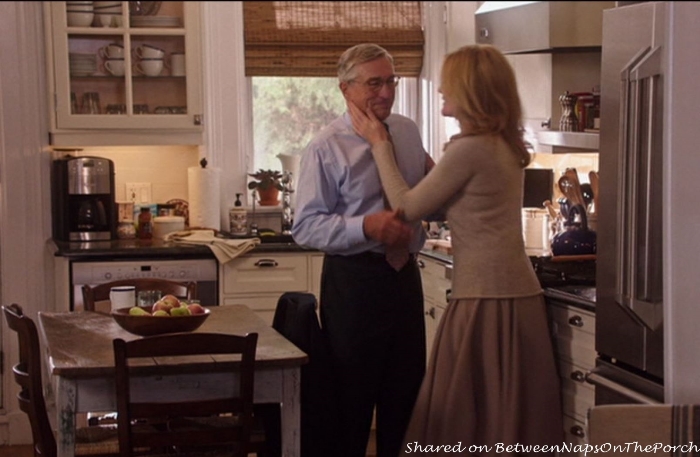 Nancy Meyers kept a lot of the things that belonged to the couple who lived in the brownstone because they gave the rooms a true, authentic feel.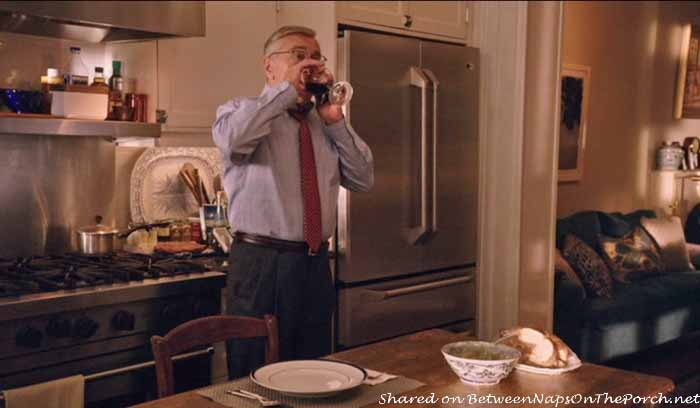 You fall in love with Ben during the course of the movie, he's just such a gentleman. I mean any guy who sets a lovely place to eat even when alone, is okay in my book.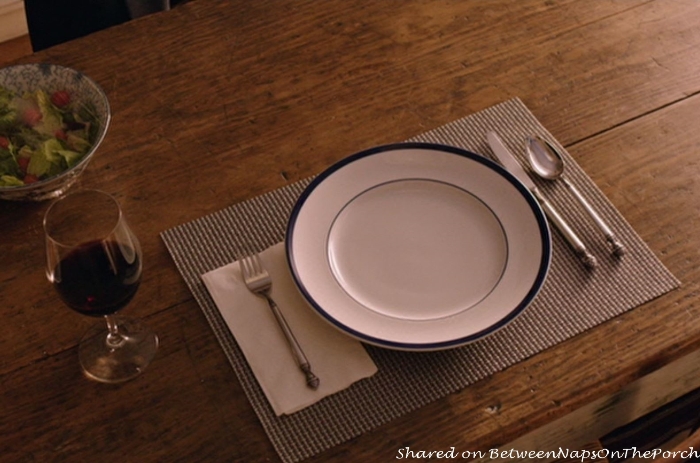 It's amazing how many scenes with Ben take place here in his bedroom. When a fellow co-worker ends up staying with him in his spare bedroom for a while, he remarks on how nicely Ben's bed is made. Ben gives all the credit to his deceased wife indicating he learned it from her. Yep, he's a sweetheart.
Notice the sheets, they sound amazing when Ben gets an early morning call and throws them back to sit up in bed. You know that wonderful noise a really crisp, quality cotton fabric makes when you rustle it, like a luxurious pin-point oxford shirt? That's how his sheets sound when he folds them back to get out of bed. Nancy Meyers doesn't miss a detail, she's amazing!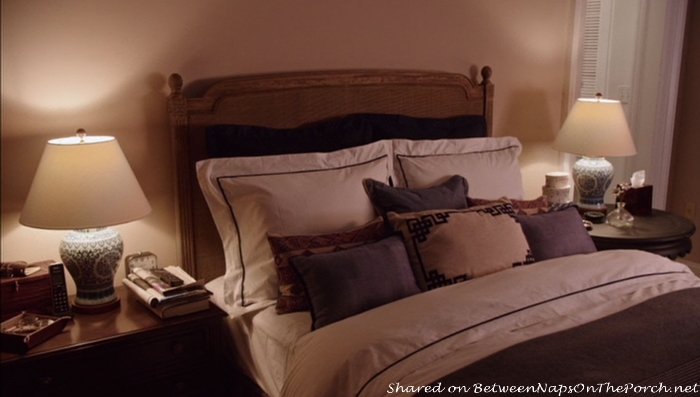 Ben is quite the dapper dresser throughout the movie, even his pajamas are nice. His most endearing dressing trait though is how he always carries a handkerchief. I melted (yes, I'm a romantic sap) when he said a gentleman carries a handkerchief not for himself, but for the women in his life. Oh my gosh, I need a guy like that in my life. Now! lol It's those little things that win over our hearts, isn't it?
Update: Here's a fun article about why men carry handkerchiefs, makes me wish I had taught my son about this: Every Man Should Carry a Handkerchief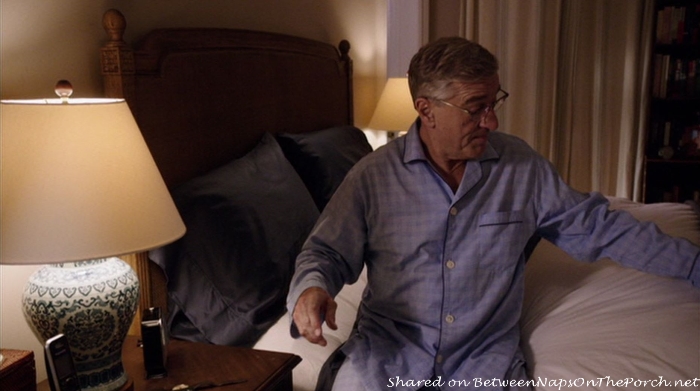 See that room in the background in this scene where Ben is chatting with his new house guest? That's Ben's closet and it is pretty fabulous!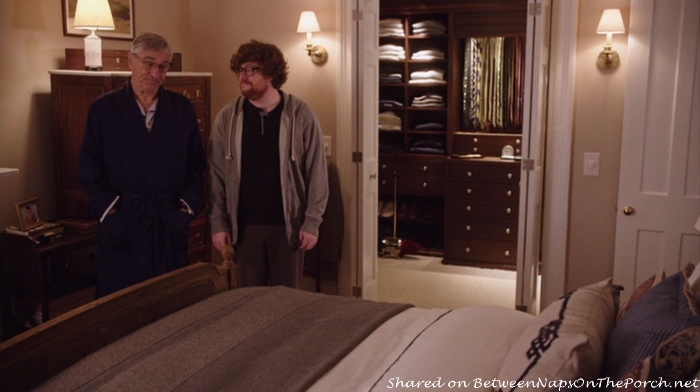 It's super organized and well-thought-out, just like everything else in Ben's life. His closet is both masculine and elegant. It's like walking into a Brooks Brothers store!
Hope you enjoyed this tour of Ben Whittaker's home in the movie, The Intern!
Did you have a favorite scene or part in the movie? Did the handkerchief part get to you, too?
Next we'll be going inside the home of Ben's boss, Jules Ostin, aka Anne Hathaway. The brownstone she shares with her husband and daughter has a more eclectic feel, kind of a "modern meets flea market/antique shop" style. It's very different from Ben's brownstone but just as wonderful. Again Nancy Meyers at her best! Looking forward to sharing it next!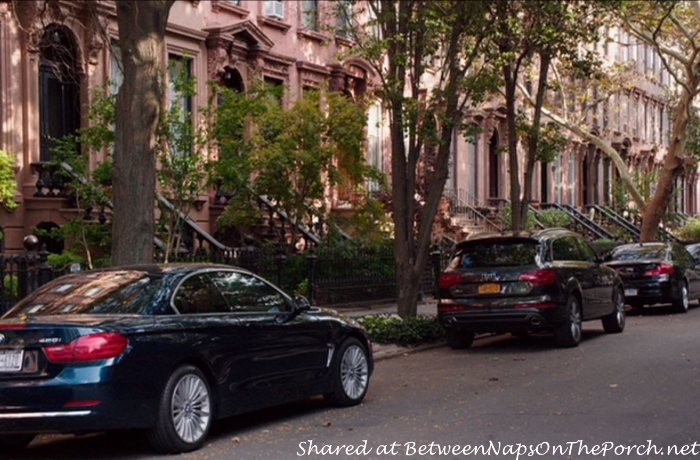 You'll find tours of many more of your favorite movie houses, including the other movies mentioned in this post by Nancy Meyers, here: Movie House Tours. More movie house posts and fun movie house-related posts can be found here: More Movie House Fun.
*If a post is sponsored or a product was provided at no charge, it will be stated in post. Some links may be affiliate links and as an Amazon Associate, I may earn from qualifying purchases. *