Have you ever been looking at homes online and suddenly thought, "I know that home!" That happened to me recently when I came across Designer, Carolyn Westbrook's plantation home, The Oaks. I recognized several of the rooms from having seen them in one of her books, Carolyn Westbrook Home. After living there for many years, I guess she is ready for a change because her home is now on the market and available for purchase.
Let's go inside and take a little tour. If you're a Carolyn Westbrook fan and have any of her books, you're going to recognize some of the rooms. One thing I noticed, the rooms are so much more beautiful in her books than they are in the listing. It's a shame they didn't use the photos from the book, it would sell immediately!
Carolyn Westbrook Home is an absolutely beautiful book and if you don't have it, buy it! You'll love it! It's def one of my fave decorating books. I'll link to the books she's written at the end of this post. I didn't realize until I was creating the post that she has written several more books. I think I'll add another one to my library as soon as this post is published because I love the ones I do have.
Carolyn Westbrook's home, The Oaks Plantation, was built in 1860 by Captain Robert Hodge, a steamboat Captain. It's located in Chatfield, Texas and sits on 23 acres of land.
Carolyn Westbrook's style is mostly French Country, which is the design style she writes about in all her books. Some of the rooms in her home feels like a nice blend of English Country and French Country to me.
A view looking back toward the front door. I know it must be difficult for her to think of moving from a home where she's lived so long and raised her family. I wonder if she's downsizing? Seems like so many of us start to think about downsizing once our children are all grown.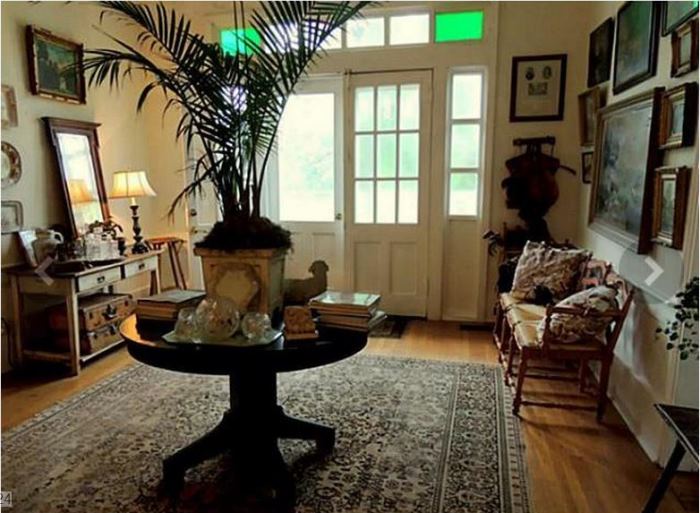 This little sitting room is on the cover of her book, Carolyn Westbrook Home, only it's styled a bit differently in the cover picture.
This is one of the rooms that is so beautiful in her book, but this picture just does not do it justice at all. The colors feel soft and more muted in the book, they are so harsh in this photo. I think after I publish this post, I'll try taking a photo of this room as seen in her book and add it to this post so you can see how beautiful it really is. I wish I knew what fabric she used for her curtains and if it's still available. It would be perfect for my living room!
Update: Took a photo of the room in her book, Carolyn Westbrook Home. So much prettier than in the listing!
One more picture from my copy of Carolyn Westbrook, Home. Love this wonderful old hutch!
Love green and white together…so fresh, so pretty!
Another bedroom, I wonder if this was her son's room since it has more of a masculine feel.
A sweet vignette…
Adorable potting shed…do you see the bee skep? I think my screened porch NEEDS a bee skep! 😉
Carolyn Westbrook has written several books and I've linked to them all below in case you would like to read more about them and preview them at Amazon. I have the first one shown below, Carolyn Westbrook Home and I love it. She gives us a full tour of her home and it's definitely one of my favorite decorating books!
Carolyn Westbrook Home
Through the French Door: Romantic Interiors Inspired by Classic French Style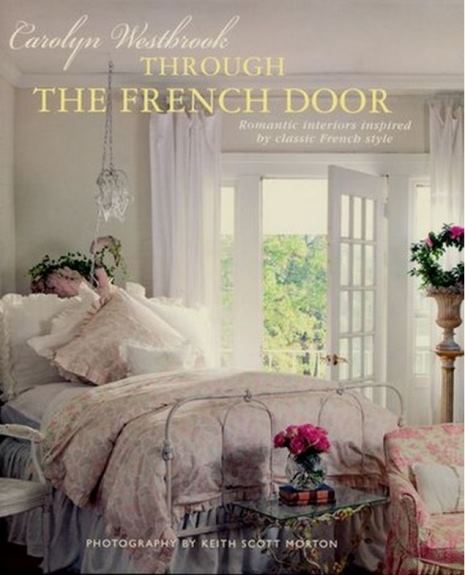 The French Inspired Home
A Romance with French Living: Interiors Inspired by Classic French Style
You'll find additional photos of Carolyn Westbrook's home in the listing where I found these, here.
*If a post is sponsored or a product was provided at no charge, it will be stated in post. Some links may be affiliate links and as an Amazon Associate, I may earn from qualifying purchases. *