For many, many years my family room looked like this. About ten months ago I nixed all the faux greenery on that end of the room. It was all looking pretty faded and tired, so it was time for a change.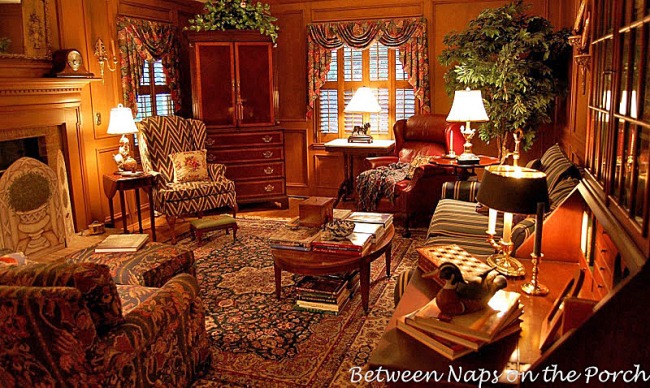 I haven't missed the greenery at all. The de-fauxing took place right after Christmastime last year so my tree was still up.
See those cascades/jabots. They have been hanging there forever…like 15+ years forever. They have always felt a little too formal for this room but they were about the only thing I could afford back then. They were "ready-made" only cost $150-$200 for both windows and the door. They are nice and heavy but maybe a little too dressy for this room.
They also make the ceiling feel even lower than it is since they had to be hung beneath the pretty molding.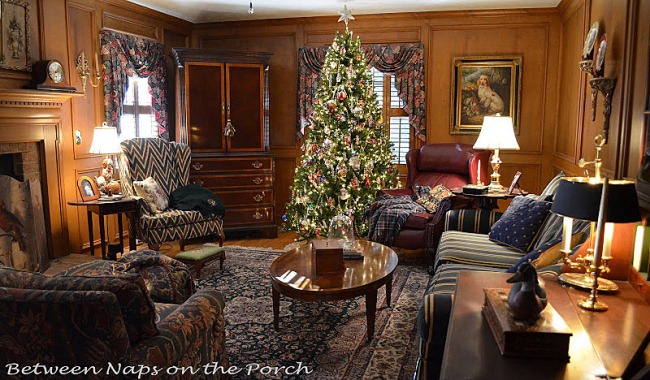 Today, I just couldn't look at them anymore. You know that feeling…when suddenly you would rather have bare windows than what's there. So, down they came. I took this pic right after I took them down…they are piled there on the floor. Talk about dusty. Yuck. (Note to self, vacuum tops of curtains occasionally.)
The room feels bigger, but I definitely plan to put something back. This room really needs a bit of softness at the windows. (You can see more of this room in this post: Feels Like Home)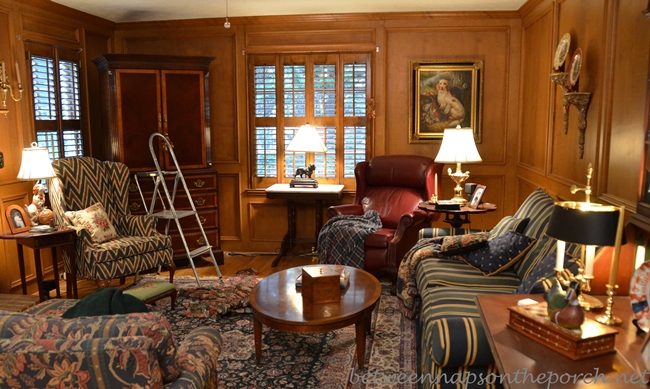 Here's how the door looked with a curtain across the top.
The door minus the curtain…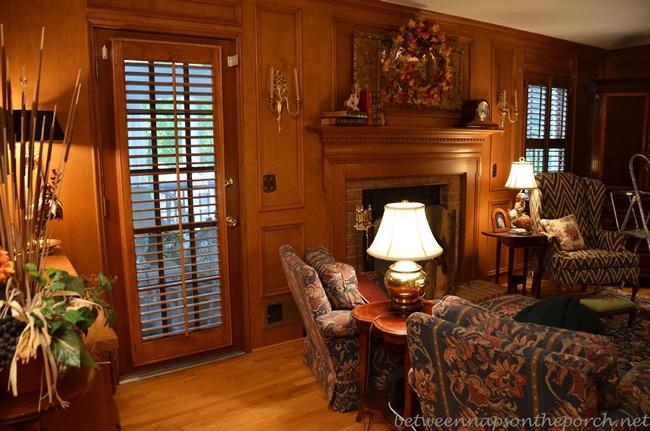 I'm thinking about the Hearthwood Floral curtains from Country Curtains. I wouldn't hang them on a rod like pictured here but would use the clips instead (like I did in the office, HERE) so they would hang more like drapes and less like curtains. There would be one panel on the end of each window (so I would buy 4 panels) and they would never be closed. (I would use the shutters for privacy.) I would hang them near the ceiling to add some height to the room.
I don't think I'll put a curtain back on the door. I've toyed with taking the shutter off the door entirely now that there's a porch just outside the door, instead of a dilapidated deck. However, it is nice on cold nights to close that shutter panel, especially since that's an original door and it isn't very energy-efficient.
I ordered a swatch of the Hearthwood Floral fabric, just like I did before I bought the buffalo check curtains for the office. The colors look great with the painting, don't they? The fabric sample looks much prettier in person than the fabric did in the pics online. It's richer and deeper in color.
I enlarged the pic on my iPad and brought it into the room…just trying to see how the color will look with the paneling. Again, the fabric is much richer, deeper in person than this online pic shows. I noticed in the reviews online, folks who bought the Hearthwood curtains are saying they are prettier in person than online. I hope so because their look kind of faded in the online pic.
Oh, I should mention, these come already lined so I would not have to pay extra for that like I did with the buffalo check curtains in the office. If you missed that post and would like to see how those looked, you'll find it here: Buffalo Check Curtains for the Office
Update: Adding in three more pics to show the other side of the room with the sofa for folks who asked about the colors in the sofa. Sorry these next two pics aren't the greatest quality. They were some of the first I took when I began blogging and that camera didn't handle low lighting very well. Plus, my photography skills weren't so hot back then. Yay, for improvement!
The sofa is green and navy with a gold stripe and a very narrow burgundy stripe repeating across it.
A close up of the sofa fabric…
I want to keep this room dark and cozy…going for that English Country/hunt theme/lodge feel. I have lots of "light/bright" rooms in my home but do love a cozy room for movie watching and curling up in front of the fire on a cold night with a good book.
What do you think? Would Hearthwood curtains look good in here?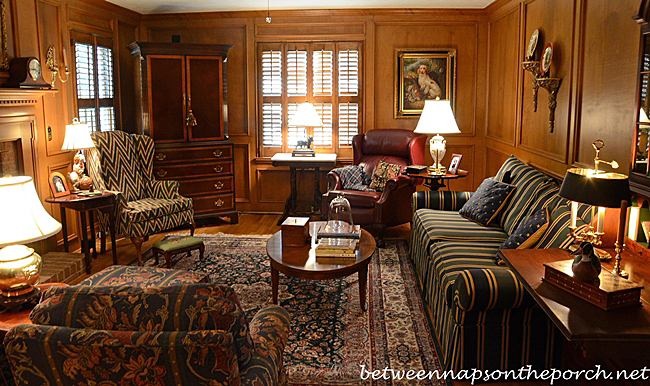 *If a post is sponsored or a product was provided at no charge, it will be stated in post. Some links may be affiliate links and as an Amazon Associate, I may earn from qualifying purchases. *