I've been giving a lot of thought lately to what luggage I'll be carrying when I travel to Italy this fall. When I first started dreaming and planning for a trip, the travel company I was considering using really emphasized taking a very small suitcase (like a carry-on size) for the whole trip because they often booked rooms in small Mom-Pop owned hotels where there were no elevators.
Also, due to the location of those places, they warned you might get dropped off a couple of blocks away from the hotel and have to pull your bag a long distance to get to the hotel.
Fortunately, I ended up discovering Grand Circle Travel and not only were their trips a much better value, they drop you off right at the hotel, always handle one suitcase for you and it can be a normal size suitcase, not a little carry-on size. That's really helpful for longer trips like the one I'll be taking.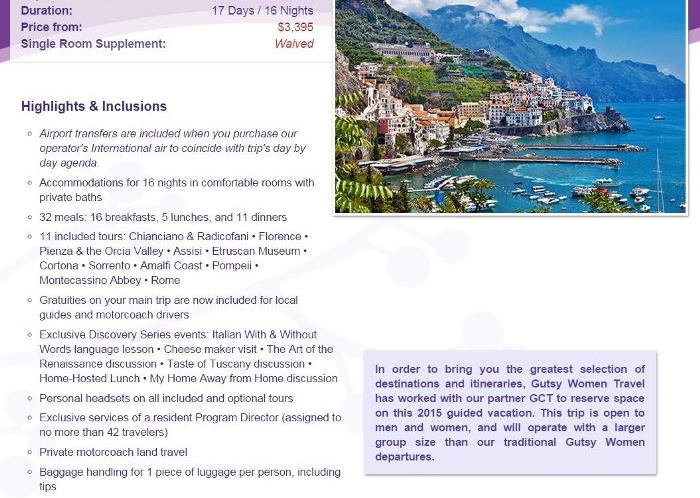 So, with that issue put to rest ( I can use my current big suitcase) I've been focused on finding a great carry-on bag that will safely hold a laptop, along with the other essentials and comfort items I'll want with me on the flight.
In researching carry-on bags, I came to the conclusion that I'd like my carry-on bag to be the rolling kind, so much easier than lugging a bag through the airport. I'd also like for it to have an inside pocket to secure my laptop. And I'd like for it to be cute.
I don't care that much about how the bag I'll be checking looks, but I'd really like something stylish (but practical) for the bag I'll be pulling around the airport and using while on the flight over and back.
Stylish, Rolling, Underseat, Carry-on Bags for Travel
In this post I'm sharing some of my favorites, including the one I just purchased. I may end up purchasing another one (or two) so that I can compare them and return the one I least like. I really had a hard time narrowing it down to just one.
One of my requirements for the bag I ultimately chose was that it had to fit underneath the seat. I want my carry-on bag right there in front of me on the trip so I can get whatever I need out of it easily and quickly.
I'm not sure if all of the bags I'm sharing will fit underneath a seat but I'm pretty sure most will. I read a fair amount about each one but be sure to check the dimensions and read the answered questions and reviews for information before purchasing one.
By the way, I noticed while reading the questions and reviews, several folks commented that these bags usually fit under a seat if they aren't overstuffed. So keep that in mind when traveling with a carry-on bag, best to not overstuff 'em.
To read more about any of the bags below, click on the title of the bag.
Cabrelli Lily Floral Laptop Rollerbrief
This adorable floral bag definitely caught my eye. It will hold a laptop up to 15.6″ in size and the handle is retractable. I noticed a lot of the rolling, carry-on bags have handles that completely retract. Some even retract down into a pocket that can be zipped so you would never even know the bag had a telescoping handle! This bag below is one that retracts away into a pocket. Love that!
Cabrelli Victoria Houndstooth 15.6 Laptop Rollerbrief
I was really focused on looking for bags that didn't look like an ordinary suitcase. I love the design of this houndstooth bag.The handle on this bag also retracts away into a zippered pocket.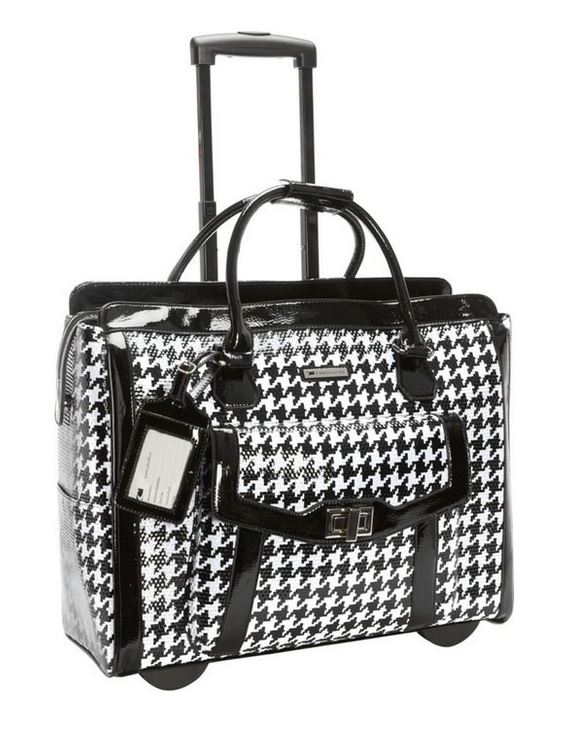 19″ Laptop Rolling Wheel Houndstooth Tote Bag
I was really loving all the houndstooth styles I found!
Mad Red Houndstooth Foldable Tote
This was my favorite Houndstooth carry-on bag. When not in use, it actually folds flat for storage.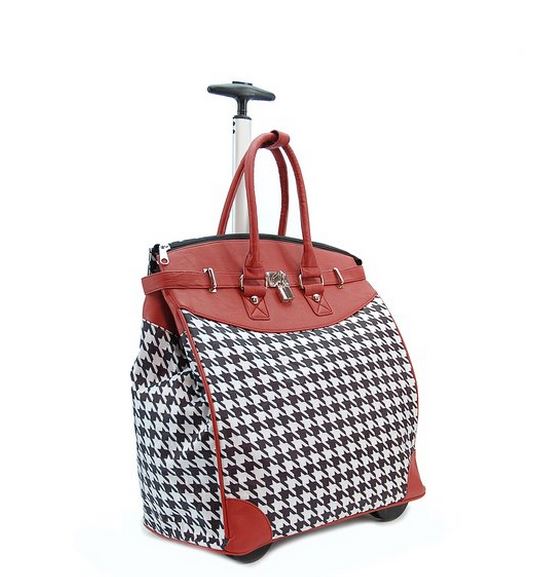 Alligator Crocodile Rolling Laptop Carry-on Bag
This bag reminded me so much of my favorite purses by Brahmin. I love me a Brahmin bag! I wish Brahmin would make a rolling carry-on bag. Wonder why they don't do that!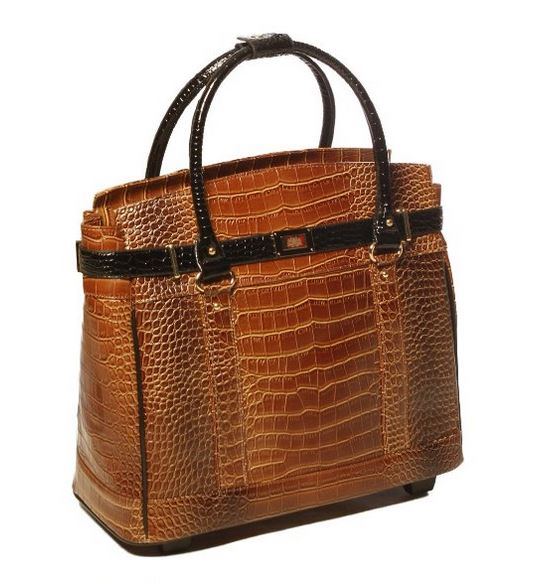 Here's how it looks in rolling mode. Cute bag!
Remember the Travelon Cross-Body Bag I found to use as my purse while traveling? (If you missed my post about this bag, you'll find it here: Take a Peek Inside My Travel Purse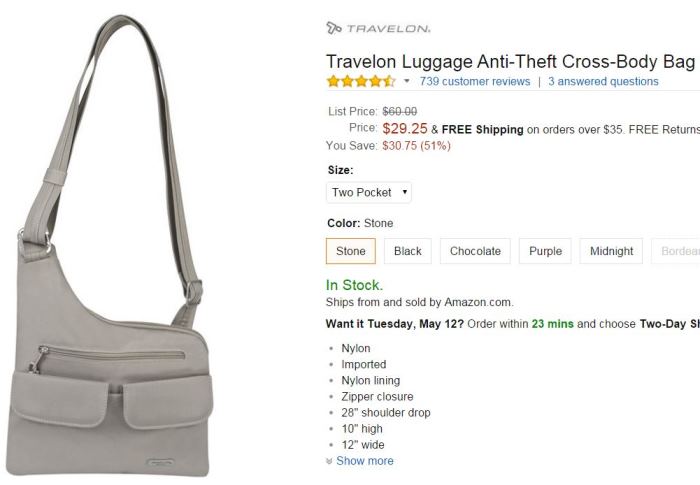 Travelon Wheeled-Underseat Carry-On Bag
Travelon makes a great rolling, carry-on bag, too. I was very tempted to order this one just because I know how much I like my purse. I may do it, yet. I really like the pocket on the side for bottles.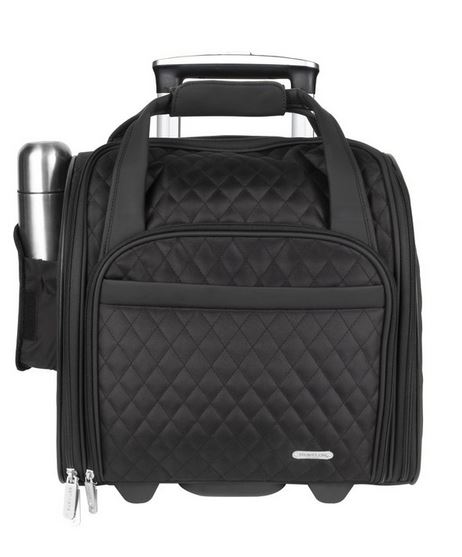 Sportsman's Expandable Rolling Carry-on Bag (Fits Under a Seat)
Just for the heck of it, I checked to see what L.L. Bean has for rolling, under-seat travel bags. This one looked really nice. L.L. Bean is good quality so I bet it's a good one if you don't mind spending a little.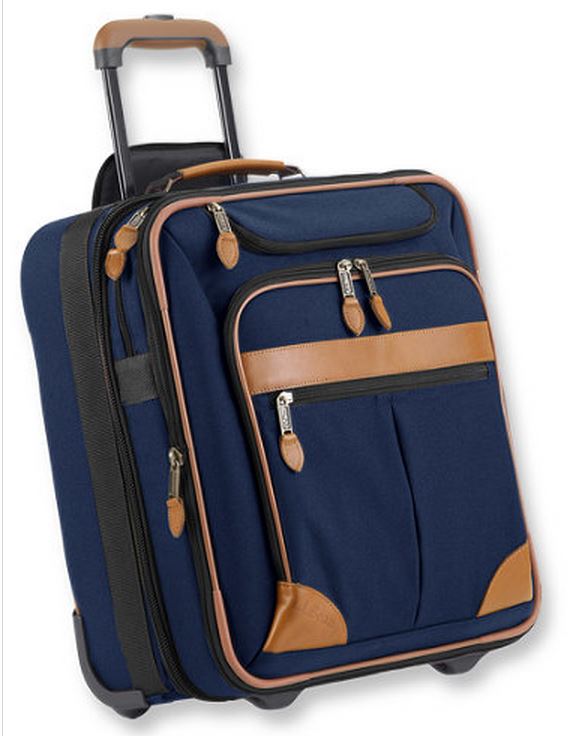 Enough of the sensible bags…back to cute! I love this sweet Frenchy bag. You'd never know it's a rolling, carry-on bag, but it is.
Paparazzo Rolling Underseat Travel Bag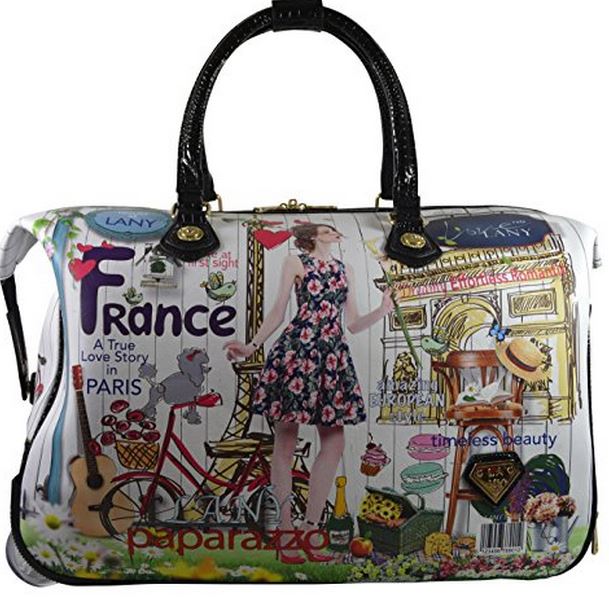 Shown here in a different pattern, you can see how the handle is hidden into the bottom of the bag. I kind of like this design because it gets the handle completely out-of-the-way when it's not in use.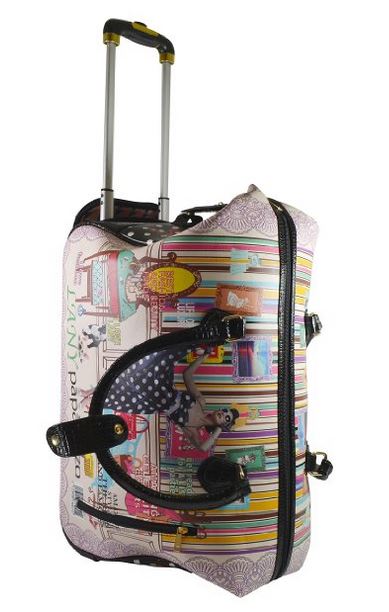 Isn't this the cutest! It's holds a 15 inch laptop in a padded compartment inside.
Update: This is the bag I ultimately decided on, the design was so cute, I couldn't resist it. I've used it now for trips to Italy, Key West, Cozumel, Holland and Belgium and it worked great. It fits well in the overhead bin on an airplane and I always get tons of compliments on it, even from other travelers in airports. I've really enjoyed using it.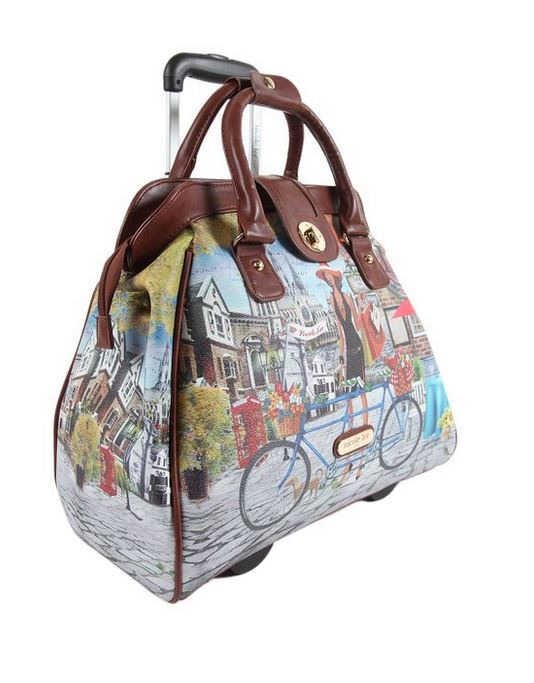 Cowgirl Rolling Carry-on Tote
Wouldn't this be great for someone who loves horses. Did you know there were so many fun rolling, carry-on bags?! I had no idea until I started shopping for them.
I don't want to wear a backpack, but if I did, this would be one I'd have to consider.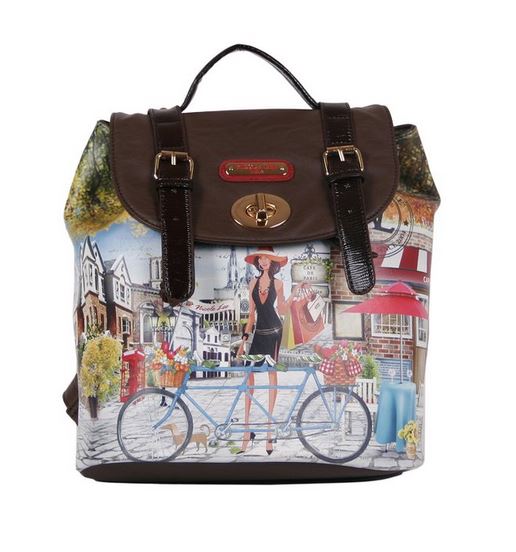 Cute even in back. Okay, what did I ultimately order?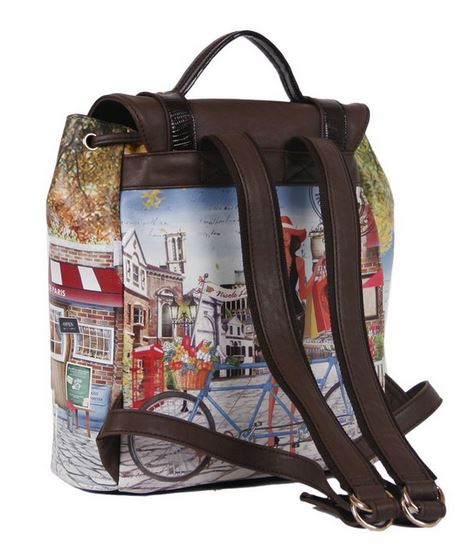 Olympia Fashion Rolling Underseat Carry-on Travel Bag
This is the bag I've ordered, so far. It was only $51.50 and per the questions/reviews, it will fit under a seat if it's not overstuffed. It has some great reviews so hopefully I will like it once it arrives.
I like that a laptop is secure when it's inside the bag.
It also comes in Pink! 🙂
Best Luggage Lock For Travel Safety & Security, TSA Safe
While we're talking bags, I ordered a lock for the big bag I'll be checking. This one will meet TSA requirements and has a ranking of 5 stars after 770+ reviews! I like that it's a combination lock so I don't have to worry about losing the key. You can set your own combination, too.
I just saw this quote from CNN. Did you know this? I guess it's not a bad idea to have a lock on the bags you put in the overhead bin, too. I had no idea bags were often stolen from there, too.
The other thing I purchased today is this nifty gadget. It was only $10.50 and I figure it will be great to have now that I'm beginning to travel a little. I have this fear I'll arrive at the airport and be told my bag is 5 lbs over the limit and have to pay some big fee. Actually, on an international flight, I'm not sure they will let you fly with a bag that's over the limit at all.
My Bucket List Travel Map arrived yesterday and I took it immediately to a local frame shop for framing. I'm not matting it or anything, just chose a pretty black frame. The framer is going to put some type of hardboard behind it, then mount it to some type of thicker foam core board. I think that's how she described it. She said another couple had just brought in a travel map and they wanted their map mounted to thick foam core board so that they could use pins in it, too. I don't think I'll be sticking pins in mine, at least I hadn't planned on it. It should be ready in a day or two and I already know exactly where it's going.
It's going here in the office, right where the clock is now. I measured and I think it will fit there beside the mirror.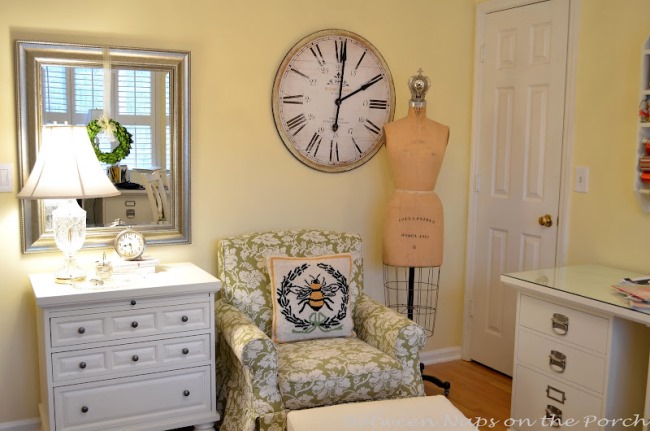 I didn't take time to scratch anything off before I took it to the framing shop. The only thing I'll be able to scratch off right now will be some states in the United States and a few places in the Caribbean, but I hope to make it a lot more colorful over the coming years. 🙂
By the way, after I ordered this map, the next day the price had gone up from $39.99 to 59.99. When I checked yesterday, it was back down to $39.99, so I went ahead and ordered another one today as a Christmas present for a friend who loves to travel. You'll find this map here: Bucket List Scratch-off Travel Map
Next up…finding a good laptop for travel. My current one is around 10 years old and weighs a ton! I have some in mind, I'll let you know what I go with once I decide.
*If a post is sponsored or a product was provided at no charge, it will be stated in post. Some links may be affiliate links and as an Amazon Associate, I may earn from qualifying purchases. *