Welcome to the 563rd Tablescape Thursday!
Happy Independence Day to all my American readers! I'm under the weather right now with a yucky cold and soon headed back to bed, but I am looking forward to the pork roast my son is smoking right now for tonight's festivities.
Just before I left to visit family in Ohio, I received the email below from Ruth.
Hi from PA,
Last week was our annual Hospital Auxillary fundraiser luncheon. There was a fashion show, a wonderful lunch and oodles of donated gift baskets. It was Tablescape (Wednesday this time) x 17! Here were some of my favorites.
I've included Ruth's comments below along with the photos she shared.
A sea theme with light strings in frosted bottles, Lights always gives the setting pep…
Sunflower theme…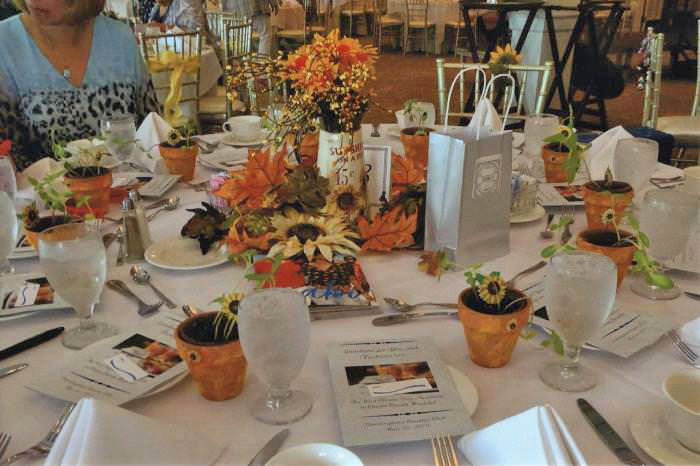 A bird and birdhouse theme…
My favorite, lemons and yellow roses…
Close-ups of the centerpiece…
At first, I thought the next one was Travel with the blow-up world. It was Earth Day and each guest got a blow-up world, recycled tablet, a little world and a plant.
Valentine's Day
Lobster Feast
Patriotic theme with Byers Choice dolls
Easter
Along with the table setting photos, Ruth included a photo of her deck, taken on an "early May misty, morning." Ruth wrote, "Awaiting another hot pink pillow from Pier 1 and still have to bring the white Cracker Barrel rocker up."
Isn't this just beautiful and what a gorgeous view! Ruth said they often see fox and deer from their deck.
Thanks so much to Ruth for sharing all these wonderful pictures for this week's Tablescape Thursday!

4th of July Sale
This morning as I was completing this post, I noticed Talbot's is having a huge 4th of July sale. Everything on the site is 50% off and shipping is only $5 with the code FIREWORKS at checkout! That's as good as it gets, can't think of a better sale than that!
You'll find the sale here: 4th of July Sale, Everything 50% Off.
I am headed back to bed to try and fight off this yucky cold, but I did take time this morning to buy three more pairs of my favorite shorts. I love these scalloped shorts so much! They are so much more flattering on my legs than a straight-cut short so I couldn't resist 50% off.
I've purchased these short so many times now, I probably have enough pairs to last 10 years. I'm always afraid they'll discontinue them, so I'm glad I've stocked up. They have become my summer uniform paired with a brightly colored shirt. If I'm not wearing a casual linen dress, you'll usually find me in these shorts.
The shorts are available here 50% off with the code FIREWORKS: Shorts.
Tip: I always buy these shorts in white because the contrast against my pale legs gives my legs a bit of healthy color, as if I have a slight tan. Also, I love that I can completely change up my outfit by just changing my shirt. I definitely recommend these for taking along on vacation since you can create a lot of different looks by just taking along plenty of colorful tops.
Okay, back to bed for me for a bit of extra rest. Stay cold-free out there, dear Friends–and Happy 4th of July!
Looking forward to the beautiful tables shared for this week's Tablescape Thursday!
Pssst: Follow Between Naps on the Porch on Instagram here: Between Naps On The Porch on Instagram .
Tablescape Thursday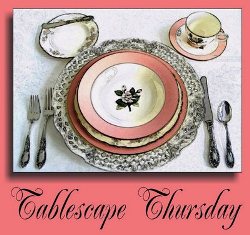 If you are participating in Tablescape Thursday, please be sure to add your permalink below, and not your general blog address. To get your permalink, click on your post name, then copy and paste the address showing in the address bar, into the "url" box when you link up.
You'll need to include a link in your post back to the party to link up and participate. That's so visitors to your blog will be able to find the party and the other Tablescape Thursday participants. Requiring a link back also prevents businesses and scammers from linking up to sell their products. Please let me know if you click on a link that isn't a tablescape or table related so I can remove it.
This party has ended, click button below for the links to all who participated.
*If a post is sponsored or a product was provided at no charge, it will be stated in post. Some links may be affiliate links and as an Amazon Associate, I may earn from qualifying purchases. *