Thanks so much for all your comments on Monday's post! You gave me so much to think about. I'm super tempted to look for another Chuck Pinson Giclee to hang above my bed for spring and summer, but here's the thing: once framed, the paintings are really heavy. It was a challenge getting this one up and into place! I had to place two fat pillows across the top of the headboard, and heave the painting up onto the pillows to get it up high enough to where I could reach behind and find the hanging wire to hang it. I really do love seeing this print of the Governor's Palace in Colonial Williamsburg each time I'm in my bedroom, it's just such a gorgeous scene! But I will keep my eye out just in case something I love equally well comes along. I'd have to really, really love it to go through the process of changing it out every spring and every fall. Ha!
We just got a new Lilly Pulitzer location in the Avalon Shopping Center about 25 minutes from my home. It's not that much closer than the one in Atlanta but the drive there is much more pleasant. I'll do anything to avoid Atlanta traffic whenever possible. lol
I stopped in to look at their Etta shirts. I have several already but you may remember they developed holes right in front along the waistline. The holes all appeared in front where the button on my shorts/pants hits. I decided to buy a few more this summer since I've added silicone button covers to all the buttons on my jeans and shorts. (Button covers are available here: Button Covers.) I'm hoping that will solve the "hole" issue because I love how light and cool this shirt is.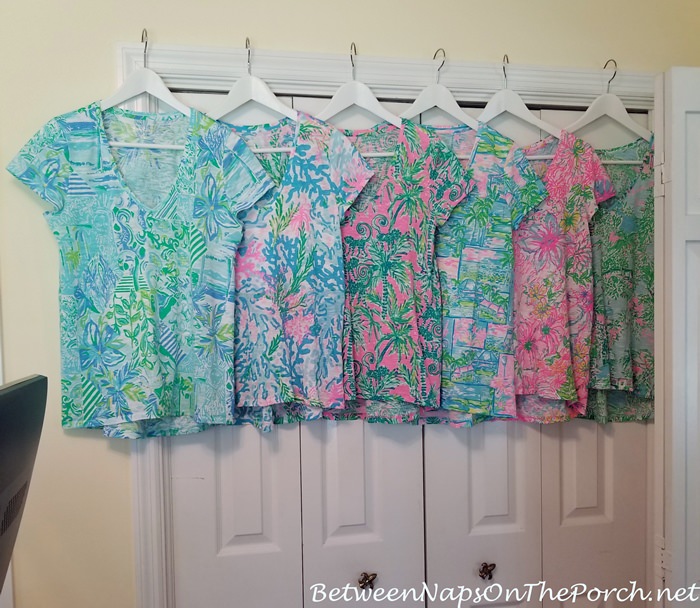 While in LP, I spotted this adorable eyelet dress. They only had it in stock in an XS size. I tried it on and as I expected, it was way too tight across the shoulders/bust area but soooo dang cute on! They did a search and found one in a size small in Palm Beach and had it shipped to me. I love it sooo much! This dress runs a bit small up top so I would recommend sizing up if you are more full-busted.
The mannequin doesn't do it justice, here's how it looks on a person. I'm 5'4″ and it comes just above my knee. Never judge the length of a Lilly dress by the models because the models are all quite tall…unless of course, you are also tall. (Dress is available in green here: Green Eyelet Dress.)
I was sooo obsessed with this dress after the green one arrived, I searched online to see if it came in any other colors. I found it in white here: Lilly Pulitzer White Eyelet Dress. Unfortunately, the one I received was defective, it had been fully lined TWICE! It was so funny when I was trying it on because I ended up with this lining bunched up around my chest when I had already pulled the lining down. Huh? I took it off and that's when I discovered it was fully lined all the way around, twice! Unfortunately, they left the security thingy on the dress, too.
I returned it yesterday and will probably reorder it again because it is so pretty and so flattering. Beautiful dress for summer! It's available in all sizes here: Lilly Pulitzer White Eyelet Dress. Update: Apparently this dress is supposed to be double-lined due to the sheer nature of the dress. That's mentioned in the video at the website.
So, about those Etta shirts, I purchased 3 of the short sleeve, v-neck tops, AND 1 style I had never tried–more on that one in a sec. I loved this fishy design and the colors are so pretty!
My favorite way to wear these shirts during the summer is to pair them with either white shorts or white jeans/jeggings. I look better with color around my face and I love how these colorful tops look when contrasting against clean, crisp summer white pants. I don't see this pattern available right now but you can see all the Etta patterns that are available here: Etta V-neck Shirt. If you prefer scoop neck or t-shirt style, those can be found here: Scoop Neck Etta Shirt.
This was another one of the Etta shirts I purchased recently.
I couldn't find it in-store, so I purchased it here: Lilly Pulitzer Etta Top.
My camera wouldn't pick up the beautiful pink and green color of this shirt.
Here's how it actually looks, the colors are so pretty and vibrant! It's available in all sizes here: Etta Shirt.
I've never purchased a long-sleeve Etta top before but saw this one in "New with Tags" condition on a preloved site. I loved it so much after it arrived, I purchased the exact same top again so I'll have two since it's my only long-sleeve Etta top. I wore it all day yesterday and love it! It's perfect for this time of year when it's a bit chilly for short sleeve tops.
If you would like to try a long-sleeve Etta top, I just found another one here: Etta Longsleeve Top.
Here's how these tops look with white jeans. I also wear them with Talbots white shorts. I buy all my white slim-ankle jeans and white jeggings here: White Jeans and Jeggings. If you have a smaller waist–as compared to your hips (like me) go with their curvy fit. I love the curvy fit because I don't end up with a gap in the back at the waist. They fit perfectly!
I just wore my lemon shirt for the first time recently. Love this adorable pattern–so perfect for summer!
It's currently on sale here: Lemon Topiary Shirt.
I've really been in the mood to refresh my summer wardrobe so as I add more pieces and discover more sales, I will continue to share them. I'm so glad Lilly Pulitzer is now stocking more clothes that are designed for older women. I love their summer clothes!
Update: Completely off-topic, but last night I was taking a 1-hour Peloton spin class and I was thinking about how I wish the handlebars on my Peloton bike were not quite so far away. I did a search and sure enough, someone has designed a device to move the handles a bit closer for us shorter riders. I ordered this baby last night and can't wait to install it! I think it will arrive tomorrow. Any Peloton Bike riders out there? If so, I'll let you know how it works out. The installation process looked straightforward and quite easy in the video I found. (Read more about it here: Handlebar Adjuster/Extender.)
*If a post is sponsored or a product was provided at no charge, it will be stated in post. Some links may be affiliate links and as an Amazon Associate, I may earn from qualifying purchases. *