Welcome to the 589th Metamorphosis Monday!
Recently, we went picnicking in beautiful Smith Gardens. We had sooo much fun, we are hoping to do a lot more picnics this spring and summer.
I thought it would be fun to upgrade our picnic supplies, so this weekend I went picnic shopping and found the cutest baskets! I wanted a picnic basket that would work for four adults and found several that I absolutely loved! For this week's Met Monday, I'm sharing what I purchased for our next adventure out.
I love the cheerful red and white check interior of this one. It's so pretty against the warm brown color of the wicker basket. I also really like that it's insulated so the food will stay fresher on those warm spring-summer days. Food should stay in place nicely since the insulated section zips up.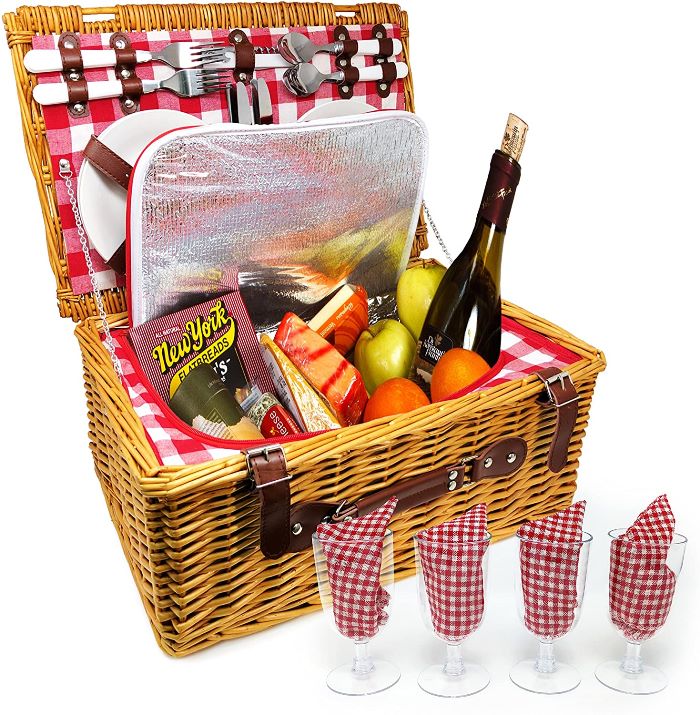 The plates are actually ceramic and not melamine…love that!
I purchased this one today and it should arrive by tomorrow. Sometime soon I'll share a picnic for an upcoming Tablescape Thursday. I can't wait to use this darling basket for our next picnic! This basket is available here: Wicker Basket with Red & White Check Interior.
Tip: I noticed in some of the comments while shopping for picnic baskets, a lot of people give these as wedding gifts. I love that idea! I'm totally filing that away for the next time I need to purchase a shower or wedding present.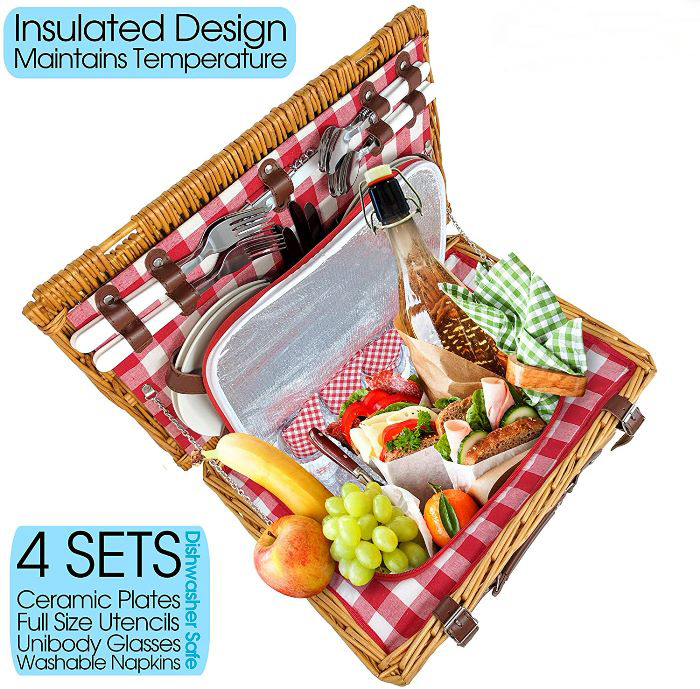 Picnic Blanket
I could not make up my mind which picnic blanket I wanted so I bought three so I could see them all in person. I think this one will end up being my fave. It looks so fuzzy and soft! I also like that it's waterproof on the underside so damp grass will not be a problem.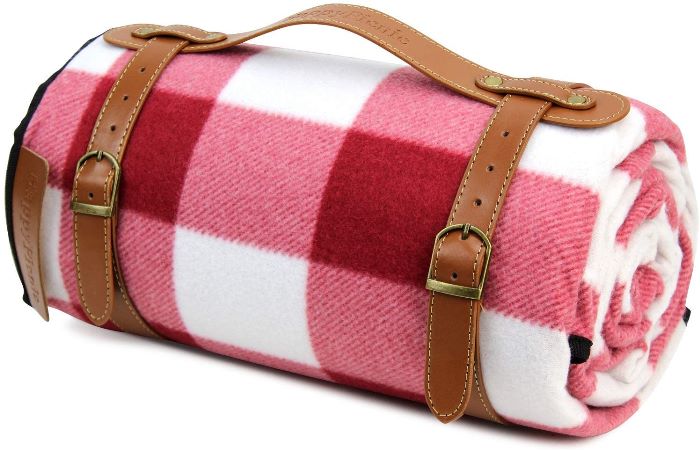 I think the carrying strap will really come in handy. You'll find this blanket available here: Large Fleece Picnic Blanket, Waterproof Backing.
I also ordered this blanket. Again, the back is waterproof, gotta have that feature for picnicking. This one is available here: Red and White Check Blanket, Waterproof Backing.
Another basket that I was seriously eyeing is this one, I always, always love a blue and white color scheme. Who knew picnic baskets could be sooo pretty!
This one is also insulated. It costs a little more than the one I purchased, but then it also includes a blanket and a wine bottle opener.
This picnic basket will also feed four people. This wicker picnic basket is available here: White Wicker Picnic Basket.
Update: I ordered this one to compare and it's really pretty. The plates that comes with this one are not ceramic, but still nice.
This was the third blanket I ordered, again it's waterproof on back. I love the color scheme of navy, red and white. I think it will look cute with the red/white check wicker basket I've already purchased, as well as the blue and white basket above. It's available here: Navy, White and Red Blanket for Picnics.
Have you been on any picnics this spring? Things are finally starting to warm up again so I'm looking forward to many more this summer.
What yummies do you usually pack for a picnic? I was thinking about making deviled eggs for our next one. I love those! What are your favorite foods for picnics? I would love some suggestions!
Update: Talbots has an awesome sale going on for Mother's Day–everything is 50% off! You'll find the sale here: Mother's Day Sale–50% Off!
During the last sale, I purchased this shirt and LOVE it! I love the cuff details with the coordinating fabric. I've worn it so much since it arrived. It looks great with white jeans! It was originally $69.50. Currently, it's marked down to $49.99, plus another 50% off for Mother's Day makes it around $25 now! I'm tempted to buy a second one at that price…love having duplicates of my favorite shirts. You'll find it on sale here: Blue and White Shirt.
This is the most recent shirt I've purchased for spring. I loved this sea blue color the moment I saw it! It has the cutest details with the collar, cuffs and the placket down the front, it's those details that make such a difference! You'll find this shirt on sale 50% off here: Turquoise Sea Shirt. It's also available in two more colors, the sea blue color is definitely my fave.
Okay, I'm off to check out the sale! You'll find everything that's on sale here: Mother's Day Sale–50% Off!
Looking forward to all the wonderful Before and Afters linked for this week's Met Monday!
Pssst: Did you know Between Naps On The Porch is on Instagram? You'll find me on Instagram here: Between Naps On The Porch.
Like to know when a new blog post is up and available to read? Subscribe for email updates, it's free and your email will never be shared.
Subscribe here: Subscribe for free post updates via email here: Subscribe.
Metamorphosis Monday
Metamorphosis Monday is a party that's all about Before and Afters. If you are participating in Met Monday, please link up using the "permalink" to your MM post and not your general blog address. To get your permalink, click on your post name, then just copy and paste the address that shows up in the address bar at the top of your blog, into the "url" box for InLinkz when prompted.
In order to link up, you'll need to include a link in your MM post back to the party so the other participants will have an opportunity to receive visits from your wonderful blog readers.
This party has ended, click button below for the links to all who participated.
*If a post is sponsored or a product was provided at no charge, it will be stated in post. Some links may be affiliate links and as an Amazon Associate, I may earn from qualifying purchases. *