Welcome to the 521st Tablescape Thursday!
With the official first day of autumn just a couple of days away, I'm sharing a fall-ish table setting for this week's Tablescape Thursday. Still very warm here–reaching the 90's each day (which I love) but I know the cooler temps will be headed this way before too long.
I kept the centerpiece simple, using a red lantern I've had for several years. Don't remember now where I found it but if I had to guess, it was probably either Old Time Pottery, Marshalls or HomeGoods. I always find great lanterns in those three stores.
The candle inside the lantern is surrounded with fat little acorns. Sadly there will be no more of those because the tree from which they came is the same tree that fell a while back in my neighbor's yard. (See that post here: Not Again!)
I added an extra layer this week, something I rarely do. In addition to using plaid charger plates, I added grapevine chargers underneath those.
The grapevine chargers are really, really big, so sometimes a dinner plate will look lost placed on top. But the dinner plates I'm using this week are bigger than normal so the larger vine chargers worked great in this setting.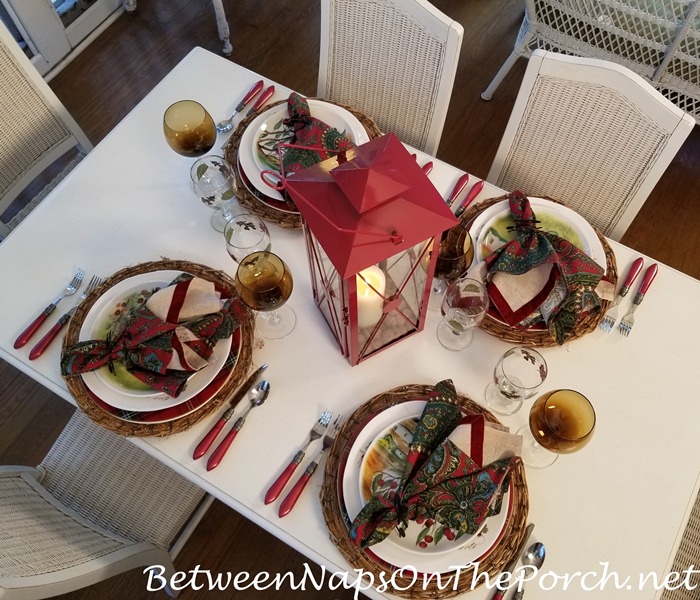 I love these paisley napkins, they go well with so many fall and winter settings. I think they were a find in Marshalls, but really don't remember now.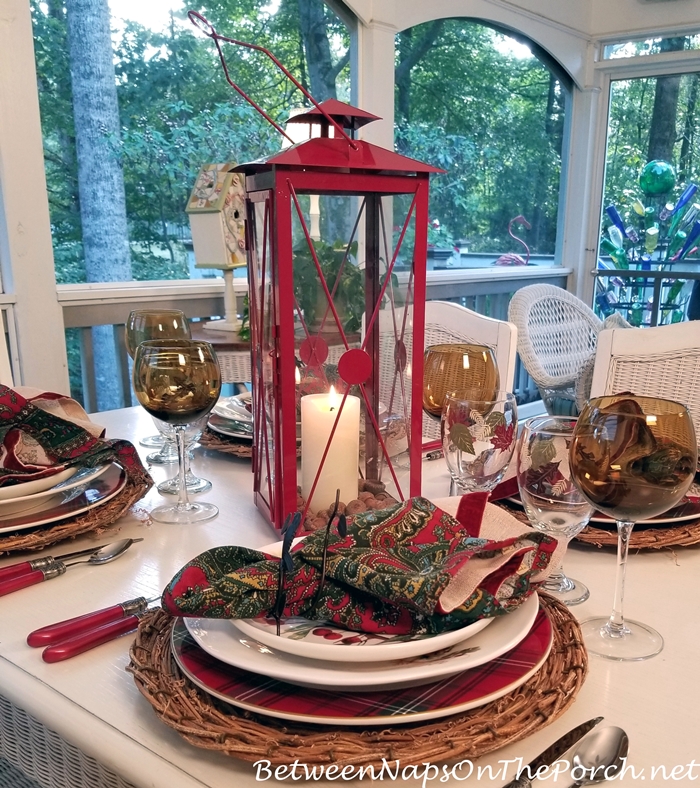 The paisley napkins are layered atop linen napkins edged in a beautiful burgundy red velvet. The linen/velvet edged napkins are from Pier 1 several years ago.
I find myself using this red flatware a lot throughout the year. It works great for a Valentine's Day, 4th of July, Thanksgiving or Christmas setting…and also in a fall setting as seen here. This flatware is still available here: Red Flatware.
The chargers are from Crate and Barrel (if I'm remembering correctly) many years ago. Caught those during a big sale when they were drastically reduced to $2-3 each.
I haven't used these birdie napkin rings in ages…time to pull them out! They were a find in Pier 1 back in 2008.
Found this beautiful dinnerware many years ago in HomeGoods. I loved its Italian theme/vibe depicting pretty Italian villas surrounded by olive trees.
Sooo pretty! Makes me want to book another trip to Italy!
I'm not sure how many different designs were created for the salad plates, but there were only two available when I came across this dishware in HomeGoods. This was the other design/pattern available in the salad plates.
Here's a closer view…
Interestingly, the hallmarks on the back of the salad plates are different from those on the dinner plates, though they were paired together the day I found them in HomeGoods. The salad plates say, "Ceramisa, Made in Italy."
The dinner plates depict a vegetable garden and are hallmarked on the back, " Opificio Etico, Ceramiche, Made in Italy." Thanks to Cecilia, we know the words running across the front of the plate mean, "my vegetable garden" in Italian. Thanks Cecilia for sharing that in your comment! 🙂
The dinner plates are an irregular shape which is intentional. It gives them a really casual feel. They are so large, you can just barely see the plaid chargers peeking out from underneath.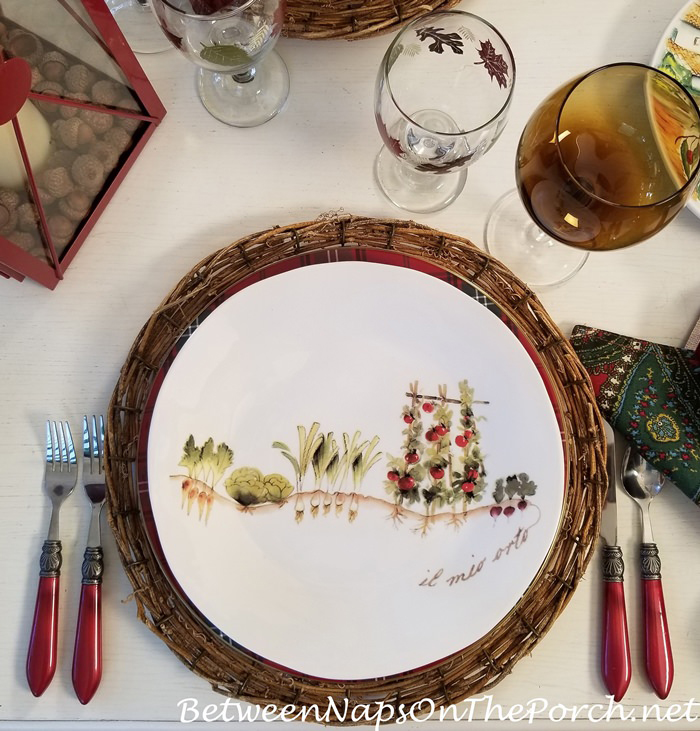 The plaid charger plates are a favorite of mine. I use them so, so much during the fall and winter months. I just looked and they have brought them back again this year–you'll find them here: Tartan Charger Plates. I'm amazed they are back! It's so rare for stores to bring something back again. They must be very popular for them to do that.
You'll find the matching dinner and salad plates available in sets of 4 here: Tartan Plates, Set of 4.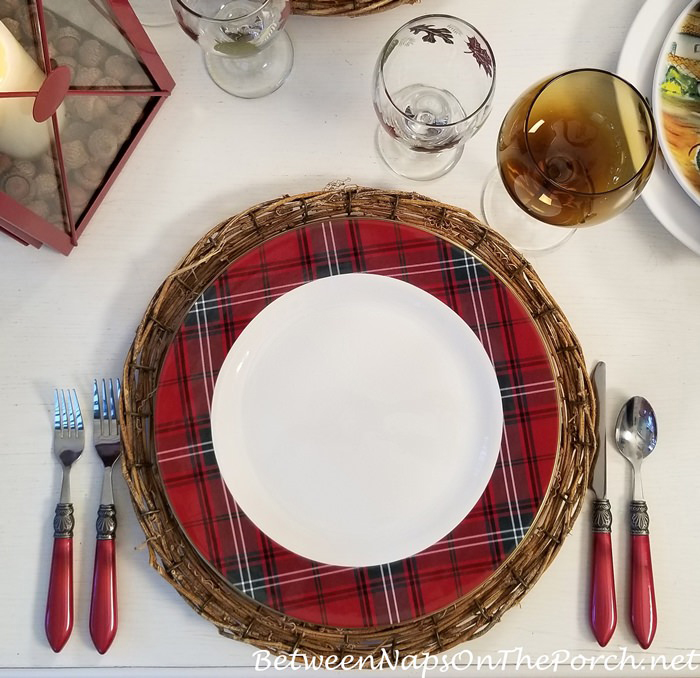 The leaf-design tea/water glasses are from Dollar Tree a few years back. If I'm remembering correctly, the amber/brown wine glasses were a find in A Classy Flea several years ago.
By the way, A Classy Flea is now having pop-up sales every so often since they've closed their doors. They had one this past weekend in the offices of a local reality, but I wasn't able to attend. I think they have another planned for next month. I hope to go to that one if it doesn't fall during the time I'm in Egypt.
Is it starting to feel like fall where you live? I love our long summers here in the south, but I know not everyone loves the heat the way I do. Looking forward to all the beautiful tables linked for today's Tablescape Thursday!
Pssst: I post almost daily to Instagram. Follow Between Naps on the Porch on Instagram here: Between Naps On The Porch.
If you enjoyed this post, subscribe for free email updates when a new post is up here: Subscribe for post updates.
Tip: Please do not use a Hotmail e-mail address to subscribe if you can avoid it. Hotmail is notorious for filtering out perfectly good emails. Google and you'll find tons of people complaining about this. I've found Gmail to be awesome, it's what I use and it's free! Plus, they don't filter out the e-mails you want in error like Hotmail does.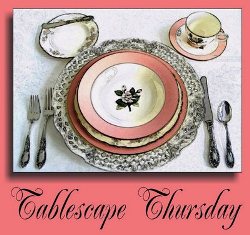 Tablescape Thursday
If you are participating in Tablescape Thursday, please be sure to add your permalink below, and not your general blog address. To get your permalink, click on your post name, then copy and paste the address showing in the address bar, into the "url" box when you link up.
You'll need to include a link in your post back to the party to link up and participate. That's so visitors to your blog will be able to find the party and the other Tablescape Thursday participants. Requiring a link back also prevents businesses and scammers from linking up to sell their products. (Yup, that really happens, unfortunately.)
*If a post is sponsored or a product was provided at no charge, it will be stated in post. Some links may be affiliate links and as an Amazon Associate, I may earn from qualifying purchases. *