Do you remember when your interest in decorating first began? I have the worst memory in general, especially when it comes to dates, but I definitely remember what kicked off my borderline obsession with home decor. My love for decorating really took off when I discovered two magazines: Colonial Homes and Traditional Home. I could hardly wait for each issue to arrive in my mailbox! I poured over those magazines religiously, dreaming of how I could fit the wonderful ideas and things I was seeing and learning into my own home one day. The beautiful homes I saw in those two magazines left a huge impression on me in my early 30s, I don't think I realized at the time just how much! I had little funds back then to put toward decorating or furniture, but I definitely held the images of those beautiful rooms in my heart as I scoured my local antique, vintage, and thrift stores in search of similar treasures for my own home.
One of my most valued collections that I've never been able to bring myself to part with is all of my old Colonial Homes and Traditional Home magazines. I don't know what started me thinking about those, but they were the first thing that popped into my head when I awoke this morning. This is just 1/3rd of my Traditional Home Magazine collection. The oldest ones date back to around 1992.
I keep them all stored here on the bottom shelf of this IKEA Expedit storage unit that I squeezed (literally squeezed) into my office closet quite a few years back. I stopped my subscription and stopped collecting them around 2002 when much of the decor I was finding inside was no longer what I really enjoyed
My Colonial Homes Magazine collection is stored in one of the drawers of this chest here in the upstairs family room.
I know there are those who enjoy decorating in the latest trends and styles and there's definitely nothing wrong with that. I'm sure they are very much influenced by the magazines and home decor shows of today, just as I was influenced by these wonderful magazines back in the day. Surprisingly, or maybe not so surprisingly, these magazines are still very relative to how I love to decorate my home today. I think my taste still runs pretty traditional and classic…
…with a few touches of whimsy thrown in.
So I guess that's why I can't bring myself to part with them. They are more than just old magazines. They are a part of my history and love for decorating, and I still find them wonderfully inspiring. They also remind me of the incredibly talented decorators of the past who are sadly no longer with us–like Mario Buatta and Charles Faudree. Do you have any old magazines that you've held onto? What were your favorite home decor magazines back in the day? If you saved them, do you still occasionally look through them?
Speaking of whimsy, it's almost porch season again! I'm busting to get out and give the porch a good cleaning, but I know pollen season is coming.
I may do it anyway, I can't wait until then! Spring is just a little more than a month away now. It's already looking like spring here–my daffodils are in full bloom! Are you seeing signs of spring in your area yet?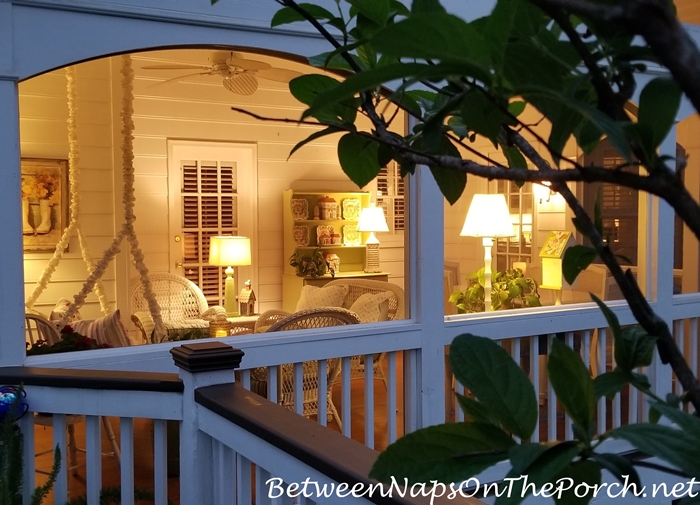 *If a post is sponsored or a product was provided at no charge, it will be stated in post. Some links may be affiliate links and as an Amazon Associate, I may earn from qualifying purchases. *